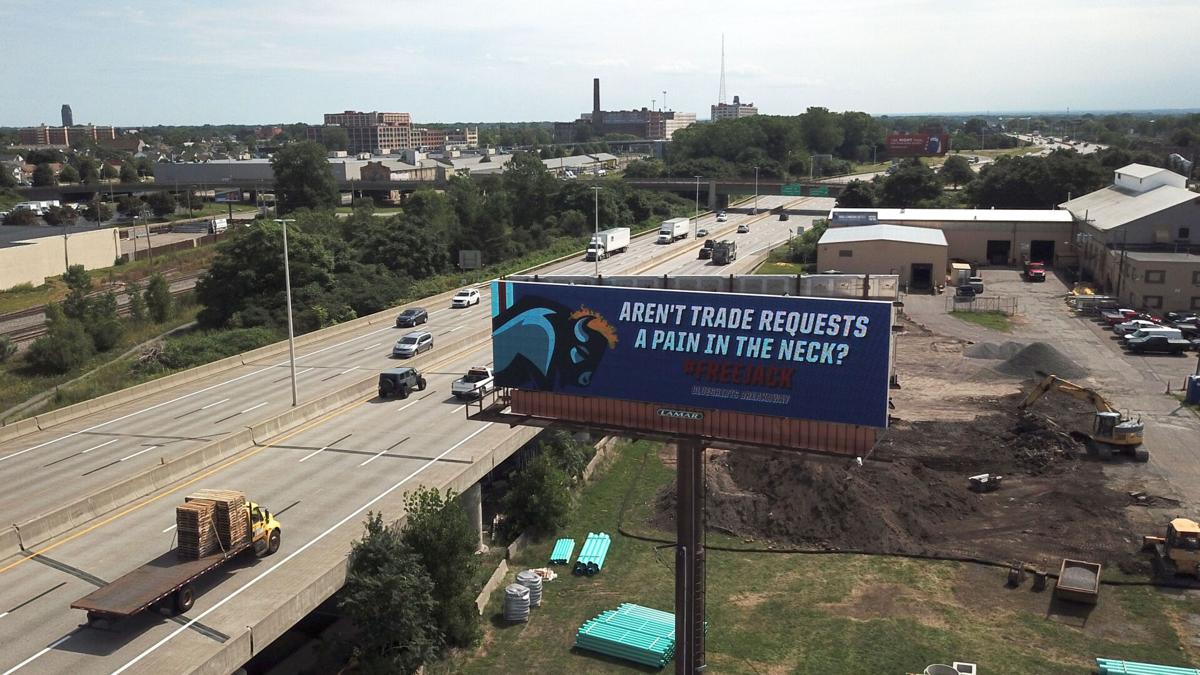 A digital billboard advertisement visible while traveling southbound on Interstate 190 is the latest reminder that angst surrounding Jack Eichel's future with the Sabres isn't limited to hockey fans in Buffalo.
As of Monday, motorists passing Sahlen Field and the Seneca Street exit will be able to see a banner ad that reads, "Aren't trade requests a pain in the neck? #FreeJack." The digital display, which is located only a half mile from KeyBank Center, near the corner of Scott and Chicago streets, was purchased by Ryan Mead and Greg Kaplan, who host the New York Rangers fan podcast, Blueshirts Breakaway.
The name of the podcast is featured in red and white lettering on a royal background, reflecting the Rangers' team colors, and includes a graphic of a bison with hair that's supposed to resemble that of Eichel. The ad, which was designed by their friend, Nick DePalo, and purchased through Lamar Advertising Co., will run for two weeks.
The playful joke wasn't meant as a demand to trade the disgruntled, injured center to the Rangers, who are one of few teams rumored to still be interested in acquiring Eichel. Mead and Kaplan were tired of talking about the saga during their weekly podcasts and viewed the ad buy as a funny way to commemorate their 300th episode.
"The beauty of it now is now it's funny," Kaplan, a producer with Spectrum News in Albany, said of the Eichel discourse. "Before it was really annoying to have to talk about what the Rangers would have to give up, what the Sabres want, what the contract would look like, how it would impact Mika Zibanejad, whether this is the reason why the Rangers traded Pavel Buchnevich, whether Eichel can co-exist with the stars that they have.
"Those conversations, we had them so many times that we couldn't possibly have them again, but now, it's just funny. Now we just get to joke about it and honestly, the billboard says nothing about him coming to the Rangers. We just say, free Jack. It's all it says, so yeah, we're a Ranger podcast, but any Sabres fan that's going to dunk on us and say, 'you didn't even get what you wanted.' Honestly, we just want him out of Buffalo at this point because we're annoyed. That's as far as it goes."
Eichel, a 24-year-old with five 20-goal seasons in the NHL, is awaiting a change of scenery as the result of a disagreement between him and the team regarding his preferred treatment for the herniated disk in his neck that limited him to only 21 games in 2020-21. Eichel wants to undergo an artificial disk replacement, a procedure never performed on an NHL player, while the Sabres' team doctors prescribed an anterior cervical discectomy with fusion.
The situation came to a head in May when Eichel told reporters during an end-of-season media availability that he was questioning his future in Buffalo because of what he called a "disconnect" with the organization. A 12-week period of conservative treatment passed in late May, but neither side has changed its mind.
Last month, Dr. Chad J. Prusmack, a Denver-based surgeon who examined Eichel and recommended artificial disk replacement, went on Sportsnet's 31 Thoughts podcast to describe the benefits of the procedure and why there are significant drawbacks with fusion, specifically a 25% chance that Eichel would need another surgery after 10 years and future surgeries later in life. Additionally, an artificial replacement would require a six- to eight-week recovery, compared to six months for fusion.
It's been the talk of the NHL, as reporters, podcasters and fans in markets across North America have discussed where Eichel could play in 2021-22 and what it would cost to acquire him from Buffalo.
The Rangers have been linked to Eichel for almost a year, as they were the club that reportedly expressed interest in acquiring him ahead of the 2020-21 season.
When Mead and Kaplan were plotting how to celebrate their podcasting milestone, the latter's initial idea was to sign students from their alma mater, Marist College in Poughkeepsie, to Name, Image and Likeness contracts to promote the podcast. Mead and Kaplan, both 32 years old, graduated from the private liberal arts college in 2011.
However, they quickly pivoted to an idea involving Eichel. After all, chatter about a possible trade has gone quiet in August. The Rangers fans quickly researched the idea last Wednesday, signed the contract less than 24 hours later, and waited 72 hours to see if it would be spoiled by a weekend trade.
"I probably would have needed to be institutionalized if he finally got traded before this dumb billboard went live," joked Kaplan.
All along, General Manager Kevyn Adams has insisted that he and the Sabres control the process, and that Eichel won't be traded unless it benefits Buffalo now and in the future. Eichel, who was drafted second overall in 2015, has five years remaining on a contract that carries a $10 million annual salary cap hit.
While Adams told reporters last month that he would have no issue with Eichel joining the team at training camp in September, it's unlikely that the Sabres would want the distraction of a disgruntled player ahead of a season in which the club's young core is expected to take the reins of the franchise.
The Sabres don't need to trade Eichel immediately, but he will gain control of the process if he's with the club when his full no-movement clause kicks in next July. This would allow Eichel to have significant influence in where he's traded to.
The podcasters' nudge for Adams to trade Eichel also angered Sabres fans on social media. The organization's frustrated fan base has grown tired of hearing people in other hockey markets suggest that Buffalo should not receive anything more than middle-tier prospects in any trade involving Eichel. Mead and Kaplan anticipated there would be backlash but they did not care.
The billboard had fans across the NHL talking about the stunt.
"The three of us are laughing at every single Sabres fan that's calling it a waste of money because the whole point of the billboard is to get you talking about us and that's exactly what you're doing," said Kaplan. "That's called advertising and it's wonderful. It's just good fun. It's sports. Life is so serious these days. There are so many bigger issues going on in the world."