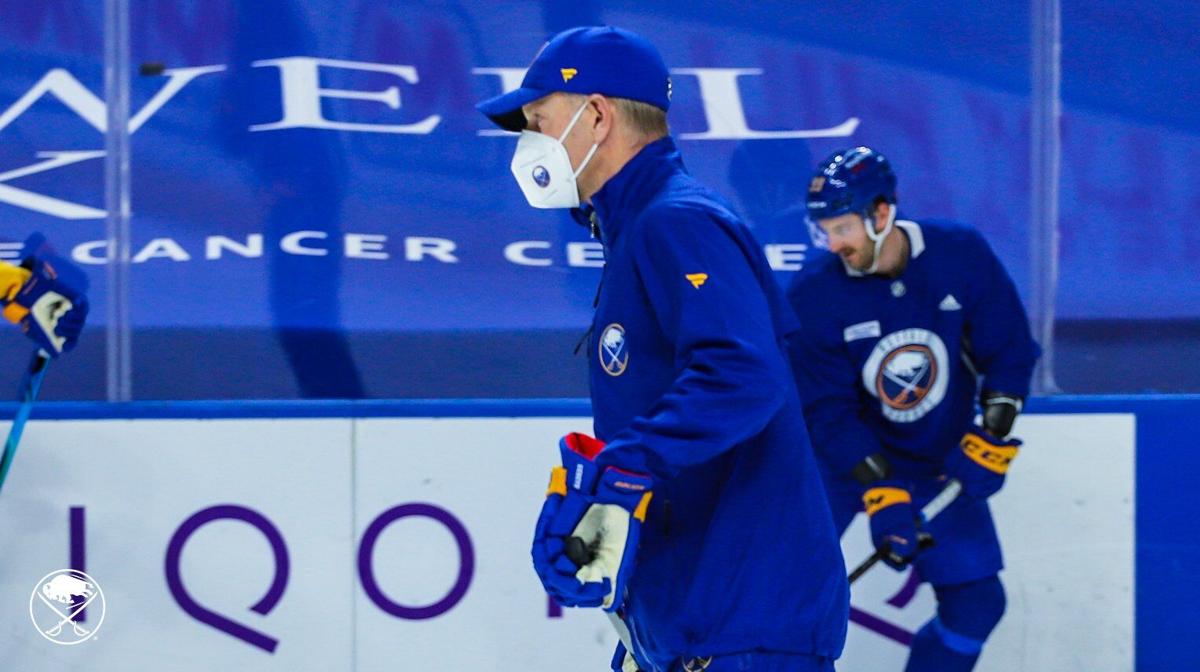 There were two more returnees to Buffalo Sabres practice Sunday morning in KeyBank Center and they were big names – head coach Ralph Krueger and defenseman Rasmus Dahlin.
Forward Taylor Hall returned Saturday and revealed he tested positive for Covid-19 but was asymptomatic. The Sabres announced Krueger's positive test on Feb. 4. Dahlin said he regularly tested negative and was on the list because he was a close contact.
Krueger, 61, took to the ice wearing the NHL-mandated large KN95 mask with a Sabres logo on it. He fist-bumped trainers and equipment men at the bench before he stepped on the ice and said hello to several players. Assistant Steve Smith continued to run practice as Krueger stayed off in the corners of the rink watching drills. About 15 minutes into practice, Krueger skated to Smith for a brief chat and then left the ice.
"I'm definitely feeling better. I had moderately severe symptoms," Krueger said. "I never did end up having a fever, but I did end up with a lot of aches and sleeping and fatigue for more than a week. So definitely time to realize how lethal this Covid is. Everybody knows I try to keep myself in good shape and manage that part of my life. But I had no chance and just really pleased in the last few days to get back to feeling more normal."
"For sure. him being back it's huge," Dahlin said. "He's doing well and he really got us going today and he's gonna get us going tomorrow, too. So it's going to be a great day. I'm looking forward to tomorrow."
Krueger praised the Sabres medical team for their work during his illness and said his wife repeatedly tested negative. Krueger said he will evaluate into Monday morning to decide if he will be back on the bench for the game against the Islanders or if he will have Smith run the team.
With the return of Hall and Dahlin, the Sabres still have seven players on the Covid-19 protocol list – including the top defense pair of Rasmus Ristolainen and Jake McCabe as well as Tobias Rieder, Brandon Montour, Dylan Cozens, Curtis Lazar and Casey Mittelstadt.
Awareness has moved to the forefront as Sabres players, coaches and staff endure daily Covid-19 tests, quarantines, time away from loved ones and the disruption of treasured routines.
Although it would seem to be unlikely any of those seven would be available when the team returns to action Monday night against the New York Islanders, Krueger did leave a window open there could be some returnees when the team hits the ice Monday for its morning skate.
As for the outbreak that happened in the wake of the Sabres' back-to-back games against the New Jersey Devils on Jan. 30-31, Krueger did not want to indict the Devils or the NHL. The league put even more protocols in place last week in the wake of the situation and that's all Krueger was focusing on.
"We clearly had a rough weekend there," Krueger said. "But for me, I like to be constructive. And I'm happy the NHL has been as constructive as possible in learning from the experience that we had. So it seems to make it worthwhile. ... What happened on that weekend, obviously, it's quite clear that the information that we had just a few days after, and what the NHL had at that point ... there was a big divide between what they knew."
The only way for the league to get through the pandemic season is to take the time and spend the money for rapid testing on game days.
Dahlin was one of the last two players added to the Covid list, going on it Feb. 7. He confirmed he will play Monday after taking a regular turn in practice on defense with Colin Miller and on the Sabres' top power-play unit. It's presumed Dahlin is a close contact of Mittelstadt, with whom he has lived with the last couple of years.
"As soon as we got the news from the team, we moved away from each other," Dahlin said.
Dahlin is with MIller...So the lines are Skinner-Eichel-Olofsson, Hall-Staal-Reinhart, Smith-Eakin-Okposo, Fogarty-Sheahan-Thompson.D are Dahlin-Miller, Irwin-Jokiharju, Davidson-Borgen with Bryson rotating in. All 3 goalies out there.

— Mike Harrington (@ByMHarrington) February 14, 2021