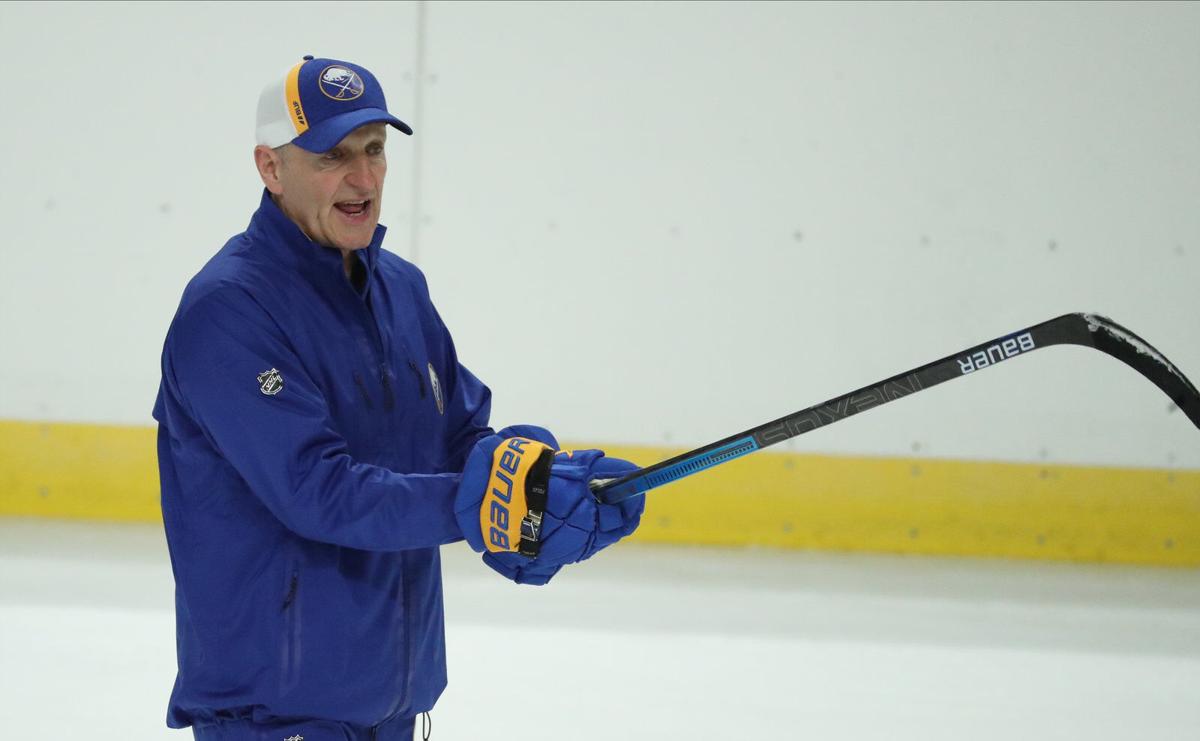 Under the guise of a curious traveler, Ralph Krueger visited Buffalo bars in the spring of 2019 to meet locals and take the pulse of a Sabres fan base frustrated by turmoil and failure.
Krueger, then weeks removed from a five-year stint as chairman of English Premier League's Southampton FC and in Buffalo for his interview with the Sabres, walked away from those encounters with a desire to try to resurrect the proud hockey franchise and, shortly thereafter, became the 19th coach in team history.
Less than two years later, and after only 97 games on the job, Krueger was fired Wednesday morning with the Sabres amid a 12-game winless streak and sitting last in the National Hockey League at 16 points (6-18-4) through 28 games.
"It's been a tough day," lamented Sabres General Manager Kevyn Adams.
Adams delivered the news to Krueger in the aftermath of a 3-2 loss to the Devils in New Jersey on Tuesday night. Shortly after speaking to Krueger, Adams informed assistant coach Steve Smith that he, too, was fired.
Assistant coach Don Granato will take over as interim head coach, while Matt Ellis, director of player development, and development coach Dan Girardi will be behind the bench as assistant coaches. The search for a permanent head coach will begin "immediately," according to Adams. The Sabres were off Wednesday and host the Boston Bruins in KeyBank Center on Thursday night.
"Ralph was disappointed," said Adams. "I have learned a lot from Ralph as a person and his leadership qualities and different attributes that he has. It was a very honest and hard conversation. Obviously disappointed and believed to his core that he could turn this around, but my job was to tell him where I felt we were and have a honest conversation and that's what we did earlier today."
The Sabres have been shut out as many times as they've won games (6) and rank last in the NHL with 2.07 goals per game, scoring a league-worst 36 times at 5-on-5. The production fell far short of the high expectations created when Buffalo added former Hart Trophy winner Taylor Hall and accomplished veteran center Eric Staal during the offseason.
Adams waited patiently to see if the Sabres' performance would improve, but he chose to make the change with Krueger owed $3.75 million next season.
Krueger's rapid fall began shortly after his return from a bout with Covid-19. The 61-year-old endured multiple symptoms during the Sabres' two-week pause last month. Since returning to the ice, the team has posted a 2-14-2 record, a stretch that includes four shutouts.
Over his relatively short time as coach, Krueger led Buffalo to a combined 36-49-12 record and the franchise is closing in on a 10th consecutive year outside the playoffs, which would match the longest drought in NHL history.
Owners Terry and Kim Pegula have hired and fired five coaches since purchasing the team in February 2011. Since the sale was approved Feb. 18, 2011, the Sabres have a combined record of 282-367-96. Their 660 points are the fewest in the NHL during that span.
On the first day of his first training camp as coach in September 2019, Krueger delivered an impassioned speech to players and staff, a moment veteran forward Kyle Okposo later described by saying, "I talked to five or six guys after – Ralph talked for 15 or 20 minutes, and every single one of them said they wanted to run through a wall after he was done talking. He definitely got the guys' attention and knows how to deliver a message."
The message did not translate to consistent production on the ice. His first season featured some encouraging moments, particularly the Sabres' 8-1-1 start and Jack Eichel scoring a career-high 36 goals to become a viable Hart Trophy candidate.
A system built around defense allowed the 10th fewest 5-on-5 goals in 2019-20, elevating the Sabres into possible playoff contention at the February trade deadline. Buffalo then encountered a second six-game winless streak and the season ended when the NHL suspended play March 12 in response to the Covid-19 pandemic.
Krueger seized more power in the organization in June with the dismissal of former General Manager Jason Botterill and 21 other hockey operations employees. Krueger, working alongside Adams, recruited Hall to sign a one-year, $8 million contract with Buffalo in October and hand-picked other offseason additions, including Tobias Rieder and Cody Eakin.
The Pegulas' vision for the Sabres had Adams and Krueger working in lockstep to build a roster that fit the coach's preferred style of play.
The Sabres started the season with encouraging performances in the rugged, temporarily aligned East Division during this truncated 56-game schedule. The team's top forwards were stricken by bad puck luck, particularly in 5-on-5 situations. Then the season was paused for two weeks because of a Covid-19 outbreak, the result of a two-game series against the New Jersey Devils on Jan. 30-31. Nine Buffalo players were placed on the protocol list, some of whom were symptomatic.
Then Krueger's system began to crumble, and he came under scrutiny for how he handled the benching of a star player.
Shortly after the Sabres' return, Krueger scratched Jeff Skinner, a two-time all-star left winger who signed an eight-year, $72 million contract with Buffalo in June 2019, for three consecutive games. Skinner's agent, Don Meehan, had a lengthy phone conversation with Adams to express concerns about the situation. 
In 18 games since returning from the pause Feb. 18, the Sabres have posted a negative-26 goal differential at 5-on-5 while ranking last in the NHL in limiting an opponent's shot quality.
On March 5, on the heels of another ugly loss, Adams did not give Krueger a public vote of confidence and told the media during a videoconference that he was evaluating all aspects of the team. Even in his final days, Krueger's confidence was unwavering, as he proclaimed that his system would soon produce results.
When asked about Adams' comment afterward, Krueger said: "My reaction is we have a game here in an hour and a half, and that I am completely, wholly focusing on doing what I do every day here and that's getting up in the morning, meeting with my coaches, looking at what we can improve on, what we want to take with us and the lineup we have and the growth. Anything beyond that right now would be a waste of focus and energy. The team needs me to be 100% present and that's what I am here, right now."
The Sabres have since lost seven consecutive games, including once in a shootout, while being outscored 32-12. In addition to the Covid-19 pause, the team has lost several important players to injury, including Jack Eichel, Dylan Cozens, Jake McCabe, Linus Ullmark and Zemgus Girgensons.
Yet, in the end, Adams did not see enough progress and decided to make the change, despite the possible challenges that lie ahead for Granato.
"I said it a couple weeks ago, it's unacceptable in every area," said Adams. "So, why do we do it? Well, we're doing it because we feel we have to start to improve. Of course, results matter. This is a results business and where we are is unacceptable, it speaks for itself. But it's deeper than that. To change the culture and to do what we have to do to get this headed in the right direction, I felt this was the move that we had to make, regardless of all those things that you mentioned."
Krueger previously served as head coach of the Edmonton Oilers for the 48-game lockout-shortened 2012-13 season. He first entered the NHL as an assistant in Edmonton, spending two seasons under Tom Renney from 2010-12. Prior to that, he was the coach of Switzerland's National Team for 13 years. Krueger also was lauded for his work coaching Team Europe at the World Cup of Hockey in 2016. 
Less than two years after his arrival as head coach of the Buffalo Sabres, and after only 97 games on the job, Ralph Krueger was fired Wednesd…