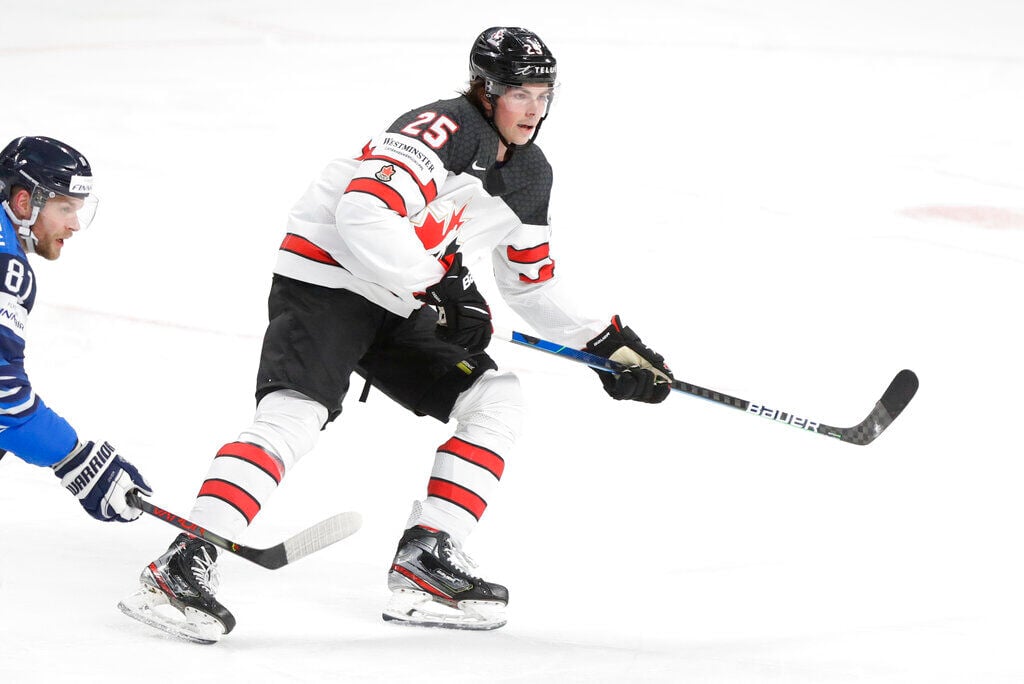 There was no question that Rasmus Dahlin was going to be the Buffalo Sabres' choice when then-general manager Jason Botterill stepped to the podium inside Dallas' American Airlines Center on June 22, 2018.
Dahlin was the consensus top prospect, a remarkable young defenseman with a skill set that scouts compared to that of Detroit Red Wings great and hall of famer Nicklas Lidstrom. Dahlin's impressive play in Sweden's top professional league made an immediate jump to the NHL a foregone conclusion.
The on-ice development of many prospects was impacted by restrictions to combat the spread of the virus, as positive Covid-19 tests wreaked havoc on the schedules of every active league and players couldn't train as they normally would. This has caused the NHL's 32 teams to rethink how they evaluate talent in this unusual year, which likely will impact their draft rankings.
Owen Power, a 6-foot-6 prospect referred to by scouts and analysts as a complete defenseman, is atop every notable mock draft and prospect ranking entering the NHL's seven-round virtual event this year, which will begin Friday at 8 p.m.
Yet, for whatever reason, no one outside KeyBank Center knows who the Sabres will select first overall. The perception surrounding this draft is that it's as weak as any in recent memory. It's possible no player will make the immediate jump to the NHL, and many prospects' seasons were impacted by the Covid-19 pandemic. Additionally, the Sabres are in dire need of help at forward, while defense is arguably the strength of the organization's depth chart.
It's a debate we won't know the answer to until general manager Kevyn Adams announces the Sabres' selection.
GM Kevyn Adams included most of his high-upside, non-exempt players on the club's protection list for the Seattle expansion draft.
"I think he's better than people think he is, actually," said Brock Sheahan, who coached Power with the United States Hockey League's Chicago Steel. "I don't think people understand how great he can be. A lot of people are saying they don't know if this is a good draft, but I'll tell you what, there's definitely one elite player in this draft and that's Owen Power. There are others, but he is very, very special."
Adams, associate general manager Jason Karmanos and the Sabres' scouting staff are scrutinizing every area of Power's game to achieve a better understanding of how the 18-year-old will develop over the next several years.
The Sabres aren't interested in selecting the best player available today. They want the player who will have the greatest impact 5 to 10 years into the future. There's a good chance that Power will return to the University of Michigan for his sophomore season, providing him with a valuable year of development to prepare for an NHL career.
Adams' scouting staff is also high on defenseman Luke Hughes, who is expected to be the third brother in his family to be drafted in the top 10. Hughes, 18, spent this past season at the USA Hockey National Team Development Program and will play at Michigan next season. He possesses a left-handed shot and his package of skills more closely resembles that of Dahlin, rather than Power.
Picking ahead of the NHL's 31 other teams provides the Sabres with bountiful options, particularly at forward. William Eklund, Matthew Beniers, Mason McTavish, Dylan Guenther and Kent Johnson are among the options Buffalo has to bolster a young core led by Dylan Cozens and Casey Mittelstadt.
Skinner, the $9 million-per-year winger with 21 goals over the past two seasons, agreed to waive his no-movement clause Tuesday for the purpose of being exposed to the Kraken at the expansion draft on July 21, his agent, Don Meehan, confirmed to The Buffalo News.
Beniers, a teammate of Power's at Michigan, is considered by many analysts as the top center in this draft after a strong showing as a freshman with the Wolverines. Beniers averaged a point per game at Michigan, with 10 goals and 14 assists for 24 points in 24 games. He also had impressive production at the USA Hockey National Team Development Program in 2019-20, totaling 18 goals and 41 points in 44 games.
Beniers represented the United States at the IIHF World Championship this spring, an opportunity for the Sabres and other teams to see how his skills compared to those of NHLers.
"I think kind of my ability to make plays, see the ice, kind of my hockey IQ," Beniers said about which of his skills helped him succeed at the tournament. "I think that was pretty good. I felt good about that there and kind of my edges, my skating ability when I was there. I think that those two things allowed me to play well at a faster pace and make plays and kind of have an impact while I was there. The way I see the ice and move my feet, I think that also helped me a lot with forechecking, backchecking and things like that."
The Sabres' internal debate, though, likely centers around Power and Eklund.
"In my view, he's the best player," Craig Button, TSN director of scouting, said about Power. "I've watched him play since he was 15 when he was playing midget hockey, so I've had a real benefit of watching him play for a long period of time and he played lots this year, so he didn't have that gap. So, from his time in midget to his time with the Chicago Steel to his time at Michigan now, he continues to handle every challenge thrown his way. There's no question that watching him play at the world championships gives you even greater confidence about his ability."
Power made an immediate impact upon joining the Wolverines, totaling three goals and 16 points in 26 games as a freshman. Power's 0.62 points per game this season helped him secure rookie of the year honors from the College Hockey News, and he was a Big Ten Freshman of the Year finalist.
Power also performed at a high level against NHL players at the IIHF World Championship. He had three assists, 17 shots on goal and a plus-1 rating while averaging 20:07 of ice time in 10 games to help Canada win gold.
"This is a complete package, and I think he's going to have a powerful impact in the National Hockey League," said Dan Marr, director of NHL Central Scouting. "And, you know, and I hate doing the comparables, but I get forced into it a lot. He's going to be the best of Alex Pietrangelo and Seth Jones combined. And that's a player who can go out and play in any situation. He's such a rangy, deceptive skater. He is going faster than what he looks. He can skate his way through any situation out there, and he's got the quickness with his read-and-react game and his hockey sense to make those plays on the fly."
Eklund is a 5-foot-10 left wing who was ranked by central scouting as the top European skater in this class.
Eklund has not had the production of other draft-eligible prospects, but he was remarkable while competing against men in the Swedish Hockey League this season. Eklund was named the league's rookie of the year after he totaled 11 goals and 23 points in 40 games for Djurgardens. It was the fifth-most productive season for a draft-eligible player in SHL history. He accomplished those feats despite testing positive for Covid-19 in December and missing three weeks following an appendectomy in January.
"He competes and works hard with excellent hockey sense, quickness and elite puck skills to be both a playmaker and a scorer. A scoring threat on every shift, he plays bigger than his size and plays to win," Marr said of Eklund.
Though Eklund has played center in the past, some scouts are of the opinion that he projects as a winger in the NHL. Building on the wing isn't the best strategy, though the Sabres' prospect pipeline needs talented forwards no matter their position.