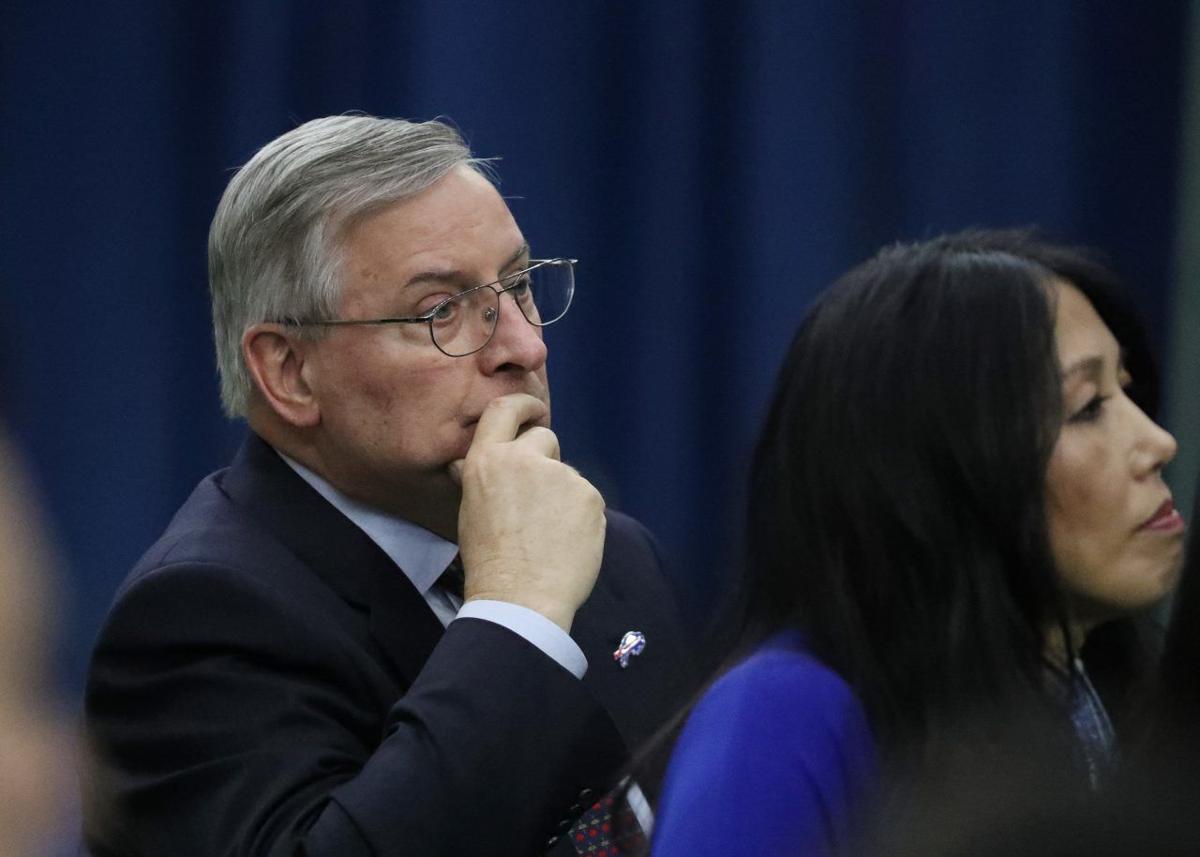 This is the first story in a two-part series looking at the firings of Buffalo Sabres General Manager Jason Botterill and 21 members of the hockey operations department last June and Kevyn Adams' first year as the franchise's GM. Coming Monday: Our one-on-one interview with Adams about his first year and what's next? 
Hockey operations employees with the Buffalo Sabres did not need to read the body of the email on the morning of June 16, 2020, to know that someone was fired.
News of every dismissal is delivered internally in the same fashion, a message from human resources that states in the subject line that it is sent "on behalf" of owner and team president Kim Pegula. However, this departmentwide memo spread angst among the franchise's executives, scouts and coaches because the National Hockey League was facing an uncertain start date for the 2020-21 season.
General Manager Jason Botterill, on the job for just more than three years, was fired after the club came within 0.07 percentage points of qualifying for the National Hockey League's return-to-play format. The stunning news came less than three weeks after Botterill received a vote of confidence from Pegula through the Associated Press and sources said one week after ownership requested three separate budgets from department heads as the organization attempted to map out its impending expenses. 
Then came the stunning revelation that Botterill was being replaced by someone who had never been a high-ranking member of an NHL front office: Kevyn Adams, a former Stanley Cup-winning NHL player and Clarence native who spent the previous nine months as the Sabres' senior vice president of business administration.
Adams then dismissed assistant general managers Randy Sexton and Steve Greeley, both of whom received two-year contract extensions that February. Sources told The Buffalo News that scouts were dispatched to attend a video conference call with Adams later that morning, which alleviated some of their concerns.
Yet by day's end, one by one, 18 other Sabres employees received a phone call in which Adams told each person that he, too, was fired. In the end, 22 lost their jobs and only 15 hockey operations employees remained in an unprecedented bloodletting to achieve ownership's vision for what Terry Pegula later described as a "leaner" hockey operations department.
The Pegulas' plan – which was built around Adams working in lockstep with former coach Ralph Krueger – was an epic failure during its first calendar year. Krueger was fired in March amid a franchise-record 18-game losing streak that resulted in the Sabres' fourth last-place finish in eight years and Adams is currently conducting a coaching search.
The franchise's 10-year playoff drought is tied for the longest in NHL history and the third-longest active streak in North American professional sports. The Pegulas' experiment has evolved over the past 12 months – including more firings, a reconfiguration of the scouting staff and one prominent hire – but there are more signs of regression than progress and glaring questions remain about whether the reduced staff under Adams is enough to build a winner. With 22 people not counting the NHL coaches, the hockey operations staff has two-thirds the number of people as it did at the end of Botterill's tenure.
"We have to do our job on the ice as a hockey team to make the city proud and that will start to get our fans excited, that'll empower all our employees to walk out and feel good about who you work for and what we're doing day in and day out and the energy is there," Adams said during his end-of-season media availability. "So, I think it's not all isolated. I think it all kind of works together. But we need to do that, period. And we have some phenomenal people in this organization that care.
"We haven't even mentioned Terry and Kim right now, on this call yet. And they've done so much for this city and put so much into this organization. I think about it daily. We need to make them proud and to put the product on the ice that they feel good about as well."
The firings seemed to be over on the afternoon of June 16 while Adams, Krueger and the Pegulas fielded questions from the media during a 45-minute video conference call. At that time, Botterill, Sexton and Greeley were the only employees dismissed. It wasn't until after the call that Adams carried out the rest of the staffing changes.
The owners spoke in mostly platitudes and declined to provide specific reasons why the sudden changes were made amidst a global pandemic. Terry Pegula, though, introduced a phrase that became synonymous with the new vision for the franchise: "I mentioned three words: effective, efficient, and economic."
The timing of the decision, specifically Kim Pegula's vote of confidence, was odd given that ownership was mulling changes for months.
Adams, who has worked for the Pegulas since joining LECOM Harborcenter in 2013 as vice president and director of the Academy of Hockey, traveled with the Sabres on a West Coast road trip from Feb. 25 through March 3 that season. He also attended NHL Board of Governors meetings in place of Kim Pegula, the team president. These aren't tasks typically delegated to someone working in business operations and led many employees to wonder if there was more to Adams' role with the team, sources said.
While Adams declined to tell The News last June when he was offered the general manager job, he confirmed that he was "part of the process" leading up to Botterill's dismissal. 
Though Terry Pegula has a reputation for interfering with the club's decision-making, his only maneuver to be included in hockey operations that spring came in April when, according to sources, Pegula requested the scouting staff brief him via a 30-minute conference call on the Sabres' top 50 prospect rankings ahead of the draft. 
In April, Pegula Sports and Entertainment laid off 21 employees and furloughed 104, including members of the Sabres' hockey operations department. Additionally, Botterill was among the more than three dozen executives to take temporary tiered pay cuts.
Multiple sources confirmed to The News that one week before the firings, per ownership's request, department heads in Sabres hockey operations submitted three different budgets for the next calendar year: status quo, scaled back and as cheap as possible. There was also a mandate to slash spending at their American Hockey League affiliate, the Rochester Americans.
Botterill met with ownership the week of June 8 to discuss the budgets. There were no signs that his job was in jeopardy. The day before his June 16 firing, he was working on contracts for Sabres' players and prospects. 
Terry Pegula acknowledged following the firings that a disagreement with Botterill led to the decision, saying, "We as owners had a vision to where we need to go in these uncertain times. We don't know if we're going to have fans next year and what not as far as competitive sports go. Looking ahead, we need to make some adjustments in the business side of our operations that we provide that foresight to the organization. We felt like we weren't being heard. I'm not going to sit here and dish on Jason Botterill, but we have a vision and we want to see our vision succeed."
Botterill, now an assistant general manager with the expansion Seattle Kraken, has not commented about the Sabres since his firing. 
The Sabres aren't the bountiful source of revenue that the Bills are for the Pegulas, which explains why ownership was considering budget cuts even before the Covid-19 pandemic reached North America. 
Ticket prices and television revenue haven't risen enough to offset the raising operating costs, particularly player salaries, since the Pegulas took ownership of the Sabres in February 2011. The club's 10-year playoff drought means the Sabres have missed out on TV and arena revenue from postseason games. The salary cap has risen by more than $22 million since they purchased the team. 
Ownership continued to spend big money on players – including a $72 million contract for winger Jeff Skinner in June 2019 – but a large hockey operations staff with a significant budget in Rochester wasn't producing on-ice results.
According to multiple sources, the Pegulas began to evaluate spending in Botterill's department during the winter of 2019-20, going as far as to investigate travel logs to see if scouts were submitting an adequate number of reports while on the road.
But what changed between Kim Pegula's vote of confidence for Botterill and the firings? The NHL announced the draft would not be held until the fall, which Pegula said gave her and her husband more time to evaluate the department. 
It's unlikely the Pegulas saved much money with the changes. Botterill, Sexton and Greeley were all under contract through 2021-22. Ryan Jankowski, then director of amateur scouting, and 10 of the 12 fired scouts were owed their salaries through June 2021. The new regime also declined to honor two agreed upon contract extensions that weren't officially completed by Botterill's staff, one for former Rochester coach Chris Taylor and another for amateur scout Randy Hansch, according to sources.
The Sabres were likely cutting costs in hockey operations regardless because scouts across the NHL weren't traveling amid the pandemic. The team's annual development camp and prospects challenge were also canceled, thus slashing additional expensive lines on the budget. 
This occurred before a season in which the Sabres hosted a total of approximately 2,500 fans for four games during a shortened 56-game season. 
When taking the general manager job, Adams agreed to inherit a staff of only 15 people, not including the NHL coaches. By comparison, Botterill had 36 employees working under him in hockey operations.
Adams' first significant assignment was the promotions of Jeremiah Crowe and Jason Nightingale to director of scouting and assistant director of scouting, respectively. Matt Ellis joined the Sabres as director of player development last August, and Adams hired a new coaching staff for Rochester, led by Seth Appert.
Crowe and Nightingale ran a unified scouting department that handled amateur and professional evaluations with an emphasis on video and analytics. For much of this season, Crowe and Nightingale worked with a staff of nine scouts. 
The model was scrapped in March when Crowe was reassigned to director of pro scouting and longtime Sabres employee Jerry Forton was elevated to director of amateur scouting – changes that occurred after Adams met with ownership to discuss the club's needs. The easing of Covid-19 restrictions across the globe meant the Sabres required a different structure, Adams said.
"It felt like we needed to make sure that we were covering everything from the scouting perspective in a detailed way," Adams said. "I feel really strongly that success is not an accident, you know, you don't just wake up and have success, you have to really put a plan together. And the scouting perspective is critical. And you have your amateur, you're tracking players, you're really doing that work for; the draft is one or two days out of the year, but the work is being done for the entire year leading up to it.
"And then on the pro side, similar where you have to have that plan in place and making sure that the scouts understand where our team is at, what I'm thinking, what the coaches are thinking, so then there can be times where we're identifying players that fit the DNA of our team and what we need moving forward."
The budget cuts did not reach the Sabres' dressing room. According to CapFriendly.com, the Pegulas' expenditure for player salaries this season was approximately $76,640,435. The Sabres' final cap hit was $80,743,186, which is slightly less than the $81.5 million ceiling.
When the Sabres' season was derailed and Krueger as fired on March 17 after a 12th consecutive defeat, Adams met with ownership to discuss the club's needs. The decision was made to finally hire an assistant general manager. Still, the latest dismissal was burdensome because Krueger carried a $3.75 million annual salary.
"I've been empowered by Terry and Kim Pegula to fix this, and that's what I'm going to do," Adams said before Krueger's firing.
The search for help ended with the Sabres hiring Jason Karmanos, who has a combined 21 years of experience working in an NHL front office. Karmanos, 47, is the sort of hire fans have been clamoring for since Botterill's departure. Karmanos owns three Stanley Cup rings from his time working with the Carolina Hurricanes and Pittsburgh Penguins. His background includes analytics and he has been tasked by Adams to evaluate the needs of each department in hockey operations. Karmanos will also serve as general manager of the Amerks.
Across the past 12 months, the Sabres have hired nine full-time employees in hockey operations: Ellis, Karmanos, Appert, Amerks assistant coach Mike Weber, development coaches Dan Girardi and Mike Ansell, director of hockey strategy Charlie Mendola and two scouts in Tristan Musser and Anders Forsberg. In March, Mendola was fired after only three months in his role, and the Sabres also dismissed Rob Riley, who was one of few scouts who had been retained. Adams now has 19 employees working under him, not including the NHL coaching staff.
During a recent phone interview with The Buffalo News, Adams would not commit to adding more scouts, but he confirmed that he wants to add hire data engineers and analysts to work in the analytics department under Karmanos and Nightingale. Such a plan would help the Sabres keep pace in the NHL, as teams are beginning to hire more employees to handle the increasing amount of available data.
"Yeah, our plan is to expand that department," said Adams. "You grow that department. I think Jason Nightingale is extremely talented. Very, very bright. And interesting because in his background and the analytics, he also does have a playing background, which makes him pretty, pretty unique."
The process of rebuilding the hockey operations staff comes at a pivotal time for the franchise.
The Sabres' top two forwards, Jack Eichel and Sam Reinhart, may be traded this summer, albeit for different reasons. Defenseman Rasmus Ristolainen could also receive a change of scenery after eight seasons in Buffalo.
Though Adams has not committed to trading any of the three, it appears the Sabres may begin to build around a new core of young players, led by Casey Mittelstadt, Rasmus Dahlin, Dylan Cozens, Henri Jokiharju and Tage Thompson, all of whom were brought to Buffalo by Botterill's staff.
The Sabres also own the first pick in the NHL draft on July 23, and they will lose one player in the Seattle expansion draft. Adams also wants to hire a coach who can further the development of Buffalo's young players.
The next steps could determine how long fans in Buffalo will have to wait for the return of playoff hockey.