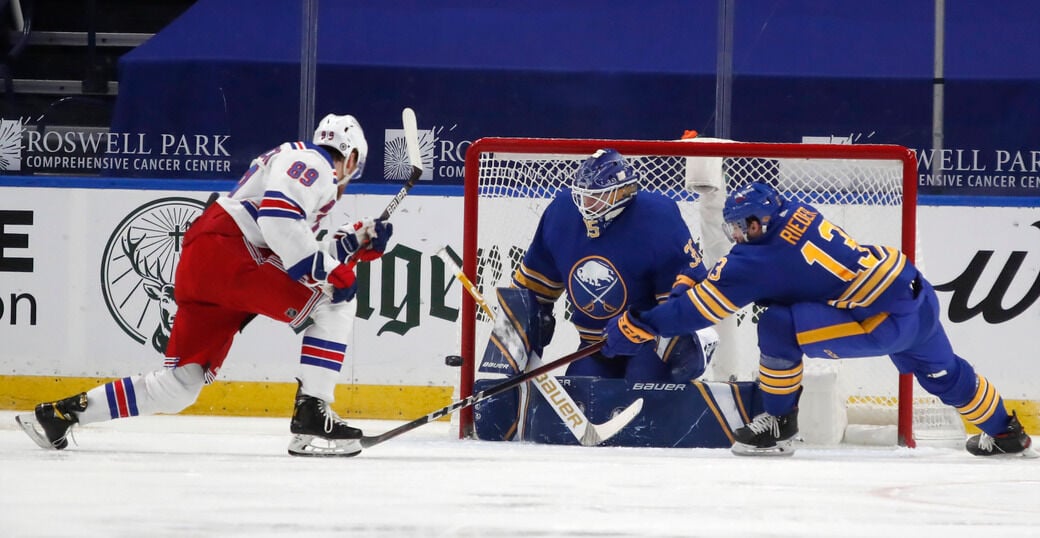 The Buffalo Sabres and New York Rangers had battled through 65 minutes Saturday night in KeyBank Center and settled nothing.
It was off to the shootout and with Linus Ullmark in net, that's a huge advantage to the Sabres. The marquee moment came when Ullmark won a test of wills with Rangers star Artemi Panarin, one of the NHL's top wingers.
"One thing has quickly become apparent: Granato may have been hired simply to keep the seat warm for somebody else, but he has a real chance to keep his candidacy growing," writes Mike Harrington.
Panarin slowly broke left, approached the net with some rapid-fire dekes and some head and leg feints. Ullmark bought none of it. He stood firm and made a glove save when Panarin finally decided to shoot.
Ullmark went on to stop Mika Zibanejad and Kaapo Kakko, blanking the Rangers to improve to 3-1 in shootouts this season and 7-3 for his career.
Much like a golfer can reflect on the background of every shot on a hole, Ullmark gave a unique recitation of the Panarin moment when asked about it after practice Monday.
"When you play against these type of players like Panarin, Auston Matthews, Patrick Kane, Connor McDavid, these guys have tremendous hands," Ullmark said. "So as soon as you make the first move, you're toast. That's it. But at the same time, you have to be able to read them to a certain level that you know the shot or the deke is going to come.
"He kept on dangling for a long time. And then he puts his stick a little bit further off to the right and he shot it and I read off of that. But at the same time, if he fakes me there and he goes backhand, I made my choice to go on a catching glove save. And I fully committed to it. If he reads me doing that, I'm going to look like a fool.
"And that's what makes it interesting, because it is basically man-on-man stuff going on out there. The patience is the key, and it goes both for the player and for the goaltender."
By stopping all three shots Saturday, Ullmark improved to 33 of 38 in his career, and his .868 save percentage took over first place all-time in the NHL for goalies with at least 10 shootouts.
The previous high of .854 was set by Marc Denis of Columbus and Tampa Bay from 2005-2008. Next on the active list is Tampa Bay star Andrei Vasilevskiy at .844 and San Jose's Martin Jones at .773.
"There's still a lot of teams that I haven't been up against when it comes to shootouts, so I don't know if I'll do as well against them," Ullmark said. "That's the thing about it, the beauty of going into the shootout. You never really know what to expect out of the opponents. That's what I find actually kind of intriguing and interesting as well."
Ullmark is expected to be in goal Tuesday night when the Sabres play the New Jersey Devils in Newark. Three of the Sabres' eight wins this season are against New Jersey. Buffalo is 3-2-1 against former coach Lindy Ruff's club. 
Ullmark had his best game of the season in the Sabres' 4-1 win Feb. 23 in Prudential Center, stopping 41 of 42 shots. When he was injured two nights later and played just one period of Buffalo's overtime loss to the Devils, that was essentially the end of the Sabres' season.
In his four games back off the injured list, Ullmark is 2-1-1, 2.46/.925. Against the Devils this year, Ullmark has been lights out, going 3-0, 1.76/.949 and stopping 112 of 118 shots over four appearances.  
Overall, Ullmark is 7-5-3 and owns all but one of the Sabres' wins. He's at 2.44/.921 for the season and his .928 save percentage at 5-on-5 is tied for 8th in the NHL.
"His career has been on a steady incline," said coach Don Granato. "He hops in the net now and he's just in a zone. There's a calm to him, but there's also a very focused intensity to him as well. A real good balance."
Ullmark is an unrestricted free agent after the season. So while that ordinarily might make him a key target at the trade deadline, it seems unlikely that the Sabres would move him right now with the shallow organizational depth in goal.
"They're the team that drafted me. It's been my team ever since then," Ullmark said. "I still take it day by day. I wake up in the morning and I'm a Buffalo Sabre. And that's kind of what keeps me going. We have obviously had a rough season. But you've got to stick with it. You got to be able to have pride in what you're doing in your craft."
But what about the offseason? While Ullmark is in line for a raise from his $2.6 million salary, it remains to be seen what kind of offers he will get from the Sabres and from others.
He insists his future has not been a point to ponder during his club's lost season or his time on the injured list.
"The only thing that really that enters my mind is my family when I am off on the sidelines," he said. "I'm here by myself right now. It's been a battle ever since Day One. You miss your kids and your family a tremendous amount. But that's also one of the reasons why I take it day by day. I can't think about too much in the future because then I start wishing I probably was with my kids and with my family. And you start doubting yourself, start thinking about something that's not in your control."