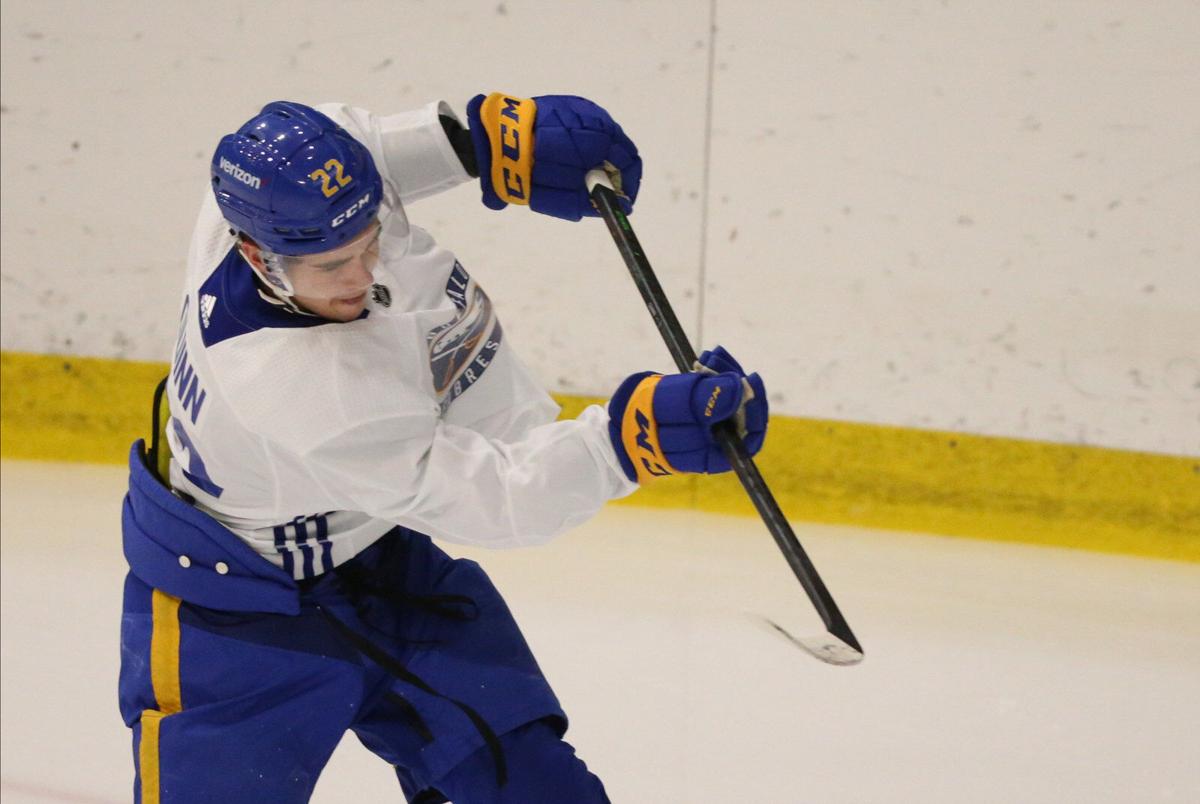 Jack Quinn wasn't seething when he heard the news that he would not be on the ice with the Buffalo Sabres at the start of the season.
Quinn listened to words of encouragement and motivation from General Manager Kevyn Adams and coach Don Granato, then told his bosses during the October meeting that he planned to use his time in Rochester to master the American Hockey League.
"In the back of my mind, I still wanted to prove that I could put up big numbers in this league and be a dominant player," recalled Quinn, a 20-year-old winger drafted eighth overall in October 2020.
Quinn's response wasn't lip service. His 18 points through 14 games were third in the AHL entering Tuesday, and he has nine goals after totaling only two in 15 games last season. Quinn was named the league's rookie of the month for October and has recorded multiple points in five games.
Adams and Granato are prioritizing patience with the talented prospects in Rochester, but Quinn is showing clear signs that he'll be able to help the Sabres sooner rather than later. While Quinn is still fooling goalies with his right-handed shot and quick hands, he's also refined his approach to prepare for the challenge of the NHL.
Quinn is consistently crashing the net to create offense. He's making plays in tight spaces that will translate to the next level and is improving in every area on the ice while skating in every situation for the Amerks.
"I feel a lot more ready," said Quinn. "I think learning how to play [in the AHL] allowed me to have the right mindset coming into the season and knowing what I have to do be successful. Getting to the inside, bearing down more in there. That's how I'm going to score my goals. Last year, I didn't know that coming in, so it was harder to react."
Quinn's primary goal during the offseason was to prepare himself to make the Sabres' roster out of training camp. When recovered from hernia surgery, Quinn worked with renowned Ottawa-area strength coach Tony Greco on developing a stronger base. Quinn thought he got pushed off the puck too easily as a first-year player in the AHL and knew those battles would only increase in difficulty in the NHL.
There were several areas on the ice that Quinn needed to address but none more important than in the offensive zone. His shot helped him score 52 goals with the Ontario Hockey League's Ottawa 67's during his draft-eligible season in 2019-20, but he needed to quicken his release to more consistently beat professional goalies.
There's less time and space to make plays in the AHL, and Quinn showed hesitation at times while learning how to create offense. He averaged only 1.6 shots per game and recorded two or fewer shots in each of his first eight games last season. Quinn also had to start getting to the net more. Most goals in the NHL are scored around the crease, not from the perimeter.
Exhaustive work in the summer didn't translate to success during the first weeks of training camp this fall. Quinn had a slow start and admittedly didn't play well enough in his first two preseason games. He wasn't using his speed to earn opportunities with the puck and didn't have enough shifts in which he was noticeable. With camp ending, Quinn had his best performance in his third exhibition game.
"You don't want to put pressure on yourself, but naturally, you're going to," said Quinn. "That's something Donny (Granato) talked to me about before the camp. 'Don't put pressure on yourself. Just go out there and play.' That's tough to do. You want to make the team, you want to be there, so naturally, I did put pressure on myself. On the other end of it, it's more about how you react when it's over and the mindset that you have."
Quinn has helped ignite the Amerks' offense, recording at least one point in all but three games. He's had five or more shots on goal on three occasions. Quinn, fellow top prospect JJ Peterka and West Seneca native Sean Malone skated together on what looked like Rochester's best forward line since Victor Olofsson, Rasmus Asplund and Danny O'Regan in 2018-19.
The combinations have since changed for Rochester (8-6) with the arrival of 2019 first-round draft choice Peyton Krebs from Vegas in the Jack Eichel trade. Krebs, 20, has centered Quinn and Peterka in recent games.
"He's really good in finding open space for himself to get open," Peterka said of Quinn. "He has a pretty good shot, I would say, and a really good scoring ability, so it's a lot of fun to feed him with passes."
The Sabres can be patient with Quinn and other prospects in Rochester. While Buffalo is 2-7-1 in its last 10 games, the offense totaled four goals in losses to the New York Rangers and Columbus Blue Jackets. Victor Olofsson is back from an eight-game absence and Casey Mittelstadt was listed as week to week on the most recent injury report.
Granato has shown he and his coaching staff can develop young players in the NHL, but it's unlikely Quinn would receive as much ice time in Buffalo. The Sabres can keep Quinn in Rochester until it's clear he has the confidence and strength to overcome the various challenges of competing in the best league in the world. Patience won't be easy for Adams if this continues, though.
"His ability to just create offense, his offensive instincts are impressive," Malone said of Quinn. "For such a young kid to come in and do as well as he's doing and take the big leap that he took from last year, I think, it's really fun to be a part of. His ability to play-make, to score goals from anywhere, it's been really fun to watch."
The Sabres (7-9-2) were off Tuesday as Granato opted to have his players rest with the team having three games in four days, beginning Wednesday night against Boston (9-6) in KeyBank Center.
The Amerks play in Utica on Wednesday night with puck drop at 7 p.m. Krebs has one goal and three points in seven games since the trade. Peterka has four goals and 15 points in 14 games.
Sabres prospect Josh Bloom, a third-round draft choice in July, was named the Saginaw Spirit's player of the week after he totaled five goals, two game-winners, and seven points in three games. Bloom's 20 points in 15 games are good for 20th in the OHL. The 18-year-old didn't play any games last season because the league was shut down in response to the Covid-19 pandemic.