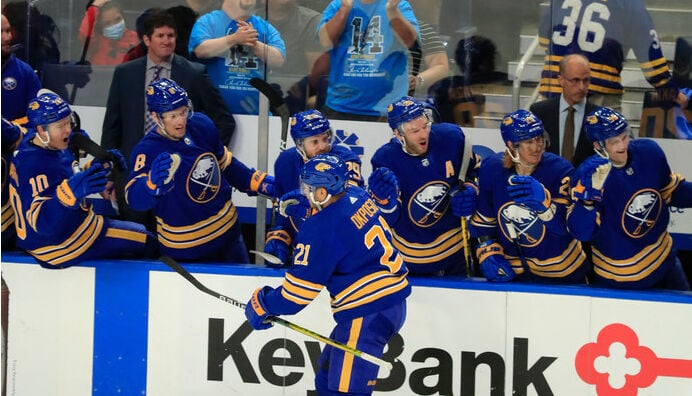 The lights in KeyBank Center dimmed, a spotlight shined on the Buffalo Sabres emblem at center ice and 23 of Don Granato's players filed out of the tunnel Thursday night.
Rick Jeanneret, the voice of the Sabres since 1971, introduced each coach and player on the 2021-22 edition of Buffalo's beloved hockey club. Rasmus Dahlin, Dylan Cozens and Casey Mittelstadt, the new faces of the franchise, received loud cheers and applause from the announced crowd of 8,467.
Each was featured prominently in a pregame hype video narrated by the 79-year-old Jeanneret that showcased the club's connection with the city's fans and included the line, "And if you earn it, they'll stand alongside you. On bad days. And better days."
On an opening night when many in the arena were still wearing the No. 9 of the injured Jack Eichel, and awaiting a trade that would send the frustrated former captain out of Buffalo, his replacements showed the short-term outlook may be brighter than fans expected.
Backed by first-period goals from their two longest-tenured players, Zemgus Girgensons and Kyle Okposo, the Sabres rode a 30-save performance by 40-year-old goalie Craig Anderson to a 5-1 season-opening win over the Montreal Canadiens.
"I think first and foremost, it's not what you don't have," said Anderson. "It's what you do have. And that starts with our leadership, with Donny, you know, putting together a plan that works for the guys that we have in the room. And I think we are a team that are young, can skate fast,  are going to make mistakes. But they're going to do it out of passion."
Victor Olofsson, Anders Bjork and Tage Thompson also had goals for the Sabres, who opened the season with a win for the second time in three seasons. Girgensons, Jeff Skinner, Colin Miller and Jacob Bryson had multipoint performances.
The one negative of the night was an upper-body injury forcing Mittelstadt from the game in the second period. Granato didn't have an update on the 22-year-old center's status.
The captainless Sabres executed the same fast and aggressive style of play that led to an encouraging finish last season and earned Granato the title of full-time coach. Quick breakout passes allowed them to skate through the neutral zone with speed and Buffalo finished with 36 shots on goal. 
The style suits the skills of their young talent, but it's also brought out the best in the Sabres' veteran role players. When Montreal's Cedric Paquette was called for high-sticking in the offensive zone, the Sabres responded with a power-play goal. Okposo collected a pass from Bryson atop the right circle and beat goalie Sam Montembeault with Rasmus Asplund applying a screen in front at 6:40 into the game.
Girgensons made it 2-0 by tipping a Miller shot in for a 2-0 lead late in the first period. There were obvious signs of growing pains for the Sabres' young players.
Mittelstadt had some difficult moments when matched up against Montreal's top center, Nick Suzuki. Dahlin had a few shifts where he was hemmed in his own zone because of disorganized breakouts. 
But their talent also shined. Cozens' drive down the right wing led to the second goal, Dahlin dangled around Jake Evans on a second-period power play, Mittelstadt sprung Vinnie Hinostroza for a breakaway, Olofsson fired a shot between Montembeault's legs for a 3-1 lead and Bjork was in position to score off a Girgensons rebound.
The win came against a team starting a backup goalie in the second night of a back to back, but it showed how Granato can bring out the best in every player on the roster.
"It's one game," noted Granato. "Our guys found a rhythm. ... There's reason for them to feel good about their performance, but it's the same thing. We play (Arizona) on Saturday. You have to go out there and re-earn respect, so it's continually just moving forward and letting things go."
Here are more observations from the win:
1. Okposo is more than a well-respected voice in the room. The 33-year-old has been a target for frustrated fans who want him to produce like a $6 million-per-year winger. Okposo looks revitalized under Granato. While Okposo is still ferocious on the forecheck, he was a threat offensively against Montreal. He came within inches of scoring a second goal in the first period, hitting the near post on a 2-on-1 with Asplund.
"Okie, that's the best I've seen him look in a long time," Girgensons said.
2. Girgensons' return will be important for this team. The 27-year-old was outstanding in his first regular-season game since March 2020. He was a consistent presence on the forecheck and the penalty kill. Girgensons also has the speed and scoring touch to play up or down the lineup, and he's an effective net-front presence.
Girgensons even moved to center when Mittelstadt left with the injury. 
3. Special teams will be the key to success. The Sabres' 5-on-5 game will take time, particularly on offense. Lines need to form chemistry, a process that will increase in difficulty if Mittelstadt misses time. This style of play should lead to more power plays, particularly early in the season when opponents are still getting into game shape.
The Sabres went 3-for-6 on the power play, while blocked shots, most notably by Robert Hagg, led to a 4-for-4 showing on the penalty kill.
"We made it really easy for them," said Canadiens defenseman Jeff Petry. "They showed up and worked hard and we didn't match that. We didn't try to push back, and we let them have an easy game."
4. Anderson got better as the game went on. He had trouble controlling rebounds in the first period but appeared calm in the face of chaos, particularly on an early second-period penalty kill in which he made consecutive saves on Cole Caufield.  
Anderson's only goal against occurred because Chris Wideman was left wide open in front.
5. The Sabres are in trouble if Mittelstadt misses time. This organization lacked depth at center before his injury. This could force Girgensons to move to center and Arttu Ruotsalainen can draw into the lineup.
Thompson was good in his first game at center. He won six of 11 faceoffs and finished with four shots on goal, but the Sabres would be wise to shelter him until he has more time learning the defensive responsibility of the position.
This could thrust Cozens into the first-line center role.
6. Notable stats: Miller played a team-high 20:28, while Okposo and Olofsson led the Sabres with five shots on goal. ... Cody Eakin won 67% of his faceoffs and played his best game since joining the team in October 2020.
Photos: Sabres open season with 5-1 win over Montreal
Let's Go Buffalo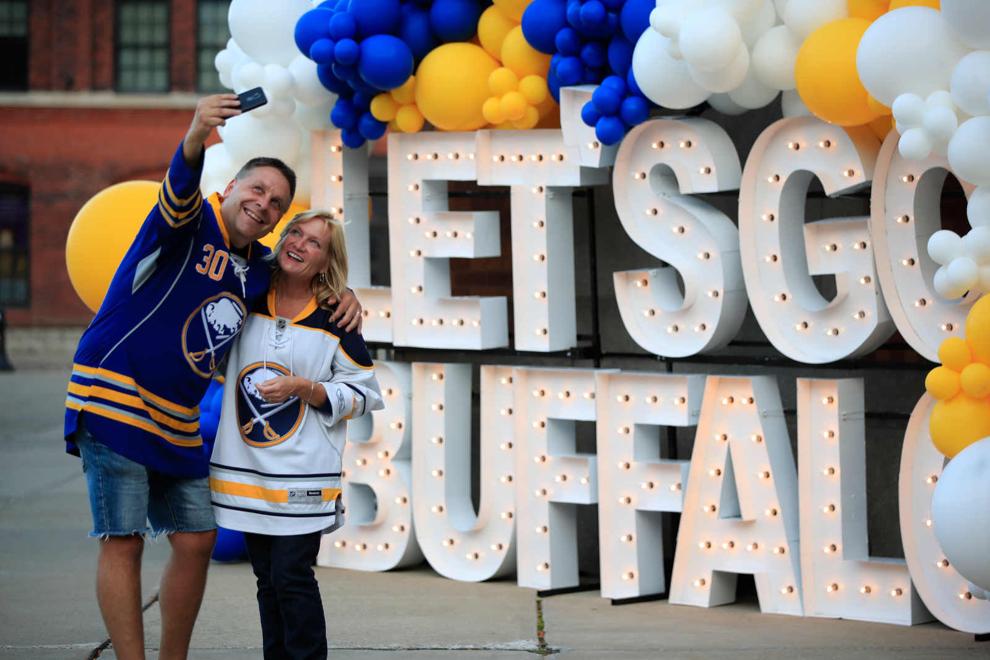 Back in the arena
Quick first goal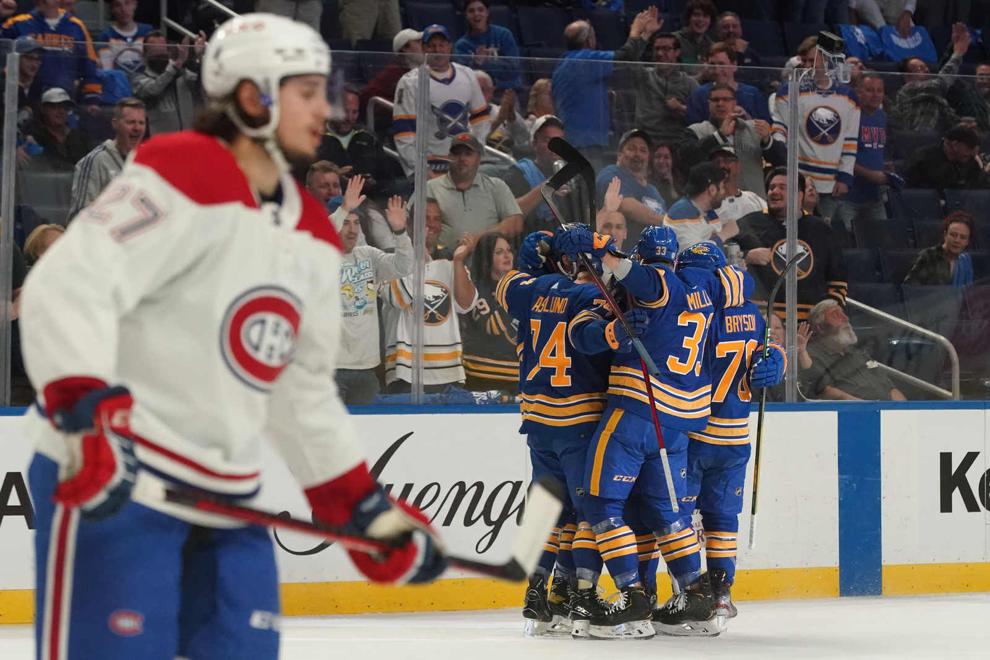 Oops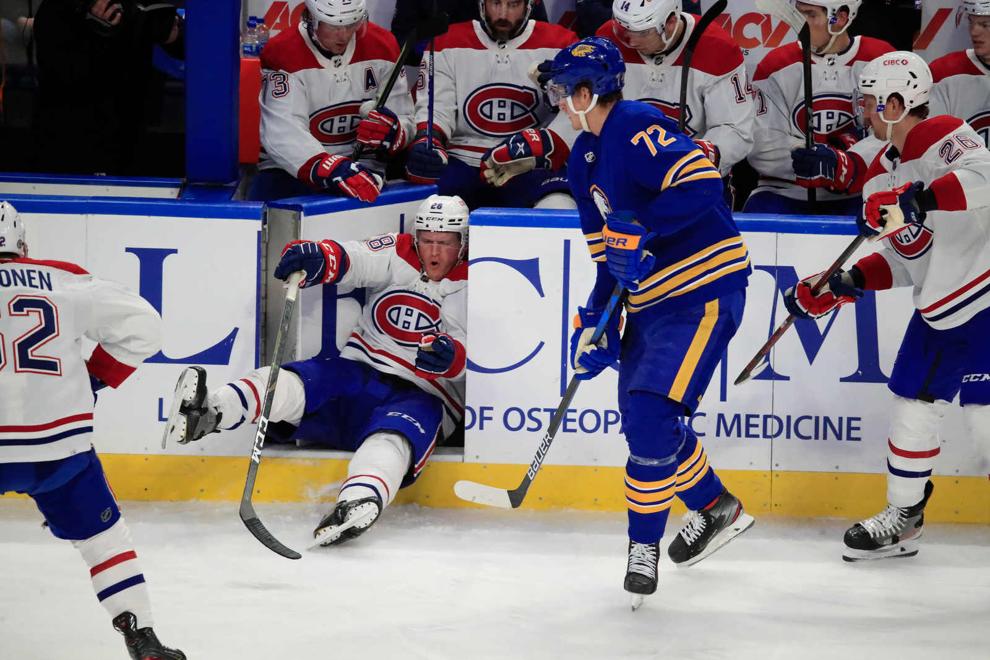 Dahlin at the point
Girgensons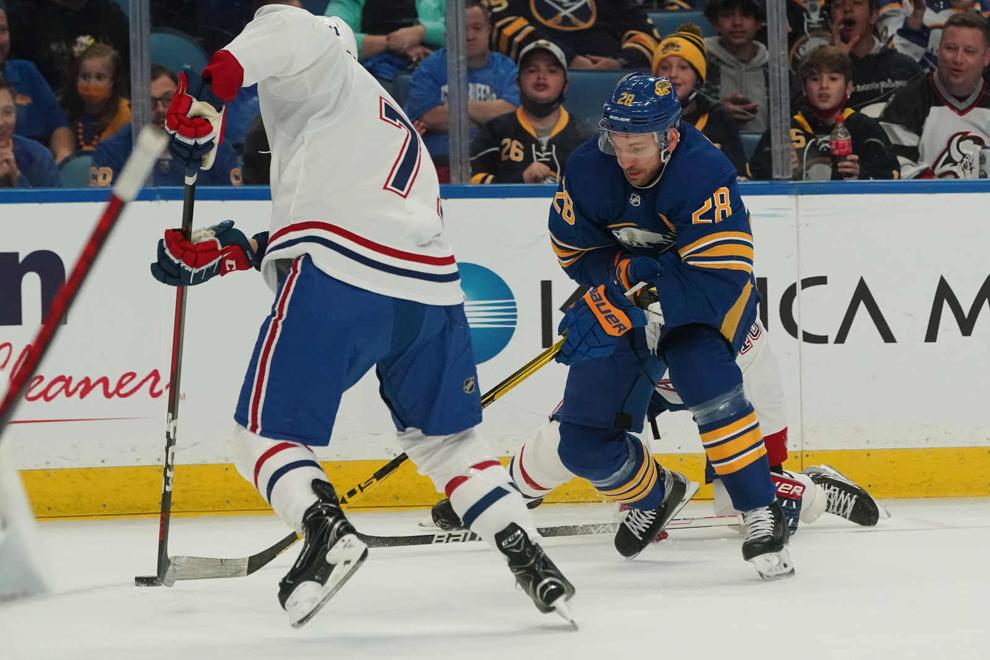 Eakin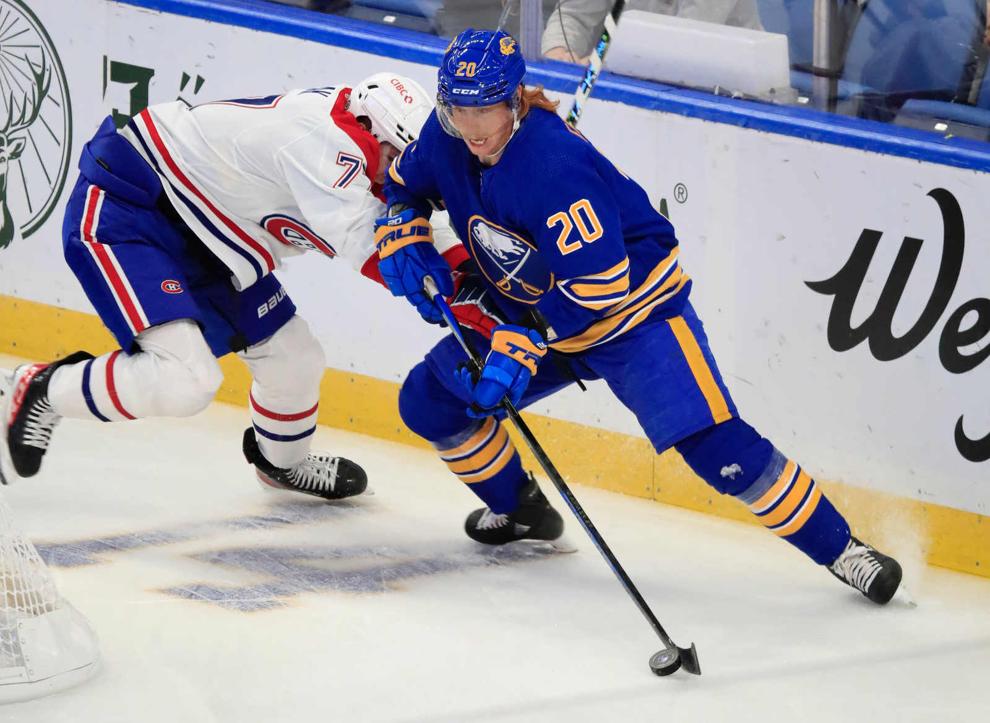 Tripped up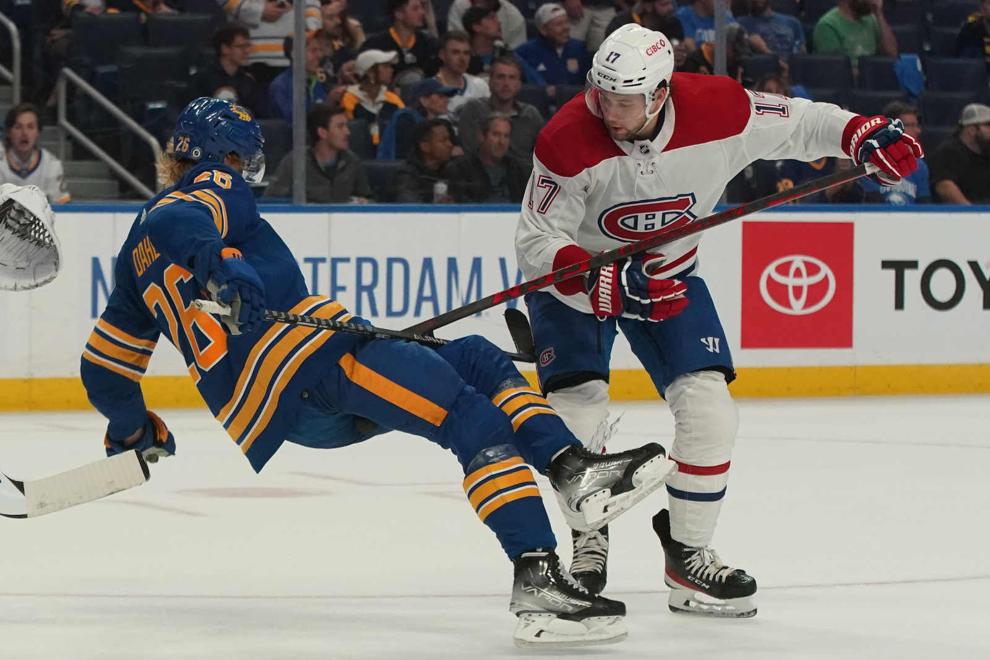 In command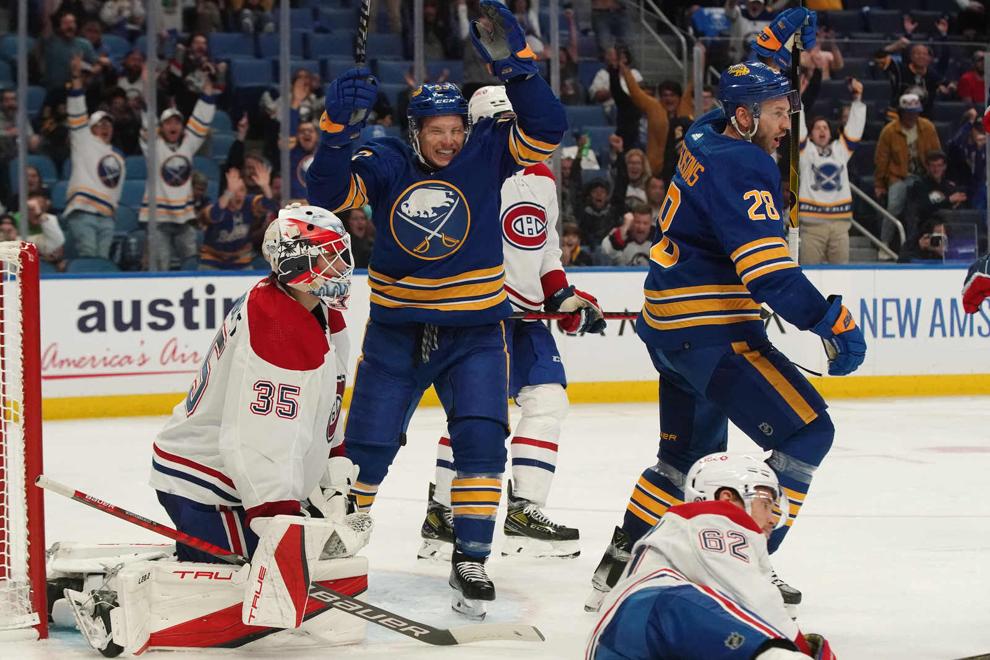 Cozens in front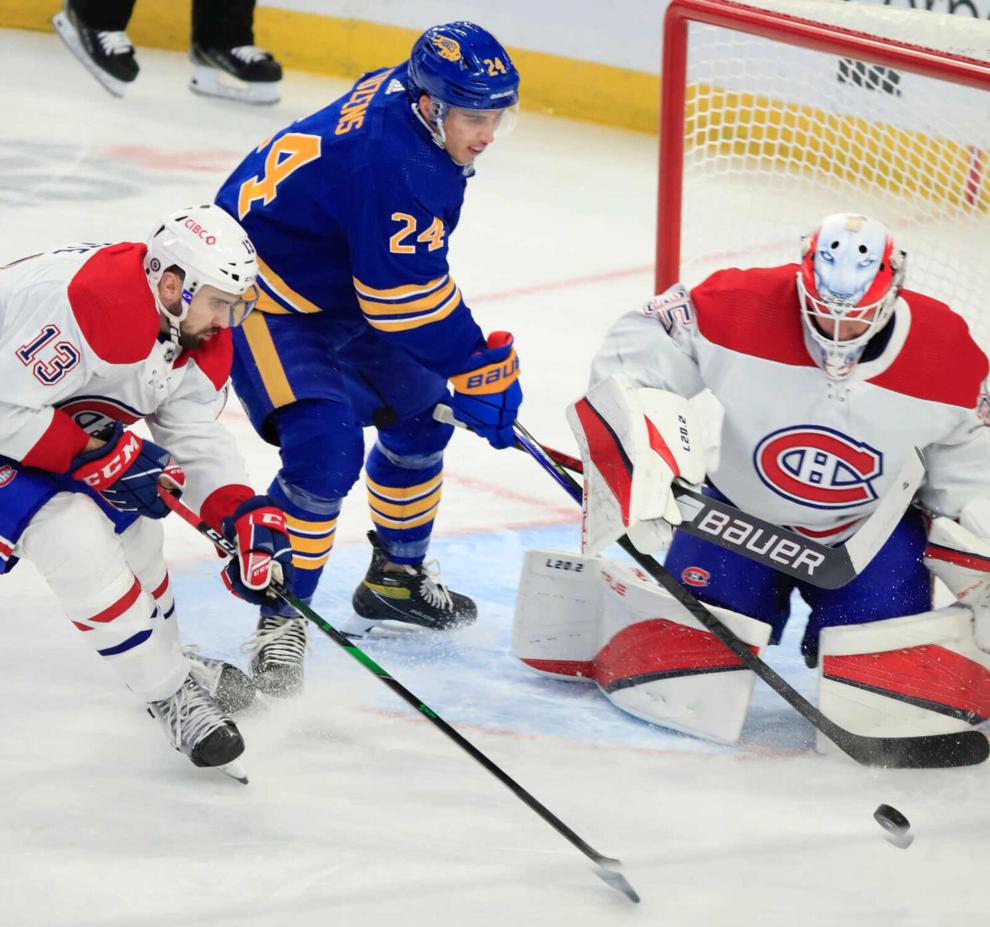 Jokiharju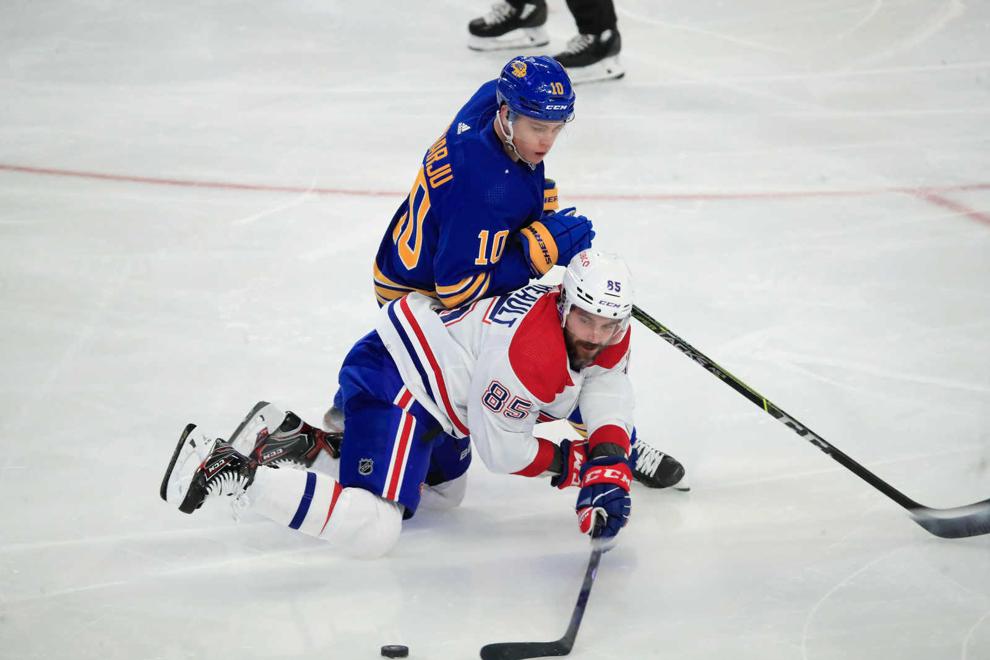 Coach Granato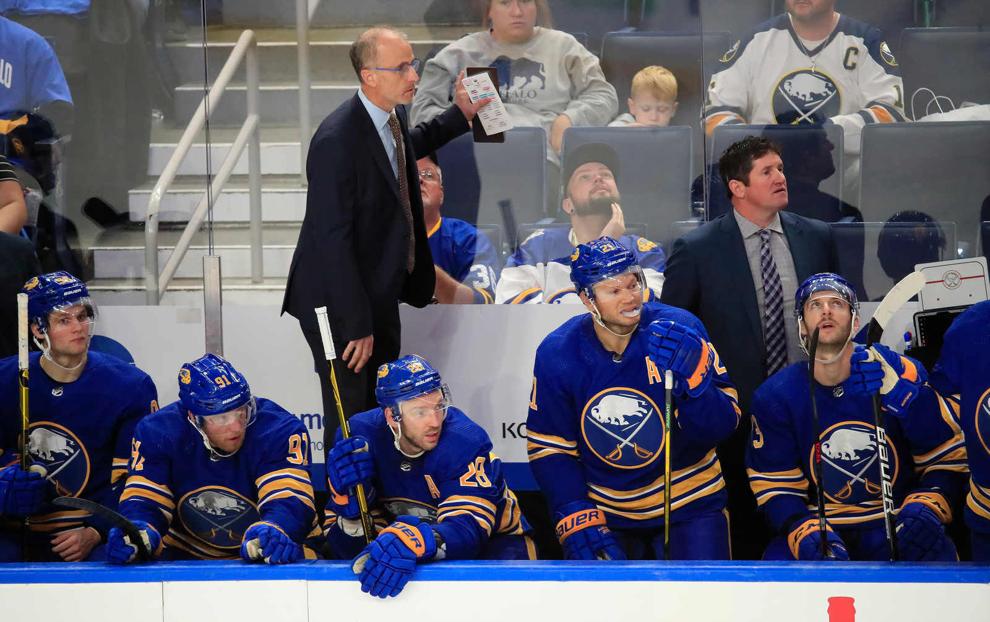 Anderson saves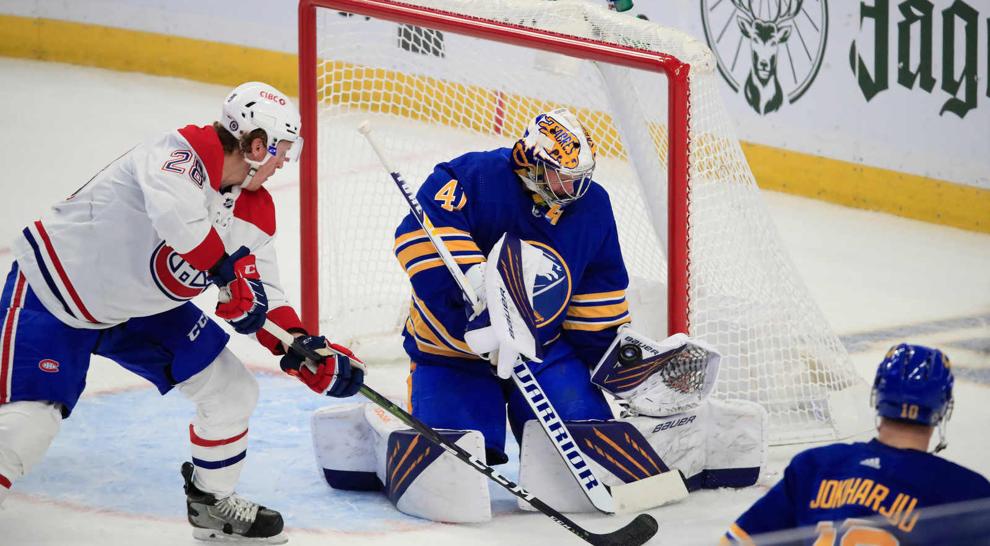 Montembeault feels the heat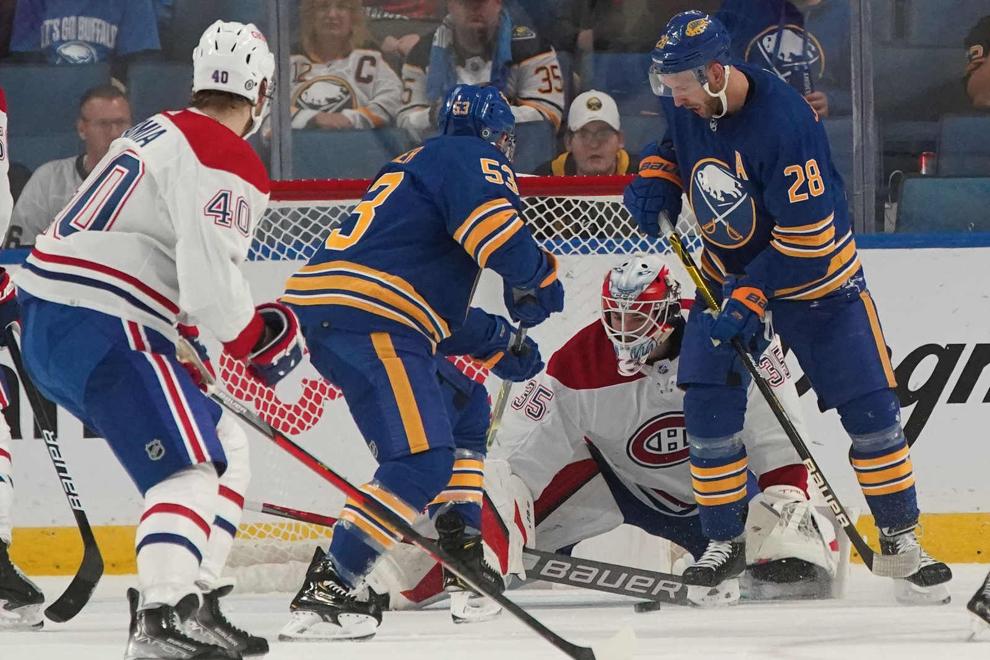 Another celebration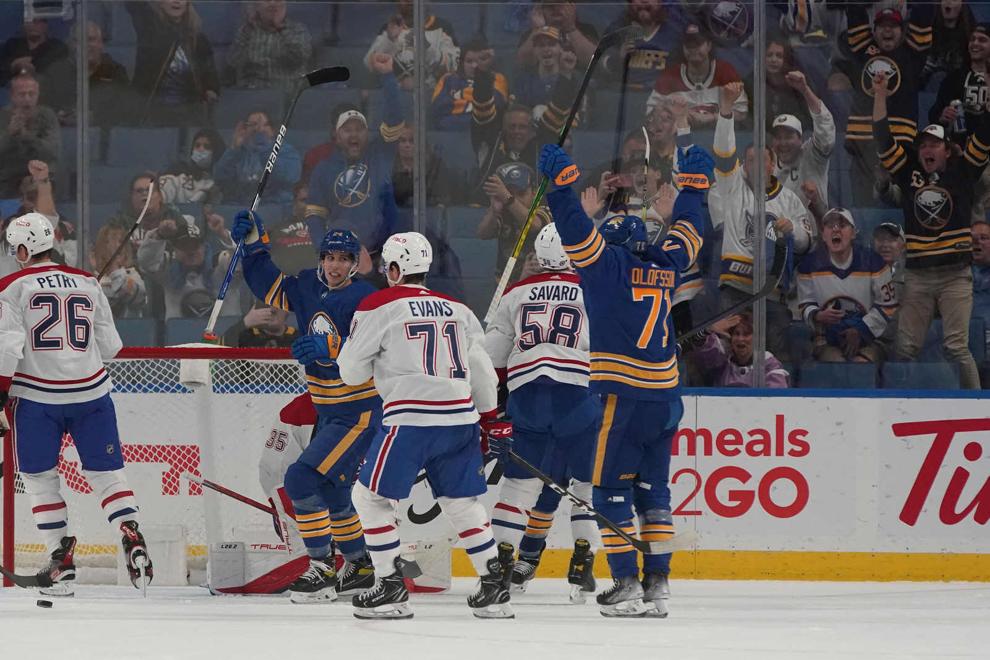 Heads up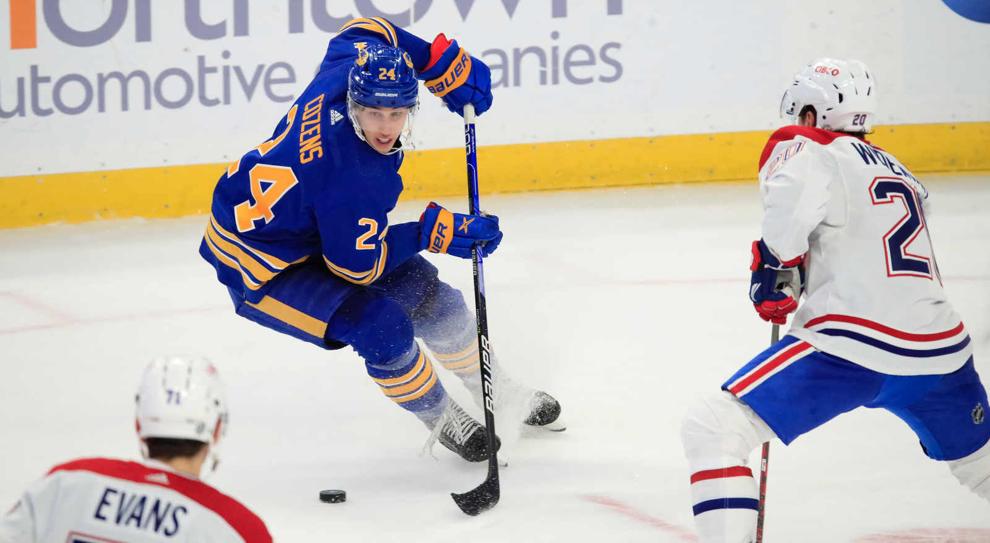 Tage in the spotlight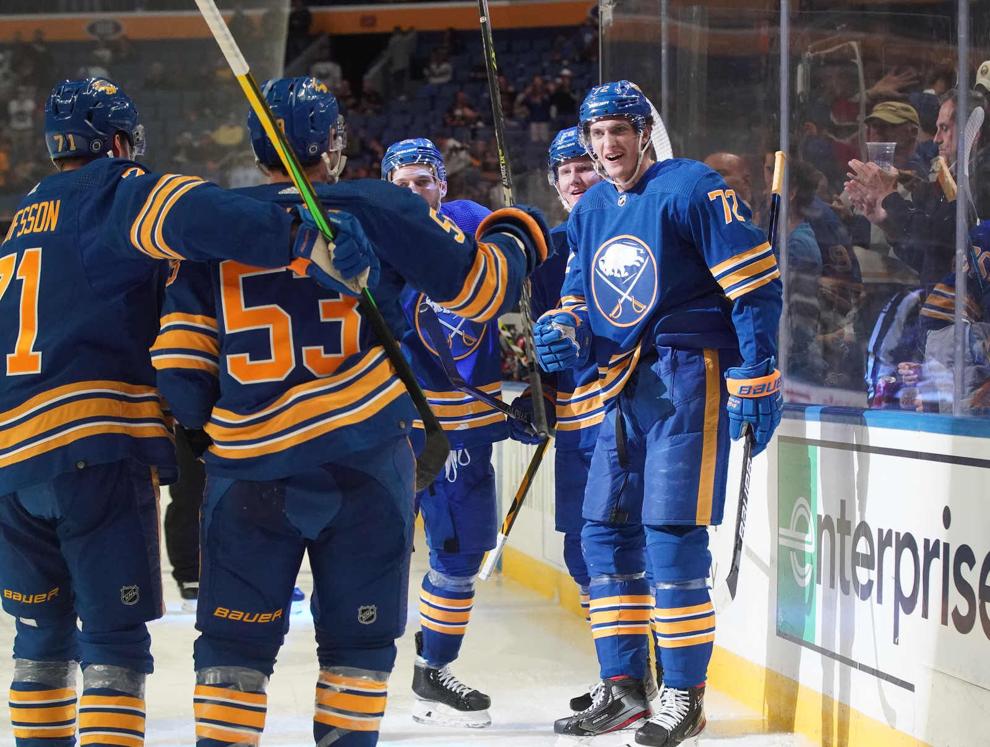 Olofsson's goal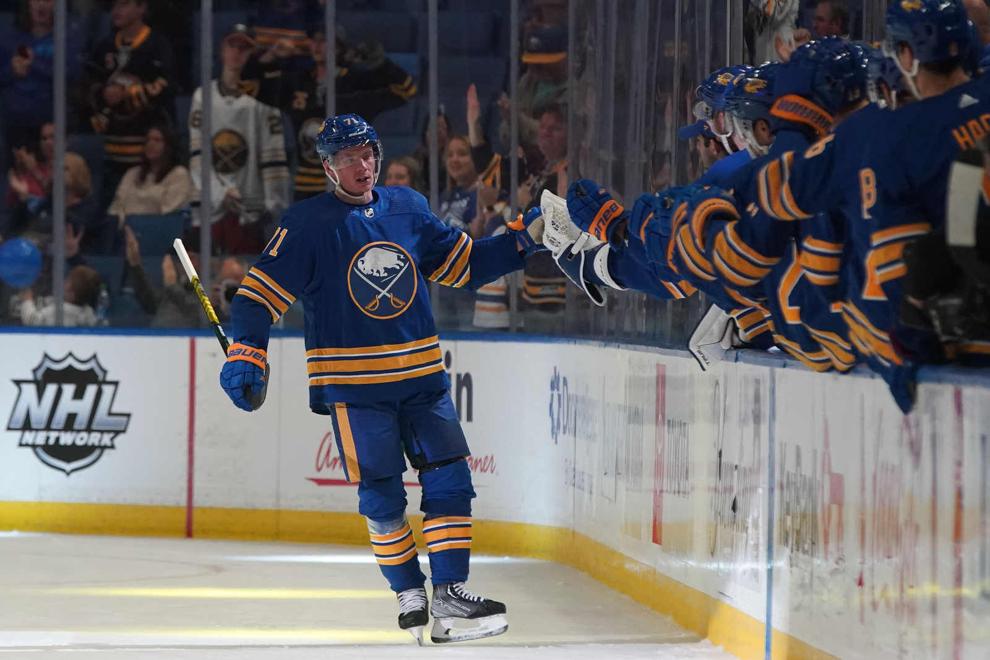 Bjork notches one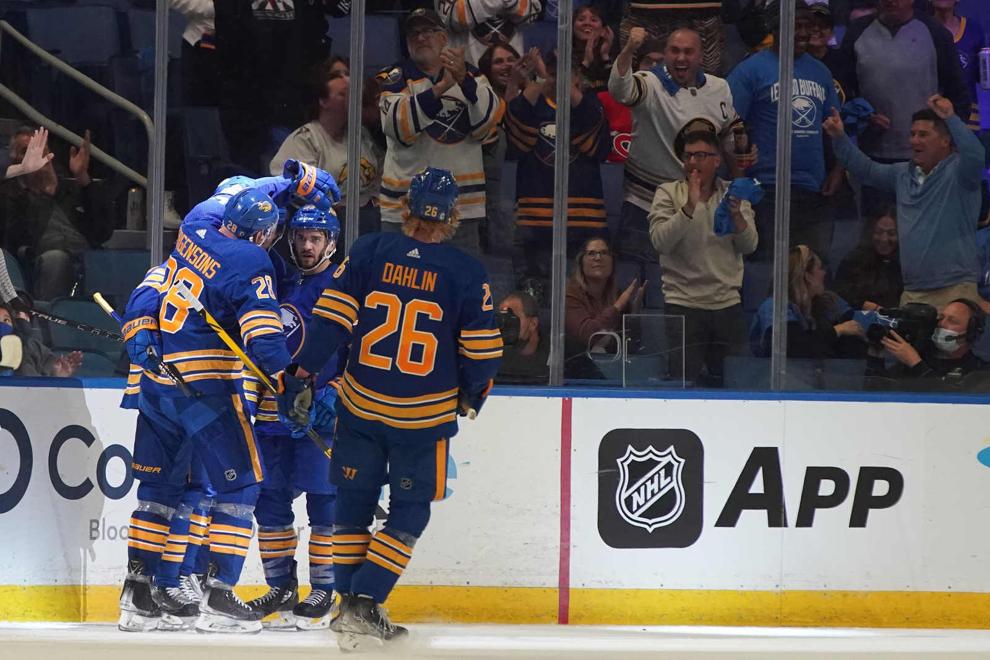 Drum line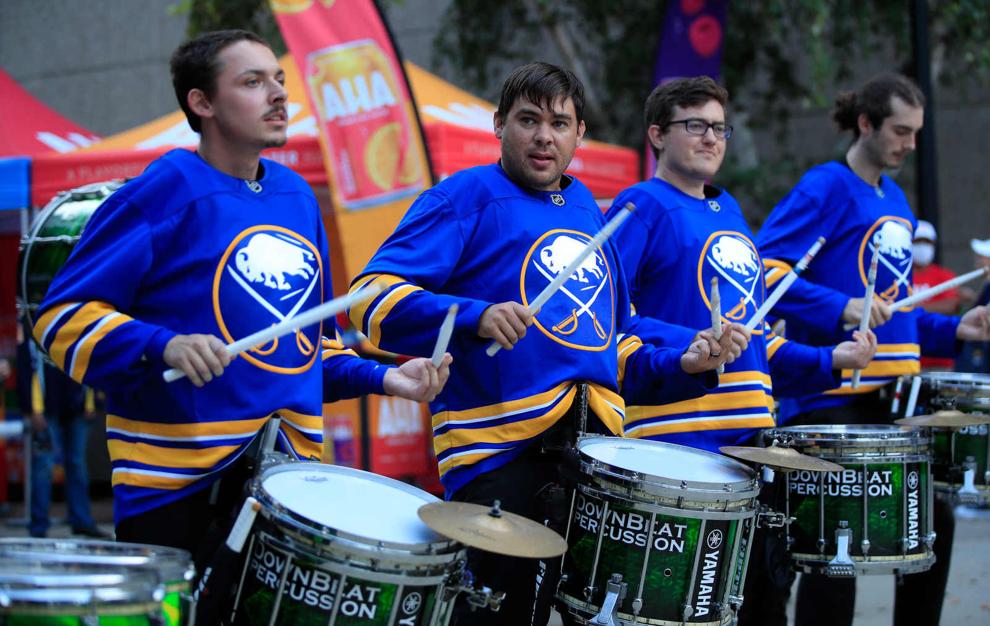 Nerds Gone Wild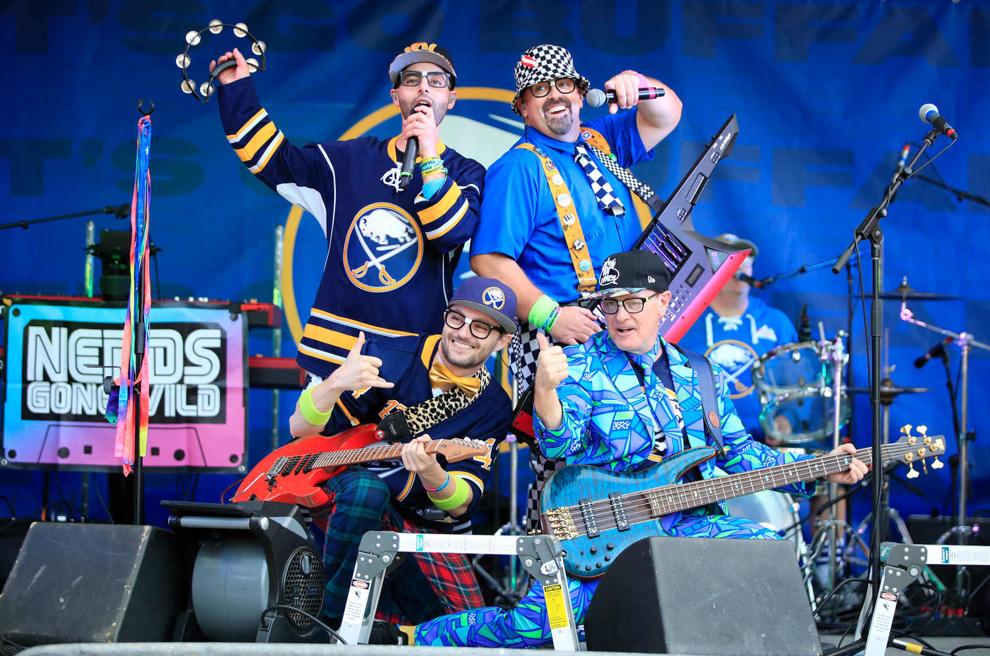 Party in the Plaza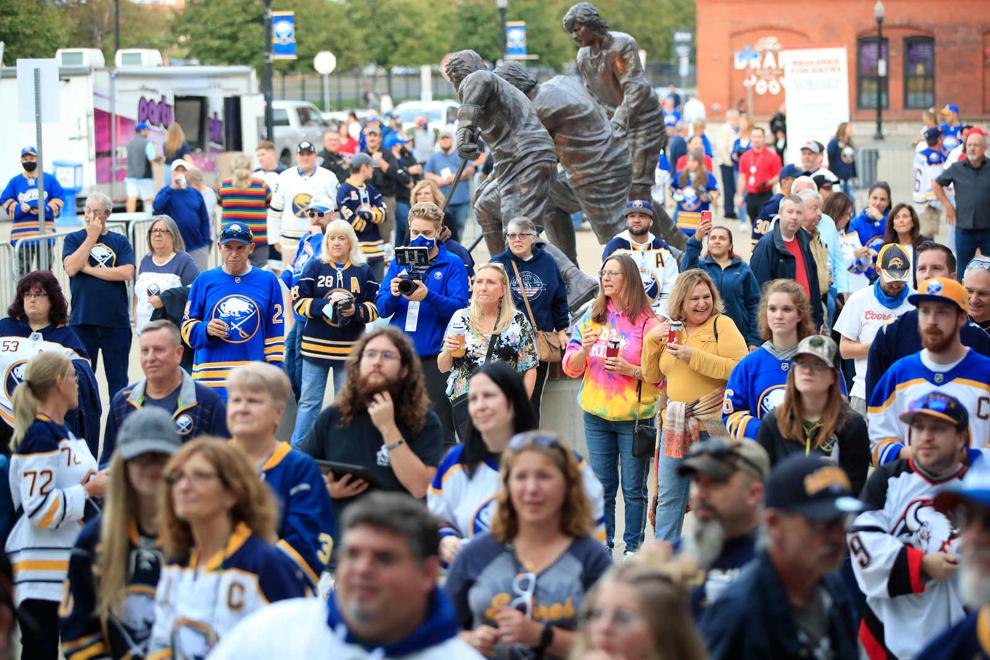 Vintage Gare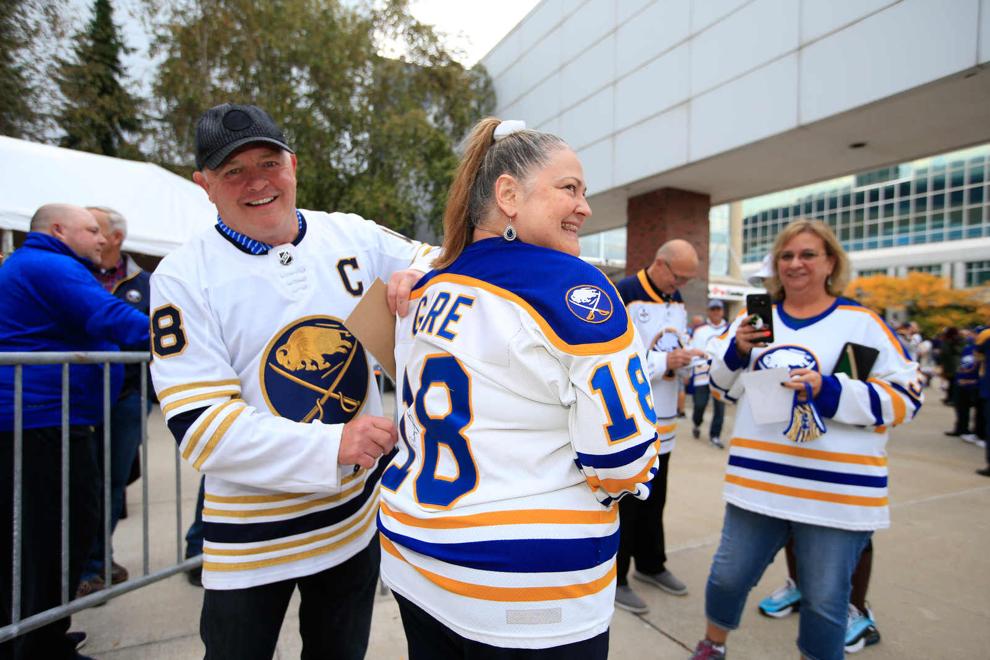 Stylin' hair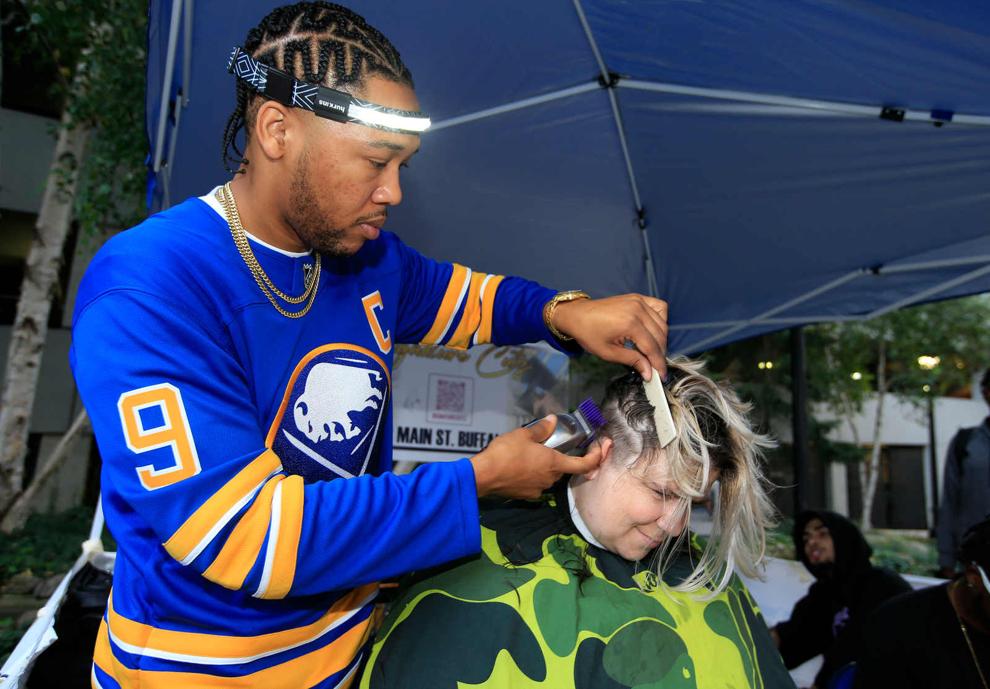 Jamie & Jake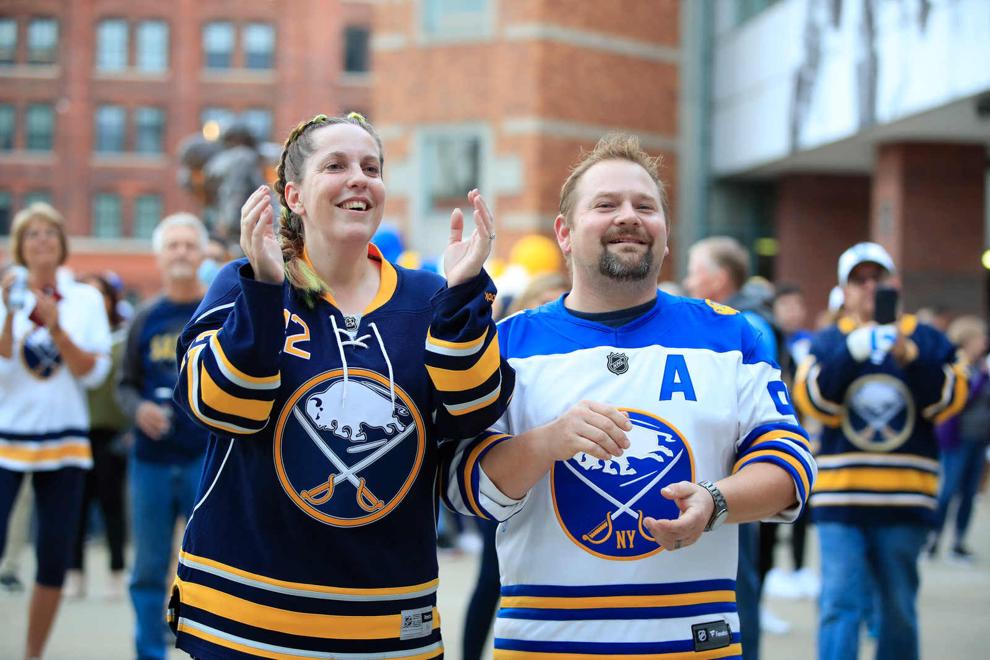 Okposo
Remembering Robert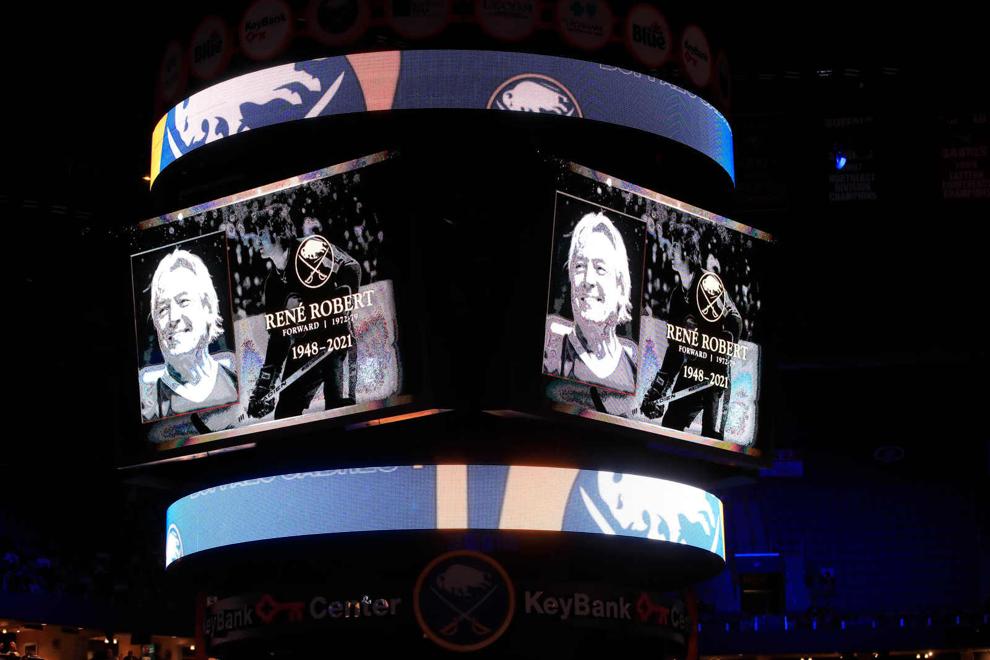 Pint sized fans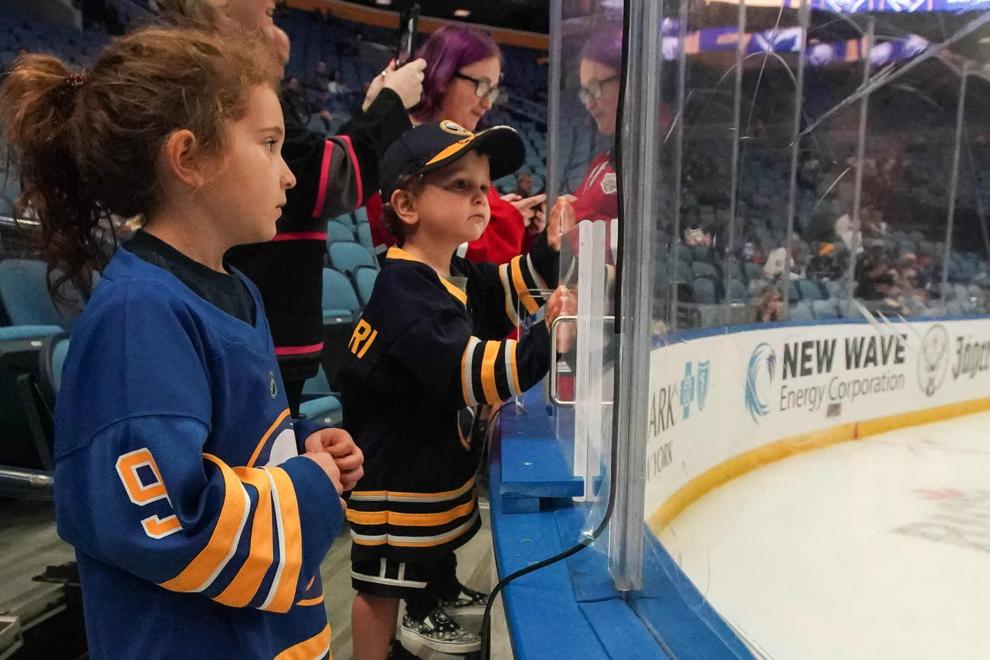 Anthem