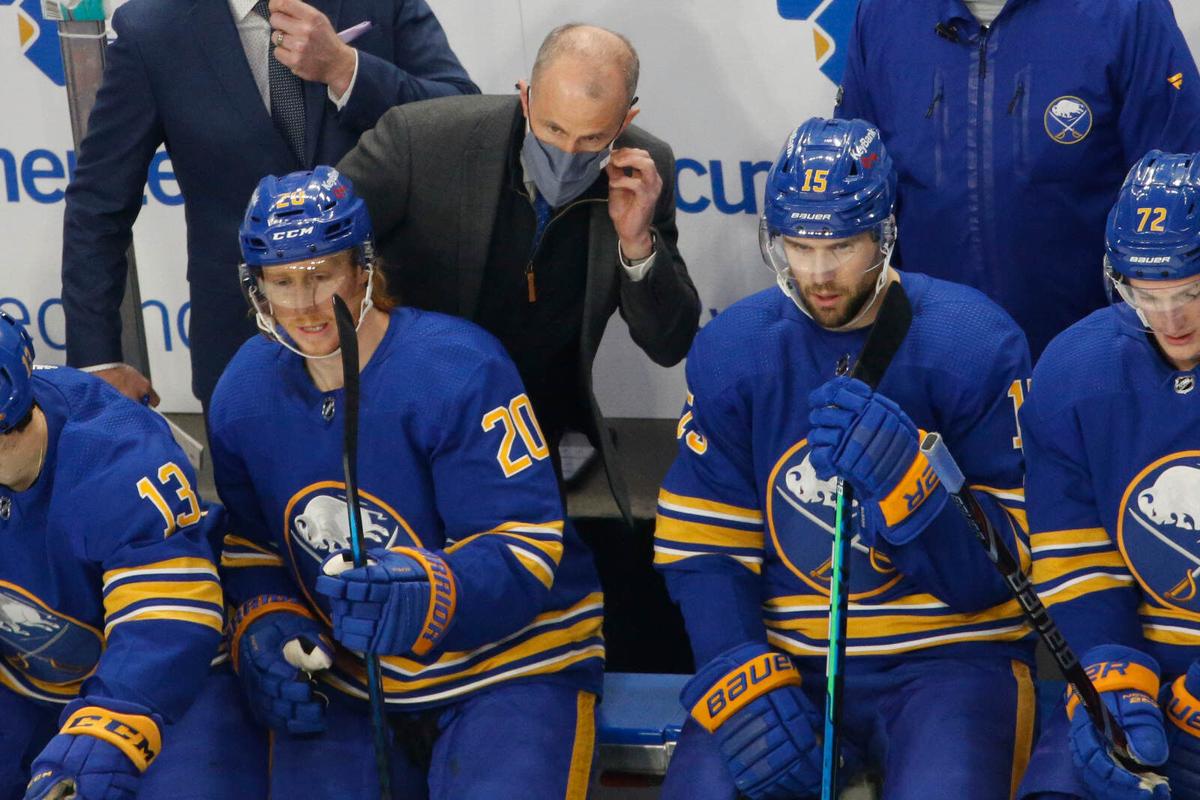 Don Granato did not have time for an impassioned speech. The 53-year-old wasn't even afforded a morning skate ahead of his first game as an NHL head coach.
Granato's first on-ice session as the Sabres' interim coach was canceled Thursday morning after a member of the hockey staff entered the league's Covid-19 protocol. It wasn't until two hours before puck drop that Granato stepped in front of his team for the first time since Ralph Krueger was fired.
"It was challenging in the sense that there's stuff you would have liked to have said, topics you would have liked to have discussed, and there was just no time," said Granato, who was an assistant coach under Krueger. "It was just not appropriate as we head to a game and, obviously, the challenges and that."
"On yet another bizarre day in and around the rink that reeked of 2021, the Sabres were toyed with by the Boston Bruins," writes Mike Harrington.
Granato implemented a few minor changes to the Sabres' 5-on-5 game, and he planned to plot out next steps based on his players' performance. Upon taking the KeyBank Center ice in front of front-line workers Thursday night, the Sabres misfired passes, failed to generate much offensively and committed familiar mistakes defensively in a 4-1 loss to the Boston Bruins.
The Sabres' winless streak is at 13 games, and their 6-19-4 record remains the worst in the NHL. Granato watched from behind the bench as his players failed to register a shot on goal for the first 9:55 of the third period, despite the Bruins (16-8-4) holding a 3-1 lead at the second intermission.
"Donnie did the best he could with the time he had, as far as trying some different things and implementing some different things that he wanted to see," center Eric Staal said. "Clearly, we can get better in some of the areas he's talking about. It wasn't good enough today."
Buffalo's 13th straight loss was a microcosm of all interim coach Don Granato will have to fix over the Sabres' final 27 games.
Buffalo didn't come close to making a push in the third period. The Sabres are now 0-17-1 when trailing after two periods. Kyle Okposo's shot that fluttered off a Bruins' defender's stick was the only Buffalo goal, tying the score 1-1 at 1:54 into the second period and snapping the Sabres' home shutout streak at 190:08.
"We have a lot of stuff to correct, and we have to take a deep dive into what's going on here from everybody," Okposo said. "It's systemic. Like, the whole way through. We have some work to do."
The Sabres' futility has reached historic levels. Across the first 29 games this season, Buffalo has been outscored 101-61. During the first 29 games of the 2014-15 season, a year in which management wanted the team to fail, the Sabres went 11-16-2 and were outscored 87-48.
Poor execution led to five Sabres penalties, wearing down Granato's players and providing the Bruins with ample opportunity to score. Granato and his assistant coaches now have video to determine what changes are needed. He can also finally have time to assert himself as leader of the dressing room after Krueger's 97 games.
"We didn't get a job done. I didn't get a job done for him. And unfortunately, he's out of the building now," Hall said.
Granato has a clear vision for his first opportunity leading an NHL bench. He wants the Sabres to use their speed to create scoring chances in 5-on-5 situations. Speed, though, is a trait this team has lacked amid a truncated schedule and without injured centers Jack Eichel and Dylan Cozens.
"More pace," Granato said. "More pace – simple. I felt today we established, at least within our own game, a decent pace, and we didn't sustain it. … We'll do our best (in practice) to move forward in that regard."
Here are other observations from Granato's first game as interim coach:
1. Not-so-special teams: The Sabres' power play and penalty kill made this team competitive before the two-week Covid-19 pause. Both areas have been an issue in recent games, as Buffalo continues to leave forwards uncovered in front of the net on the penalty kill, and the power play appears lost without Eichel.
The power play will be fine. Taylor Hall should be used in Eichel's usual spot, and maybe it's time to move Rasmus Ristolainen to the first unit as a net-front presence. But the penalty kill isn't doing enough to help the Sabres' goalies, as we saw when Jake DeBrusk had plenty of time to swat at a rebound for the Bruins' second goal. With Steve Smith gone, it's time for Granato to reconsider the Sabres' structure on the penalty kill.
General Manager Kevyn Adams pieced together a coaching staff on the fly Wednesday.
2. Status quo: Sweeping personnel changes weren't made in Granato's first game. The forward lines were the same as the ones deployed in Krueger's final days as coach. You can anticipate changes once Granato determines who fits best in his preferred style of play. We can't cull much from player usage Thursday, because the Sabres trailed much of the game and had to kill five penalties, including a 5-on-3 in which David Pastrnak pushed the Boston lead to 4-1.
3. A focus on defense: General Manager Kevyn Adams' decision to dismiss Smith was tied to the regression we've seen from the young defensemen. Rasmus Dahlin was perfectly fine under Smith back in 2018-19, but Adams wanted a new voice to guide Dahlin and others.
This franchise needs to use the second half of this season to develop young defensemen. Dan Girardi, a 36-year-old who played 927 games in the NHL from 2006 through 2019, will join the coaching staff as an assistant after serving a mandatory quarantine. His first task will be to instill confidence in Dahlin and Henri Jokiharju, who was scratched again Thursday night.
This team shouldn't be so poor offensively at 5-on-5 when it has three dynamic defensemen in Dahlin, Jokiharju and Jacob Bryson. Expect them to be more engaged with the puck. We saw this in the first period when Dahlin pinched in the offensive zone, circled around the net and found Curtis Lazar with a centering pass.
"If these players loved Ralph Krueger as much as we heard the last two years, they sure have a funny way of showing it," writes Mike Harrington.
4. A different type of accountability: Okposo provided some insight into one area of the team culture that needs to change under Granato: accountability. Krueger never uttered a critical word on the bench during games. He would rather make corrections between games than point out negative areas. Failure to play Krueger's way led to fewer minutes, or a benching altogether.
It's worth monitoring how Granato approaches in-game adjustments and poor performance. Asserting himself as the leader, and establishing accountability, is critical on a young team that will need to use the season's second half for development.
"I think there are just different styles of accountability," Okposo said. "I think Ralph held people accountable in his way. Everybody that's leading in a leadership position, whatever job you're in, are going to hold people accountable in a different way. Donnie's way is probably going to be a little bit different than Ralph. Looking forward to maybe a different message. Not saying Ralph's way was wrong by any means, but just to try and get some more accountability in the group with maybe some of the little hockey plays and go from there."