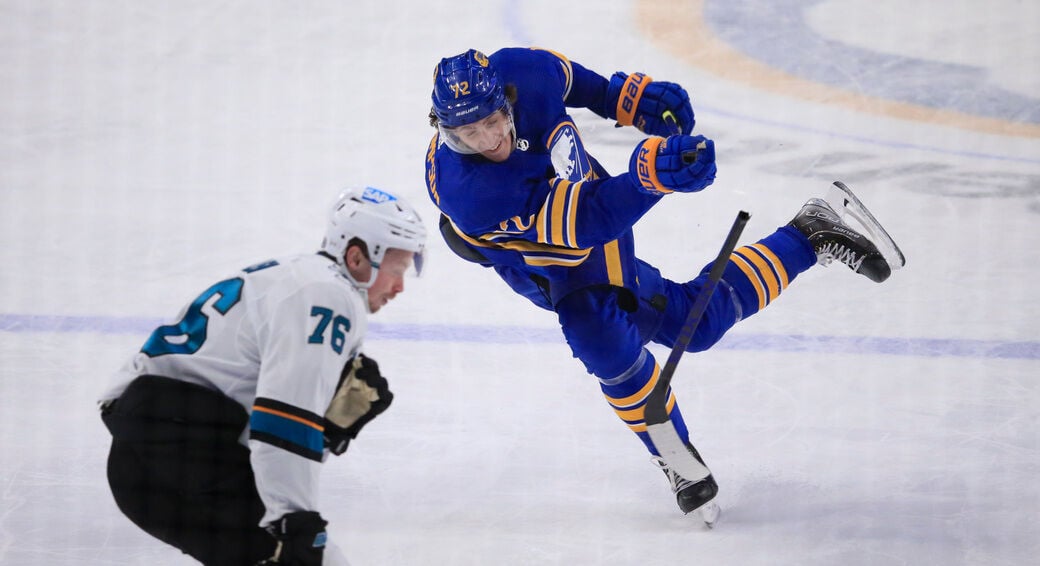 The uncertainty caused by a rash of Covid-19 cases across the National Hockey League has led to more restless nights for Buffalo Sabres coach Don Granato.
Practice and game planning have become difficult, as Granato and his coaching staff must wait to see who will be available to play every night. Their game Thursday night in KeyBank Center was the Sabres' fourth in 20 days, and there weren't many fans in the building because of a storm that dumped more than a foot of snow in areas in and around Buffalo.
The Sabres seem to be heading in the right direction with this rebuild, but it would still be nice to see a modicum of positive results here, writes Mike Harrington.
The growing list of extenuating circumstances has led Granato to routinely ponder one question.
"What do we do to best prepare our guys for what lies ahead?" Granato explained Thursday.
While the Sabres had ample practice time to ready themselves for the San Jose Sharks, the absence of seven in Covid-19 protocol loomed large, as Granato's players on the ice struggled to handle the puck at the start of the game and their third-period comeback fell short in a 3-2 loss.
"It was not good," Granato lamented after the loss. "We had some guys that made some mistakes that shouldn't have been made, so I don't want to fault the whole team for it. … The frustration you hear in my voice wasn't the entire team. It was just some instances they were able to take advantage of."
Unlike the NFL, whose teams benefit from lucrative television contracts, the majority of NHL revenues come from ticket sales and getting fans in the seats.
The Sabres (10-18-6) have allowed 15 goals in four games since the holiday break, which was extended because of Covid-19 cases within their dressing room and around the NHL. Forwards Dylan Cozens, Zemgus Girgensons and Mark Jankowski returned to the Buffalo lineup Thursday, but the Sabres were still without Alex Tuch, Peyton Krebs, Kyle Okposo, Anders Bjork, Casey Fitzgerald, Jacob Bryson and Dustin Tokarski, all of whom remain in Covid-19 protocol.
Since Dec. 20, the Sabres have seen 11 players and Granato enter protocol, leading to several recalls from Rochester. Most Amerks have found success upon joining the NHL club – a badge of honor for an organization that struggled with development in the past – but Rochester has also dealt with a Covid-19 outbreak, limiting the options of Sabres general manager Kevyn Adams.
A blend of too much practice time and not enough NHL difference-makers led to an ugly start for Buffalo against San Jose. Defenseman Ethan Prow, 29, who scored in his NHL debut last week, struggled playing his off side Thursday night. The Sabres had trouble breaking the puck out of their zone and, again, committed turnovers that led to opportunities for San Jose (18-16-1), which allowed 14 goals in its previous two games.
"It was a few decisions that cost us," said Granato. "It wasn't many, but it was enough that you're giving the other team confidence just with a couple. It's tough to take confidence back when you give it up."
The Sharks led 3-0 at the first intermission after goals by Matt Nieto, Timo Meier and Tomas Hertl. A Tage Thompson turnover led to a point-blank shot for Nieto and a 1-0 Sharks lead, and 77 seconds later, Meier's shot from near the blue line went off the far post and in to beat Ukko-Pekka Luukkonen.
Hertl pushed San Jose's lead to 3-0 with 2:36 remaining in the first period, as he collected the puck as the third Sharks skater in the zone on a 3-on-2 and snapped a shot over Luukkonen's blocker.
"I just think we need more urgency," said Sabres winger Jeff Skinner. "That's not really rust. We were sort of waiting for plays to develop and as a result, we were on our heels for a bit there. Forced Ukko to make some big saves to keep us in it. … We just couldn't find that last one."
Skinner scored his 11th goal of the season on a wrist shot from the slot at 7:56 into the second period to cut the gap to 3-1, but the Sabres couldn't create enough scoring chances to overcome the early deficit. They finished with 39 shots on goal, including 20 in the third period, on 70 attempts, and Zemgus Girgensons made it 3-2 with his power-play goal with 1:45 remaining in regulation.
The Sabres couldn't get the tying goal, though. San Jose goalie Adin Hill wasn't tested enough for two periods – Buffalo had one high-danger scoring chance at 5-on-5, according to NaturalStatTrick.com – and they failed to score on their first two power plays. Luukkonen, meanwhile, finished with 18 saves.
Bryson is on the cusp of returning, while any asymptomatic players can shorten their quarantine with consecutive negative PCR tests. But as Granato has seen across the past month, little is certain this season and the Sabres will need to be ready for any scenario.
"It's challenging," said Granato. "Obviously, everyone around the league seems to be dealing with health issues. We played to our limit. There were no healthy scratches tonight. Would love to get healthy and a little more competition in the lineup. Again, for reasons in the first period. I felt that some guys didn't push hard enough individually. We need better there."
Here are other observations from the game Thursday night:
The weight has returned. So have Quinn's skating stride and elite right-handed shot, clearing the way for the 2020 first-round draft choice to return to the Amerks' lineup Wednesday against Syracuse.
The Sabres' problem starts on defense. Rasmus Dahlin and Henri Jokiharju are growing into their roles on the top pairing, but the lack of continuity has disrupted the club's progress at 5-on-5. Mattias Samuelsson, the Sabres' top prospect in Rochester, remains in Covid-19 protocol. Owen Power isn't walking through the door anytime soon, but Bryson's return will help and Fitzgerald should be a nice addition for the right side.
When Granato challenged his team at the first intermission, he pointed to Dahlin as an example of someone who elevated their game. Dahlin finished with a team-high 28:47 and five shots on goal. His defense partner, Henri Jokiharju, was also outstanding and provided the Sabres with a reliable presence on the blue line.
"Joki was outstanding right along with Dahls," said Dahlin. "Those two were exceptional. They just elevated."
The Sabres need more from Victor Olofsson. His career-long goal drought reached 18 games Thursday. Olofsson, 26, hasn't scored since Oct. 31, a stretch of futility that began with an injury that negatively impacted his ability to shoot the puck. Olofsson, though, returned to the lineup almost seven weeks ago. This appears to be more about confidence than any physical issue.
"It's frustrating for sure," Olofsson said this week. "I can't really use, or I haven't been able to use, probably one of my best abilities out there. But there's no excuses, either."
A fourth-round draft choice in 2016, Murray has been a recent fixture in the Sabres lineup and has two goals with six points in 15 NHL games this season.
The Sharks were without injured defensemen Erik Karlsson and Jacob Middleton. They also had two players in Covid-19 protocol: forwards Logan Couture and Lane Pederson. … This was Luukkonen's 100th professional game. … With Okposo out, defenseman Mark Pysyk served as an alternate captain. … Sabres winger John Hayden and Sharks winger Jonah Gadjovich fought at 2:20 into the game.
Rather than summoning JJ Peterka from Rochester, the Sabres opted to add 6-foot-4 winger Ryan MacInnis to the roster. MacInnis, 25, has six goals and 16 points in 26 games for the Amerks. He appeared in 26 games with the Columbus Blue Jackets between 2019-21, recording one assist during that span.
The decision was likely made because the Sabres needed to fill a bottom-six spot, so Peterka wasn't exactly a fit for what they needed. MacInnis has also played well recently for Rochester, scoring in a 2-1 loss to Syracuse on Wednesday.
MacInnis finished with two shots in 10 minutes of ice time for the Sabres.
The Sabres aren't scheduled to play again until Tuesday night, when they are set to host the Tampa Bay Lightning.