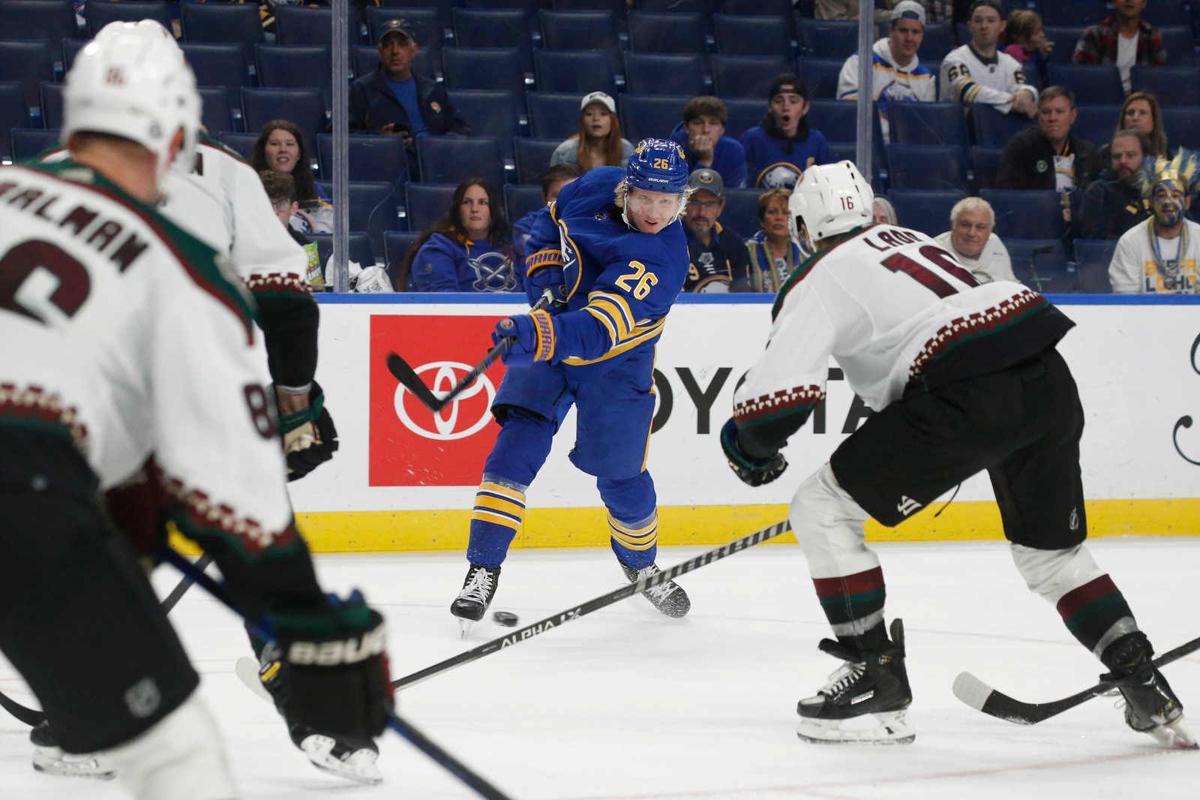 Before the Arizona Coyotes defensemen could react, Rasmus Dahlin's outlet pass zipped through the neutral zone and sprung Drake Caggiula for a one-on-one against rookie goalie Karel Vejmelka.
Caggiula held off two Coyotes on the drive to the net and created a rebound that led to Cody Eakin's tying goal in the second period Saturday afternoon.
"Anybody on the other side of the ice expecting an easy night is forewarned: The first step to respectability is not giving opponents a night off. The Sabres are getting there fast," writes Mike Harrington.
The highlight-reel play was one of several by Dahlin during the Sabres' 2-1 shootout victory over the Coyotes inside KeyBank Center. At the other end of the ice later in the second period, Dahlin prevented a goal by lunging with his stick to knock the puck out of the crease during a 2-on-1.
Across Dahlin's team-high 25:21 of ice time, the 21-year-old defenseman sent the Coyotes scattering with precise breakout passes and showcased his improved play away from the puck. He finished with an assist and three shots on goal. It was a performance one would expect out of a first overall draft choice and again showed how the change from Ralph Krueger to Don Granato has brought out the best in the pillar of Buffalo's defense.
"He's a special player, a special talent," said Sabres goalie Dustin Tokarski, who stopped 20 shots in regulation and overtime before sealing the victory with two saves in the shootout. "Even tonight, in the second period, he made that sprawling save on that wide-open net. So, he made it on the defensive side and the offensive side. It was fun to watch."
In his debut with the team, defenseman Robert Hagg blocked a game-high six shots and played nearly 3½ minutes of penalty-killing time out of his total of 19 minutes, 41 seconds. 
The Sabres (2-0) started the season with consecutive wins for the first time since 2019-20 and controlled play for 65 minutes, outshooting the Coyotes (0-1-1) 33-21. Arttu Ruotsalainen scored the deciding goal with a backhanded shot in the second shootout round.
The circumstances weren't ideal for Dahlin. His typical defense partner, Henri Jokiharju, missed the game and will be out longer than two weeks with a lower-body injury, according to Granato. Jokiharju's absence led the coaching staff to place Dahlin with fellow left-shot defenseman Will Butcher.
Rather than having one of the two skate on their off side, Butcher and Dahlin rotated. The tandem ignited the Sabres' transition offense. On one breakout, Dahlin fooled a Coyotes forward by stickhandling the puck between his legs to create room for Butcher up the left wing.
For this team to take advantage of its speed up front, its defensemen need to break the puck out effectively. This allows the forwards to build up speed and create offense on the rush.
Arizona's defensive strategy to sit back in the neutral zone backfired, as the Sabres found space near center ice and had clean entries into the offensive end. They maintained possession by forechecking and won one-on-one puck battles, but failed to generate enough high-danger scoring chances because the Coyotes were determined to take away options at the front of the net.
When the Sabres hit the ice for Saturday's matinee against the Arizona Coyotes, they're going to do it without their No. 1 center and half of their top defense pair.
The Coyotes, meanwhile, had trouble entering the zone in the first period. Dahlin stripped Phil Kessel of the puck in the neutral zone and Arizona had only five shots on goal in 20 minutes, though it took a 1-0 lead when Mark Pysyk failed to cover Andrew Ladd in front.
"He has lots of hockey sense," Granato said of Dahlin. "People, when you think of hockey sense, you think of offense. But it's defensive as well, might even be more so. Reading situations, anticipating when to jump, when to pick something off, how hard to play something or which guy to play harder. And Dahls has really good instincts. Obviously, he's still evolving at this level, being as good as he is. But he's showed very good signs in the first couple games."
It was a continuation of what Dahlin showed during the second half of last season, when he had four goals and 12 points while averaging 22:10 of ice time across the final 28 games. He returned to form with the puck and played the best defensive hockey of his young NHL career.
"We do the job for each other and it's easy to play," Dahlin said.
Here are more observations from the game Saturday:
Wolanin, a 26-year-old with a left shot, was waived by the Los Angeles Kings and has appeared in 61 NHL games since he debuted with Ottawa in 2017-18.
Thompson's move to center has gone well in the first two games, as the 23-year-old's line had a perfect Corsi rating (15 shot attempts at 5-on-5 and zero against). The 6-foot-7 forward used his length to hang onto pucks down low and the Coyotes showed no interest in trying to pressure Thompson into mistakes.
There weren't any defensive blunders and Thompson won 67% of his faceoffs. 
With Jokiharju out, and Mattias Samuelsson working his way back from injury, the Sabres claimed left-shot defenseman Christian Wolanin off waivers on Saturday.
Wolanin, 26, has 61 games of NHL experience, including a career-high 30 games with Ottawa in 2018-19. More recently, he had a solid showing at the IIHF World Championship for the United States last spring, recording six points in 10 games. The Sabres could have added a defenseman from Rochester, but general manager Kevyn Adams used his waiver priority to claim someone with more short-term upside.
The Sabres needed more competition on the back end, at least until Samuelsson is healthy enough to play, and they won't have to rush any Amerks to the NHL.
The Sabres rode a 30-save performance by 40-year-old goalie Craig Anderson to a 5-1 season-opening win over the Montreal Canadiens.
Bryson, Miller stick together
When Jokiharju went down in the season opener, Granato's staff concluded that Jacob Bryson and Colin Miller would benefit from continuing to skate on the same pair. Last season, the duo was together for 118:49 at 5-on-5, according to NaturalStatTrick.com, and recorded a plus-2 goal differential while having the edge in shot attempts.
Across this preseason, Bryson and Miller had an 85.71% shot-attempt differential at 5-on-5 in three games. Their strong play continued against Arizona.
"I think they respect each other's skill and the way they play," Granato said. "There's some genuine excitement pairing up with those two guys and working for each other. … Those guys are feeling that power of playing together."
Victor Olofsson didn't have a great camp. He was rarely noticeable at 5-on-5 and missed the final preseason game with a lower-body injury. However, Olofsson led all Sabres forwards with 21:06 of ice time against Arizona and nearly scored the game-winner in overtime on a perfect backdoor pass from Thompson.
Impact wingers are needed and Olofsson hasn't been consistent at even strength since entering the NHL in March 2019. Skating with Thompson and Rasmus Asplund, Olofsson's former linemate in Rochester, has led to improved play.
"Victor looked great to me," Granato said. "Better than he did preseason at any point. I was concerned with him preseason. He was taking a little bit longer to get to his game. But the other night and tonight he really looked like himself."
The Sabres host the Vancouver Canucks on Tuesday at 7 p.m. It's the first game between the two teams since Jan. 11, 2020.