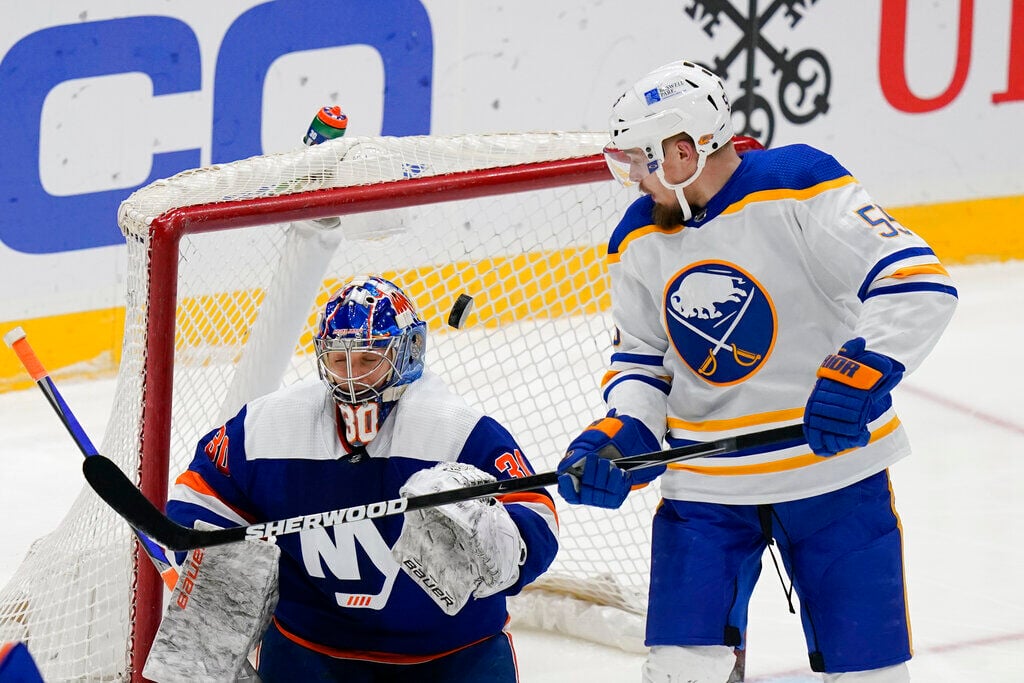 UNIONDALE – The unraveling of the Buffalo Sabres is no longer a story about bad luck.
Prior to the Covid-19 outbreak that sidelined the Sabres for two weeks, coach Ralph Krueger cited scoring chances as a reason why he was optimistic that wins were on the horizon.
Those scoring chances are now few and far between. Even shots on goal are hard to come by, as the Sabres finished with only 18 in a 5-2 loss to the New York Islanders inside Nassau Coliseum on Thursday night.
The Sabres, equipped with superstar talents Jack Eichel and Taylor Hall, have scored the fewest 5-on-5 goals in the National Hockey League. With only 15 points in 21 games, Buffalo sits last in the league standings.
Again, the Sabres responded poorly after allowing an early goal. The Islanders (13-6-4) scored twice in the first period and were never in danger of losing the lead. Yet, for as much as this recent stretch has raised questions about coaching, two Sabres were quick to defend Krueger's system.
Another ugly start doomed the Sabres, who have scored first only seven times in 21 games.
"I don't think we lose games or make mistakes because of the system," defenseman Rasmus Ristolainen said. "I feel it's more individual plays and sometimes we've got to support each other a little better and have a little bit more talk out there."
"I don't think it's a system issue; it's more of a confidence issue," Hall said. "When you're not confident as a player, as a team, the best thing to do is to simplify things and grow your game that way. Right now, we're not even allowing ourselves to do that. … We have a great group of guys in here. We don't have a bad culture. We have a coaching staff that we believe in a lot. Right now, it's just not working out for our team, but I believe in a lot of things that we have here."
The Sabres failed to eclipse double-digit shots in any of the three periods and had only 11 through 40 minutes. New York, meanwhile, peppered Buffalo rookie goalie Jonas Johansson with 45 shots on goal, including 13 in the third period. The only bright spots for Buffalo were Hall snapping his 19-game goalless drought and Ristolainen's third-period goal.
Krueger's system is built on a sound defensive structure, which, if executed properly, can lead to offense. The Sabres, though, are having trouble exiting their own zone. Individual mistakes are adding up.
Ristolainen was at fault on two of the goals against. Rasmus Dahlin failed to prevent Matt Martin from cutting to the goal mouth in the third period. Johansson allowed Martin to score from behind the goal line in the first. Curtis Lazar turned the puck over on the Islanders' fourth goal.
The Sabres were hit hard by injuries and the Covid-19 outbreak, but this roster is more talented than at least several other teams higher in the NHL standings. This hasn't made Krueger question his methods. He insists the issue is confidence and individual mistakes.
"We're just getting disconnected over and over again, often due to individual mistakes of our own," Krueger said. "I don't believe we need to reinvent our style of play. I think we want to be an attacking game under strong defense and the principles are laid out very clear for everybody to understand and we're just getting away from them, whether it's mental fatigue or a confidence issue. … We have to stick to it and trust it."
Here are other observations from the game Thursday:
Taylor Hall told the media following the morning skate Thursday that he is open to returning to Buffalo next season.
1. Hall back on track: The Sabres gave Hall a one-year, $8 million contract to ignite their offense.
The 29-year-old former Hart Trophy winner went almost two months without scoring a goal. When the drought reached double-digit games, Hall began to make mistakes defensively, which also added to his struggles on offense. A mission to clean up the minor details of his game paid off Thursday when he scored off Cody Eakin's rebound to trim the deficit to 2-1 at 3:08 into the second period.
"It's nice to score," Hall said. "It's been a long time. It's been a crazy amount of time since I scored a goal. I feel like I deserved a couple along the way, but it's nice to see that go in. It's unfortunate it came in a loss like we had, but there were some things in my game, especially defensively, that I thought I did pretty well tonight and that needs to keep up, along with creating chances offensively."
2. Difficult return: The troubling symptoms Ristolainen endured during his bout with Covid-19 are gone.
However, the 26-year-old is still dealing with the effects of missing seven games. While Ristolainen is already noticing improvement in his endurance, he explained to the media Thursday following the morning skate that the long break impacted the mental side of his game.
Those deficiencies were on display throughout the game Thursday night, particularly on the first Islanders goal, when Ristolainen unsuccessfully tried to prevent Mathew Barzal from entering the Sabres' zone. Ristolainen was caught out of position and did not get back in time to prevent a pass to Noah Dobson, who gave the Islanders a 1-0 lead with a shot over Johansson's blocker.
Ristolainen turned the puck over at the Islanders' blue line before Anthony Beauvillier made it 3-1. Ristolainen took two penalties and, along with Dahlin, was on the ice for all five goals against.
"I haven't really liked my game so far," Ristolainen said Thursday morning. "It kind of feels like, you know it's hard to come in from almost being a month out. In the past I haven't missed too many games so just trying to get in the game, that's probably the hardest mentally – the system, the style we play and where the guy's at and the split-second reads. That's probably the hardest part."
At $6 million per season, it has to be about numbers. Okposo had just nine goals last season and has now gone over a year without scoring.
3. Bold decision: The Sabres' gamble to start Johansson backfired.
You can't put this loss entirely on Johansson's shoulders. His teammates aren't making plays with the puck. But the 25-year-old needed to make a save on Martin's goal that gave the Islanders a 2-0 lead at 16:21 into the first period.
One bad goal against does not sound like much, but it came at an inopportune time.