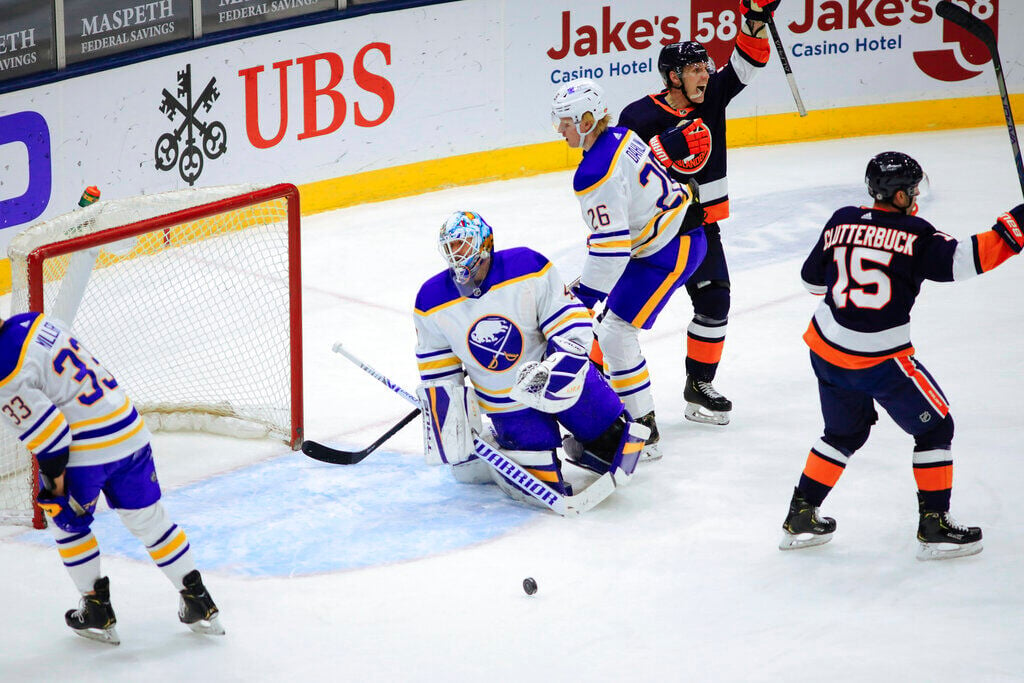 UNIONDALE – Ralph Krueger didn't huddle his players together after the Buffalo Sabres allowed three goals in a matter of four minutes, 54 seconds Saturday afternoon.
The 61-year-old eternal optimist did not appear to have an outburst of anger on the bench and he did not make any sweeping lineup changes. Krueger continued to try to motivate players as they tried and failed to execute his game plan, allowing four goals in the second period of a 5-2 loss to the New York Islanders in Nassau Coliseum.
"It's just mental toughness at the moment," lamented Krueger, whose Sabres are last in the National Hockey League with 15 points in 22 games.
A staunch defender of his "principles," Krueger has repeatedly insisted that confidence is a primary reason why the Sabres have a 6-13-3 record. For context, the 2014-15 Sabres, a season in which management wanted to fail to land the first overall draft pick, had a 6-14-2 record through the first 22 games.
Following the sixth loss in a row, Krueger pointed to "really unacceptable individual" errors as a factor in why the Sabres fell apart after their rookie defenseman, Jacob Bryson, scored the game's first goal 33 seconds into regulation.
There is little time to make corrections. Krueger planned to analyze what went wrong in preparation for the rematch Sunday against the first-place Islanders (14-6-4), who have won each of their four games against Buffalo this season.
A Sabres roster dotted with talented forwards – most notably, Jack Eichel and Taylor Hall – and playoff hardened veterans is faltering in adverse situations.
"I think it's just been a struggle for us," said Sabres defenseman Brandon Montour. "Obviously, everyone is frustrated right now with the way everything is going, but it's a tough league. You have to bring it every night. If you don't, the score shows up like that."
The Sabres imploded after ultra-skilled Islanders center Mathew Barzal tied the score with possibly the NHL's goal of the year. The 23-year-old chased down a loose puck in the neutral zone, skated past Rasmus Ristolainen, cut across the slot and tucked the puck between his legs before lifting a shot past goalie Carter Hutton at 3:51 into the second period.
The Islanders scored two more goals in less than five minutes, both of which were the result of poor coverage in the defensive zone, and added another in the third period. Krueger admitted he's not sure how to fix the Sabres' propensity to respond poorly to adversity, a trend that's followed this team for years before his arrival.
"I mean, the mindset here and the fight felt to be there to kick off the game and the pathway was correct," said Krueger. "But the inability to stick with it after the 1-1 is disheartening and we need to look it in the eyes. That's all we can do. Look it in the eyes, continue to communicate about it and clearly something we need to fix. It's not an easy fix, that's for sure."
The Sabres spent most of Friday holding meetings and discussing a plan to beat the Islanders for the first time this season. They began to stray from the game plan midway through the first period Saturday, as Buffalo had only two shots on goal in the final 12 minutes.
Defensemen weren't receiving support from forwards on breakouts. Upon entering the offensive zone, the Sabres skated around the perimeter and struggled to find space to create scoring chances. They finished with only 22 shots on goal – including only five in the second period – and did not score again until Sam Reinhart tipped Rasmus Dahlin's shot to trim the deficit to 4-2 only 52 seconds into the third period. Buffalo's had fewer than 30 shots on goal for five consecutive games.
The final 40 minutes again raised the question of whether the issue is coaching, player performance or both. Montour insists everyone is sharing the burden of responsibility and that it's on the players to fix this.
"You know what, they're doing a good job," Montour said of the coaching staff. "Everybody is trying to figure out a way out of this. You change things up, you switch lines, it's just a matter of guys in the group trying to bear down to change this. … Everybody is struggling. You can pinpoint it on one guy or whatever, but it's a full group here – players, coaching staff, everyone. As players, we have to figure it out here."
Krueger did not provide much of a comment when asked about his reaction to not receiving a vote of confidence from General Manager Kevyn Adams on Friday. Krueger, who has coached the Sabres for 91 games, insisted his focus is on fixing all that's gone wrong.
"Anything beyond that right now would be a waste of focus and energy," said Krueger. "The team needs me to be 100% present and that's what I am here, right now."
Here are other observations from the Sabres' loss:
1. Bryson trending up: Bryson, a 23-year-old drafted in the fourth round in 2017, is far more prepared for the NHL than most expected. Standing at 5 feet, 9 inches, Bryson has proven in six NHL games that he can relieve pressure on the breakout, disrupt zone entries and wisely join the play in the offensive zone.
Bryson showed no reservations on the first shift of the game, when he received a pass from Montour and skated down the left wall before firing a shot for his first NHL goal.
"Yeah, it was so exciting," said Bryson. "I've been waiting for that for a long time, even though it's just been six games now. … That's how you want to start games. It's just a good feeling to have that monkey off your back going into a full 60 minutes."
2. What's the deal with Skinner? It's clear Jeff Skinner is lacking confidence right now. The 28-year-old has not scored in over a calendar year, as he will enter the game Sunday with zero goals in 19 games this season. We all know it's not for a lack of scoring chances.
Another opportunity arrived in the first period Saturday, when Bryson made a perfect outlet pass to spring Skinner for a breakaway. The result: Skinner missed the net on a backhand attempt.
Skinner earned another breakaway in the third, only to be stopped by Semyon Varlamov. You have to wonder what it's going to take to break Skinner out of this funk. He finished with three shots on goal in 15:38 of ice time.
3. Cozens earning trust: Offensive skill is not the primary reason why Dylan Cozens was promoted to the top line to skate with Jack Eichel and Taylor Hall. Cozens, 20, was given more responsibility because he's shown Krueger that he is smart defensively and is excellent executing small details.
We saw an example of this on the first shift, when Cozens outmuscled a defender for the puck behind the Islanders' net and positioned himself in front to screen the goalie on Bryson's goal.