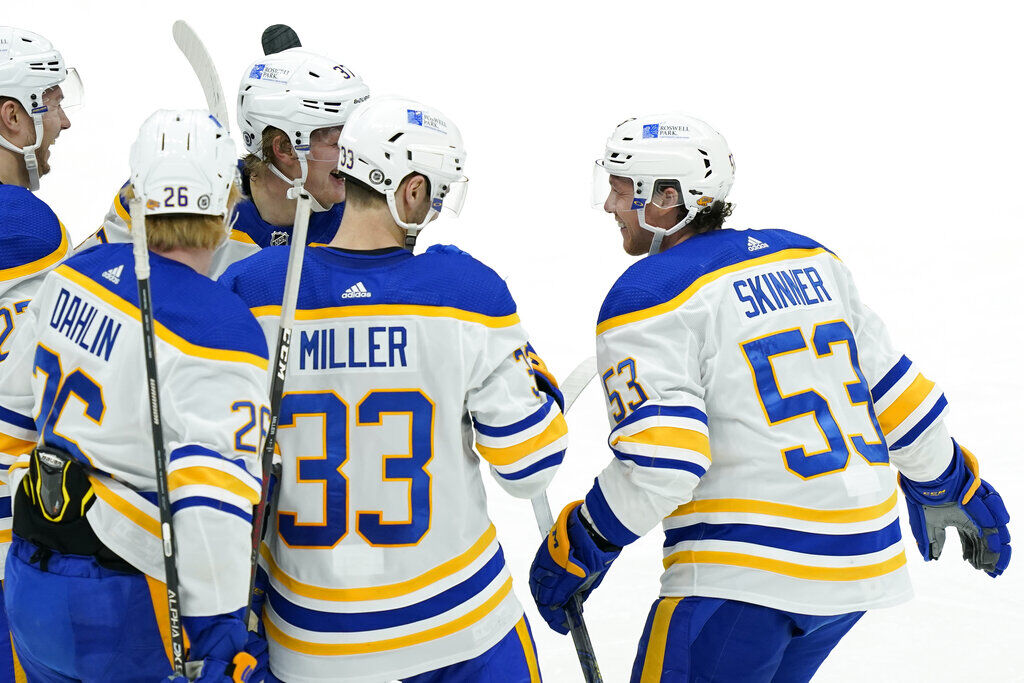 UNIONDALE – The dazzling backhander to score, and the expression of joy that followed, had not been seen from Jeff Skinner in some time.
Skinner, the $9 million-per-year left wing with a remarkable track record of scoring 5-on-5 goals, used his edgework to corral the puck behind the net in a way that fooled New York Islanders defender Scott Mayfield into thinking a wraparound was coming.
Skinner, though, carried the puck around Mayfield and lifted a backhanded shot over the shoulder of Islanders goalie Ilya Sorokin in the third period Sunday afternoon. It was Skinner's first goal since Feb. 29, 2020, a span of 372 days.
Yet, for as welcoming the sight was for Skinner and the Buffalo Sabres, the result in Nassau Coliseum did not alleviate the pressure on coach Ralph Krueger.
"There was at least a reaction in the third today, but in the end, we needed a result and we didn't get it," Krueger said after the Sabres' losing streak reached seven games with a 5-2 defeat at the hands of the Islanders.
New York Islanders defeat Buffalo Sabres, 5-2, in Nassau Coliseum.
Buffalo allowed three goals in the second period, including two in a span of 1:02, and had its comeback attempt spoiled in the third when Cal Clutterbuck scored on a breakaway after a turnover by Sabres defenseman Brandon Davidson.
Following Skinner's goal, defenseman Colin Miller cut the deficit to 3-2 on a wrist shot from the right-wing circle with 10:25 remaining in regulation. Clutterbuck answered less than four minutes later, and the Islanders added an empty-net goal to sweep the three-game series.
The Sabres are now 6-14-3, last in the National Hockey League with 15 points, and have only four regulation wins. They have lost each of their six games against the Islanders this season.
"I don't think it's a focus," Skinner said when asked if the team is aware change could be coming. "I mean, I think, if you play hockey and you've reached this level, you understand all those things. That's just part of the game, part of business. It's not gonna do anyone any good to think about that when you're on the ice. You play hockey and worry about how you can help the team win."
Across the three straight games against the Islanders, the Sabres were outscored 15-6, including 8-1 in the second period. Buffalo failed to record double-digit shots in any of the first eight periods of the series, a streak that ended with its surge in the final 20 minutes Sunday.
At age 32, Kane has lifted a team that was expected to be where the Sabres are into a strong position in the Central Division.
The Sabres didn't start poorly in either of the final two games. Jack Eichel made a perfect backdoor pass in the first period Sunday, but Brandon Montour missed the net. Goaltending again wasn't the issue, as Jonas Johansson delivered 25 saves in the finale, including back-to-back stops to keep the Sabres' deficit at one goal in the third period.
Individual mistakes are stifling the Sabres' momentum and – whether it's the system or player performance – their skill is rarely being used to create scoring chances, particularly in transition.
It took them until the third period to possess the puck long enough to even get forwards to the front of the Islanders' net with any consistency. The problem begins in the defensive zone, where the Sabres have struggled while posting a 2-10-1 record since returning from a two-week Covid-19 pause.
"The individual mistakes that we've been making here in New York are something we need to address," Krueger responded when detailing how he hoped to solve the Sabres' problems. "What is it that's causing breakdowns in coverage of the type that we did not see earlier on in the season and have become a habit? They're just killing us defensively."
The spotlight will remain on the Sabres' top forwards, as Jack Eichel has now gone 13 games without scoring and Taylor Hall has two goals in 24 games. But since Krueger benched Skinner for the first of three consecutive games Feb. 22, Buffalo ranks last in the NHL in shot quality against at 5-on-5, according to NaturalStatTrick.com.
The defensive foundation Krueger laid is crumbling, and the Sabres are still searching for a solution.
"I think they're a good team and they can clog things up and shut teams down," Skinner said of the Islanders. "It's not a team you want to be chasing down two goals or down three goals. You don't want to get in that situation."
Here are other observations from the game Sunday:
1. Another solid game for Skinner: Unsurprisingly, Skinner did not express much excitement during his postgame interview with the media. He didn't even want to concede that some relief came from watching the puck go in. After all, he views his primary job as scoring goals to help the Sabres win.
"Yeah, it's nice," said Skinner. "I sort of take myself as someone that should be able to contribute offensively and obviously that's been a bit of a struggle personally and as a team. Personally, hope we can build on this and go from there."
Skinner only played 12:29 and finished with two shots on four attempts. But he's playing with more confidence and the scoring chances are happening consistently.
2. Quiet third for Eakin line: With the Sabres trailing by three goals, Krueger used what he views as his defensive line – Tobias Rieder, Cody Eakin and Kyle Okposo – for only three shifts in the third period. The trio was on the ice only once for the first 8:55.
Rieder, Eakin and Okposo had a Corsi percentage of 58.33, so don't take the usage as a sign that Krueger might break them up Tuesday in Philadelphia.
UNIONDALE – Henri Jokiharju, one of the Buffalo Sabres' promising young defensemen, no longe…
3. Henri Jokiharju won't be out of the lineup for long: The Sabres' decision to place Jokiharju on the taxi squad seemed odd on the surface. The 21-year-old was among their most consistent defensemen last season. Sure, he's regressed in his second under Krueger, but we've seen players commit more glaring errors and remain in the lineup.
Krueger, though, clarified it was simply a move to create a spot for Davidson. Don't be surprised if Jokiharju is on the ice next game, especially after the mistakes the Sabres made on defense Sunday.
"This kid is an important part of our future," Krueger said of Jokiharju. "We love the foundation that he has, his work ethic, his coachability."
4. Mittelstadt finding comfort: Casey Mittelstadt may finally be carving out a niche in the NHL, albeit in a different position than many expected. The 22-year-old has impressed Krueger with his ability to create offense and play responsible defense on the wing.
Krueger took a gamble Sunday by playing Mittelstadt at right wing, his offside, on a line with Skinner and Curtis Lazar. Mittelstadt was even used on the penalty kill, a responsibility he had last season in Rochester.
"He has truly got a competitive bite within him right now and we're expecting him to eventually find his way into a regular spot," Krueger said of Mittelstadt. "He looks to be crystalizing into more of a winger than a centerman. That can always change as a player evolves. But we do like the looks we're getting from him on the wing."
Mittelstadt assisted on Skinner's goal and had two shots in 15:03 of ice time.