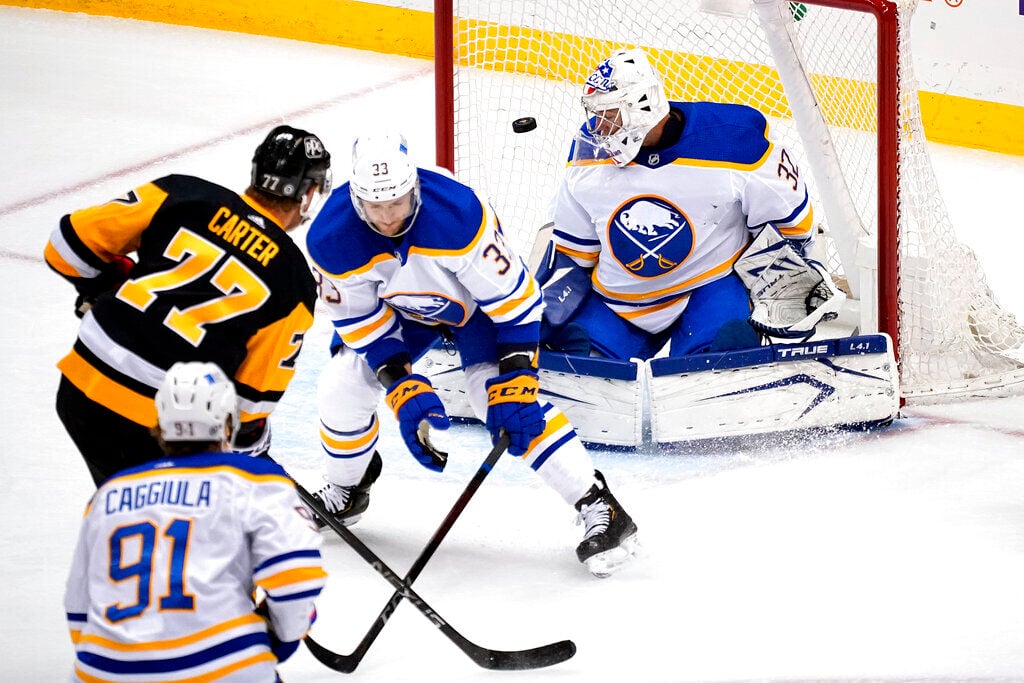 PITTSBURGH – Silence swept through PPG Paints Arena as Drake Caggiula raised his stick in the air to celebrate scoring the game's opening goal Thursday night.
Caggiula, a winger skating on the Buffalo Sabres fourth line, spoiled the festive atmosphere for fans hoping to watch the Pittsburgh Penguins regain sole possession of first place in the East Division during the season's final week.
Buoyed by confidence-inducing back-to-back wins to cap their home schedule, the Sabres suddenly fell into bad habits. They appeared to have a blind faith that they had the speed and skill to skate off victorious, prioritizing risky offensive players over the calculated approach that's led to success under interim coach Don Granato.
Trading scoring chances led to a disastrous ending, as Jeff Carter led a star-studded lineup with four goals to lift the Penguins to an 8-4 win over the Sabres. In the end, Buffalo (15-33-7) clinched the worst record in the National Hockey League and the best odds to select first overall in the draft.
This also showed how much the Sabres' young, talented players must learn how to have sustained success against one of the league's elite teams.
"I thought we saw our youth and some inexperience because we thought we would be OK to be in a track meet," said Granato. "I like our confidence and I like our thought that we could go score, but we didn't know what we should respect enough, starting with puck management. We just didn't respect the fact that we're playing against a team that if we don't take care of things the right way, the puck the right way, they can score and score quick."
The Sabres did not win back-to-back games against the New York Islanders this week by making life difficult on goalie Michael Houser, the feel-good-story in a 10th consecutive non-playoff season for Buffalo. Though Granato has prioritized puck possession and creating offense, his corrections on the defensive end have have also cleaned up the errors that became common under former coach Ralph Krueger.
Failure to execute the system properly leads to games like this. The Sabres have the skill to generate scoring chances against the first-place Penguins (36-16-3), but sloppiness with the puck equates to playing with fire.
The first of Carter's goals occurred during a 2-on-1 rush in which rookie defenseman Mattias Samuelsson got caught too high in the neutral zone. Jared McCann's goal that made this game 5-3 in the second period came moments after 21-year-old defenseman Henri Jokiharju turned the puck over on a horrible breakout pass.
The Sabres were opportunistic, scoring four goals on only 23 shots against goalie Tristan Jarry, who has gone 10-1-1 in his last 12 appearances. Caggiula scored twice, Jeff Skinner added a power-play goal -- his first in that situation since Feb. 15, 2019 -- and Tage Thompson reached a new career high with his eighth of the season. But Buffalo had only five shots in the first period and was hemmed in its own zone for long stretches, giving Sidney Crosby, Evgeni Malkin and others plenty of time to generate chances against Houser.
"They're a tough team to be trading chances with," said Caggiula, one of the more experienced players on the roster at only 26 years old. "They got loads of star power and can make plays. You want to play a track meet with them, they're a really good team and they got a lot of guys who can put the puck in the net. They're probably not the team to be trading chances with."
The Sabres managed to keep pace for half of the game, as it was tied 3-3 with 14:47 remaining in the second period. The two teams scored a combined five goals in only 3:53.
General Manager Kevyn Adams must be pleased with how Granato has coaxed more offense out of the Sabres and, on most nights, coached this team in a way that shots on goal have come mostly from the perimeter. But this group learned a hard lesson Thursday that there's a fine line between being confident and irresponsible.
"I think you can't trade chances, you can't be loose on them," said Skinner. "Give them time and space, they're going to make you pay and give them odd-man rushes, they're going to make you pay, and that's what they did tonight."
Here are other observations from the game Thursday night:
1. Houser did his best under difficult circumstances. This was a homecoming for Houser. The 28-year-old grew up in Wexford, a suburb north of Pittsburgh, and had 20-plus family and friends in attendance after they couldn't see Houser's back-to-back wins Monday and Tuesday in Buffalo.
The Sabres failed Houser, though. The Penguins finished with 34 shots on goal, but they had 11 high-danger scoring chances at 5-on-5 over the final two periods, according to NaturalStatTrick.com. Buffalo trailed 2-1 at the first intermission after allowing zero such scoring chances in the first 20 minutes.
The only goal you could say Houser should have stopped occurred when a defensive-zone faceoff loss led to Brian Dumoulin firing a shot from the point that went in short side for a 4-3 Penguins lead with 13:34 remaining in the second period.
"We didn't help him out at all," admitted Skinner.
"He deserves better," added Caggiula. "We owe him, especially being in his hometown. We've got to be better for that."
2. Caggiula is showing he should be considered an option for the bottom six next season. The pending unrestricted free agent scored twice on four shots, continuing a recent run of impressive play. His speed and tenacity on the forecheck are elements the Sabres have been missing on the fourth line. Caggiula can also contribute on the penalty kill and has the versatilty to move up in the lineup.
The final stat line for Caggiula won't be pretty. He had only one goal in 36 games entering Thursday. But he's generating scoring chances and had some success under Granato in Chicago.
"It's been a tough year in terms of goal scoring," said Caggiula. "It feels good to get that monkey off the back. A little late in the season now, but you'll take them any way you can get them."
3. Brett Murray earned this opportunity with the Sabres. The 22-year-old winger did not learn until Thursday morning that his NHL dream would become a reality. That's when Murray walked into a team meeting and saw his name in the lineup for the first of two games in Pittsburgh.
"I'm at a loss for words. It's honestly something that you work for, every player has worked for their entire life," Murray said Thursday ahead of his NHL debut. "To finally see your name on a line chart in the NHL is just one of the coolest things in the world."
Murray, a fourth-round draft choice in 2016, was tied for the Rochester Americans lead in goals (8) and his 19 points are the most on the team. A 6-foot-5, 228-pound power forward, Murray can provide a net-front presence the Sabres have lacked in the bottom six.
"I watched him in training camp and there were a lot of things he did in training camp that were impressive with his size and frame, intelligence around the net, intelligence and awareness of what's around him linemate-wise and situation-wise, opposition," said Granato. "So, he's got a real good feel for the game as well."