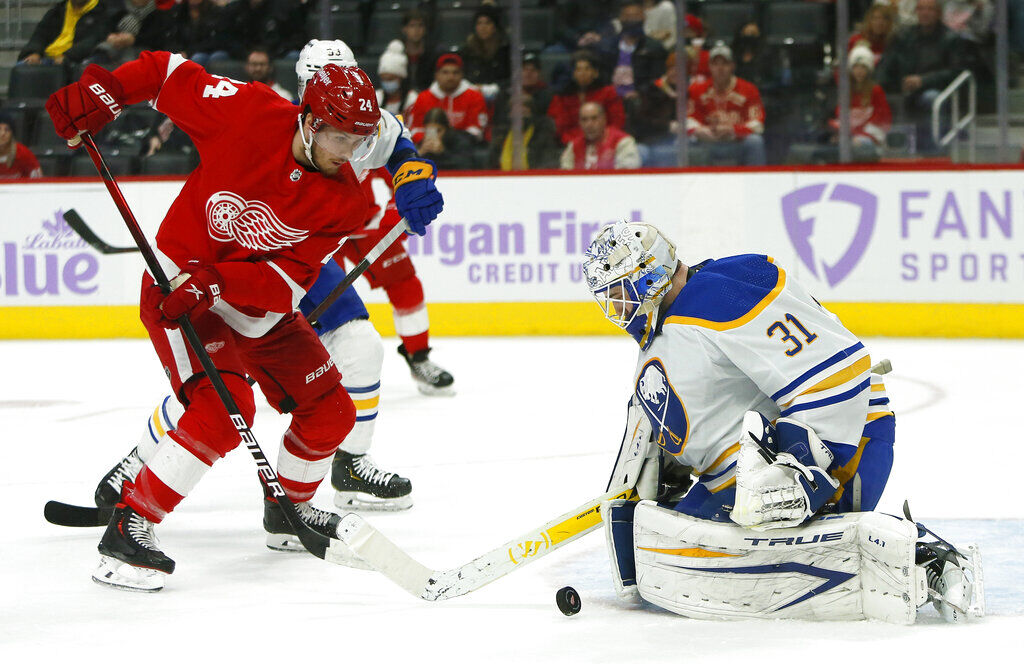 It was an arduous week the likes of which the Buffalo Sabres won't see again this season. And that's definitely a good thing.
Blame the compressed schedule in an Olympic year. Saturday's 3-2 overtime loss to the Detroit Red Wings in Little Caesars Arena left the Sabres 1-3-1 over a seven-day span and 8-10-3 overall. And while losing on Lucas Raymond's wrist shot that eluded Dustin Tokarski after just 26 seconds of OT was a bummer, the Sabres were pleased with Tokarski's 38 saves while he was playing on back-to-back nights for the first time this season.
They battled to get their goalie a point on Jeff Skinner's deflection of a Cody Eakin shot with 1:37 left and Tokarski on the bench for an extra attacker.
Dustin Tokarski has had several good moments this year, and was up to the task in Friday night's 4-1 win over abysmal Montreal. Still, the Sabres' goaltending situation is tenuous much of the time, and downright dire at others.
"Oh, I was jacked up on the bench there for sure," Tokarski said on a postgame video call. "It shows some character. 'Skins' has been playing some great hockey for us. It's fun to see. We're a team that I don't think is ever out of a fight and it's good to see us get to overtime for a big point."
"When you're in front there at 6-on-5, I just try to stay loose really just in case there's a rebound or deflection," said Skinner, who notched his sixth goal. "Fortunately, I was able to get my stick on it and it went in."
Buffalo's lone five-game week of the campaign started with a barnburner Sunday in New York, the crushing 5-4 defeat to the Rangers on Ryan Lindgren's goal with 0.4 seconds left. It ended with their second overtime loss of the season against the Red Wings, who also beat Buffalo in extra time Nov. 6 in KeyBank Center.
In between was a 7-4 loss to Columbus and a 5-1 defeat to Boston where Tokarski and Aaron Dell took turns getting pulled from the net. The Sabres only found solace in Friday night's win over Montreal, which fell to 1-9-1 on the road.
"It's almost a game where you know you're fighting energy a little bit," coach Don Granato said of Saturday's loss. "You play a team that's fresh, they know it. It's like they smell blood in the water. You've got to manage it a little bit and find the time to push."
Thompson's two goals, the first and last of the game, led the Buffalo Sabres to a 4-1 win over the Montreal Canadiens on Friday at KeyBank Center.
A major oddity of the stretch: The Sabres scored first in every game and lost four of the five. Dylan Cozens did the honors Saturday, tapping in a Brett Murray pass on the end of a three-way passing play at 5:05 of the second period. It was Murray's first NHL point.
Granato said Tokarski got the call again largely because he faced only 11 shots on goal combined in the second and third periods against Montreal. Tokarski made 16 saves in the second period and a key one with 2:26 left in the third on Vladislav Namestikov to set the stage for Skinner's goal.
Calgary's Jacob Markstrom has an NHL-high five shutouts in his first 15 games.
Here are some other observations in the wake of the loss:
1. Quick strikes, no challenge
The Red Wings took a 2-1 lead in a 79-second stretch of the second period off a pair of scrambles in tight from Tokarski. Carter Rowney chipped a puck over a fallen Tokarski off the shaft of Anders Bjork's stick at 9:56 of the second, and Pius Suter shoved a loose puck under Tokarski at 11:15.
The Sabres pondered a challenge for goaltender interference on the Suter goal, as Giovani Smith was entangled with Rasmus Dahlin at the edge of the crease and made things tough for Tokarski. But apparently because of the risk of a delay of game penalty for a failed challenge, the Sabres decided against it.
After the game, however, Granato admitted the penalty was one factor. Another was technical issues and flickering video on the bench that was difficult to see to make a decision in time for the referees to allow Buffalo to challenge. During the second intermission, the coach was apparently kicking himself for not taking the plunge.
"I told the team I apologize. That's a mistake. I should have made that call," Granato said. "I didn't have good enough video on the bench. We had some trouble. You guys had much better video than we had, I will say that. I'm sure of that because I saw something different later."
Raymond, Detroit's high-scoring rookie, was given far too much time and space as Dahlin kept backing into the Buffalo zone on the first rush of the 3-on-3 session. Nonetheless, Tokarski fell on the sword on the goal as it beat him five-hole.
"I saw it the whole way," Tokarski said. "I think it's one of those ones I should have saved. ... He took something off it, handcuffed me and it slid through. It should have been a save and who knows if we get that extra point later."
You might consider games against Atlantic Division rivals like Tampa Bay and Toronto as big measuring sticks for the Sabres. You probably should get at least the same feeling – if not a bigger one – for games against Detroit and Ottawa.
Out since midway through the Oct. 14 season opener, Mittelstadt might only be a few days away from returning.
For now, at least, those two teams carry the same profile as the Sabres in that they're trying to push through rebuilds with young talent as they scrap to climb up the division ladder. 
"It's interesting, I guess you can look at it as measuring sticks, but we're in it for the long haul," Granato said. "So the moment really can't define us and can't influence us, not in a negative manner. What happens, happens. We just have to continue to progress and get better. If there's information that's negative and you lose games, as every team does in the NHL, it's how you respond to it. Is it making you better? Or is it shaking your confidence?"
The Sabres have a 10-game point streak against Detroit (6-0-4) for the first time since a 9-0-1 stretch that ran from Dec. 10, 1979 to Jan. 6, 1982.
Quinn's 18 points through 14 games were third in the AHL entering Tuesday, and he has nine goals after totaling only two in 15 games last season.
The Seattle Kraken will be released in Buffalo for the first time in their history Monday on Hockey Fights Cancer Night in KeyBank Center. Defenseman Will Borgen, Seattle's choice from the Sabres in the expansion draft, made his Kraken debut in Saturday night's 4-1 win at Florida. The Kraken snapped the Panthers' 11-game home winning streak to start the season, one shy of breaking the NHL record.