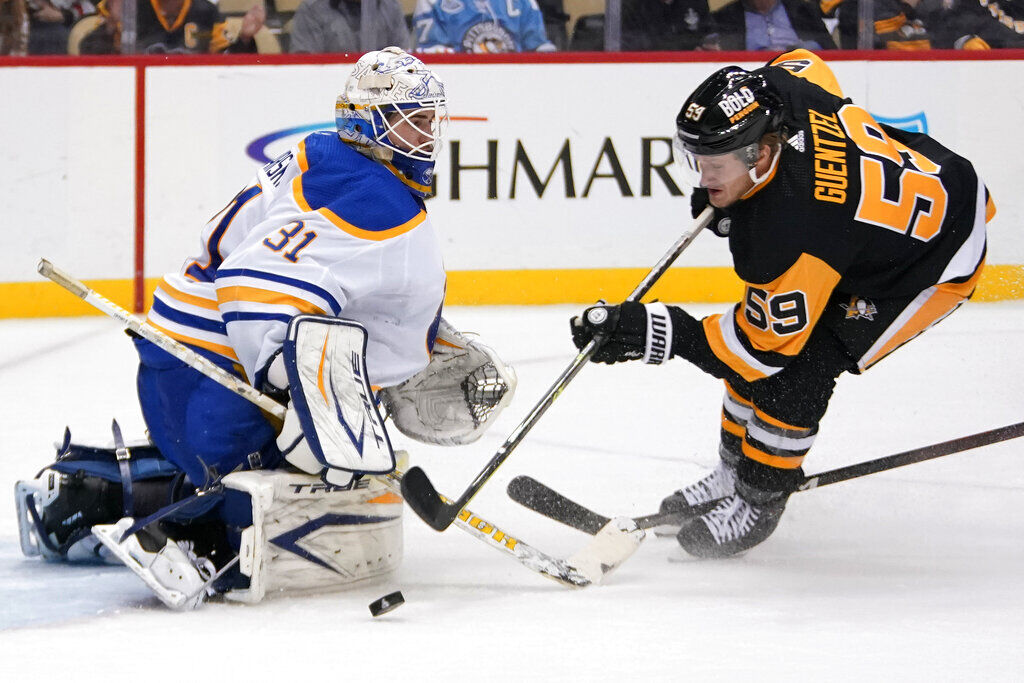 PITTSBURGH – The chant erupted inside PPG Paints Arena when Dustin Tokarski made his first of many bail-out saves Tuesday night, "Let's Go Pens!"
Over and over, the announced crowd of 16,366 repeated those three words that have spelled doom for so many opponents during the Pittsburgh Penguins' run of success with Sidney Crosby and Evgeni Malkin. The roar grew louder in the third period, drowning out coaches' instructions on the Buffalo Sabres' bench.
"The emotion in the building tonight was incredible," exclaimed Sabres coach Don Granato.
The Sabres were clinging to a two-goal lead, hemmed in their own zone for most of the final 20 minutes. This was the push that Granato and his players expected from the Penguins, yet the visitors were losing grip on a game that was there for the taking.
More than 12 minutes passed in the third period without a Sabre recording a shot on goal, while the Penguins peppered the Buffalo net with 29 shot attempts in the final frame. In the end, the Sabres skated over to the man who ensured another lead would not slip away.
Goalie Dustin Tokarski delivered a career-high 45 saves, including 20 in the chaotic third period, to hold off the Penguins and secure a 2-1 win for the Sabres.
"He was our number one, two and three star," Sabres winger Kyle Okposo boasted about Tokarski. "Third period was really ugly from a team standpoint, and he won that game for us in the third."
The Sabres (7-6-2) were winless in six of their previous seven games and dropped seven of eight against the Penguins (5-6-4) during the abbreviated 2020-21 season. Though Pittsburgh was without Malkin, its lineup is led by Crosby and several others whose names are etched on the Stanley Cup. Some more than once.
Buffalo was down two of its top forwards and the goalie who started on opening night. They owned one road win in six opportunities. But it was the Sabres who were initially in control of this game, albeit for a short time.
Colin Miller gave Buffalo a 1-0 advantage with a slap shot through a screen early in the second period. The lead nearly grew to two with a one-timer by Arttu Ruotsalainen shortly after an unsuccessful power play, but goalie Tristan Jarry stopped the shot with his left leg pad.
Then Zemgus Girgensons made an individual effort to give the Sabres a much-needed insurance goal. Girgensons maintained possession of the puck behind Pittsburgh's net, eluded a Penguins defender while skating out to the left-wing circle and fired a turn-around pass toward the goal mouth. Okposo was skating down the slot and redirected the puck between Jarry's leg pads to make it 2-0 with 11:06 remaining in the second period.
"I think we just made a couple plays," said Okposo. "I don't think we controlled the play tonight at many points. We played decent in spurts, but we hadn't been playing the way we have at home, for sure. I just think that we played a solid road game until the third period and the wheels kind of fell off a little bit, but Ticker was there to back us up."
The Sabres could have pulled away when they earned a power play 2:30 into the third period. However, their struggling unit allowed a pair of scoring chances that Tokarski turned away. Evan Rodrigues had a shot on a 2-on-1 after Rasmus Asplund lost his helmet in the offensive zone and Brock McGinn was left alone in the slot to uncork a one-timer. The Penguins had more short-handed shots on goal (7) than the Sabres had during five unsuccessful power plays (3).
The lead was cut to 2-1 when Bryan Rust's pass went off Jake Guentzel's right skate and in at 5:59 into the third period, and the Sabres didn't record their first shot on goal in the third until 12:07 in. They had only three over the final 20 minutes. However, Tokarski delivered several remarkable saves, including one on Jeff Carter skating down the slot. Tokarski has a .920 save percentage through eight starts and his finest work occurred when his teammates could only muster 19 shots on goal against a recent back-to-back Stanley Cup champion.
"It's an offensive game now and regardless of who you're playing, I think the goalie has to be good just like PK, PP, blocking shots, transitioning the puck," said Tokarski. "I'm a member of a unit out there and I've got to do my job just like everybody else."
Here are other observations from Tuesday's game:
The Sabres need their defensemen to start shooting the puck. It's the only way to take advantage of getting bodies around the crease.
Entering Tuesday, Rasmus Dahlin's 27 shots on goal led all Sabres defensemen, but were tied for 41st in the NHL. That's what made Miller's goal notable. Finally, Buffalo took advantage of having traffic in front. Jarry was screened by Vinnie Hinostroza when Miller's shot whizzed by him.
The Sabres' power play is 2-for-20 in eight games without winger Victor Olofsson. If zone entries aren't a problem, it's a lack of focus. Cross-ice passes are forced, leading to turnovers and shorthanded chances against. This is a problem that needs corrected as soon as possible because, as we saw Tuesday, an opponent can generate momentum off a failed power play.
"We just came out flat," said Okposo. "We had a tough power play to start there. A couple tough power plays to start and it just killed any momentum that we had built up in the first two period. It made them feel good, so we have to do a better job of being a little bit harder, a little bit simpler and we had a chance to probably close out the game early in the third there. We just have to come out better."
Only three Sabres had more than one shot on goal: Jeff Skinner (3), Dylan Cozens (2) and Dahlin (2). … Dahlin led all Sabres in ice time (22:56), while Tage Thompson skated the most of any forward (18:30). … Three Penguins finished with five shots on goal. … After winning 67% of the faceoffs in the first period, Buffalo went 14-for-40 on draws in the final 40 minutes.
The Sabres were without Olofsson (undisclosed), center Casey Mittelstadt (upper body), goalie Craig Anderson (upper body) and defenseman Henri Jokiharju (lower body). Winger Zemgus Girgensons played after missing the morning skate for an undisclosed reason, while winger Brett Murray and defenseman Christian Wolanin were healthy scratches.