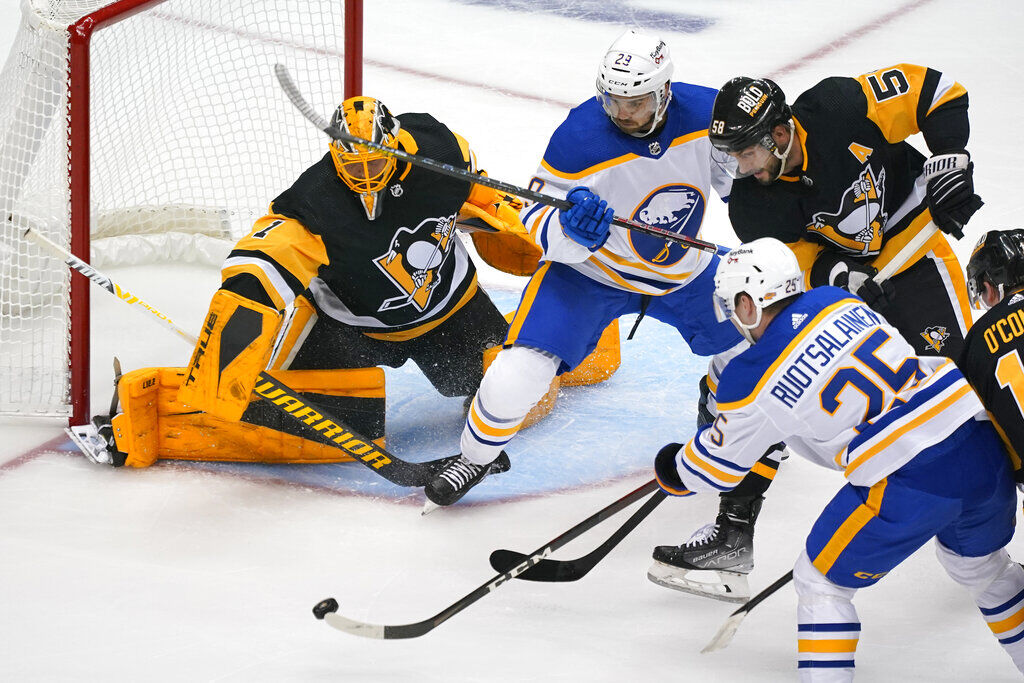 PITTSBURGH – With free-agent frenzy complete on July 28, and Linus Ullmark off to Boston, the Buffalo Sabres made two last-minute signings to address the void in goal.
Craig Anderson and Aaron Dell, both accomplished goalies in the National Hockey League, joined the club on one-year, $750,000 contracts. Anderson, 40, played well for the Washington Capitals last season, and the Sabres wanted to see if Dell could rediscover his level of play for most of his time in San Jose from 2016-20.
And the Sabres did not rule out handing over the reins to prospect Ukko-Pekka Luukkonen if the 22-year-old had a strong training camp under coach Don Granato. Yet, five games through the preseason, it's journeyman Dustin Tokarski who has been the standout of the club's goalie competition.
Tokarski, a 32-year-old who went nearly four years between NHL games, stopped 15 of 16 shots in the Sabres' 5-4 shootout loss to the Pittsburgh Penguins in PPG Paints Arena on Tuesday night. Through three preseason appearances, Tokarski has compiled a .965 save percentage, allowing only two goals on 37 shots.
"I'm focused on what I can control and that's my game -- my level to detail on and off the ice," Tokarski told The Buffalo News. 
When Tokarski joined the Sabres on a two-year, $1.5 million contract in October 2020, the signing was largely overlooked. One reason for his arrival was to fulfill the club's requirement for the Seattle expansion draft, but he's also had an outstanding career in the American Hockey League. He's won a pair of Calder Cups, most recently as a backup with Charlotte in 2019, and was expected to share the net with Luukkonen in Rochester.
Injuries led Tokarski to join the Sabres last March and he made his first NHL appearance since Oct. 28, 2016. He hadn't won, or even started a game, at that level since Dec. 12, 2015. Tokarski, though, played well in goal for Buffalo, delivering wins over the Penguins and Capitals. He made 128 saves across four games, a stretch that led him to be named the NHL's First Star of the Week.   
"I was a little undersized when I started playing, so whether I played better than the bigger guys early in my career -- bantam, midget, whatever -- you kind of had to be a little bit better than the next guy because (my size) was a little bit of a hindrance," said Tokarski, who is 6 feet tall. "You can never take a day off. You've got to keep going. If there's a day you don't try as hard and compete, someone can move ahead of you and take your spot. Whenever I'm on the ice, I battle and compete."
Before leaving the team in May for a family emergency, Tokarski compiled a 2-8-2 record and .904 save percentage across 13 appearances. He was still penciled in for Rochester in 2021-22 because Anderson and Dell have longer track records of success in the NHL, particularly Anderson, who led the Ottawa Senators to the Eastern Conference finals in 2017.
But Tokarski has outperformed the field, making himself a viable candidate to be among the two goalies on the Sabres' roster at the start of the season. His lone goal against occurred when his teammates gave Penguins forward Drew O'Connor enough time and space to unleash a turn-around shot from the slot. 
Dell, meanwhile, allowed three goals on 22 shots during regulation and overtime.
"He's competitive," Granato said of Tokarski. "He doesn't quit. You see it every drill in practice. He's a fighter and it's awesome to see. He did a great job for us last year coming into a tough situation and he's came here with the approach of, he's got to earn every minute."
Here are more observations from the game Tuesday night:
1. Lineup: Several players competed in both games of the back-to-back, including the line of Tage Thompson centering Drake Caggiula and J-J Peterka. Dylan Cozens skated between Jack Quinn and Brett Murray, while Arttu Ruotsalainen was back in the lineup after missing the game Monday with an illness. Ruotsalainen centered Vinnie Hinostroza and Victor Olofsson, and the final trio was Anders Bjork, Cody Eakin and John Hayden.
Axel Jonsson-Fjällby, who was claimed off waivers by Buffalo on Monday, wasn't in the lineup.  
2. Ugly moments: Rasmus Dahlin hasn't been sharp during the preseason. He committed another egregious turnover in the first period that led to the Penguins having the puck in the offensive zone for nearly two minutes. The 21-year-old hasn't done well under pressure, which isn't unusual during the preseason. There's no way to simulate those situations in summer workouts. But Dahlin is running out of time to correct those hiccups before the season opens Oct. 14. He wasn't the only Sabres defenseman to struggle with the puck, either.
"Obviously, there's a lot in this game (we need to fix), specifically defensive-zone exits where we really, really struggled," said Granato. 
3. Bounce back: Cozens had two assists and appeared more comfortable in this game, recording a shot on goal and led the Sabres' best line. He had a slow start to camp and entered the night behind Casey Mittelstadt on the depth chart at center.
"I think after a long summer I wanted to come in and dominate right away," Cozens admitted. "I wanted to step up and help lead this team. I was hurting myself by trying to do too much. I needed to simplify things and play my game. Stick to it and be confident in myself."
This also was also another strong game for Murray, who outmuscled Penguins prospect Filip Hallander to score from the slot in the first period for a 1-0 lead. 
4. Better start: The Sabres' trend of slow starts in the preseason finally ended with a 14-shot, two-goal first period in which young players didn't force passes and they outworked the Penguins in front of the net. The problem: Buffalo had only 10 shots over the final 40 minutes of regulation.
5. Stock up: This was Quinn's best performance of camp. He was noticeable throughout the game and assisted on Murray's goal with a turn-around pass. He also made a perfect cross-ice pass to Cozens that led to a penalty and Olofsson power-play goal. Quinn is likely headed to Rochester this week. Aside from a defensive mistake in the third, this was an encouraging game for Quinn.