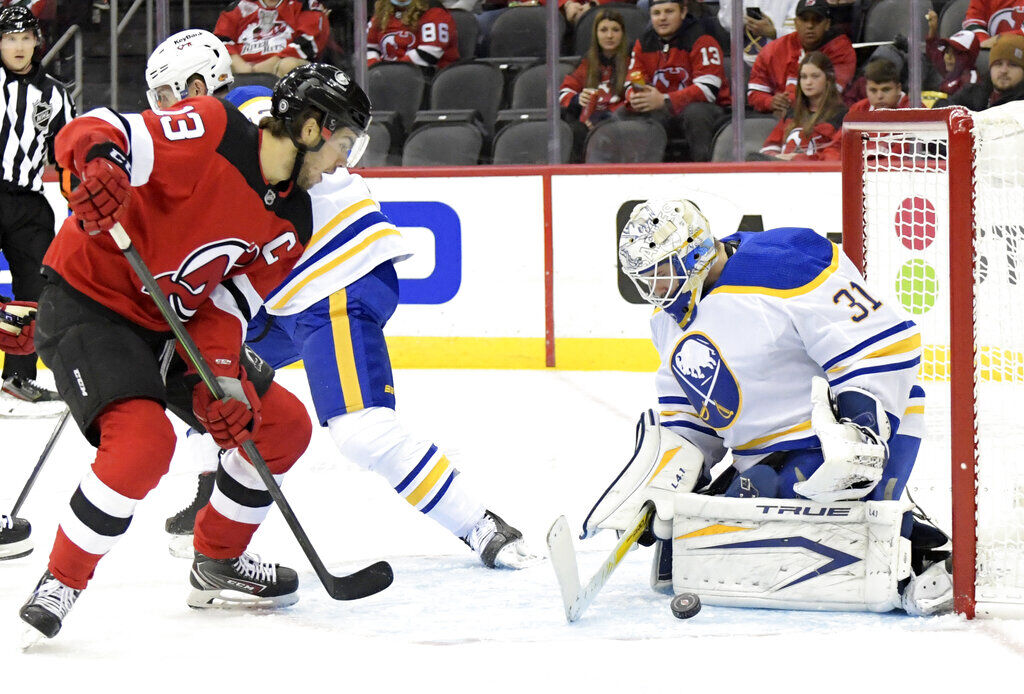 NEWARK, N.J. – Dustin Tokarski's movements in goal aren't graceful or textbook.
His coach in Rochester, Seth Appert, once joked that he would never think to teach Tokarski's technique to a young goalie. Tokarki's setup when awaiting a shot resembles the caricatures depicted on shooting targets used for street hockey nets.
His glove, blocker and shoulders seem to be raised slightly, as if he's compensating for the fact that, at 6 feet tall, he's smaller than most NHL goalies. His movements may not look precise, but his tracking of the puck is. Tokarski hasn't been a split-second too soon or too late.
When chaos ensues around Tokarski, he seems willing to do whatever it takes to prevent a goal. And when the Buffalo Sabres played their first of 41 road games Saturday night in Prudential Center, it was their often-overlooked goaltender who held onto an early lead for his tired teammates and salvaged a point in the New Jersey Devils' 2-1 come-from-behind overtime victory.
Tokarski stopped 37 of 39 shots to send the Sabres to a 3-1-1 record after the Devils outshot Buffalo 29-12 over the final 40 minutes of regulation. Entering overtime, Tokarski had an impressive 2.53 goals saved above expected, a metric that measures how a goalie performs based on the quality of shots.
"He was awesome," Sabres defenseman Will Butcher said of Tokarski. "Unbelievable. He gave us a chance. We had breakdowns and he bailed us out every time."
One month ago, Tokarski seemed destined for Rochester. The Sabres signed veteran goalies Craig Anderson and Aaron Dell to one-year contracts in July as competition for prospect Ukko-Pekka Luukkonen in training camp. Though Tokarski played well for most of his 13 games with Buffalo last season, it's easy to focus on what he lacks.
Tokarski has won two Calder Cup championships in the American Hockey League, but prior to last season, he hadn't won, or even started a game, in the NHL since Dec. 12, 2015. Tokarski, at 32 years old, is an example for his teammates of the perseverance required to reach and remain in the league. And his high wire playing style fits well with how Sabres coach Don Granato wants his team to defend.
"If we can keep getting performances like that, we'd love it," Granato said. "He feels and looks comfortable to me within the whole system of how we want to play. He's reading where and when and how shots are coming, the way our defense plays in situations. He looks very comfortable in that regard and aggressive. When you see a guy playing aggressive and confidently in net, it has a feel that it's a six-man unit out there."
This was a difficult test for the Sabres. It was the second game of the first back-to-back this season and their first road game. While the Devils (3-1) were without their best player, Jack Hughes, and started rookie goalie Nico Daws, Granato's Sabres still had to handle the emotion of the 13,158 fans in attendance and the strategic advantage New Jersey had at home. The game occurred less than 24 hours after a 4-1 loss to the Boston Bruins.
Dylan Cozens gave the Sabres a 1-0 lead with his first goal of the season, a wrister on the power play in the first period, and Buffalo had controlled play for the first 20 minutes. But fatigue set in, and the Sabres found themselves stuck in the defensive zone for stretches of the second period. They went 8:19 without a shot on goal.
Tokarski helped them kill consecutive penalties, including a nice save on Tomas Tatar during a 2-on-1, and he managed to cover the bottom of the net when a Colin Miller turnover led to chaos around the Sabres' net. Marian Studenic's initial shot hit the post and Yegor Sharangovich's rebound attempt hit the opposite post. Following a failed second-period power play, Dawson Mercer exited the penalty box and got the puck with space in the Sabres' zone, only to have Tokarski make the stop.
Tokarski's perfect night ended in the third period when a puck took a difficult bounce off the end boards on a Devils power play and ricocheted off Nico Hischier before going past the line to tie the score 1-1 at 5:52.
With the score tied, Tokarski delivered impressive saves on Andreas Johnsson and Frederik Gauthier late in regulation, but Pavel Zacha won the game in overtime with a shot over Tokarski's glove after a coverage mistake by Jeff Skinner.
"I felt good out there," said Tokarski, who has a .950 save percentage through two starts. "The guys played a pretty darn good hockey game. Back-to-back and it took a lot of guts. Put pressure on them for most of the game."
Here are more observations from the game Saturday night:
There were more encouraging signs from Cozens. He scored on the wrist shot over Daws' blocker and is showing a willingness to get to the net. Later in the first period, Cozens wisely didn't force a pass to Skinner on the rush, opting instead to carry the puck into the offensive zone and wait for the Sabres' third man. When Vinnie Hinostroza had space, Cozens passed him the puck in the slot and the ensuing shot rang off the crossbar.
The Sabres got toasted in the faceoff dot again, converting on only 34% of draws.
Lost faceoffs led to longer offensive-zone time for the Devils. The Sabres seemed to be chasing the play too often, a recipe for disaster on the road, no matter the opponent. Granato, though, attributed those struggles to fatigue in the second game of a back-to-back.
The turning point was the consecutive minor penalties by Victor Olofsson and Jacob Bryson in the second period. The Sabres' penalty kill did well for most of those four minutes and Tokarski cleaned up their few mistakes, but the team's energy wasn't the same. Miller's turnover that led to the chaotic situation around Tokarski happened shortly thereafter and Buffalo never recovered.
Defenseman Rasmus Dahlin played 25-plus minutes for a second consecutive game, finishing with a team-high 25:53 of ice time. … Arttu Ruotsalainen led the Sabres with four shots on goal. … Buffalo finished with 25 shots on goal and New Jersey had the edge in attempts (70-45).
The Sabres are off Sunday and host the Tampa Bay Lightning on Monday at 7 p.m.