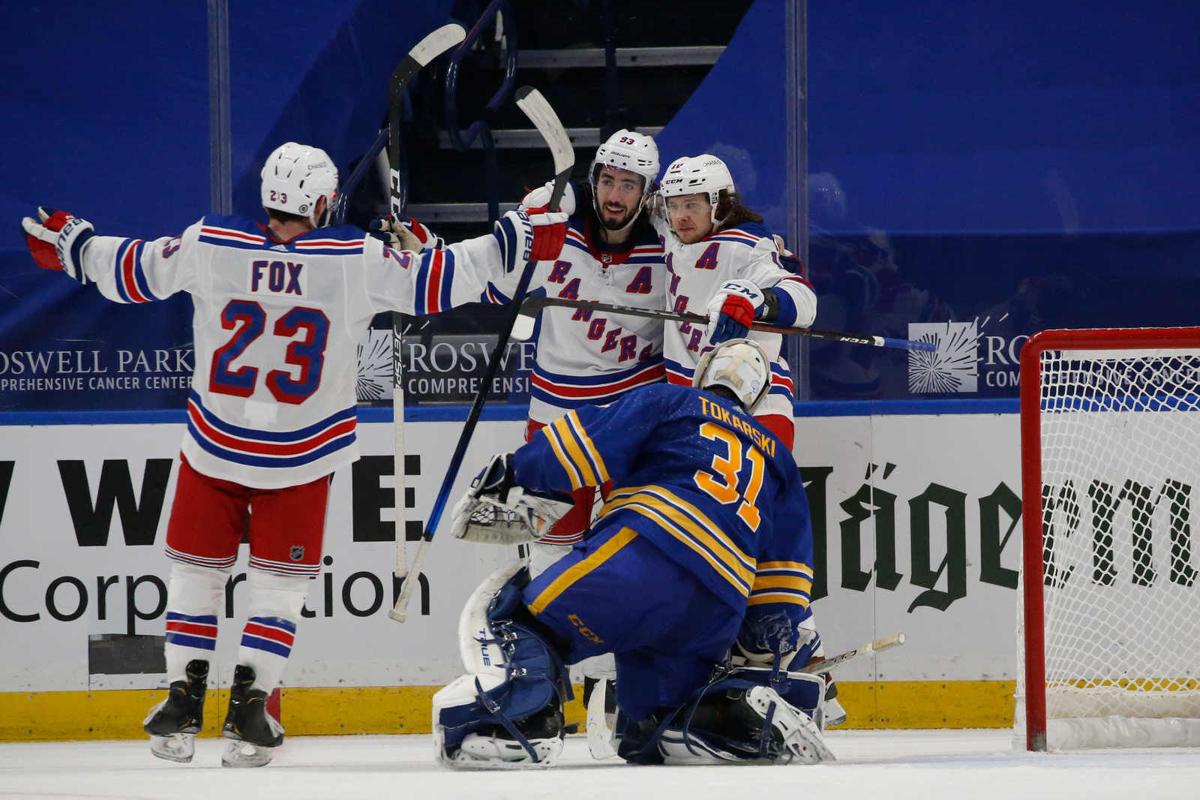 When Linus Ullmark isn't in the crease, you can just about book a loss for the Buffalo Sabres.
Buffalo's starting goalie is 6-5-3 on the season. Everyone else who has played is 1-18-3. Dustin Tokarski took the loss Thursday night in KeyBank Center but you couldn't possibly say a cross word about how he performed.
Playing a back-to-back and on their third game in four nights, the Sabres' energy tank hit empty Thursday night in KeyBank Center. 
Tokarski made a career-high 44 saves in a 3-2 overtime loss to the New York Rangers, a thriller that slipped away on Mika Zibanejad's goal with 27.7 seconds left in OT. The Sabres were outshot in the game, 47-23, but Tokarski kept them afloat to steal a point when Tage Thompson scored a dramatic tying goal with 3.6 seconds left in regulation.
"It would have felt a lot better if he had gotten the win. He deserved that one big time," Thompson said of Tokarski, whose last win in the NHL dates back to Dec. 12, 2015 with Montreal. "He played a great game, made some huge saves for us."
"That's pretty fun. It doesn't happen too often," Tokarski said of the uber-late equalizer. "It happens all over the league where the goalie is pulled but to get one, especially with just a few seconds left, it's pretty cool on the bench there. Everyone goes nuts and then you've just got to refocus and get back to try and get the extra point."
Backup goalies often play in the second half of back-to-backs, and the Sabres are 1-8-1 in those. Carter Hutton (1-10-1, 3.47/.886) has also struggled mightily with goal support, as the Sabres have been shut out five times with him in net.
Tokarski, 31, is 0-4 since getting the call when Hutton hurt his leg March 22 in New York. He's at 3.79/.904 and has seen plenty of rubber, averaging 35.3 saves per game.
"He was spectacular, comfortable. And obviously a lot of shots," said interim head coach Don Granato. "It's nice to see. We needed to give Ullmark the night off. And he really stepped up for us."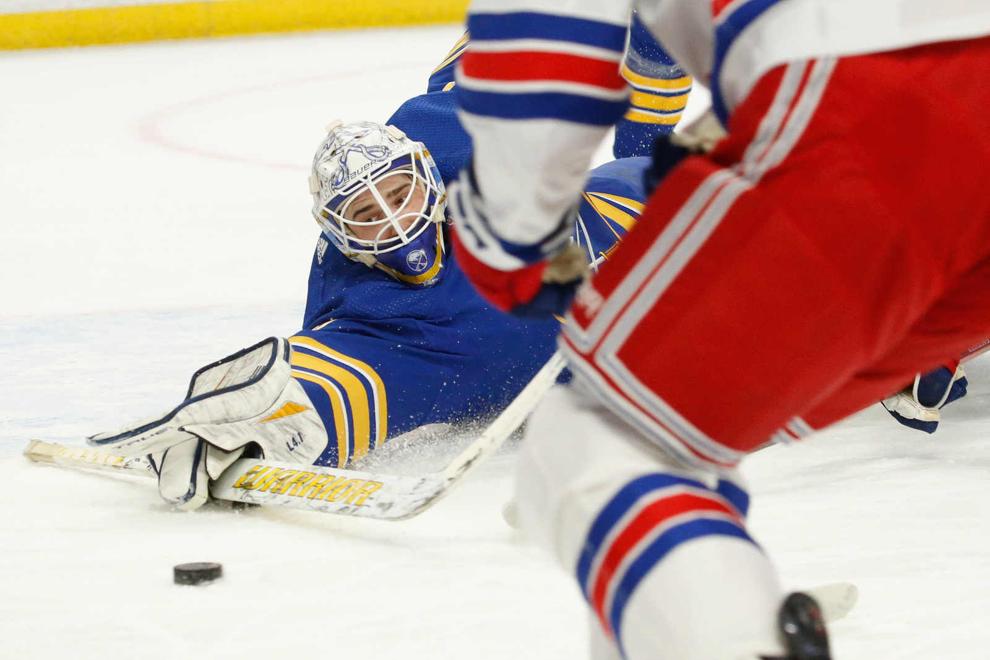 The Sabres have a lot of soul-searching to do in goal after the season. General Manager Kevyn Adams rolled the dice with Ullmark and Hutton and both are free agents after the season. Prospect Ukko-Pekka Luukkonen has yet to make his NHL debut. You need some stability behind your main goalie. Colorado is the only other team in the NHL with just one win from its backups but the Avalanche, who just traded for ex-Sabres goalie Jonas Johansson, have 20 wins from starter Philipp Grubauer.
Do the Sabres play differently on non-Ullmark nights? It's hard to figure out.
"It is a serious stat," Granato admitted of the backups' record. "I don't know and haven't seen signs of our team changing, certainly tonight with respect to Linus being out."
At just 5-foot-11, Tokarski is an major battler in the crease. He gets down low to see around the trees in front of him and didn't have many struggles with rebound control Thursday. His teammates had far bigger issues with puck possession as the Rangers had a massive edge in shot attempts (82-36).
"I like to compete. I like to play hard, try to see every single shot to give myself the best chance to stop it," he said. "When you find that good zone in the crease, whether it's mid or high, just to be able to be able to track the puck and just get in a groove is my game.
"Being 5-11, I got to try to play a little bigger than the guys that are bigger out there. Tonight I was able to see a lot of those pucks and beat the passes because the guys were clearing bodies out."
Here are some other observations on the game:
1. The tying goal: Thompson's goal was his second of the season and Casey Mittelstadt's assist gave him his first two-game point streak of the season.
"He made a great play," Thompson said of Mittelstadt. "I know it started off there with a battle on the wall with (Sam Reinhart) and it kind of squirted out to me. Just tried to get it down low and 'Mittsy' made a great play finding me there."
"He's going the right direction clearly and he's got to keep doing the things that keep him going in that direction," Granato said of Thompson. "Work hard and focus on what he can do skillwise. Improve and internalize, and he's doing those things."
Per NHL Stats, the goal was tied for the third-latest in Sabres history to get a game even. Thomas Vanek scored with two seconds left in a 5-4 shootout win against Montreal on Feb. 7, 2013 and Phil Housley scored with three seconds left on Jan. 7, 1983, a 5-5 tie with Vancouver.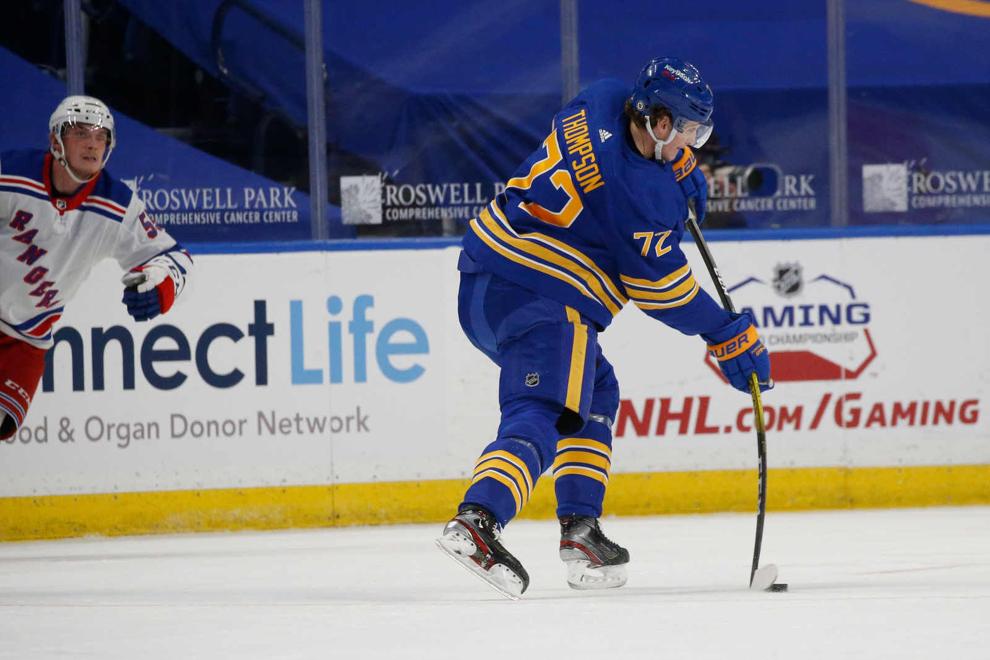 2. A big zero in OT: The Sabres fell to 0-4 in overtime this season and all the losses have been at home. The Rangers have beaten them twice, with the other goal coming Jan. 28 from No. 1 overall pick Alexis Lafreniere.
Victor Olofsson lost a puck battle along the wall and Reinhart was trapped too deep in the Rangers zone as Zibanejad and Panarin broke away on the decisive 2-on-1 break.
The Sabres took a much more deliberate approach than they did in Monday's loss to Philadelphia, where the Flyers capitalized on Rasmus Dahlin's overaggressive forecheck and scored after 42 seconds. The Zibanejad goal was New York's only shot on goal in the extra session.
3. Holes down the middle: Curtis Lazar sat out the game with a lower-body injury suffered early in Wednesday's win and Granato said he's listed as week to week.
So that's three centers down for the Sabres as Lazar joined Jack Eichel and Dylan Cozens on the shelf. Cozens sat out his second straight game with an upper-body injury suffered Monday.
Reinhart moved to the middle for the second straight game, centering Olofsson and Kyle Okposo, and Riley Sheahan took over Lazar's spot, centering Jeff Skinner and Asplund. Mittelstadt and Cody Eakin remained in their center slots from previous games.