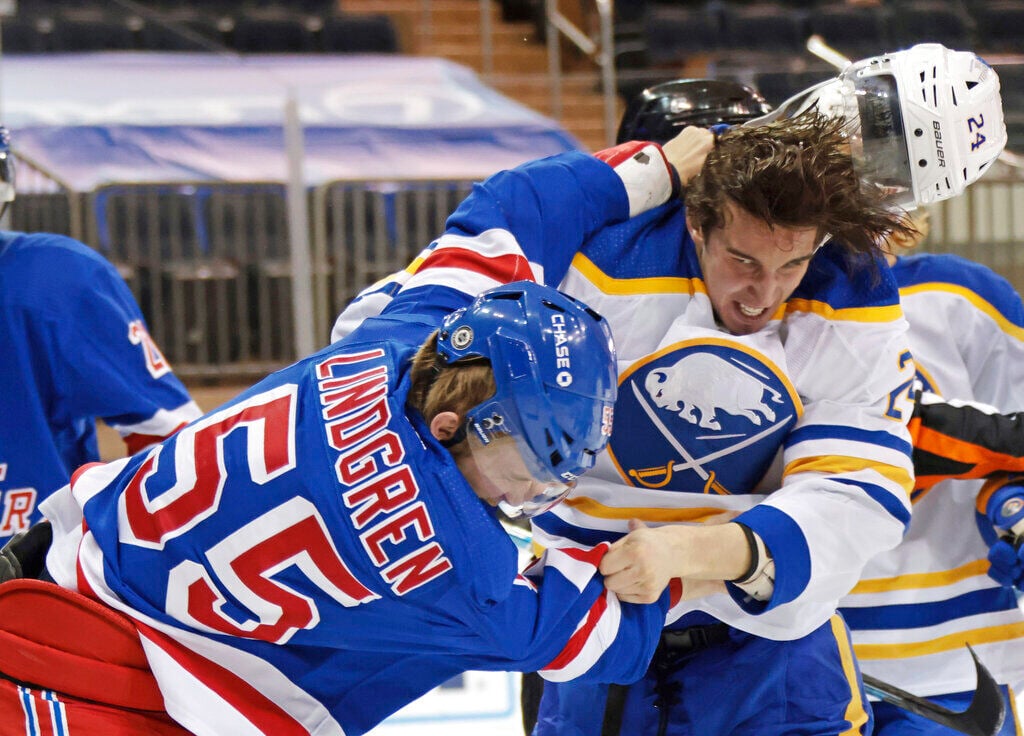 NEW YORK – You won't remember much from the Buffalo Sabres' 3-2 loss to the New York Rangers here Tuesday night come next week, let alone next year.
Neither team scored in the third period as the Sabres lost their fourth straight. Carter Hutton was pedestrian in goal, getting beat three times on 19 shots. He yielded two goals in the first 2:36 and got singed by Chris Krieder on a long snap shot through a Brandon Montour screen in the second period for what proved to be the winner.
There's one moment that could, however, stand the test of time: A third-period punchout by rookie Dylan Cozens of Rangers defenseman Ryan Lindgren.
You don't expect a No. 1 pick and a guy expected to be a scorer to throw down but that's exactly what the 6-foot-3 Cozens did after some battling behind the Rangers net. And Cozens used his 3-inch height advantage to explode with a flurry of rights, even knocking out Lindgren's mouthpiece.
Former New York Rangers goalie and current MSG Network analyst Steve Valiquette called the Sabres "dreadful" late Tuesday night.
If you want a galvanizing moment for the club, there was a big one. Rasmus Dahlin called for some fight from somebody after Sunday's snoozer against Philadelphia and Cozens delivered.
Cozens said Lindgren actually asked him to fight. Big mistake.
"All the boys were just coming up and saying 'Nice job'," a sheepish Cozens said afterward. "A lot of the guys told me how it fired them up on the bench. That was the main goal, to get the guys going there in the third and try to bang one in. As a young guy, it's an easy way to gain respect so I just saw it as an opportunity."
No doubt, Cozens quickly got respect.
"Awesome," said Sam Reinhart. "That was a heckuva job out of him to stand in there and throw them like he did. I love to see it and it's a great message to the lineup for sure."
"He is a tremendous kid, tremendous young man," added Kyle Okposo. "And he he knows how to play the game. His maturity level for a 20-year-old is off the charts. ... I was extremely proud of him. I think that was probably the most fired-up we've been all season. I wasn't surprised. He's got that old-school hockey and he plays the game the right way."
Cozens said he was a willing combatant in junior hockey at Lethbridge but his coaches didn't want to lose him to fighting so he never really got involved. But that spark was lurking within.
"I think it just comes from being a kid raised in the Yukon and never really having it easy, always having to work for everything," he said. "Just the way I was raised. I like having that grit in my game. I think that's something that's big to have and I like being a player that can play both sides of the game."
Coach Ralph Krueger was duly impressed by Cozens' other side.
"Boy is Dylan Cozens ever on the map, the future map of the Sabres," Krueger said. "How exciting is that to see that kind of fight? ... It was really a moment of respect for him as a player, but above all,  you can see the light of leadership that he spreads out among the people he touches."
Two goals are better than none. But they still weren't enough to the get the Sabres a win Tuesday night in the opener of their five-game road trip.
Here are a few non-puglistic observations from the game:
1. In the nets: Hutton couldn't stop Pavel Buchnevich's breakaway 28 seconds into the game, was overly floppy around the crease of Buchnevich's shot that deflected in off Alexis Lafreniere at 2:36 and whiffed on Krieder's winner. He fell to 1-6-1, giving up three goals or more for the fourth time in five games. There aren't a lot of truly bad goals against Hutton but he doesn't make any 10-bell saves to help his team and he hasn't been nearly good enough since Linus Ullmark went down.
Conversely, New York's Igor Shesterkin robbed Okposo and Jeff Skinner from in tight, denying both their first goals of the season. It made a huge difference.
2. Skinner's impact: This had to be the embattled winger's best outing of the season. He had a game-high nine shot attempts (with three on goal) as the Sabres had 61 of the game's 100 attempts overall. 
The line of Skinner with Curtis Lazar and Riley Sheahan was dominant all night and Skinner ran an 87% Corsi rating at 5 on 5, with the Sabres taking 21 of the 24 shot attempts while he was on the ice.
"That's the kind of push we need, as Jeff had some Grade As today that would certainly give him confidence," Krueger said. "Although he's frustrated that he didn't finish but he's got to get the chances first. It all stems from the compete. It showed in the battles he won. And the fight for the inside position, he wanted to be first on pucks. It was really encouraging what Jeff showed us here today."
3. Offensive slumbers: The droughts continue for many of the Sabres' big names. They look like this:
• Skinner and Okposo have now gone more than a year without a goal. Each has one point this season, Skinner in 17 games and Okposo in 15.
• Taylor Hall has one goal in 20 games and, remember, it was the first goal of the season in the opener vs. Washington on Jan. 14. Nothing since.
• Jack Eichel has two goals in 18 games and is on a career-long 10-game streak without one.
• Cody Eakin has one goal in 20 games and it was a buzzer-beating empty netter Feb. 23 in New Jersey.
• Eric Staal has no goals in his last 11 games.
4. Special teams showdown: The Sabres' power play entered the game leading the NHL on the road at a glossy 40.9% (9 for 22). The Rangers' penalty kill was second at home (37 of 41, 90.2%).
So what happened? Not much. The Sabres were 0 for 1 and had only two shots on goal during that lone chance. That's three straight games without a power-play goal.
5. The bottom line: The Sabres fell to 6-11-3 and remain embarrassingly last in the NHL's overall standing with 15 points. In fairness, it should be noted that Anaheim, Detroit and Ottawa all have 17 and have 22, 25 and 25 games, respectively. A better gauge is points percentage and Buffalo has slipped to 29th at .375. The Rangers are 8-9-3 as the Sabres are 1-1-1 against New York this season.
6. Fan report: Spectators sat socially distanced in pods of two or four and were sprinkled through all levels of the arena. Things seemed normal with loud boos for the Sabres as they were introduced and loud cheers for the Rangers intros.
Fans sang along with the Rangers' longtime goal song, booed the officiating and chanted "I-gor, I-gor" for goaltender Igor Shesterkin. They even got in the time-tested classic "Potvin (stinks)" chant in honor of longtime New York Islanders nemesis Denis Potvin. Of course, they don't actually say "stinks."
Signage greeted fans throughout the building to remind them of the Covid-19 protocols in place, which included consumption of food and beverage only in ticketed seating areas and not in concourses. All fans were admitted only after producing negative Covid tests. The Garden, in fact, is joining Scotiabank Arena in Toronto in providing rapid Covid tests for all media assigned to the game as well.
The #NYR require covid tests for media and I was negative. Now inside there are messages to the fans upon their return. Would imagine we'll see similar at KBC later this month. #Sabres pic.twitter.com/ibjIHG0MGM

— Mike Harrington (@ByMHarrington) March 2, 2021