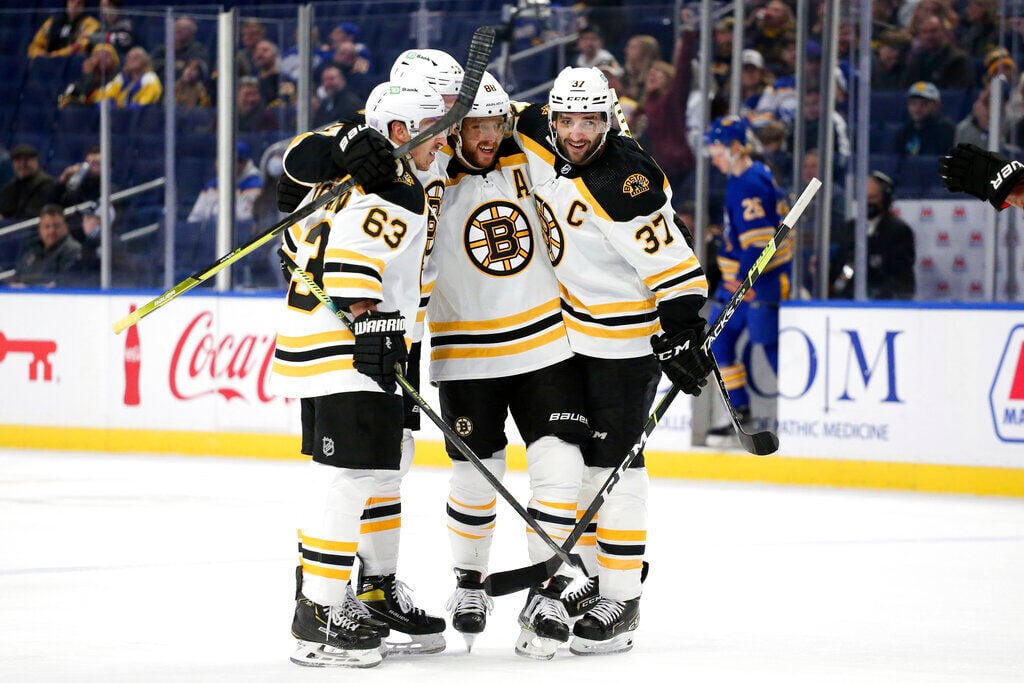 Dustin Tokarski was supposed to sit on a stool at the end of the Buffalo Sabres' bench for the duration of the game Wednesday night.
Tokarski was an early-season success story for the Sabres, keeping a young team afloat after an injury to starting goalie Craig Anderson. Only eight days prior to this meeting with the Boston Bruins on Thanksgiving Eve, Tokarski fended off Sidney Crosby and the Pittsburgh Penguins with a career-high 45 saves.
Tokarski was pulled early in each of his next two starts, allowing nine goals on 35 shots. Coach Don Granato thought a night off would be good for Tokarski, providing the 32-year-old with more time to solve what's gone wrong.
Aaron Dell forced Granato and the Sabres to pivot. Dell lasted only 20 minutes before he was pulled from the game during the first intermission. His four goals against on 22 shots forced his teammates to chase the game and led to a 5-1 loss to the Bruins in KeyBank Center.
"We needed a change," Granato said of the decision. "It just needed to happen. Dustin came in and was good. He looked real good. He looked comfortable. It took him a couple minutes. Obviously, it's tough to jump in, but he looked like himself in there, which was great after not looking so much like himself last game. That was definitely a positive."
Out since midway through the Oct. 14 season opener, Mittelstadt might only be a few days away from returning.
The Sabres (7-10-2) are winless in eight of 11 games since Anderson suffered an upper-body injury on Nov. 2, dropping them to sixth in the Atlantic Division. They're also winless in 14 of their last 15 against Boston (10-6), which received 24 saves from goalie Jeremy Swayman, who got the start after Linus Ullmark suffered an injury during the morning skate.
Tokarski played well when he was called on in relief, stopping 24 of 25 shots to improve his save percentage to .904. It was too late, though. The Sabres were trailing by three goals after 20 minutes, despite limiting Boston to only one high danger scoring chance in the first period, according to NaturalStatTrick.com.
Dell played well during the first 10 minutes of the game, delivering a save on David Pastrnak during a 2-on-1. Moments later, Kyle Okposo gave the Sabres a 1-0 lead when he bolted down the left wing and scored with a shot below Swayman's blocker at 10:56.
The Sabres were outshot 13-0 the rest of the period, but Boston wasn't generating quality chances, as illustrated by its 1.14 expected goals.
Trouble began when Dell failed to freeze the puck with his glove and, amid the chaos, it got poked away from the goal mouth and toward a wide-open Patrice Bergeron, who tied the score from the left circle. Following a weak forecheck by the Sabres, Charlie Coyle gained possession and went bar down on a quick short side shot from the right circle to make it 2-1.
Quinn's 18 points through 14 games were third in the AHL entering Tuesday, and he has nine goals after totaling only two in 15 games last season.
Pastrnak then scored on the power play with a one-timer from behind the left faceoff dot for a 3-1 Boston lead. The Bruins scored the three goals in only 3:30, and the Sabres' deficit became three when Dell allowed another rebound that turned into a Mike Reilly goal with one minute remaining in the first period.
"Tonight was a product of them just shooting everything," Okposo said. "They made it a point, especially in the first and third, to just throw everything at the net and crash. We just didn't do a good enough job clearing the second opportunities, and they were able to cash in on that. The best way to eliminate that is spending more time in the o-zone."
Dell remained in the game until the intermission, when he took Tokarski's spot on the bench. With the difficult first period, Dell has a 4.87 goals-against average and .862 save percentage in five appearances this season. It was the third time in four games that Buffalo made a goalie change.
Entering Wednesday, the Sabres ranked 26th in 5-on-5 save percentage and 26th in goals against, despite ranking 13th in shot quality against at 5-on-5. Tokarski's numbers are inflated because of the ugly 5-0 loss to Calgary in which his teammates had unquestionably their worst game of the season, so his response against Boston is an encouraging development.
The Sabres' forwards and defensemen gave an uneven performance with Tokarski in net, though. They outshot Boston 14-7 in the second period before an ugly third in which Buffalo had only three shots on goal. The Bruins, meanwhile, had 18 shots in the third period and scored their fifth goal during a five-minute power play.
Amid his sixth season in Buffalo, Okposo is among the longest-tenured Sabres and embodies many of the traits General Manager Kevyn Adams wants on and off the ice.
"I think the difference was more about us," Sabres winger John Hayden said. "Probably half of the game we played hard and we had a ton of chances. We made hard plays when we needed to and creative plays when the opportunity was there. When we got away from that is when they put us on our heels. I thought there was resilience in the game, that was pretty evident. But competitive team, a lot of competitive guys who are unhappy about the results the last few games. It's going to come down to consistency."
The outlook isn't grim for the Sabres' offense, which will receive a boost with the return of Casey Mittelstadt, who skated with the team Wednesday morning for the first time since the season opener. Victor Olofsson and Henri Jokiharju rejoined the lineup this week. But Buffalo has allowed five or more goals in eight of its last 11 games.
It's time for general manager Kevyn Adams to find a solution to the goaltending problem, which doesn't simply impact the standings. Development of young players becomes more difficult if goaltending is subpar because the Sabres can't get to their 5-on-5 game as effectively if they're chasing the game. It can lead to bad habits and delivers a blow to confidence.
It's easy to play Monday morning quarterback and criticize the Sabres' decision to not beat the four-year, $20 million contract Ullmark received from Boston in the offseason. However, Evolving-Hockey's metric goals saved above expected, a stat that measures performance based on the quality of shots faced, had Ullmark ranked 67th of 77 goalies to appear in a game this season. He has a .908 save percentage on the best defensive team in the NHL. 
When Ullmark bolted, the Sabres chose to sign Dell and Anderson to one-year, $750,000 contracts in July. It was only a few years ago that Dell played well for San Jose, but he didn't perform in camp with the Sabres and lost his roster spot to Tokarski. There was also an outside chance that top prospect Ukko-Pekka Luukkonen could earn the starting job. Luukkonen wasn't ready. The 22-year-old played poorly in training camp and has lacked consistency with Rochester, although he made 27 saves Wednesday in a win over previously undefeated Utica. Luukkonen has an .883 save percentage in 11 games this season.
Cozens and Thompson scored to ignite a Sabres rally in the second period, but the comeback fell short in a 7-4 loss to the Columbus Blue Jackets.
Trading for a goalie isn't easy in November, especially with injuries mounting across the league and teams wanting insurance in the event of a Covid-19 case. The waiver wire typically lacks upgrades. Even if Tokarski's game Monday against Columbus was an outlier, you need a tandem, given the compressed schedule that includes 14 more sets of back to backs.
Anderson, 40, was listed as week to week on the Sabres' most recent injury report. If Anderson can't return soon, Adams will have to act quickly. 
The development of the Sabres depends on it.
"Never have I been comfortable as a coach trying to say it's a goaltending thing," Granato said. "Even if, at times, you thought maybe that could have been a save, you still look at the things that led to that and work to improve those. If that's the case and it's a goal we didn't like, there are other things we can turn our attention to that are within our control to become better at.
"This little stretch here is exposing us to things we need to target and become better at, and we will. We will become better going through this."
Here are other observations from the game Wednesday night:
The Sabres are allowing goals in bunches. They gave up three in 1:37 against Calgary on Nov. 18, three in 5:26 Sunday at Madison Square Garden, three in 3:41 when Columbus was in town Monday and four in 5:31 Wednesday night. 
Zemgus Girgensons received a five-minute major for boarding and a game misconduct for a hit on Charlie McAvoy with 6:14 remaining in the third period. Girgensons was already going for the check on McAvoy when the Bruins defenseman turned and accidentally put himself in a vulnerable position along the boards. McAvoy was slow to get up and went down the tunnel to be evaluated.
Former Sabres winger Taylor Hall scored during the power play for his fifth goal of the season.
With Arttu Ruotsalainen drawing into the lineup, winger Drake Caggiula was scratched. Christian Wolanin and Will Butcher were also healthy scratches. The forward lines changed in Caggiula's absence, as Dylan Cozens centered Rasmus Asplund and Okposo. Girgensons skated with Ruotsalainen and Hayden, who appeared in his 200th career NHL game.
The Sabres have allowed at least one power play goal in seven of their last eight games. … Announced attendance in KeyBank Center was a season-high 9,416. … Buffalo's negative-56 shot differential in the third period is the worst mark in the NHL. … The Sabres allowed a season-high 47 shots on goal, and the Bruins had 71 shot attempts. … Defenseman Mark Pysyk led the Sabres in ice time (23:29) and shots on goal (4).