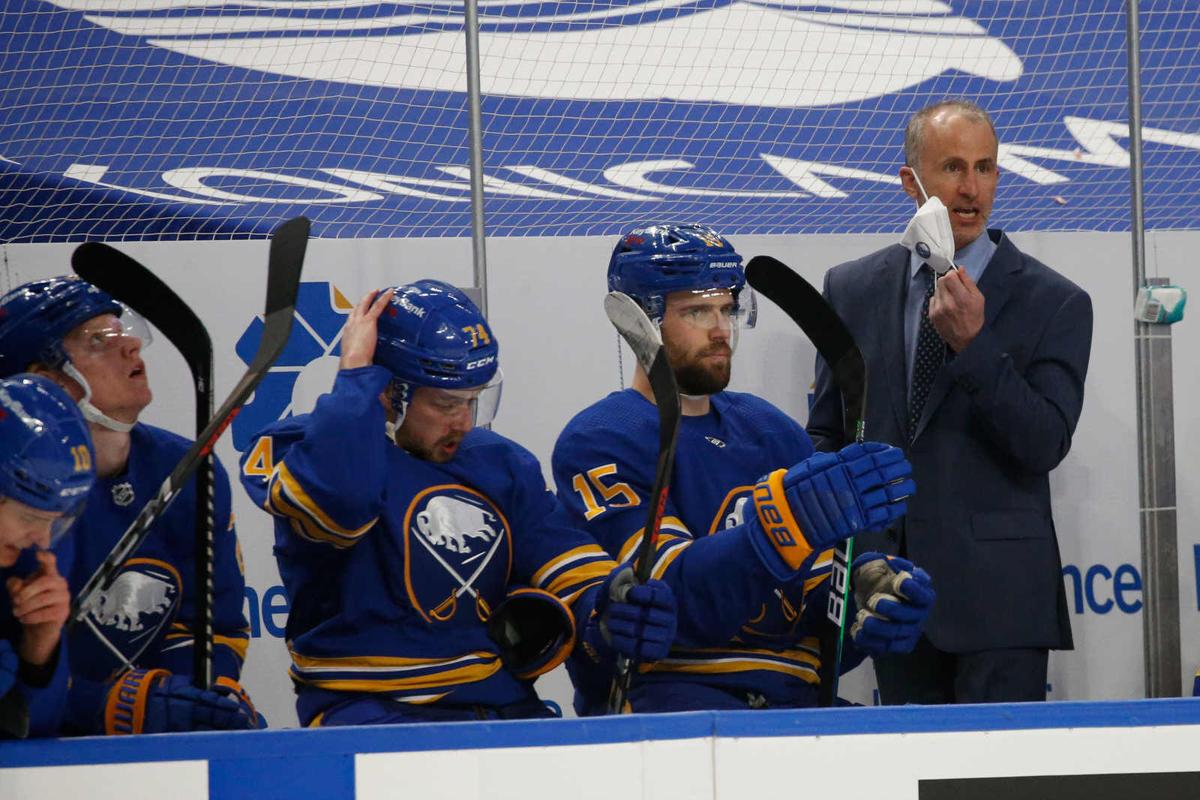 Medical personnel from the Buffalo Sabres are investigating how soon players, coaches and staff can receive Covid-19 vaccinations.
With availability greater and restrictions eased in New York State, the National Hockey League's Rangers and Major League Baseball's Mets revealed their organizations will receive vaccinations this week as professional sports continue during the pandemic.
With the COVID-19 vaccine now extended to anyone over 16, we're excited that many of our players and staff opted to get vaccinated. We applaud New York's efforts to expand eligibility and encourage our fans to get vaccinated. pic.twitter.com/4sKY4K6aVA

— New York Rangers (@NYRangers) April 7, 2021
The Sabres endured a Covid-19 outbreak in February that paused and eventually derailed their season. Nine players were placed on the league's protocol list, some of whom tested positive. Defenseman Rasmus Ristolainen was bedridden while experiencing debilitating symptoms, including chest pain, and former coach Ralph Krueger, 61, was also symptomatic after testing positive.
The Sabres, still last in the NHL with a 9-23-6 record, have 18 games remaining, beginning Thursday night in KeyBank Center against the New Jersey Devils.
"I know that the medical team here, the trainers have been looking at that," Granato said following an optional practice Wednesday when asked about vaccinations. "I don't have any news today on it, but they've been looking at that for a while, when this will potentially become available for our guys. So, I'm sure they're hard at work on it. I know, like I've said, they've been hopeful for that day to come sooner than later."
More teams across professional sports in North America are receiving vaccinations. MLB and NBA and their respective players' associations have issued joint memos to players encouraging acceptance of vaccines and offering a reprieve from certain protocols if doses are complete. MLB told its players that full-vaccinated individuals can gather inside hotel rooms and other indoor spaces without masks.
The Mets even held a mandatory education session for players and staff members Tuesday in Philadelphia, an attempt to ease concerns from anyone hesitant to receive shots.
The Sabres' last encounter with a possible Covid-19 situation occurred last month in Pittsburgh, when Granato and interim assistant coach Matt Ellis entered the protocols after producing what was later determined to be false positives. Granato, who was hospitalized in October 2019 while battling pneumonia and a blood infection, later told the media that he had already received both doses of the vaccination.
In addition to the Sabres' Covid outbreak in February, their top minor-league affiliate, the Rochester Americans, also had their season paused after three players tested positive for the virus last month. The NHL, though, continues to battle the spread of the virus.
The Vancouver Canucks' season remains on pause, as the team announced Wednesday that 25 members of the organization have tested positive for Covid-19. The source of the infection was confirmed as a variant.
With Taylor Hall likely on his way out of Buffalo, the Sabres will continue to use forward Rasmus Asplund on a top-six line alongside Tage Thompson and Casey Mittelstadt.
Asplund, 23, has four goals in 10 games this season, including the Sabres' first in the 5-3 win over the Devils on Tuesday night. The former second-round draft pick has three goals in his last five games, one of which he played only two minutes because of an upper-body injury. It's a significant improvement after Asplund scored only one goal in 21 games with Buffalo last season.
"I felt last year that I started off my first five games really good, but then I got really tired mentally," Asplund said. "That's a thing I've really been trying to work on and really be able to reset after every game and be ready mentally to be 100 percent every night. It's a tough league to play in and this year it's been even tougher. So, I've been trying to get my mental game to where it has to be to stick around in the NHL."
Mittlestadt's goal in the third period Tuesday night broke another slump for the Sabres' struggling power play, which is 2-for-38 over the past 21 games. Both units have routinely failed to enter the zone with ease and the top group hasn't developed a second shooting threat to complement Victor Olofsson.
The power play was one of Granato's primary duties as an assistant coach under Krueger, but the Sabres have turned their focus to fixing the 5-on-5 game. With few full team practices amid the truncated schedule, Granato has not had enough time to address the woes on the man advantage.
"You guys know there's analytics for everything, there's hundreds of thousands of different things you could be working on and pick apart to work on," said Granato. "But unfortunately, as a coach and as a team, you have to make a priority list and hit a few of those with the way the schedule is. So, the power play probably fell victim to us needing to focus on the 5-on-5 game and the penalty kill probably benefited from that focus on a 5-on-5 game. That's just the way it is."
Winger Kyle Okposo was among the Sabres to participate in an optional practice Wednesday, an encouraging sign after the 32-year-old had sat out recent on-ice sessions while recovering from a minor injury that has not prevented him from playing.