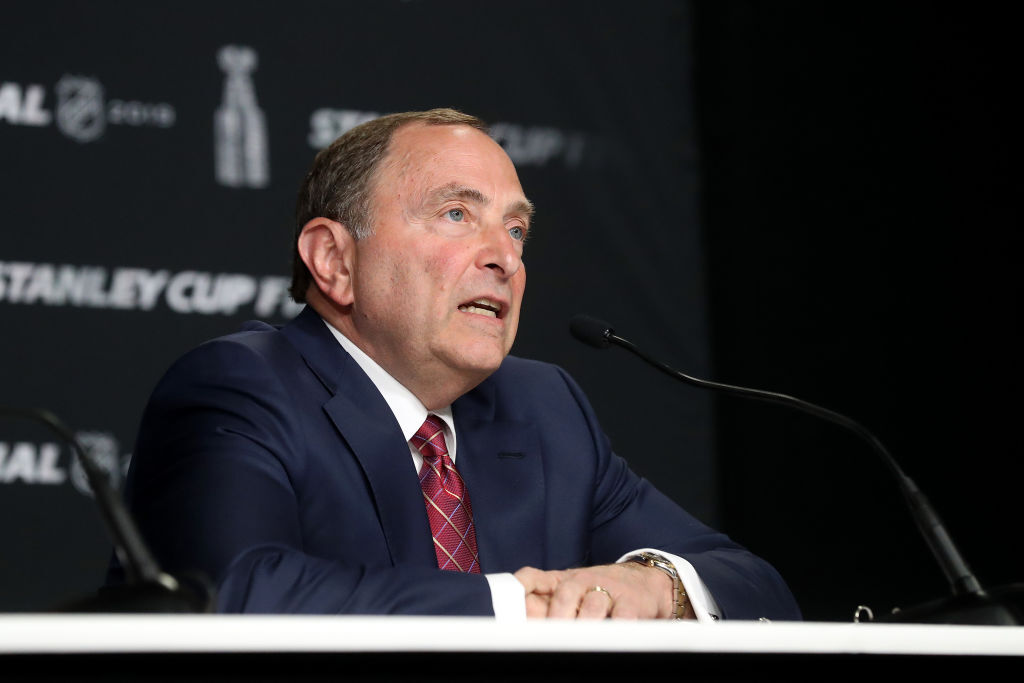 As the United States grapples with another surge in coronavirus cases, approximately 1,248 players, coaches and staff reported to one of two hub cities Sunday to complete the National Hockey League's 24-team return-to-play format.
Hockey won't look or feel the same when three exhibition games – two in Toronto, one in Edmonton – are held Tuesday or when qualifying-round games begin Aug. 1. Fans aren't allowed in either arena, enhancements will be made to the television broadcasts and extensive safety protocols are in place at both hubs.
Commissioner Gary Bettman described the endeavor as "one of the most unique and challenging" during his time with the NHL. However, he said the migration to hub cities does not call for a celebration and NHL deputy commissioner Bill Daly added the league has a "long way to go" before it awards the Stanley Cup.
"If there's any point where I'm going to feel substantial emotion, it'll be a sense of relief when I get to present the Stanley Cup," Bettman said during a conference call Friday. "This has been, as I think I indicated before, an extraordinarily involved, difficult and unusual circumstance."
The format: Twenty-four teams – the top 12 from both conferences – were selected to participate in the return-to-play format. Eastern Conference teams will compete in Toronto, while Western Conference games will be held at Edmonton's Rogers Place. Bettman explained during a conference call Friday that the latter's facilities made it the NHL's choice to host the Stanley Cup Final, which is tentatively set to end Oct. 2.
Twelve exhibition games will be held Tuesday through Thursday and playoff qualifying games begin Aug. 1. The qualifiers will include two round-robins – one for the top four teams in the East, another with the top four teams in the West – to determine seeding for the first round of the Stanley Cup Playoffs. The bottom eight teams in each conference will play a best-of-5 series to determine who advances to the first round.
The following are the Eastern Conference matchups to determine which teams will reach the first round: Pittsburgh vs. Montreal, Carolina vs. New York Rangers, New York Islanders vs. Florida Panthers and Toronto Maple Leafs vs. Columbus Blue Jackets.
The Western Conference qualifying matchups are Chicago Blackhawks vs. Edmonton Oilers, Nashville Predators vs. Arizona Coyotes, Vancouver Canucks vs. Minnesota Wild and Calgary Flames vs. Winnipeg Jets.
Round-robin games will include Boston, Washington, Tampa Bay, Philadelphia, Dallas, Vegas, Colorado and St. Louis.
Lottery: The Alexis Lafreniere sweepstakes, also known as the Phase 2 draft lottery to determine the No. 1 overall pick, will be held among the eight teams that lose in the qualifying round.
Standings reminder: The Boston Bruins and defending Stanley Cup champion St. Louis Blues had the most regular-season points in the Eastern and Western conferences, respectively. The Buffalo Sabres finished 25th in the standings – only .007 percentage points behind the Montreal Canadiens – and missed the postseason for a ninth consecutive season.
Testing: Each team was responsible for testing players and staff at least twice a week during Phase 3, which began with the opening of training camps July 13. Daly said during a presentation Thursday that there were only two positive tests among more than 800 players tested since teams reported to their respective city.
However, the NHL will be responsible for daily testing once teams reach hub cities and Dr. Willem Meeuwisse, the league's chief medical officer, told reporters during a conference call Friday that their protocols will not negatively impact testing availability for the general public.
Tests will be processed at LifeLabs in Toronto and DynaLIFE in Edmonton. Both hub cities also will have 60 touchless health screening kiosks inside the bubble.
"The one thing we cannot do with players is put masks on them when they play, but we're mitigating that risk by doing testing on a daily basis," said Meeuwisse. "We still will do contact tracing because there's degrees of exposure, and if we feel a degree of exposure is unusually high, they still may be quarantined. But at the end of the day, this is a protocol that has a lot of involvement and input and signoff from the Players' Association, so as a group, the players are comfortable with it."
Hub Life: Players and coaches will be housed in one of four bubble hotels – two in Edmonton, two in Toronto. A fencing system will be in place around those complexes and the arenas will quarantine all involved from the public. Fourteen restaurants are included in the bubble and the NHL has built makeshift dining areas that will be catered by local chefs.
Indoor activity areas include meeting rooms, lounges and VIP areas in which players, coaches and staff can watch games. There are tennis courts, golf suites and movie theaters. Additionally, designated seating areas have been created inside the hub arenas where teams can attend games.
BMO Field, a 40,000-seat stadium in Toronto, will be used as an outdoor recreational space for players, allowing them to exercise on the field or by running the steps. Local health regulations have prevented the NHL from scheduling off-site activities for players, although it's possible events could be scheduled at some point in the future.
The NHL and NHLPA agreed to allow players' families to join the bubble later, but any additions to the bubble must be approved by local and national health authorities.
Playing surface: Ice was installed at both hub arenas this week and the NHL plans to preserve the integrity of the surface by having teams hold morning skates or practices at another nearby facility. Kris King, NHL senior vice president of hockey operations, said Friday that league specialists have been dispatched to both cities to assist arena workers with preparations.
Bettman estimated that approximately 1,000 people, including 150 from the NHL, have been working on the return-to-play plan in both cities. The league recently completed repairs needed on equipment damaged by a flood in Edmonton's Rogers Place.
Game presentation: With fans barred from attending games, the NHL will roll out a revamped game presentation geared toward television viewers, beginning with the qualifying games Aug. 1. Additional access to lower-level seats will allow Sportsnet and NBC to use 32 cameras – 12 more than a normal game – to capture different angles of gameplay.
Steve Mayer, NHL chief content officer and senior executive VP of events and entertainment, explained during a presentation Thursday that no game will be the same and the atmosphere will be unique to the teams involved. Goal horns and songs were obtained from teams, as well as music that is used in their respective arenas, such as John Denver's "Country Roads," a fan favorite blared throughout St. Louis' Enterprise Center.
"We've all heard that our game – we all want it to translate better for television," Mayer said. "We think that in this tournament we're going to be able to accomplish that even greater because of the way we can bring our fans right inside the game, down low, show the speed, hear the sounds, and then the energy of the set design and some of the things that we're planning on doing will make it visually exciting, as well."
Each team also sent content such as hype videos that will be played in the arena and on television broadcasts. EA Sports, a video game developer that created NHL 20, sent a variety of audio clips that will be used to supplement in-game sound.
The NHL will honor frontline pandemic workers and those fighting for social justice during two games Aug. 1. Daly also said the NHL may use puck tracking technology in the conference finals and Stanley Cup Final. There will be a five-second delay on all television broadcasts as a safety net in the event microphones pick up "colorful language" from coaches or players, Mayer said.
All qualifying round and round-robin games will be broadcast in the United States on NBC, NBC Sports Network or USA Network.
Safety measures: Coaches won't be required to wear masks during games and officials will switch to a Fox 40 whistle, which require less force to use and are easier to clean. The Associated Press reported the NHL has 20 officials in each hub city, all of whom are participating in a training camp to prepare for games to begin.
Each team is allowed a 52-person traveling party, including a maximum 31 players.
Injury/illness reporting: If a player is forced to miss a game, the team can only say he is "unfit" to participate. Coaches cannot reveal whether the reason is related to Covid-19 or an injury. This led to speculation when a player was unable to practice during Phase 3.
Some former Sabres: Forwards Conor Sheary and Evan Rodrigues, both of whom were traded by the Sabres to Pittsburgh in February, will be part of the Penguins' roster in Toronto. Sheary is expected to skate on the top line with Sidney Crosby, while Rodrigues may be the team's extra forward.
Defenseman Zach Bogosian, who was waived by Buffalo in February, may break one of the NHL's longest active individual playoff droughts (12 seasons, 644 regular-season games) with the Tampa Bay Lightning. Bogosian was paired with Victor Hedman during recent practices.
Ryan O'Reilly also will vie for a second consecutive Stanley Cup since he was traded by the Sabres to the St. Louis Blues in July 2018. O'Reilly's franchise-record 23 points last postseason earned him the Conn Smythe Trophy.
Goalie Robin Lehner will work with Marc-Andre Fleury in Vegas to form arguably the NHL's best goaltender tandem entering the playoffs. Lehner, who played with the Sabres from 2015-18, appeared in three games with the Golden Knights following his trade from Chicago in February.
Justin Bailey, a Williamsville native and former Sabres prospect, made Vancouver's roster for the return-to-play format. Bailey, 25, totaled 28 goals and 19 assists for 47 points in 53 games with the Canucks' top minor-league affiliate this season.