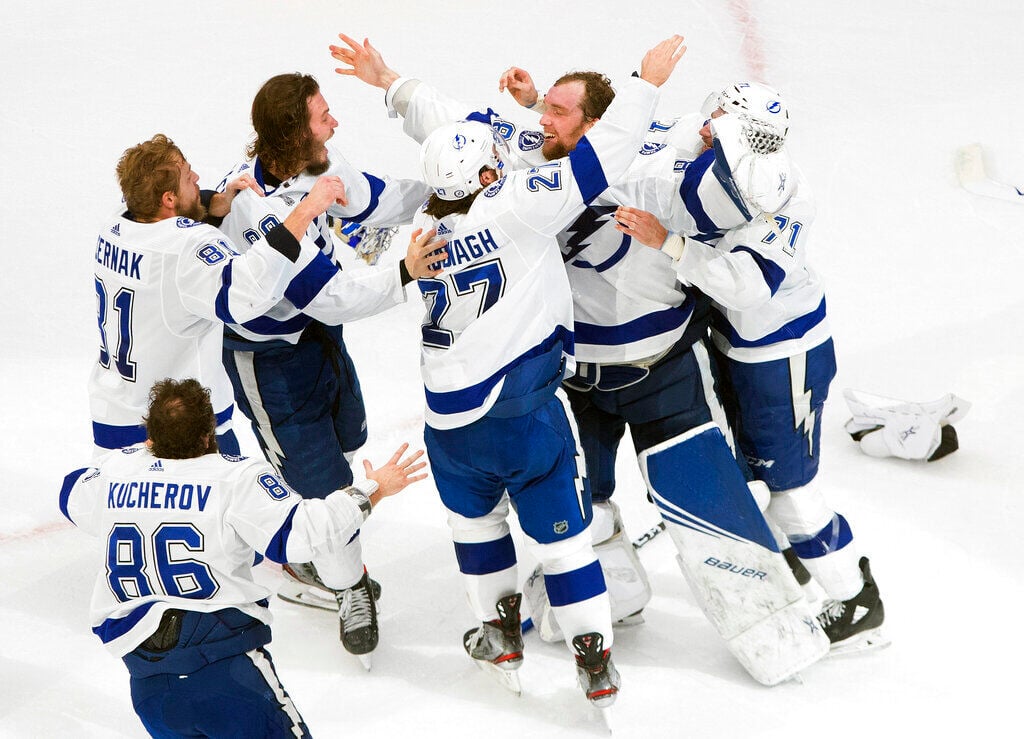 Predictions in this NHL season? Good luck.
First of all, the complete shuffling of divisions makes for new rivals going head to head eight times – or even more in the North Division – and you don't play anybody outside your pod, to use 2021-speak.
A few days before the season starts, the NHL is seeing ominous Covid-19 signs.
Speaking of pods, the obvious elephant in the room is Covid-19. Nobody knows which teams will be unaffected and which teams could be potentially devastated for long stretches by a sudden spread of the virus. Nor do we know how the speed of states' vaccination programs could provide some teams more protection and peace of mind.
We're already seeing the impact. Multiple teams had to cancel practice over the weekend due to health concerns, and the defending Western Conference champion Dallas Stars have already had enough of an outbreak (impacting as many as 17 players and two staff members) to postpone at least their first three games.
While we'll hold to our long-standing caveat that the defending champs open the next season at No. 1, even the Tampa Bay Lightning have issues with the loss of superstar winger Nikita Kucherov for the regular season due to hip surgery.
With those backdrops, here's our look at how the teams stack up as the season begins:
1. Tampa Bay Lightning. A great job of cap gymnastics by GM Julien BriseBois, but it requires full health from captain Steven Stamkos.
2. Vegas Golden Knights. A full season of Robin Lehner and the addition of Alex Pietrangelo has the greatest expansion team of all-time poised for a fourth straight legit Cup run. 
3. Colorado Avalanche. If it wanted to quickly market the game, NBC should air all eight Avs-Vegas matchups. Operation Warp Speed hockey. 
4. Philadelphia Flyers. Sabres are 2-12-1 in last 15 visits there – and now go four times. Yikes. Better figure out ways to get pucks past Carter Hart.
Ryan O'Reilly became a Stanley Cup champion just over 11 months after the Sabres kicked him to the curb.
5. St. Louis Blues. Ryan O'Reilly takes the 'C' and Torey Krug comes from Boston. Still very much in a Cup window.
6. Boston Bruins. Krug and Zdeno Chara are gone. David Pastrnak and Brad Marchand are banged up. Can Patrice Bergeron and Tuukka Rask play agelessly? 
7. Carolina Hurricanes. Rod Brind'Amour gets more out of his team than any coach in the league. Strong 'D' group.
8. New York Islanders. Does anybody remember they were in the East final four months ago? Final year at Nassau Coliseum should be fun.
9. Toronto Maple Leafs. Went for character veteran additions like Joe Thornton with eye on snapping 17-year drought of playoff series wins.
10. Washington Capitals. On a road to 800 goals that starts here Thursday, Alex Ovechkin negotiating his own extension during final season of 13-year deal.
11. Dallas Stars. Miro Heiskanen still making $832,500 on finale of entry-level deal. Whopper of an extension coming.
12. Pittsburgh Penguins. Father Time is ticking: Evgeni Malkin is 34, Sidney Crosby and Kris Letang are 33.
13. Montreal Canadiens. Decent remake by adding Tyler Toffoli, Corey Perry, Josh Anderson and Jake Allen.
14. Edmonton Oilers. A little better version than Sabres, but same issue: Strong forward group, no idea if they'll get any saves in goal.
15. Columbus Blue Jackets: As John Tortorella heads into last year of deal, you have to love addition of Max Domi. Old friend Mikhail Grigorenko? Not so much.
16. New York Rangers. Sabres get eight looks as the Alexis Lafreniere Era opens under the bright lights of the big city.
When it comes to building culture, new Sabres defenseman Matt Irwin has plenty of experience to draw from.
17. Vancouver Canucks. So many young stars, but will the Braden Holtby for Jacob Markstrom free agency "trade" work out in goal?
18. Nashville Predators. Transitioning to young players as '17 & '18 runs to the top of the league are a memory.
19. Calgary Flames. Could finish anywhere from 1 to 6 in North. Jacob Markstrom is an upgrade in goal. Need a bounce back from Johnny Gaudreau.
20. Winnipeg Jets. Patrik Laine's happiness could be a daily question and thus a daily distraction.
21. Minnesota Wild. Quite a makeover by new GM Bill Guerin, and Russian rookie Kirill Kaprizov is intriguing.
There was a lot of good news in Sabreland Wednesday. But like it seems for several years with this franchise, there's always something.
22. Buffalo Sabres. They're deeper. Eichel-Hall combo will be tons of fun. But what a nasty division to get thrust into.
23. Florida Panthers. Took heavy losses in free agency. Sabres would have passed them had Atlantic stayed intact.
24. Arizona Coyotes. Lost a lot up front. Lots of pressure on goalie tandem of Darcy Kuemper and Antti Raanta. 
25. Ottawa Senators. Nice veteran pickups and what a prospect pool. Germany's Tim Stützle was a stud at World Juniors.
26. Anaheim Ducks. At age 40, Ryan Miller is three wins shy of passing Dominik Hasek and 13 shy of becoming 14th to 400.
27. New Jersey Devils. Poor Lindy. Corey Crawford's sudden retirement hurts. How much can they speed up development of Jack Hughes and Nico Hischier?
28. Los Angeles Kings. That second Cup is nearly seven years ago and trio of Jonathan Quick, Drew Doughty and Anze Kopitar is simply old and expensive.
29. San Jose Sharks. Start the season as Arizona vagabonds while in a Kings-like decline with veteran players, and now hoping Devan Dubnyk is upgrade in goal over Martin Jones.
30. Chicago Blackhawks. The glory days are long over. Poor Patrick Kane and Duncan Keith. No goalies, no Kirby Dach and no captain, with Jonathan Toews' absence still a mystery.
31. Detroit Red Wings. Not winning Lafreniere lottery was a major setback for a 39-point team but in Stevie Y, they still trust.
32. Seattle Kraken. Won't debut until October but already a major player. Teams will spend season maneuvering rosters so newcomers can't take advantage of expansion rules as well as Vegas did.