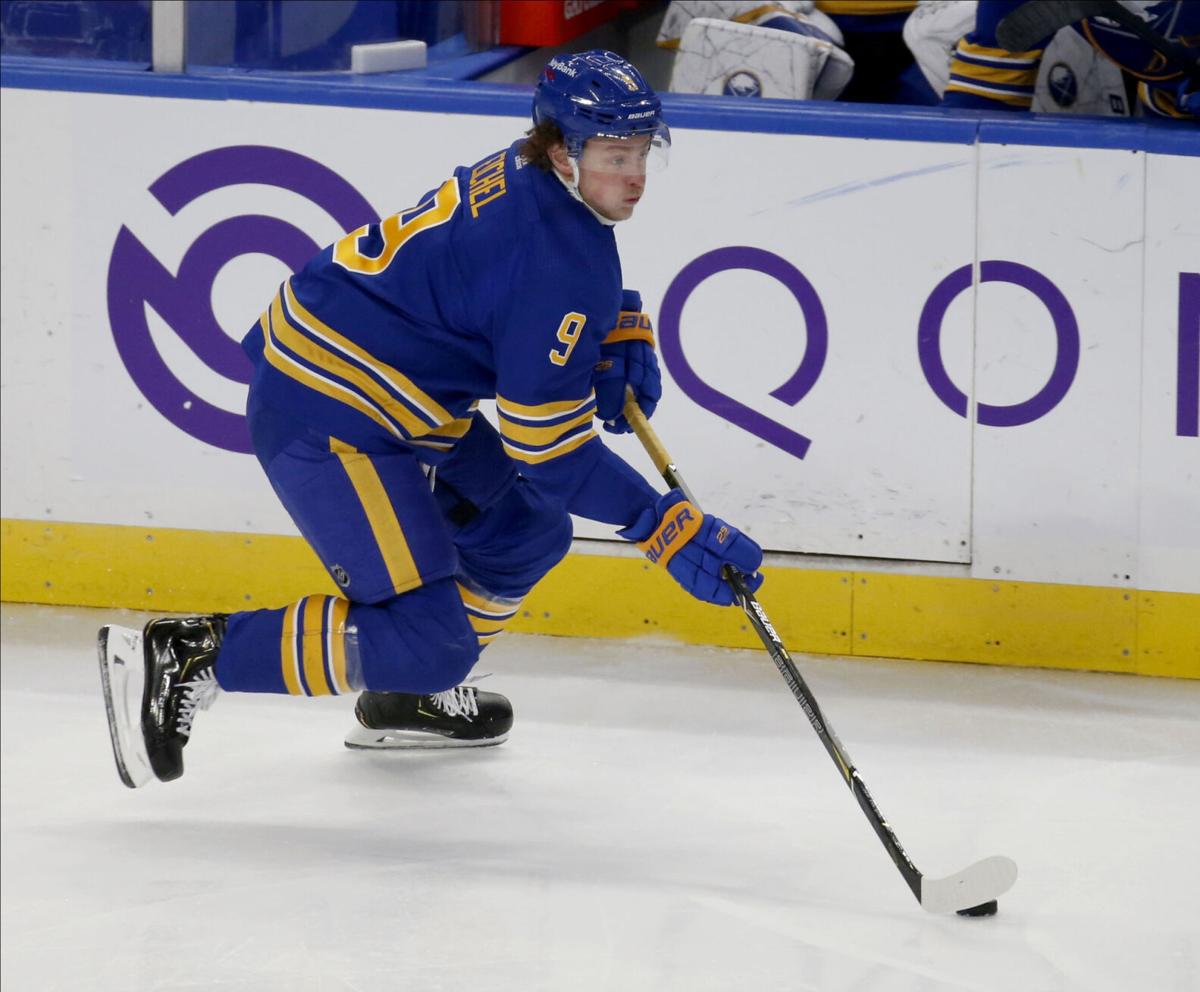 The 12-week period of conservative treatment that was at the root of the disagreement between Jack Eichel and the Buffalo Sabres is complete.
Eichel, 24, the Sabres' captain and star center, begrudgingly finished the recovery plan provided to him by the Sabres' doctors, despite his public preference to undergo surgery on a herniated disk in his neck that limited him to only 21 games this season.
General Manager Kevyn Adams and the rest of Sabres management learned during the virtual lottery Wednesday that they will be at the front of the line to pick another building block for a franchise that has not reached the Stanley Cup Playoffs since 2011.
Neither General Manager Kevyn Adams nor the Sabres' doctors have changed their minds. They have no interest in allowing Eichel to undergo an artificial disk replacement.
After learning at the lottery on Wednesday night that the Sabres will draft first overall on July 23, Adams revealed to the media that he has yet to meet with Eichel's camp to plot next steps. The Sabres will evaluate the most recent medical information before engaging in dialogue with the face of their franchise.
"There will be for me a lot of information gathering over the next few days," Adams said. "Speaking with our doctors, speaking with Jack's camp and just kind of where we go from here. So, I don't really have an update, but it's going to be coming here in terms of information I get in the coming days. I think it is important just to mention our doctors, their expertise, they still aren't comfortable with any type of surgery that's never been done on a hockey player before. So, that's kind of what I said before and that hasn't changed."
More change is on the horizon for the Sabres, but the extent of that change won't be determined until after GM Kevyn Adams completes his search for the team's next coach.
Adams declined to speculate what he expects to hear from Eichel's camp in the coming days. If Eichel's public expression of frustration was any indication, it's unlikely he'll be pleased with the Sabres' refusal to approve the surgery.
On May 10, only two days after the Sabres completed a regular season in which they finished at the bottom of the NHL for the fourth time in eight years, Eichel told the media that a "disconnect" developed between him and the team stemming from desire to have surgery. This fueled trade speculation and Adams' rebuttal to reporters two days later painted a clearer picture.
According to Adams, the Sabres' doctors – and a medical expert sought out by Eichel for a second opinion – agreed on a "conservative rehab approach" for 12 weeks before imaging would determine next steps. Sportsnet's Elliotte Friedman reported that the artificial disk replacement Eichel wanted has never been done on an NHL player. The only notable professional athlete to have the procedure is mixed martial artist Chris Weidman.
If Eichel still wants the procedure, his only recourse would be filing a grievance with the NHL Players' Association, a process that could give him and his representatives an opportunity to present their case to an independent arbitrator.
Regardless of what's next, it's unclear whether Eichel wants to be part of the Sabres' future. He has five years remaining on a contract that carries a $10 million annual cap hit. His full no-movement clause begins July 1, 2022, which would allow him to nix any trade. Teams around the NHL will line up to try to acquire a player who many consider talented enough to someday win the Hart Trophy. Eichel totaled a career-high 36 goals with 78 points in 68 games during the 2019-20 season.
The Sabres landed the No. 1 pick in the NHL draft after winning the lottery for the second time in four years, but this is no slam-dunk choice.
This disconnect could lead to a separation this summer, but there's reason to wonder how Eichel's injury and disappointing 2020-21 season would impact trade negations. He totaled only two goals and 16 assists for 18 points while shooting a career-worst 3.3% in 21 games. Eichel, though, may have played through pain.
Eichel, who was drafted second overall in 2015, missed the start of training camp with a broken rib suffered during a preseason on-ice shooting drill at LECOM Harborcenter. He also sat two games with a sprained ankle and played through an abdominal injury that's bothered him since the 2019-20 season.
The herniated disk – and Eichel's preferred recovery plan – may alter the course of a franchise that tanked the 2014-15 season to draft a player of his caliber.
"So now, I don't have the information to say to you, 'Here's where we go from here,' " Adams said. "Jack may have had some other thoughts over these last few weeks, but we'll see. That's the next conversation: 'OK, where are we at? What are the doctors saying? Where is Jack's thought process on all of this?' And then we'll go from there."
One of Jason Botterill's first draft choices as general manager of the Buffalo Sabres is free to sign with another NHL team.
Adams declined to name specific candidates whom he's spoken to about the Sabres' coaching vacancy, but he confirmed Wednesday night that the process has included people with experience in the NHL, American Hockey League, NCAA and Europe.
There isn't a timeline to make a hire, Adams said. He and associate general manager Jason Karmanos plan to have more preliminary conversations before they conduct follow-up interviews with finalists.
"For me, I've learned from every one of those conversations," Adams said. "We'll work our way through a number of people. Like I laid out before, I don't have a timeline on exactly when this will wrap up, but then we'll narrow it down and get a little further into the weeds on some maybe hockey-specific type questions and fit and kind of go that direction."