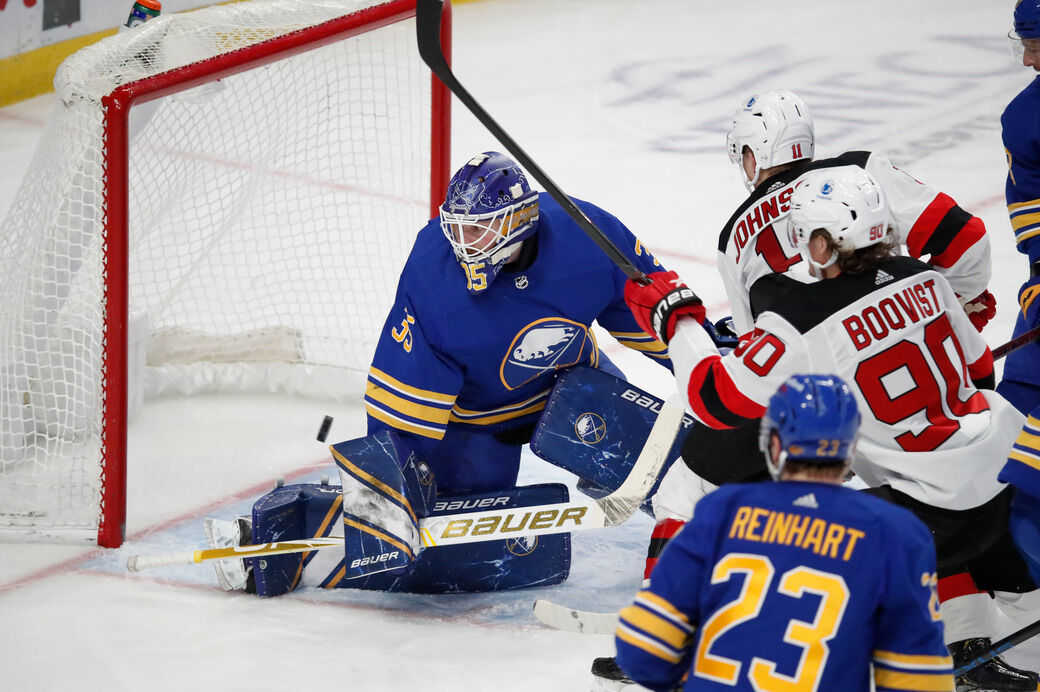 Linus Ullmark is remaining with the Buffalo Sabres. At least through the end of the regular season.
Ullmark, the Sabres' 27-year-old starting goaltender, was not traded ahead of the deadline Monday as his agent, Joakim Persson, and General Manager Kevyn Adams continue to negotiate a new contract for the pending unrestricted free agent.
Ullmark was thought to be among one of the top goalies potentially available via trade. A sixth-round draft pick of the Sabres in 2012, Ullmark has emerged as a possible franchise goaltender over the past two years, posting a .917 save percentage and 2.64 goals-against average while compiling a 9-6-3 record in 19 games this season.
Though there is risk involved in potentially losing Ullmark for nothing when unrestricted free agency begins July 28, he is viewed by Adams as a centerpiece for the Sabres.
"We said all along we want Linus to be a Buffalo Sabre, and we really feel good about where his game is at," Adams said during his post-deadline via news conference with reporters. "We've had great conversations. Been ongoing. Continue to talk right now. I've spent time with Linus just one-on-one having conversations about philosophically where we're at and where we're looking to get to and what he's looking for. That's my style.
"I think that's an important relationship to have with your players. It's not about dollars and cents. It's more about vision and where are we headed and why. We've had those conversations and we'll continue to work at it, but priority for us is absolutely to sign Linus and he and his agent both know that."
The Sabres can ill afford to lose Ullmark. The organization already lacks goaltending depth, as prospect Ukko-Pekka Luukkonen is still one to two years away from being ready for a full-time job in the NHL. Luukkonen, a 22-year-old chosen by the Sabres in the second round of the 2017 draft, has an .888 save percentage in 14 games with the Rochester Americans this season.
Buffalo's other promising goalie prospect, Erik Portillo, had an outstanding debut season at the University of Michigan, but the 20-year-old was the primary backup behind an established upperclassman. Portillo appeared in only seven games for the Wolverines, though he had a .935 save percentage.
The Sabres' other goalies to appear in at least one NHL game this season – Carter Hutton, Dustin Tokarski and Jonas Johansson – have combined for a 1-19-3 record.
Although the Sabres are playing out the string on a 10th consecutive non-playoff season, there is value in trying to win the final 15 games, beginning Tuesday night in Boston against Taylor Hall and the Bruins. Under interim coach Don Granato, Buffalo is prioritizing the development of its young players, including Casey Mittelstadt, Tage Thompson, Dylan Cozens, Rasmus Dahlin and Henri Jokiharju, among others.
Losing games can impact confidence, and forging an identity post-Ralph Krueger would be challenging with spotty goaltending. Hutton, a 35-year-old pending unrestricted free agent, has missed the past 11 games with a lower-body injury. He's expected to return sometime before the regular-season finale on May 8.
Tokarski, 31, played mostly well in spot duty up until a 4-3 loss to the Washington Capitals on Friday night in KeyBank Center. He has an .899 save percentage in five appearances with Buffalo and is under contract through next season. Johansson, a former third-round pick of the Sabres, was traded to Colorado last month.
With Ullmark, a new contract could be like the one signed recently by Vancouver Canucks goalie Thatcher Demko, who received a five-year deal with a $5 million average annual value. There is risk involved in giving Ullmark term.
Ullmark has missed time with unrelated lower-body injuries in each of the past two seasons, including 15 games this season from Feb. 27 through March 25. He has made a significant impact when in goal, as illustrated by his .917 save percentage in seven starts since returning to the lineup on March 27.
Ullmark's .936 save percentage at 5-on-5 this season ranks sixth among all NHL goalies to appear in at least 10 games. His .932 save percentage at 5-on-5 the past two seasons is fourth among all goalies to appear in at least 40 games.
If money isn't an issue, as Adams stated, then Ullmark may want a better idea how the Sabres plan to approach the offseason. Jack Eichel and Sam Reinhart are among the core players who will likely generate trade interest. Adams may plan to continue a youth movement in Buffalo, prioritizing development over adding established veterans to fill prominent spots in the lineup.
The coaching decision may also impact Ullmark, who has formed a successful relationship with goalie coach Mike Bales. Across 112 games in the NHL, Ullmark has compiled a .912 save percentage.
Brandon Montour is ready to return to the playoffs. The 27-year-old right-shot defenseman is preparing to join the Florida Panthers after the trade that brought a third-round draft pick to the Sabres.
Montour hasn't experienced much success the past three seasons. The Sabres' record since the February trade that brought Montour to Buffalo: 43-71-16. Montour played under three coaches, dealt with two injuries, never received a clear role, didn't get enough touches on the power play and was often asked to play on his offside.
"Trying to find my role, left side, right side," Montour said. "I know Ralph was trying to find ways to get wins and then another firing there, which doesn't help anyone. I think once Donny came in again that's another fresh start and I played more on my right side. Of course, no power-play time, which is up to the coaches. I think that's one of my strengths, but you can't do much about that. I'm a player. My job is to be on the ice and do whatever I can, so that's not a big deal.
"Trying to find my game again and right now I think I'm in a good place. Hopefully it transitions here and I'm just looking forward to it. Buffalo was great to me. The record didn't show much, but great staff and great players. I'm going to miss a lot of those memories, relationships I had."
Los Angeles Kings winger Alex Iafallo, an Eden native, received a four-year contract with a $4 million average annual value ahead of the deadline Monday. Iafallo, 27, has 11 goals with 14 assists for 25 points while averaging a career-high 20:09 ice time over 39 games this season.
Across four seasons with the Kings, Iafallo has totaled 52 goals and 74 assists in 266 regular-season games.