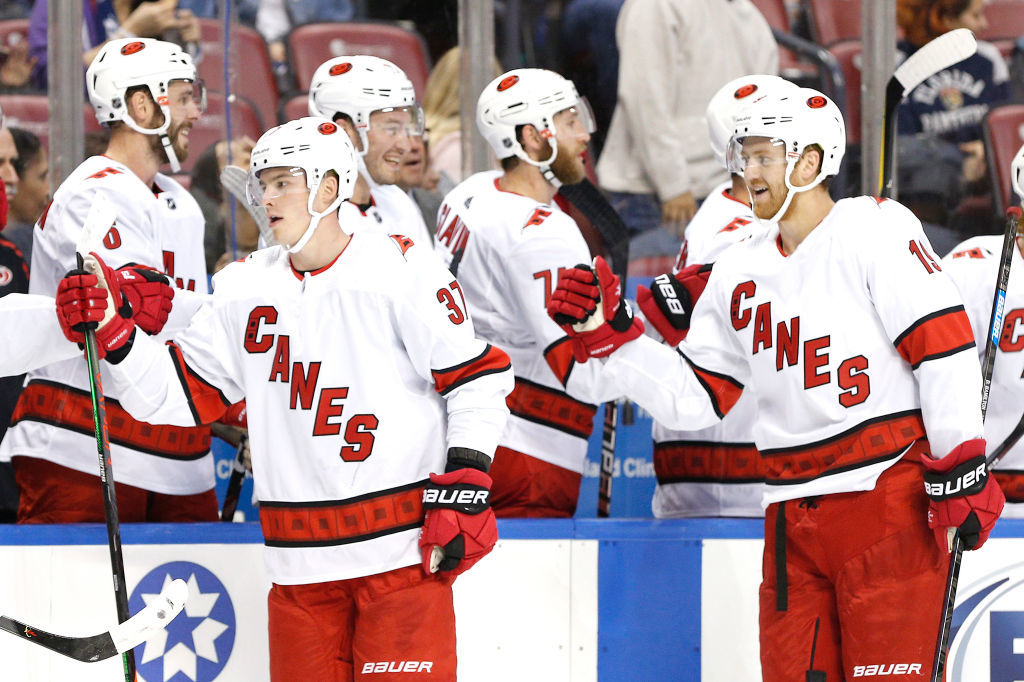 Through Friday's games. Preseason rankings in parentheses.
1. Carolina Hurricanes. First 5-0 start in club history, including Hartford days. (16)
2. St. Louis Blues. Raised Cup with OT loss to Caps, then won three straight. (2).
3. Edmonton Oilers. McDavid is McDavid, but James Neal looks like Rocket Richard thus far. (24)
4. Colorado Avalanche. No post-contract slump for Rantanen, with five points in three games. (11)
5. Boston Bruins. Thrilled to go 3-1 on season-opening trip out West. (6)
6. Buffalo Sabres. Motto for best start since 2009: In Krueger They Trust. (27)
7. Tampa Bay Lightning. Big bounceback with drubbing of Leafs. (1).
8. Anaheim Ducks. Gibson, Miller combine to allow just six goals in four games. (30)
9. Nashville Predators. Duchene quickly finding a home with eight points in 3-1 start. (8)
10. Detroit Red Wings. Mantha is first with four goals in a Detroit home opener since 1933. (28)
11. Vegas Golden Knights. Heavy Hockey coming Tuesday night with Preds in town. (3).
12. Washington Capitals.  Frittered away 4-2 lead in Nashville by allowing four goals in third. (5)
13. Winnipeg Jets. Morrissey rolls up plus-5 rating in rout of Wild. (17)
14. Toronto Maple Leafs. Early crisis brewing with 0-2-1 rut capped by 7-3 drubbing by Bolts. (4)
15. Calgary Flames. Gaudreau's deft deke is winner in Dallas and ends team's 0-9 run in shootouts over last 23 months. (7)
16. New York Rangers. Zibanejad is first NHLer to open with eight points in two games since Jagr in 1995. (19)
17. Philadelphia Flyers. Gritty's Lindsey Vonn taunt of Subban goes viral.  (15)
18. Pittsburgh Penguins. Disastrous early run of injuries. (12)
19. Montreal Canadiens. Dropped home opener to Wings after OT loss to Sabres. (13)
20. Florida Panthers. Bobrovsky stole a point here Friday night. (14)
21. Dallas Stars. Similar to Sabres: Hit town Monday having already blown a pair of two-goal leads. (10)
22. Arizona Coyotes. Kessel skated in 1,000th game Saturday at Colorado.(21)
23. San Jose Sharks. 0-4 run ends as Marleau gets two goals at Chicago in his return. (9)
24. Vancouver Canucks. Opened 50th anniversary season at home with blowout win over Kings. (26)
25. Los Angeles Kings. Quick's first two games: 7.17 GAA, .750 save percentage. Yikes. (29)
26. New York Islanders. Trotz passes Long Island legend Al Arbour by coaching 1,608th game, third on all-time list. (22)
27. Columbus Blue Jackets. Three cannon blasts vs. Sabres were three too many. (25)
28. Chicago Blackhawks. Dropped home opener to 0-4 Sharks after loss to Philly in Prague. (18)
29. New Jersey Devils. Colossal disappointment thus far, with league's worst PP and PK units. (20)
30. Minnesota Wild. Heat already growing on Boudreau after 0-3 start. (23)
31. Ottawa Senators. Exactly as expected with 0-3 start and 15 goals against. (31)
Be the first to know
Get local news delivered to your inbox!