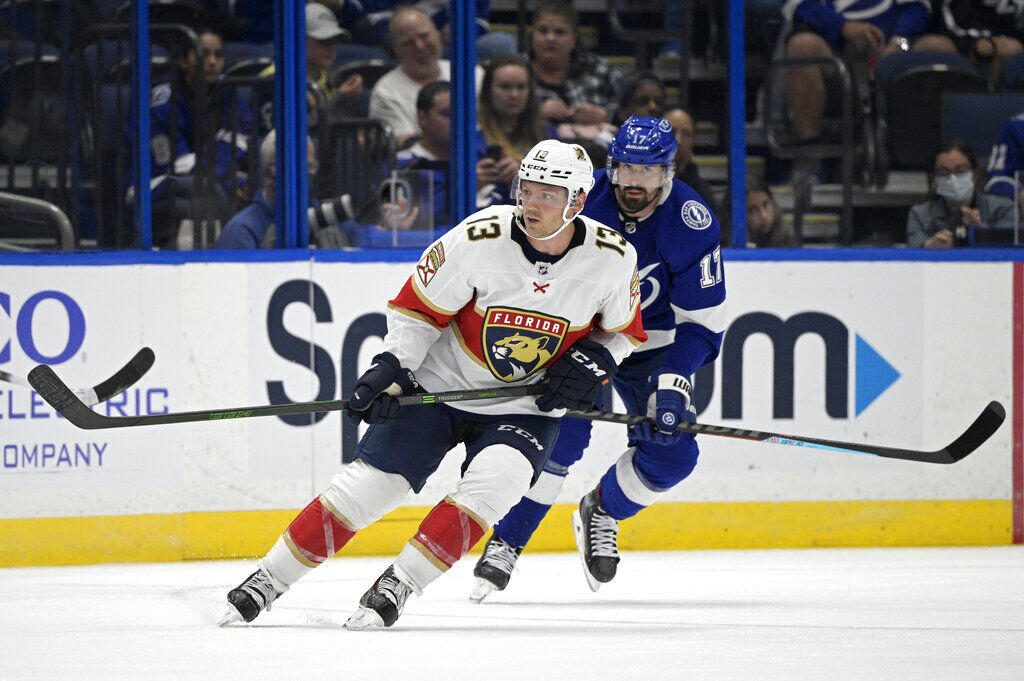 Through Friday's games. Last week's rankings in parentheses.
1. Carolina Hurricanes. Eyebrows of Leafs' fans must be raised at Andersen's 1.78/.938. (1)
2. Florida Panthers. Reinhart update: 3-8-11/+4 in 14 games. (2)
Dylan Cozens scored twice in a span of 5:14 for his first career multi-goal game, and goalie Dustin Tokarski delivered several remarkable saves in the third period to help the Buffalo Sabres snap their five-game skid with a 3-2 win over the Edmonton Oilers.
3. Washington Capitals. Great Eight passes Golden Brett, Jagr now 24 away. (5)
4. Edmonton Oilers. Weird week: Lose in Detroit and Buffalo, win in Boston. (3)
5. Toronto Maple Leafs. Great to finally see you again, boys. Been too long. (9)
6. St. Louis Blues. Kyrou, wanted by Sabres in ROR trade, is team scoring leader. (4)
7. Minnesota Wild. Have forged 9-4 mark but are going to need better goaltending. (10)
8. Anaheim Ducks. Chaotic departure of GM Murray hasn't impacted fine work on the ice yet. (19)
9. Los Angeles Kings. Iafallo second to Kopitar in goals (6) and points (13). (20)
10. Calgary Flames. Hall of Fame weekend for Iginla, one of classiest stars ever. (6)
"Jack Eichel has been on bit of a redemption tour ever since he hit the jackpot and got his long-awaited trade to Vegas last week," writes Mike Harrington.
11. New York Rangers. Fox, Panarin both with 13 points in 13 games. (7)
12. Winnipeg Jets. Big move in Central with 7-1-2 run after 0-2-1 start. (8)
13. Vegas Golden Knights. Eichel update: Surgery complete, March return? (13)
14. Tampa Bay Lightning. Rivalry with Panthers has become NHL's nastiest. (12)
15. Philadelphia Flyers. Ristolainen update: Ice time average of 20:51 is level Sabres should have pursued. (11)
16. Columbus Blue Jackets. Rick Nash's No. 61 will be first retired by franchise on March 5. (17)
17. New Jersey Devils. Erupted for seven-goal surprise vs. Panthers. (26)
18. Pittsburgh Penguins. Crosby, Sullivan could both be back when Sabres visit Tuesday. (16)
19. New York Islanders. At 5-4-2 with two left on long trip, finally get UBS Arena opener Saturday vs. Calgary. (15)
20. Boston Bruins. Ullmark update: 3-3, 3.01/.903. Very pedestrian. (14)
21. Nashville Predators. At 2.28/.925, Saros has taken the torch from retired Rinne. (22)
22. San Jose Sharks. Getting on the other side of Covid outbreak. (18)
23. Buffalo Sabres. Loved win over Oilers but power play suffering without Olofsson. (24)
24. Detroit Red Wings. Fun to compare their rebuild to what Sabres are doing. (27)
25. Colorado Avalanche. When are these guys going to play as advertised? (23)
26. Chicago Blackhawks. McCabe update: One assist in 15 games, minus-12 rating. (31)
27. Vancouver Canucks. At 2.99/.907, need more from Demko in goal. (29)
28. Dallas Stars. Lost to Preds in opener of stretch with six of seven at home (25)
29. Seattle Kraken. Only win in 1-5 slide was against Sabres. (21)
30. Montreal Canadiens. Dvorak a huge flop so far with one goal, minus-15 rating. (30)
31. Ottawa Senators. Covid absences add to weight of disappointing start. (28)