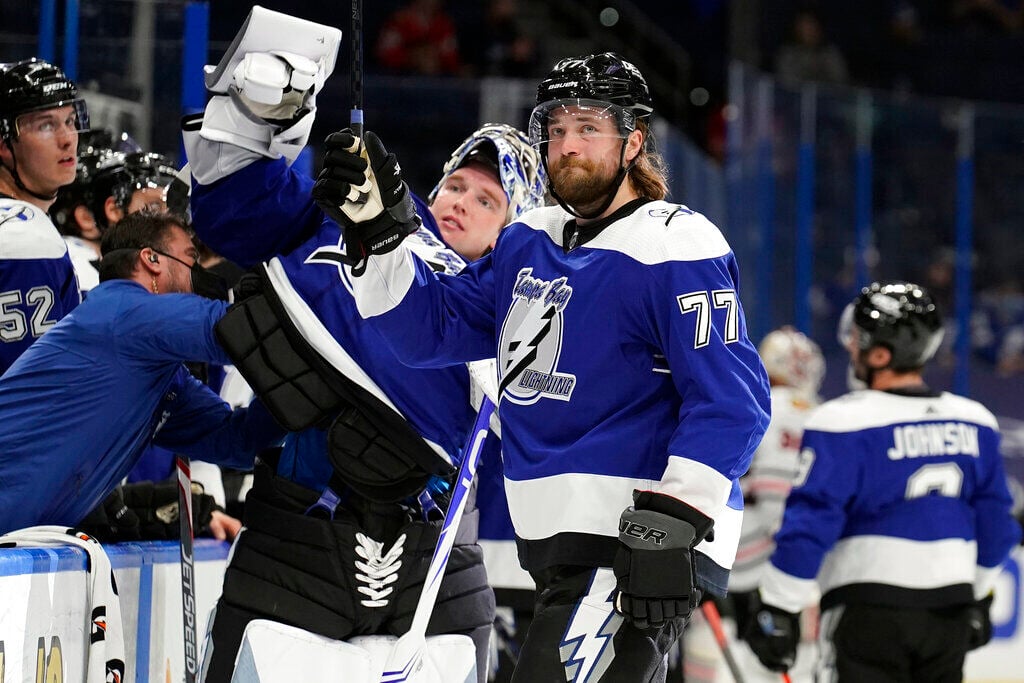 Through Friday's games. Last week's rankings in parentheses.
1. Tampa Bay Lightning. Hedman with Norris-level season, posting team-high 23 assists and 29 points. (1)
2. Vegas Golden Knights. Theodore's six-game point streak ties franchise mark for defenseman set by current Sabres D Miller. (4)
3. Washington Capitals. Ovechkin at 720, ties Gordie Howe for fourth all time with 147th multi-goal game. (8)
4. Florida Panthers. Huge seasons for Huberdeau (35 points) and Barkov (34). (5)
5. Carolina Hurricanes. Lost to Wings and Jackets after seven-game winning streak. (2)
6. New York Islanders. With Lee out for season, would seem Sabres have logical partner for Hall. (6)
7. Toronto Maple Leafs. Three straight losses spark sudden questions about division dominance. (3)
8. Colorado Avalanche. Five-game win streak everyone was waiting for finally happened. (15)
9. Edmonton Oilers. At 20-13, only team in league without an OT/SO loss. (9)
10. Winnipeg Jets. Dubois with four goals, 10 points in first 15 games. (10)
The two teams played Thursday night in Buffalo after Boston forward Sean Kuraly was placed on the protocol list. 
11. Boston Bruins. Should they have been on the ice Thursday in KeyBank Center? Lots of questions. (7)
12. Minnesota Wild. Keeping pace in fight for second in the West. (11)
13. Pittsburgh Penguins. After playing like a beast vs. Sabres, Malkin suffers week-to-week injury. (12)
14. St. Louis Blues. Improved to 7-1-2 in California, one win shy of NHL record for road wins in the state (Dallas '06-07). (13)
15. Montreal Canadiens. Fell to 0-9 in OT/SO with loss to Canucks. (16)
16. Vancouver Canucks. Demko 8-1, 1.74/.950 in last nine games. (26)
17. Philadelphia Flyers.  Myers-Sanheim pair was minus-6 during 9-0 shellacking in New York. (17)
18. Calgary Flames. Won four of first five after Sutter returned as coach. (21)
19. Chicago Blackhawks. Surviving nine of 11 vs. Tampa Bay and Florida is too much to ask. (14)
20. Columbus Blue Jackets. Pulled within two points of Hawks for final playoff spot. (20)
21. Los Angeles Kings. Building nice group of young players around aging Cup-era core. (18)
22. New York Rangers. Zibanejad with the six-point period of a lifetime vs. Flyers. (22)
23. Arizona Coyotes. Selloff will include shedding of salaries. (19)
24. Dallas Stars. Still holding 3-5 games in hand on everyone in Central. (23)
25. San Jose Sharks. Kane at 26 points in 28 games. (24)
26. Nashville Predators. Sabres-like feeling: When do the trades start? (25)
27. New Jersey Devils. End of 11-game home skid meant end of Krueger's time with Sabres. (28)
28. Detroit Red Wings. Huge home-road disparity of 7-7-3 and 3-10-1. (30)
"If these players loved Ralph Krueger as much as we heard the last two years, they sure have a funny way of showing it," writes Mike Harrington.
29. Anaheim Ducks. Nothing but props to Ryan Miller for winning games at 40. (27)
30. Ottawa Senators. Same issue as Detroit: 6-6-3 and 4-14-0. (29)
31. Seattle Kraken. HHOFer and pro scout Cammi Granato is sister of Sabres' interim bench boss. (31)
32. Buffalo Sabres. The Coach Killers still not worthy of passing the expansionites. (32)