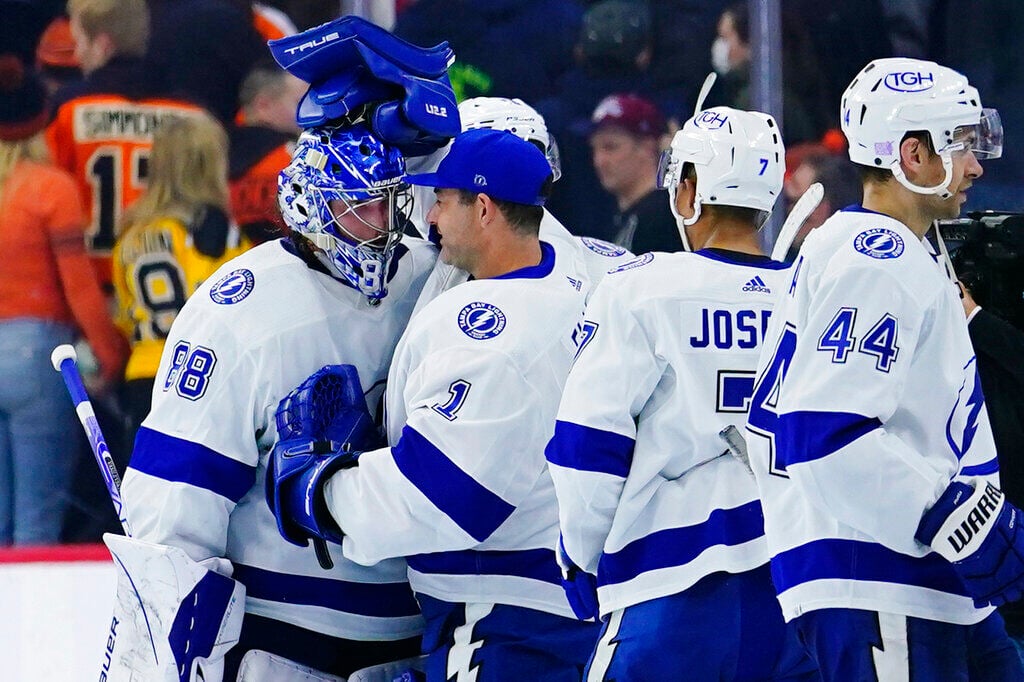 Through Friday's games. Last week's rankings in parentheses.
1. Carolina Hurricanes.  Opened six-game trip with wins in Vegas and Anaheim to get to 13-2. (1)
2. Florida Panthers. Lucky Barkov's knee injury wasn't season-ending. (2)
3. Washington Capitals. Hard to explain 9-2 in regulation but 0-5 in overtime. (3)
4. Toronto Maple Leafs. Campbell simply spectacular in net. (5)
5. Edmonton Oilers. Loss of Nurse a big blow on defense. (4)
6. Tampa Bay Lightning. Started 2-2-1, went 7-1-2 in next 10. (14)
The Buffalo Sabres were a disaster in front of goalie Dustin Tokarski, allowing three goals in a span of 1:37 in a second period that ended with fans booing the Sabres off the ice.
7. Minnesota Wild. Have pushed to top of Central. (7)
8. New York Rangers. Fox, Panarin both at 4-12-16 in 17 games. (11)
9. Calgary Flames. Johnny Hockey, other stars were absolute studs vs. Sabres. (10)
10. Winnipeg Jets.  Have gone 7-1-1 in NHL's tiniest barn. (12)
11. Anaheim Ducks. Getzlaf gets 1,000th career point in franchise's 1,000th win. (8)
12. Columbus Blue Jackets. Long trip here from Vegas for game Monday night. (16)
13. Philadelphia Flyers. Emotional goal for Hayes in honor of late brother. (15)
14. Los Angeles Kings. Doughty pushing for fast recovery from knee injury. (9)
15. St. Louis Blues. No excuse to lose to Coyotes at home. Ever. (6)
16. Boston Bruins. Weird schedule: Were off all week until Saturday game in Philly. (20)
17. Colorado Avalanche. Finally looked like Cup contenders in grinding of Seattle. (25)
18. Vegas Golden Knights. Fourth in Pacific as they wait to get healthy. (13)
19. Nashville Predators. Duchene on 36-goal, 82-point pace. (21)
20. New Jersey Devils. Utica farm team sets AHL record with 12-0 start. (17)
21. Pittsburgh Penguins. Took out frustration of weird loss vs. Sabres on Habs. (18)
22. San Jose Sharks. Have to make decision soon on Evander Kane's status. (22)
23. New York Islanders. Open UBS Arena with back-to-back against Flames and Leafs. (19)
The big picture is more than you could have reasonably expected at this stage, Mike Harrington says.
24. Buffalo Sabres. Would love six of 10 points available in next seven days. (23)
25. Detroit Red Wings. Seider is early Calder favorite. (24)
26. Chicago Blackhawks. King making a difference behind bench but dug huge early hole. (26)
27. Dallas Stars. Absorbed 7-2 pounding in Minnesota. (28)
28. Vancouver Canucks. GM Benning meets with owner. Pressure building. (27)
29. Seattle Kraken. All it took was $650 million to get a lousy expansion team. (29)
30. Montreal Canadiens. A 6-0 home dunking by Penguins was an all-time low. (30)
31. Ottawa Senators. Three-game Covid shutdown should end Monday in Colorado. (31)
32. Arizona Coyotes. Went 1-0-1 in two-game stretch. Order their rings. (32)