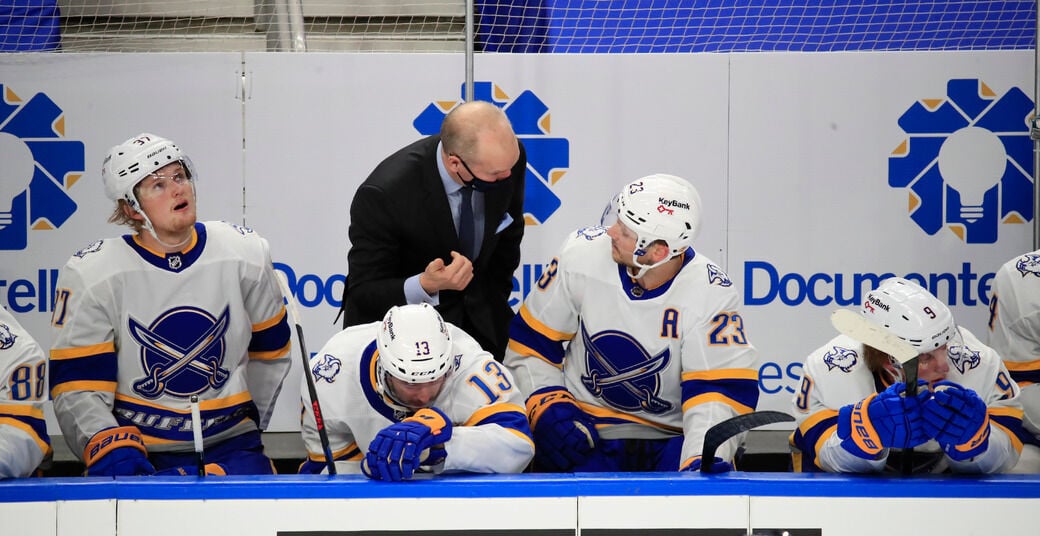 It feels as if there's no way Ralph Krueger can be the coach of the Buffalo Sabres next year. Heck, you can make the easy case he shouldn't be the coach Tuesday night in New York.
There was an unusual delay before Krueger appeared on his postgame video call following Sunday's snoozer against Philadelphia. I was legitimately wondering if General Manager Kevyn Adams was going to pop on the screen instead to announce Krueger's dismissal.
Think back to 1991. That's what happened at the Aud. After a dismal loss to St. Louis, GM Gerry Meehan made an unexpected appearance in the media room to announce Rick Dudley was out and John Muckler was in.
You can fire Krueger on hockey reasons and you would be justified. But there's a bigger issue at play now: Just like ownership and a neophyte GM who has disappeared from view despite numerous media outlets seeking comment, Krueger has a credibility problem.
In his case, it's gone, at least in the public eye.
The fans are done with Krueger, like they are with just about everything else surrounding this inept franchise. In the wake of a series of missteps by Krueger in the last week, the media can no longer believe anything he says. Back-to-back shutout stinkers to Philadelphia over the weekend gave off the distinct aroma that the players have checked out on him.
And it sure seems Krueger's captain was less than pleased with him after Sunday's game.
Jack Eichel, believed to be mostly in Krueger's corner, hurt his foot/ankle during a collision with Nico Hischier on Tuesday night in New Jersey. Through the binoculars from high above Prudential Center, I watched Eichel standing and flexing his foot on the bench during a television timeout. 
Eichel didn't take the morning skate Thursday, with Krueger saying he was taking the workout off for maintenance. No issue. Happens all the time. Eichel appeared at night to take the pregame warmup fully, including rushes with his line, but was then announced as a scratch a couple of minutes before faceoff.
Again, sometimes that happens. But after the game, Krueger emphatically told the media – twice – that Eichel was injured in the warmup, and that his absence in the game wasn't related to his absence in the morning.
"It definitely caught us all by surprise," Krueger said. "This was a completely new development. None of us had seen or heard of the situation."
But asked after Sunday's game how he hurt himself in the warmup, a stern Eichel responded, "I didn't. I hurt myself in New Jersey."
When the issue of miscommunication or some warped gamesmanship was brought up to Krueger, the coach stammered nonsense.
"It turns out there were multiple lower-body injuries. Whatever," Krueger said. "The point is he came out of Jersey hurt. The warmup call and the region that ended up being aggravated, it was his first time back on his skates since that game and now it changed the game and we're working on his health and getting him fit again."
With Eichel a late scratch, Krueger put Tage Thompson in the lineup instead of Jeff Skinner. Thompson was dressed and skating in the warmup and Skinner wasn't. Bad decision. Another layer to the Skinner drama.
Krueger told reporters last week that Will Borgen was day to day and it turned out he had a fractured hand and needed surgery. Maybe the medical staff isn't communicating with the coach properly or maybe the coach is stretching the bounds of truth.
It seems like if a player is out long term (Jake McCabe, Linus Ullmark, Rasmus Ristolainen), we get the goods. If he isn't, Krueger goes into deception mode, assuming he has the accurate information. Hey, if a coach doesn't want to give up injury timetables, that's fine. Just say so. Knock off the fibs.
Earlier in the week, Krueger said he was unaware that Don Meehan, Skinner's agent, had been talking to Adams about his client's lack of playing time. But the next day, Krueger went on an unprompted discussion of how he's in concert with Adams and speaks to him multiple times a day.
So are we to believe the GM didn't tell his coach that Skinner's agent is unhappy? Seriously?
Krueger's coaching logic isn't doing much better.
What happened to his postgame thought from Saturday that he wanted to "inject some energy" into the team Sunday? He scratched Dylan Cozens, one forward who was actually making something happen, and gave Kyle Okposo the second-most ice time at 5 on 5 behind Eichel.
That's Kyle Okposo, wonderful human being but holder of zero goals and one point for his $6 million contract.
The greatest indictment of Krueger's offensive system, as everyone has learned the last few weeks, is the club's abysmal scoring rate at 5 on 5. We all know it's bad. You probably didn't know it's historically inept.
The Sabres have 21 goals at even strength in 19 games, a pathetic rate of 1.11 per game. Only six times this season have they scored more than one in a game, which is mind-boggling when you consider this is a roster featuring all kinds of high draft picks.
Even worse than that, it's a lower rate than the two seasons that ownership and management actually wanted this team to lose.
In 2013-14, the Sabres scored 96 goals at 5-on-5 in 82 games, a rate of 1.17 per game. In 2014-15 – when seemingly everyone in the arena and across town was all-in for Connor McDavid and didn't care about franchise dignity – that number was at 1.34.
Remember, they built a team to lose those two years. No excuse for what's going on this year. The players are underachieving and the coaches have no answers.
Skinner, by the way, has now gone more than a year without a goal, since Feb. 29, 2020. That's 20 games, of which 19 of them have seen him collect no points. Okposo has gone 21 games without scoring, since Feb. 23, 2020. He has three points in that span.
It is hard to fathom where the Sabres go from here. Krueger is signed through next year at a rate that Pierre LeBrun of TSN and the Athletic reported was around $4 million. Ownership has shown a willingness to pay coaches and GMs not to work, but how can they do that now amid the pandemic and virtually no revenue coming in?  
But the Sabres have 19 games left this season against Boston, Pittsburgh and Washington and three games on the road this week against the New York Islanders.
How bad is this going to get and how can Krueger possibly survive?