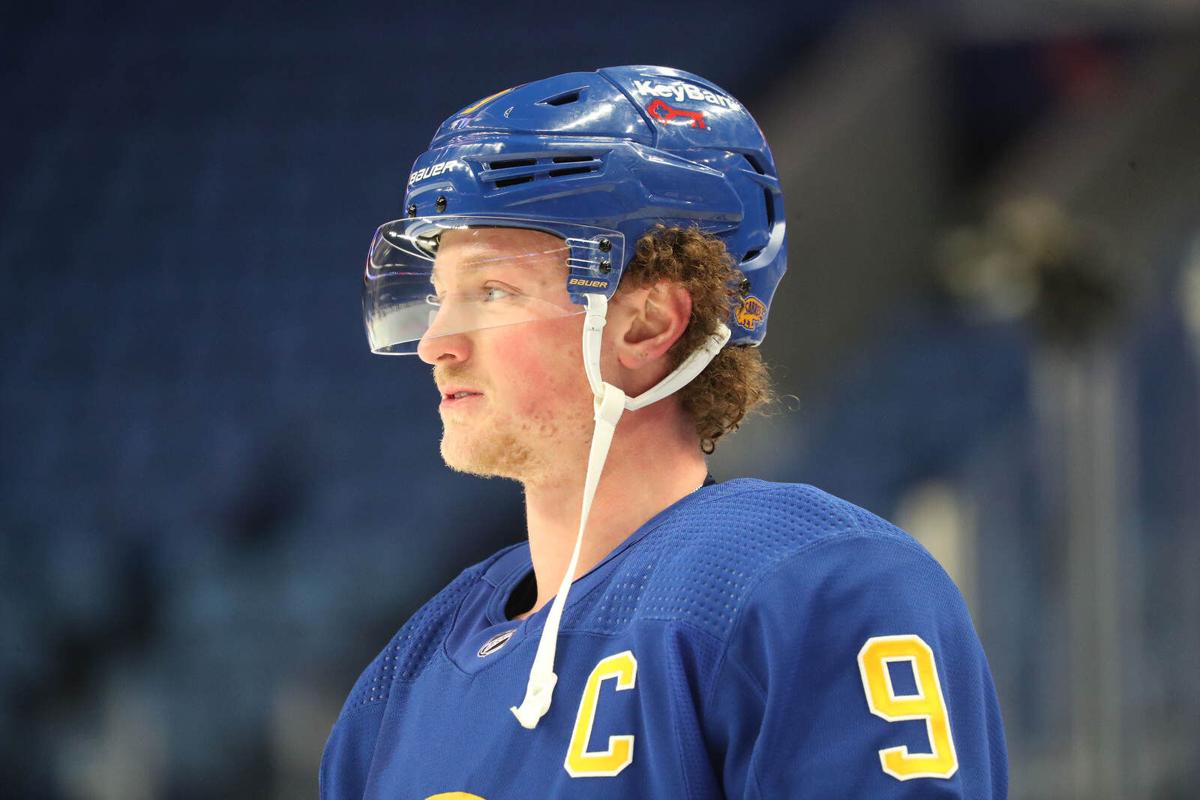 In the business or legal world, it's called a rainmaker. It's the person who brings in the clients, drums up the business, has the prestige – and the fees/commissions associated with all that.
It's a person who gets things done. With no resolution in the offing to get out of Buffalo, get healthy and get back on the ice, Sabres captain Jack Eichel clearly felt he needed to make a big move.
Enter Eichel's rainmaker: Pat Brisson.
Eichel has made a major move to try to rejuvenate his suddenly stalled NHL career.
Brisson is the Scott Boras of hockey agents, a guy who has the big names and generates the big dollars. His client list is remarkable with veterans such as Sidney Crosby, Patrick Kane, Nathan MacKinnon, John Tavares, Seth Jones, Anze Kopitar and Claude Giroux and young players such as Elias Pettersson, Quinn and Jack Hughes, Cole Caulfield and Trevor Zegras.
There's current Sabres winger Kyle Okposo. And there's Eichel's longtime Boston-area friend, Calgary defenseman Noah Hanifin. Brisson even serves as the advisor/future agent to University of Michigan players Owen Power and Matty Beniers, the top two picks of the July draft by the Sabres and Seattle Kraken, respectively.
He has more than 60 current NHL clients, with a total contract take of more than $1 billion. Eichel's $10 million annual cap hit ties Kopitar for fourth-highest on Team Brisson, less than only Tavares, Kane and Toews. And Brisson's former clients include Hall of Fame goaltender Martin Brodeur and former Sabres captain Daniel Briere, who was a Brisson client when he left the team on July 1, 2007, to sign his eight-year $52 million deal with Philadelphia.
Eichel fired longtime agent Peter Fish on Thursday, opting to move away from the made-in-Boston tandem that had been together several years. In hiring Brisson, Eichel is going Hollywood with Creative Arts Agency, a Los Angeles-based power broker in the entertainment world that is the biggest name in the hockey business as well.
The only other hockey agent in the top 35 was Craig Oster of Newport Sports Management, who is the agent for Sabres defenseman Rasmus Dahlin and has represented former Sabres Sam Reinhart, Evander Kane, Robin Lehner and Johan Larsson.
Brisson negotiated Crosby's 12-year, $104 million deal with the Pittsburgh Penguins and the dual eight-year, $84 million deals signed by South Buffalo native Kane and Toews with Chicago. 
This is probably going to be a good thing for Eichel. We'll see what it means for the Sabres, although any resolution is probably better than the current stalemate. Having Eichel sitting in limbo is a bad look for all involved and ultimately you have a 24-year-old whose career is stuck in neutral.
Eichel is the hockey player. It's really up to others to figure out everything going on around him.
A Western Conference source said GM Kevyn Adams' trade demands remain enormous, properly reflective of the center's career arc in 2019-20 after posting career highs of 36 goals and 78 points in the shortened season.
And two other NHL sources say no team has come close enough to satisfying Adams' trade demands to the point the Sabres have yet to provide Eichel's medical records to another club for review because they didn't feel they had received any legitimate offers.
Brisson has declined to return calls or emails about Eichel, while the player's agent change is officially being certified. What can he do for Eichel? Frankly, a lot.
Last week, Captain Jack got the hockey world buzzing with his second tweet, a "pensive face" emoji, the frown with closed eyes.
Brisson is so respected in the game that he's long been considered GM material but has opted to stay in the much more lucrative world of agents. In both 2012 (Montreal) and 2014 (Pittsburgh), Brisson pondered taking GM jobs before withdrawing from the discussions.
The first thing is to re-engage with the Sabres on the player's medical front. The Sabres have not budged on the issue of Eichel's desire for an artificial disk replacement surgery in his neck, which has never been performed on an NHL player. It's not likely talking to a new agent about that will change their position. It's believed that some teams are willing to allow Eichel to have that surgery but have been so far away from Adams' demands that it's a moot point.
Perhaps Brisson can work with the Sabres to accept less return to trade Eichel before surgery so they are not taking the risk if the procedure goes wrong. Or perhaps the trade can have conditions attached based on Eichel's post-surgery performance.
You can bet Brisson will work hard behind the scenes trying to help the Sabres broker a deal, and offer suggestions to other clubs as well. He's not a GM and won't ultimately make the decisions, but there's nothing stopping him from chiming in with teams to bring sides closer together.
That's clearly one of Eichel's top mandates, as a source close to the situation acknowledged the captain and his parents are furious there was no trade either in advance of the NHL draft or the league's free agency period.
With Eichel expected to be traded before the start of the season, and Sam Reinhart a member of the Florida Panthers, the Sabres are thin at forward, particularly at center.
Brisson will be looking to get the best situation for his client, and he has a long list of connections in NHL circles. The former Quebec League junior player has long been close with Pittsburgh owner Mario Lemieux and Los Angeles president Luc Robitaille, even working with Lemieux to get players and owners talking again to end the 2013 lockout.
Among GM circles, who are Brisson's tightest allies? It's easily Montreal's Marc Bergevin – a friend since they were teenagers – and Los Angeles' Rob Blake. Both of those teams have been connected to Eichel interest for a few months now. That bears watching.
"Should we be thinking this is Jack Eichel's last week with the Buffalo Sabres? Possible, but not likely," writes Mike Harrington.
Trading Eichel to the Habs would be difficult since they're in Buffalo's division and the Sabres' preference, all the way up to owner Terry Pegula, is to send Eichel to the Western Conference. But because the Sabres only play Atlantic Division clubs four times a season – and there's frankly no need to worry about a what-if playoff scenario for now – it stands to reason that Adams might soften his stance if the Habs offered the best deal.
(Boston won't have the assets for it and, as I've said previously, there's no chance the Sabres will "reward" Eichel for this standoff by trading him home.)
The process really is not working, to borrow some words from that ill-fated late-night statement last month from Eichel's former agents. The Sabres haven't changed their tune much since Eichel's first mention of the "disconnect" between captain and club in May.
The player has made the major move. Eichel already has his contract and money. But now he's decided he needs the big-name agent to help get his career back on track. Stay tuned.