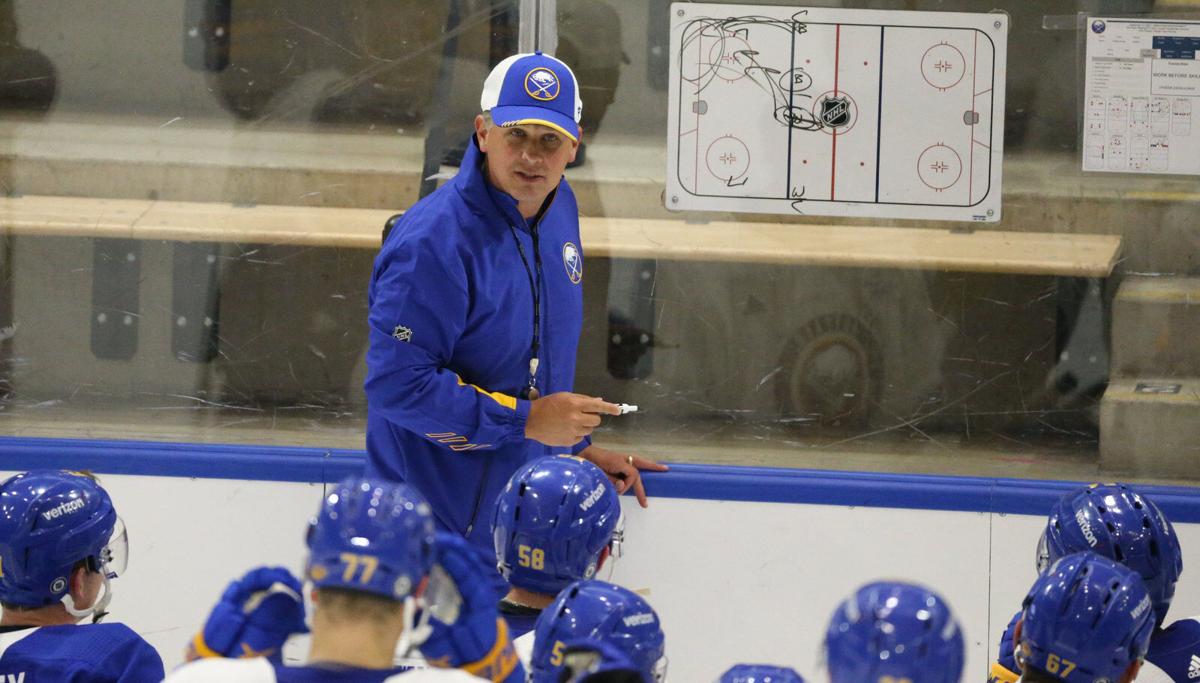 Real live hockey players skating in an organized practice in LECOM Harborcenter. It actually happened late Wednesday afternoon, officially marking the long grind that will take the Buffalo Sabres from fall all the way through the season finale April 29.
Yes, there were only young players on the ice getting ready for this weekend's Prospects Challenge, but you know a few of these guys are going to skate in real games for the Blue and Gold this year. And there's hopes that some of them (hello, Ukko-Pekka Luukkonen) can become key players sooner rather than later.
All the pucks skittering across the ice Wednesday could represent all the things going through my mind about the Sabres and hockey right now, non-Jack Eichel division. Let's declutter some details:
• It will be fun to watch actual hockey games this weekend, but this is the worst Prospects Challenge roster I've ever seen. There are more free agents on it than actual prospects because NCAA guys such as Owen Power, Ryan Johnson and Devon Levi and many overseas players aren't here. My point-of-emphasis guy this weekend will be J-J Peterka, because this is the first time we've seen the German in a Buffalo setting. Rochester coach Seth Appert said Peterka was "buzzing" at finally being in town. 
The 19-year-old winger will spend most of this week on the ice in LECOM Harborcenter as one of 23 players, 14 of which are under contract or drafted recently, competing for the Sabres in the Prospects Challenge.
There's still the cloak of mystery around Peterka and I'm intrigued to see where his game is, but he showed off some sick mitts on Wednesday. Don't forget this is a guy Kevyn Adams traded up to draft at No. 34 in 2020, and several teams thought the kid could have gone in the first round. The Sabres did very well to slide up the board and snare him at that spot. Now we start to see what they have.
• You want good omens? First two guys on the ice for Wednesday's inaugural practice were Peterka and Jack Quinn. First goalie on the ice? UPL. You want them young and hungry. Of course, you don't want them going to the dentist on the first day either, like Quinn did to get some repairs to some teeth chipped during the workout. 
• From the small world department comes the revelation from Peterka that some of his time as an 18-year-old last season in Germany playing for Munich EHC was spent as a teammate of old friend Derek Roy, who retired in May at age 37. Peterka said Roy told him Buffalo fans were "unbelievable," certainly a tribute back to the glory days of 2006 and 2007.
• Poor Aaron Dell. When the Sabres tweeted out uniform numbers for their new veterans Tuesday, they gave Dell No. 30. Social media, which never overreacts to such things, immediately jumped on it as another example of organizational malfeasance. It was probably just a bad oversight by the equipment staff.
No. 30, of course, was worn by Ryan Miller from 2002 until he was traded in 2014. Miller just retired a few months ago as the all-time leader in wins by an American goalie. But if the Sabres are handing out his number, that would seem to say they have no plans to retire it anytime this season.
Someday they should. If a guy is going to be in the Hockey Hall of Fame, as Miller will be, his number should be in the rafters.
Michael Neuvirth wore No. 34 for the Sabres during his time around the tank years, but I seem to remember him wearing 30 in some preseason work. Other than that, nobody else. Dell and the club might want to rethink this one if he sticks around and makes the team.
• Speaking of retired numbers, I still can't believe the Sabres never retired Mike Ramsey's No. 5. Yes, the Sabres have a lot of retired numbers for a team that has never won a Stanley Cup. But people seem to forget they won an awful lot of games from 1970-2011 -- ranking fourth in the NHL behind only Montreal, Boston and Philadelphia in wins, points and points percentage for a 40-year span. They had a ton of great players here.
"The Buffalo Sabres mourn the loss of alumnus Fred Stanfield," the team said in a statement. 
• While this week is about young players, we got another reminder that our hockey heroes can never beat Father Time: The death of Fred Stanfield on Monday means we have lost seven members of the Sabres' 1974-75 Stanley Cup final team. Rene Robert died in June and others who have passed away are Larry Mickey (1982), Brian Spencer (1988), Roger Crozier (1996), Norm Gratton (2010) and Rick Martin (2011).
Gilbert Perreault turned 70 in November, and the 70-somethings club from the '75 finalists also includes Don Luce, Craig Ramsay, Rick Dudley, Jerry Korab, Jocelyn Guevremont, Gary Bromley and Gerry Desjardins. Bill Hajt turns 70 on Nov. 18.
• No Rasmus Dahlin contract yet. Too soon to be nervous. Main camp is still a week away and Dahlin isn't alone. There are several big restricted free agents waiting to make deals. Things seem very quiet and tenuous between Minnesota and Calder Trophy winner Kirill Kaprizov. Vancouver needs to get deals done with Elias Pettersson and Quinn Hughes. Same for Ottawa and Brady Tkachuk and St. Louis with Robert Thomas. These things have a way of getting figured out. Young guys don't want to be out of camp. Stay tuned early next week. 
• Zemgus Girgensons still plays for the Sabres. You might have forgotten about the Olympic-bound Latvian Locomotive since he didn't play at all last season after suffering a bad hamstring injury during the January training camp scrimmage. Just thought you'd need a reminder. With Jake McCabe and Rasmus Ristolainen gone, nobody has been here longer.