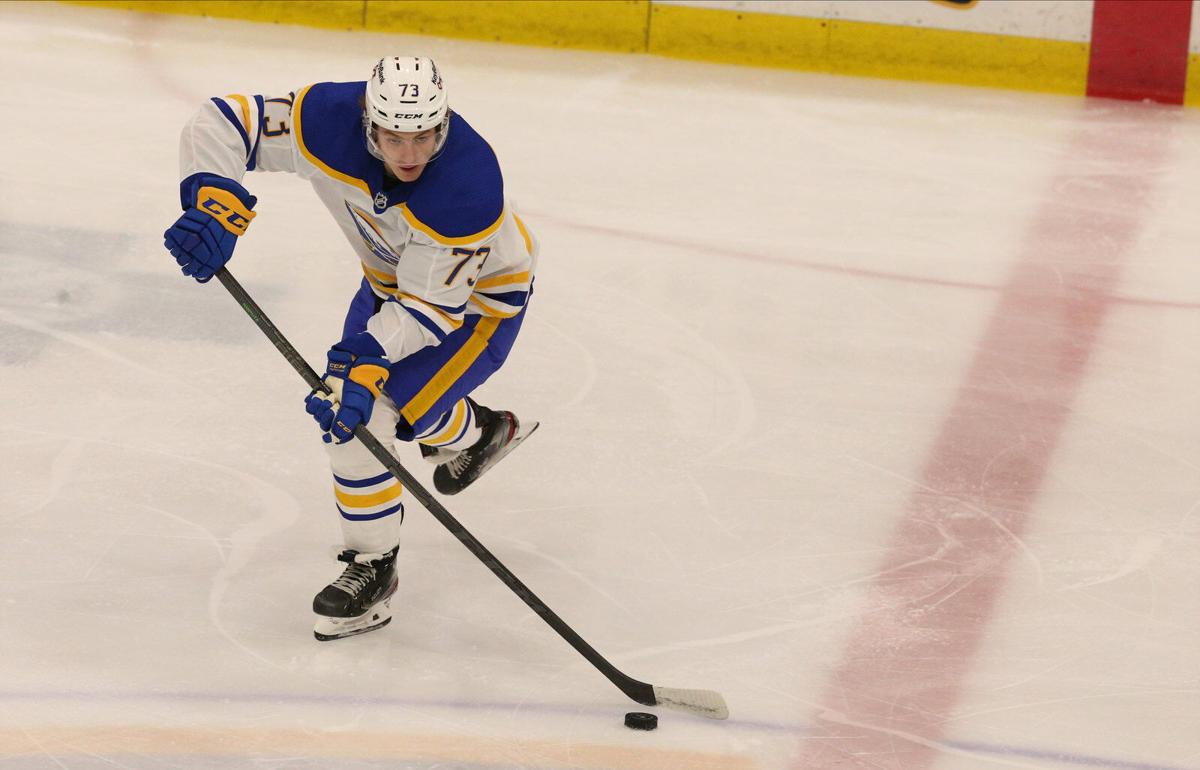 We've known Matej Pekar plays the pest role to the hilt since the day he walked into his first summer development camp in LECOM Harborcenter in 2018. It's been his calling card with the Buffalo Sabres, the way an unheralded fourth-round pick from the Czech Republic got quickly noticed by fans and the front office.
But that's a tough way to make a career. Not many players have the skill set of Brad Marchand or the brute force of Tom Wilson to make the style work. Pekar is 21 now and looking at his first full season in Rochester after a spotty AHL debut last year.
With fans and media gawking at J-J Peterka's elite skating stride and Jack Quinn's switch to center, it was Murray who was the standout of the Buffalo Sabres' two Prospects Challenge games.
The Sabres don't want Pekar to tone down his game. They need him to refine it, to become a mature pro. They need a lot more players who are tough to play against.
"When I coached against him internationally after every time I stepped off the bench playing the Czech Republic, I hated him," said Rochester coach Seth Appert. "And that's the best compliment I can give. I like the fact that now I get to have him. He is tenacious, he is relentless. He's an agitator and a pest by nature."
"I obviously take that as a compliment," Pekar said with a smirk when Appert's comment was relayed during a break in this week's Prospects Challenge. "I was just trying to win the games for the team any way possible. He's told me that before when we played in Under-18 games. We didn't like him either when we were in Muskegon (of the USHL, meeting Appert's US National Development Team). Those games are always the best when it's a little on the edge."
Finding that edge in what Pekar loves to do. The mandate in year two in Rochester is to find more of an all-around style after he had just one goal and five assists in his 25-game pro debut. The Sabres know Pekar can score, as he had 28 goals and 63 points in 54 games for two Ontario Hockey League teams during the 2019-20 season. But it's much harder when you leave the junior ranks.
"The levels he played before last year, he's been able to outwill his problems, or outwill his decisions because his compete and skill and his will is so special," Appert said. "Last year, he got exposed for some of his bad habits and that made it difficult for him. And as he went through the year, his habits became better. He became more trustworthy. He earned more ice time. And then we started to see that agitator start to come back out of him again."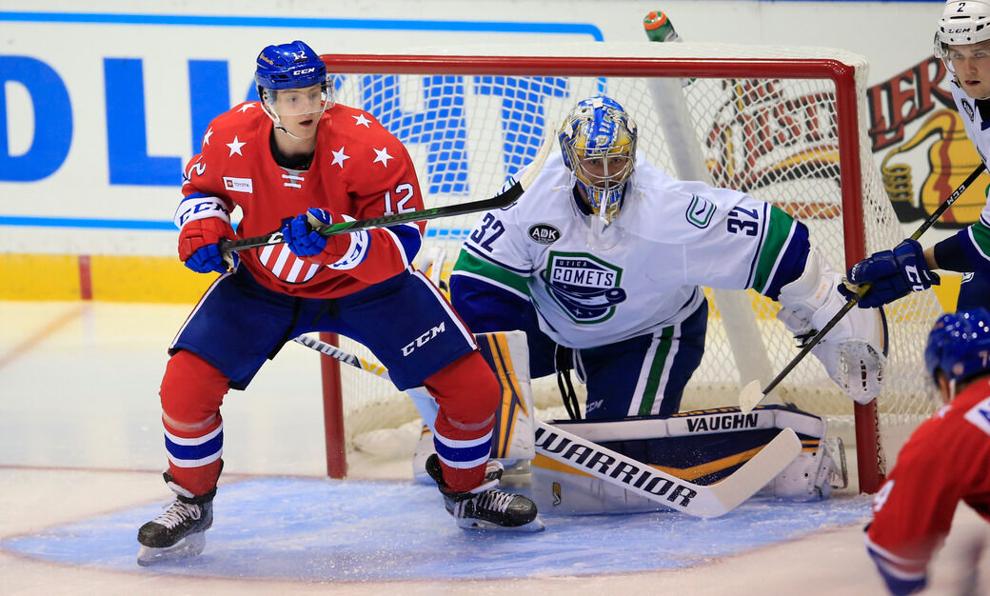 It starts for Pekar in practice. At 6-foot-1 and 185 pounds, we've seen this week Pekar is no longer some scrawny 18-year-old.
"I thought he looks strong on the puck. He was physically demanding," Appert said. "He didn't look like one of the young kids on the ice and I thought that was a really good sign."
Better on the puck, sure. But there's still the requisite hacks and pushes while he's at it.
"Yeah, he's the same as in the games," said a smiling Oskari Laaksonen, who played defense for Rochester last season and dealt with Pekar daily in practice. "You go against him, he is always 100% against you and keeping you on your toes. I like to go against him. Sometimes you get a high stick or something but then you give it back."
Pekar chose a moment during an April game last year against Cleveland, a faceoff at center ice right after the Amerks gave up a goal. It went very badly at the time. But it also seemed to change his season.
A few words, a few pushes and off the gloves came for Pekar against Monsters tough guy Brett Gallant – a 32-year-old with more than 100 career AHL fights and 1,300 penalty minutes on the resume. Pekar lost his balance and was quickly dispatched.
"I think he's learned a good lesson, making sure you know who you're lining up against at all times in pro hockey," Appert said. "He fought one of the toughest guys in the American Hockey League. ... He already has respect from his teammates because of how hard he works but even earned more respect there. He also gained some confidence that you can step into that battle and survive and live to tell about it."
"At the time, I didn't know who he was. Obviously I think the boys told me after the game," Pekar said. "You guys saw it didn't go the best for me. I just thought it was the right thing to do at the moment. At the time obviously I didn't really care who he was. I probably wouldn't care who he is now if it would happen again to be honest."
Pekar got a game misconduct for his role in the scrap. But he was emboldened by it.
After no points in his first 17 AHL games, Pekar finally got on the scoresheet in the next game after the Gallant fight, with two assists in a rematch against Cleveland. He finished strong, with all six of his points over the final eight games. His first AHL goal came May 1 at Syracuse.
Owners and GMs abhor the Olympics, for the most part. They understandably fret over injuries, and the schedule for the entire season is brutally compressed because of the break.
"There's confidence to be gained from that, that you can put yourself in uncomfortable situations and come out on the other side of it," Appert said. "And he just started to seem like he was walking around with bigger shoulders after that moment, and then it started to translate into a little more offensive success for him as well."
"I definitely appreciated that the coach was trusting me more and more," Pekar said. "And I was trying to be coachable as much as I can."
Pekar got some physical play in during Friday's Prospects Challenge opener against New Jersey. But he still needs to pick his moments right. At one stage, he took a silly tripping penalty in the neutral zone when a Devils forward got a stride on him and Pekar should have let him go, but kept tugging at him instead.
Pekar said Appert has emphasized consistency to him as he refines his game.
"It was really just stressing to be a good pro," he said. "I think it was a great year to see where I need to be in the next level. Be perfect with execution, making the right plays at the right time. know the place and time in a game where I can do much or where I don't have to. Play the pro style hockey: Be good defensively in all three zones and be a good two-way player."