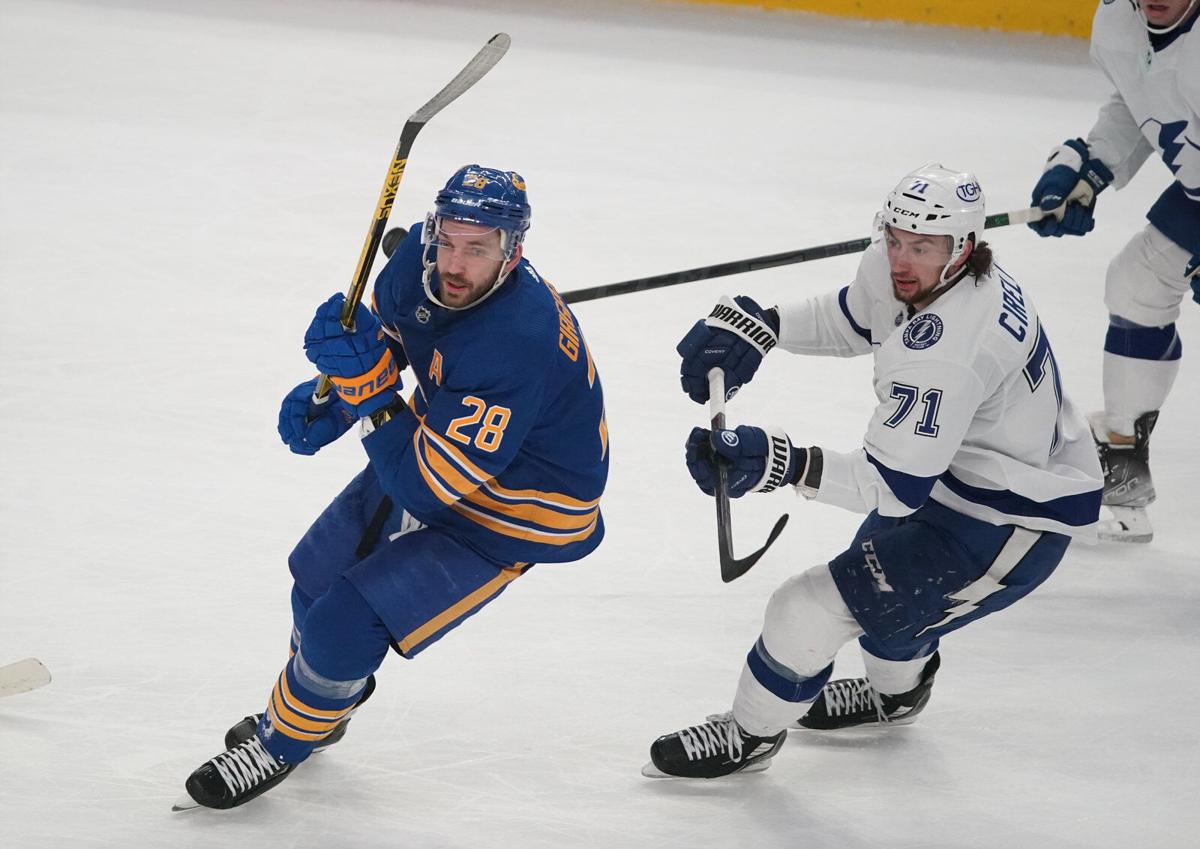 There are injuries. There are guys out due to Covid. There is inexperience. There were the Tampa Bay Lightning on the other bench.
Not a good mix, any of it. Tuesday was one of those nights in KeyBank Center. We're used to it. The Sabres seem inept and the opponent seems like they're playing in a different league.
While Tampa Bay rolled to a 6-1 win over Buffalo, Quinn showed why he's considered a significant piece of the puzzle for the Sabres.
If you're impatient with the Sabres, you've got reason to be. You can feel bad for Kevyn Adams and Don Granato trying to start from scratch – again – and hoping the fan base doesn't put the weight of what will be an 11-year playoff drought on their shoulders.
Not happening. The GM and coach have to wear all the current – and past – tough times with the hope they'll be the ones to engineer a turnaround.
But when you sit through annihilations like Tuesday's 6-1 drubbing at the hands of the Stanley Cup champion Bolts, it still feels a long, long way away.
We see where this team should be going. Jack Quinn's debut Tuesday night was another piece. The No. 1 pick from last year will be an every-night regular next season. So, too, likely will JJ Peterka and Peyton Krebs and Mattias Samuelsson and the big one, Owen Power.
The lineup Tuesday was missing Tage Thompson, Alex Tuch, Krebs, Kyle Okposo and Casey Mittelstadt. Goalie Ukko-Pekka Luukkonen left the game with a lower-body injury after one period, a dark development for sure that Granato said the team will be getting more details on through the night and into the morning. The Sabres will surely have a better lineup at forward as soon as Thursday in Nashville, as Tuch and Okposo came out of Covid protocol to skate Tuesday.
This one, however, was a mismatch. The Sabres needed to dig much deeper than they did. The Lightning had a thinner lineup when they were here in October and lost to Buffalo, 5-1. Adversity smacked the Sabres on Tuesday and they had nothing to offer to buck it.
"Obviously, we needed a better effort. It was collective," Granato said. "You could tell they were ready for us. They were ultra-sharp tonight. We didn't execute obviously the way we wanted. No excuses. We weren't sharp and paid the price."
Just 2:16 into the game, Henri Jokiharju was late on a change, Jacob Bryson couldn't get to the middle in time and Ondrej Palat beat Luukkonen with a shot along the ice you'd like to see stopped. The Sabres never caught up. They had some chances in the first period, notably breakaways by Victor Olofsson and Mark Jankowski, but couldn't beat Andrei Vasilevskiy and that was that.
The second period was Globetrotters vs. Generals stuff at times. Nikita Kucherov scored twice, including one unscreened that beat poor Malcolm Subban just 27 seconds into the frame. The shots were 16-6 and the territorial edge was massive. Kucherov completed his hat trick in the third.
The Sabres aren't good again this year and that's no surprise. But it doesn't seem like they should be ultra-terrible either. Yet, here we are again.
They started the season 5-1-1 but have won only five of their last 28 games. Yikes.
The 5-18-5 record in that span is just one point off Montreal's 5-17-4 mark for the worst in the league since Oct. 29. Guess all the experts who picked this team for 32nd had a point.
"I have to fight internally myself, just patience. It's not easy," Granato admitted before the game. "I've been a coach a long time and I see where we're going. And that gives me a lot of confidence. There's reason to be confident like we are. This is going to correct, there is no doubt about it."
In the wake of Tuesday, the Sabres are 10-19-6 overall and 0-4-2 in their last six. They're 3-13-4 in their last 20. They're 0-6-1 in their last seven at home and haven't won here since the night after Thanksgiving. There's 47 more games and they need to start showing some progress.
"You want more now and you want it faster," Granato said. "It's a challenge for me to not lose that patience but to keep pushing and grinding. That's where the practices have stayed demanding. You know, I fight aggravation like everybody else watching. But you've just got to keep pushing and the vision is clear to me."
This is a bridge season and we all knew that. The Sabres just want to get Power and others here and start to move next year. How many of the guys on the ice now will be here when this team figures things out? Especially with all the injuries and illness.
"There's no excuses, it's a next-man-up mentality," Tuch said prior to the game. "We're in a developmental part of our team and so getting guys like Jack Quinn in the lineup is going to be really positive and productive going forward."
Quinn didn't look out of place in the game and, frankly, you'd like to see more of him on the coming road trip than lots of these guys. He had a team-high three shots on goal and they were all decent chances in the offensive zone that forced Vasilevskiy to be sharp to stop them. He had another great chance late in the game, that only a desperation rob by defenseman Cal Foote kept out.
Even with a better lineup, Thursday doesn't figure to be a great time to be playing in Nashville, which is red-hot and one of the surprise teams in the West. And what happened Tuesday in Vegas? Jack Eichel stepped on the ice for a Golden Knights practice for the first time.
There's the Buffalo past and the Vegas present. The Sabres can only hope for their future. The present isn't pretty. Again.