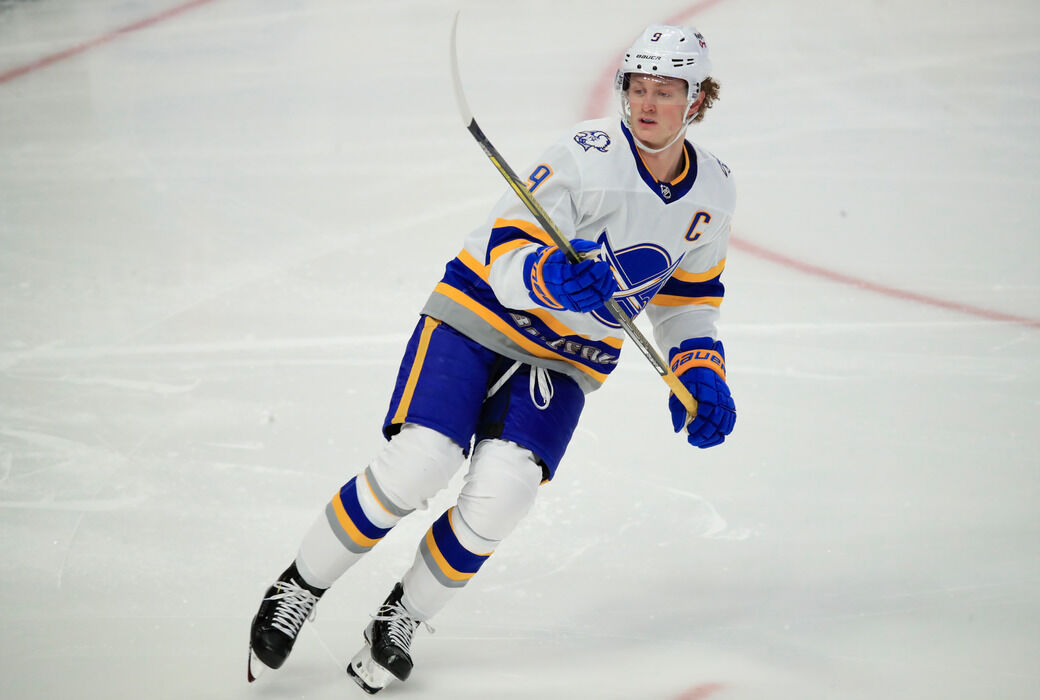 SEATTLE – The deal is done. At this stage of the Buffalo Sabres' season, and in the history of the franchise, that's probably the most important point to make before we get into all the fan histrionics about the return.
Eichel, 25, exits the Sabres having experienced zero playoff games in six seasons since he was drafted second overall in 2015.
The denials of coach Don Granato notwithstanding, the looming Jack Eichel trade was becoming a growing distraction with every rumor that ESPN was putting out there.
The ex-captain is gone, ready to roll the dice on his career for the Golden Knights after he gets the neck surgery he needs that no NHL player has had and the Sabres would not approve.
When it involves the Sabres, of course, nothing is ever normal.
Eichel is the player the team got from their horrific 2015 tank that was so blatant, it made the NHL change the rules of the draft lottery so things could never happen that way again. And when the relationship between player and team soured past the point of no return six years later, of course it couldn't just be an easy trade with potential suitors lining up with big offers.
The selection of the 18-year-old from Boston University with the No. 2 pick in the NHL draft was supposed to mark the end of the suffering, the key moment in a rebuild to bring the Sabres back to prominence. It didn't happen. 
Eichel was hurt. Teams wondered about the risk of a $10 million player with a neck problem. The Sabres wouldn't let him have the surgery he wanted – and it should be again noted the CBA was in their favor and many other teams agreed with their stance. 
But through all this, an interesting subplot emerged: The Sabres weren't a terrible team anymore and their prospect haul into the future led by Owen Power has real belief spreading through the new organizational leadership. It behooved them to get a deal done, get the best return they could get and move on.
And while they seemed on solid legal ground with their position on Eichel's surgery, their morality on the issue was withering away. This is a 25-year-old who needs neck surgery. Hockey or not, standing in the way of that was simply not a good look.
The team and its doctors made their point. Everyone understood it. If another team was prepared to go a different direction, it was time to let Eichel have some control of his life back.
Following the trade of Jack Eichel to the Las Vegas Knights, here is the status of the Sabres' draft picks for 2022.
"It was never personal," General Manager Kevyn Adams said on a video call Thursday morning. "We got to a point where this was the offer that we felt was the strongest we had to this date and we felt very good about it. We were not going to compromise on what we felt we needed as a return."
On the deal itself, Adams did what he set out to do. First of all, he got a top prospect. Peyton Krebs might not be at the level of Anaheim's Trevor Zegras or Los Angeles' Quinton Byfield, but he's a former first-round pick with a big upside. And he was Dylan Cozens' linemate and Jack Quinn's teammate with Team Canada at the World Juniors 11 months ago, too, so there's some instant organizational connection.
Alex Tuch is an established NHL player, a 20-goal scorer from the Syracuse suburb of Baldwinsville who grew up a Sabres fan and lived two houses down from former Buffalo center Tim Connolly.
"This is a dream come true for him," Adams said of Tuch. It was notable that later in the call, Adams made it a point to note "we need to build this organization with people that are dying to be Buffalo Sabres."
That no longer applied to Eichel.
Adams got a first-round pick, too. And a second. And he retained no salary, no small item on the balance sheets at Pegula Sports & Entertainment. But as I've said previously, why should they carry salary for a player for five years? Nobody does that.
"That was an absolute non-starter from the beginning for us that we would not compromise on," Adams said.
Would they have gotten more had they kept some coin? Most likely. But someday, they're going to have to really pay Dylan Cozens and Casey Mittelstadt and Power and others. If you're trading Eichel anyway, create all the cap space you can.
Adams looked and sounded exhausted on his video call. It was understandable. This was a draining process and a pivotal point in franchise history. The GM had to drive a hard bargain, lest an Eichel trade be his career epitaph while he had been on the job less than two years.
And Adams did OK. This is no Ryan O'Reilly trade and it's hard to indict the GM for much. You might be fretting over the trades of Eichel, Sam Reinhart and Rasmus Ristolainen and the free agent departures of Jake McCabe and Linus Ullmark, but they won exactly nothing. In fact, they were last in the NHL last season. That core didn't work for a variety of reasons. It was time to move on.
And Adams refuses to rush things. Krebs is starting his Buffalo career in Rochester, a bit of a head-scratcher but a thought that makes sense with the organization's long-term planning. Adams immediately mentioned Power on the call, again showing whatever happens this season is a bit of a bridge year until Power can get on board next season.
Adams is now the face of the front office and the one who ultimately had to make the deal. But if you want to be mad Eichel is an ex-Sabre, this one lies squarely at the feet of Terry and Kim Pegula, as well as Dan Bylsma, Phil Housley, Ralph Krueger and Jason Botterill.
Former GM Tim Murray got ownership to buy into the tank but never got to finish building the team because the owners caved to Eichel's dislike of Bylsma. Other past coaches and Botterill, the previous GM, failed to get the team into the playoffs and the results and uncertainty ultimately soured Eichel on the entire idea of being in Buffalo.
Eichel gave a lot on the ice in his time here. Behind the scenes, there was always an uneasiness about him. He was considered petty and churlish at times by teammates and staff. The captaincy, in hindsight, was probably too much too soon for him. 
But it's hard to blame him. He went through a lot of chaos in his time here. It's a relationship that didn't work. Some of that is his fault, a lot of that is the Sabres' fault.