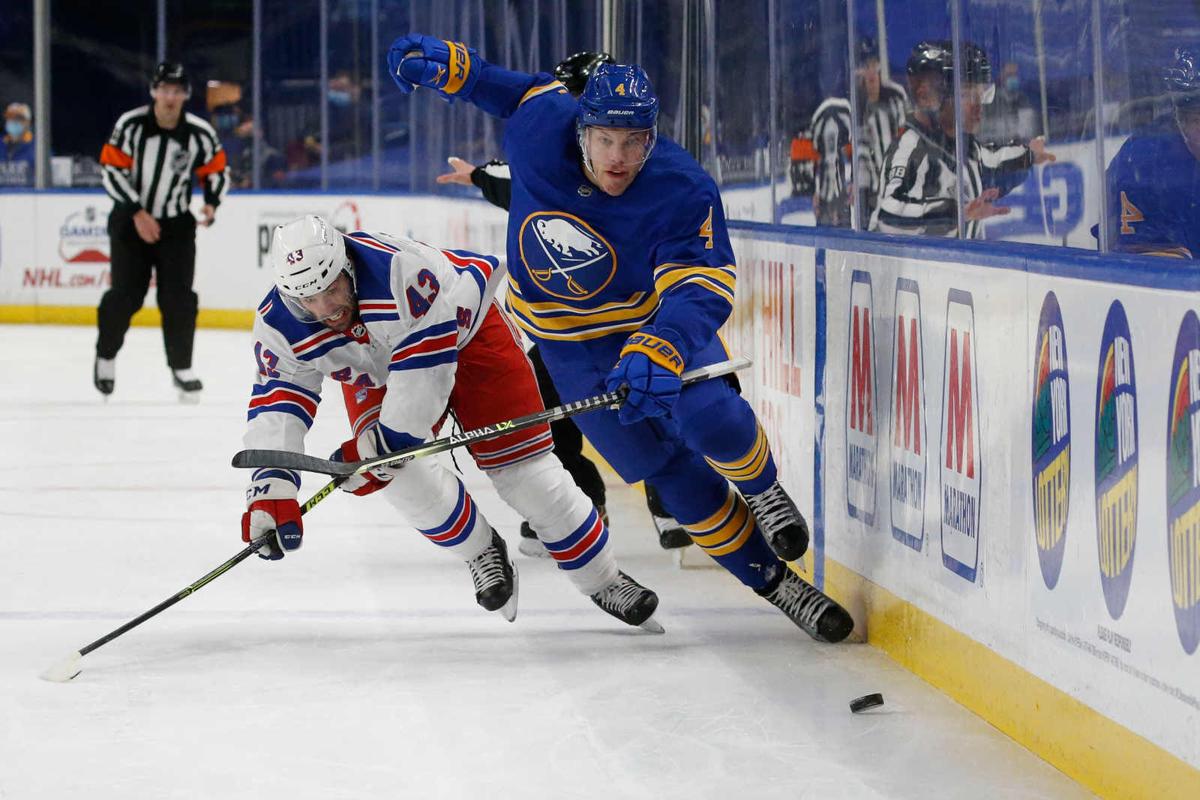 Whether we like it or not, the Buffalo Sabres have a general manager undergoing on-the-job training. The education of Kevyn Adams took yet another twist the last couple of days.
What Adams takes from all the lessons of the last 10 months is really going to be a huge factor in whether or not this franchise can escape the abyss.
Adams has gone through a lot in his short tenure, probably an unprecedented amount of turmoil for any first-time GM in the league when you pile it all up.
"I think from the beginning I always thought that Donnie should be part of this conversation, regardless of what happens exactly on the wins and losses of our team," Adams said.
This is a guy who had to fire more than 20 employees on his first day on the job at the whims of ownership. He had to navigate the first virtual draft in league history. He's made offseason moves that included the trade acquisition of a future Hall of Famer (Eric Staal) and the signing of an $8 million free agent (Taylor Hall).
Then came the season. Jack Eichel, his $10 million captain, wasn't ready for training camp and has two goals. Hall had just two goals. The team had a terrible Covid-19 outbreak. A silly run of injuries. A franchise-record winless streak that stretched 18 games and saw Staal get dealt to Montreal.
Adams finally got the go-ahead to fire his coach, although Ralph Krueger lasted nine games too long. Then he had to coach one game himself when interim boss Don Granato landed in Covid-19 protocol. In Hall, he had the top forward rental on the trade market – something he might not have again if he's in this job for the next 20 years.
And when this is done, Adams will have to decide if Granato will be his coach, hire an assistant GM, keep building his scouting staff, get ready for an expansion draft before the regular entry draft and free agency period and make more trades. And you hope one them isn't because Eichel says he wants out.
It's exhausting reading the previous four paragraphs. Imagine living it 24/7. 
"You learn a lot. There's so many conversations and so much work that's done behind the scenes to get to the point where decisions are actually made," Adams said Monday in the wake of the NHL trade deadline. "Then there's so much that goes on and then things don't happen. But that's part of the process, too. So that's certainly helped.
"We're going to have to earn our way to where we need to be. And that's going to be through building the team the right way. So I do feel comfortable that we have a plan. And we're going to work extremely hard to get there."
What is the plan? It better be more than soft perimeter players, which is what we see too much of now. Adams is stockpiling draft picks, which underwhelms me. He has 10 in hand for 2021 and that gives him quite a bit more flexibility than he had in October. He made just five picks in his first draft, the fewest the club has had since 1977.
Still, one of six he had was used to trade up with San Jose to get German J.J. Peterka at No. 34 overall, and that might be Adams' best move to date. Peterka had first-round pedigree and looked solid at the World Juniors. That was a good trade. At his first trade deadline, Adams was a disappointment.
The New York Islanders were in on Hall but opted for Kyle Palmieri and Travis Zajac of New Jersey. Toronto didn't want Hall. Pittsburgh president Brian Burke said Monday live on Sportsnet the Penguins weren't involved either. Vegas got involved too late.
Hall had all the leverage here and wanted Boston. Adams should have been able to take this deeper into Monday afternoon and not make a deal 15 hours before the deadline. But the no-movement clause in Hall's contract was absolute. He could nix anything. The goof here was to not have a modified no-move clause where Hall could submit a list of teams he would accept a trade to.
That's when Adams could have potentially prompted a bidding war. This is a frustrating return for a former Hart Trophy winner.
Hall said his move to Boston was what he hoped for after all the troubles with the Sabres that included the team's Covid-19 outbreak, the firing of coach Ralph Krueger and its franchise-record 18-game winless streak.
Yes, Hall's two goals in 37 games and minus-21 rating was out of Adams' control. But it still stinks that Columbus got a first from Toronto for Nick Foligno and one from Tampa for David Savard, and Adams couldn't do likewise for Hall. 
Chicago got a second- and third-rounder from Vegas for Mattias Janmark. Calgary essentially got two seconds for Sam Bennett, Florida's real one and prospect Emil Heineman, taken second last year. And the Sabres only get a second and a bottom-6 level prospect for Hall?
Hall explained earlier in the day how he almost signed with the Bruins but a few things didn't work out and he instead landed in Buffalo. He was effusive in his praise of Adams. Of course. That precious contract clause was massive.
"Contractually, he'd earned that right to make that call," Adams said. "So we focused our attention there and obviously were able to get a deal done and be excited about it."
There has to be several teams thinking they need to make some moves like the ones Tampa Bay pulled off last season, Mike Harrington says.
Adams gets a player for right now, although Anders Bjork has just 16 goals in 138 games and the word out of Boston is he has a third-line ceiling. Frankly, I'd still rather have Curtis Lazar.
Adams retained half of Hall's salary and swapped Lazar for Bjork, who is twice as expensive with a contract that runs twice as long. With that kind of hospitality, I'd expect Bruins GM Don Sweeney to call Adams back this summer – and have a line of GMs behind him.
One other item: Adams needs to do better on the information front with Eichel. The silence is troubling. Injured players are unavailable to the media and Eichel thus hasn't been seen in more than a month, clearly choosing to rehab what's believed to be a neck issue elsewhere. The GM gave the first signs Monday that the captain might not be back this season. If he's damaged, you can't trade him now and sell super low on the face of the franchise.
Adams promised he'll be "completely transparent" with reporters when the Sabres have clear information on Eichel. We're holding him to that. Another potential minefield for the rookie GM to navigate. Hope he's taking good notes.