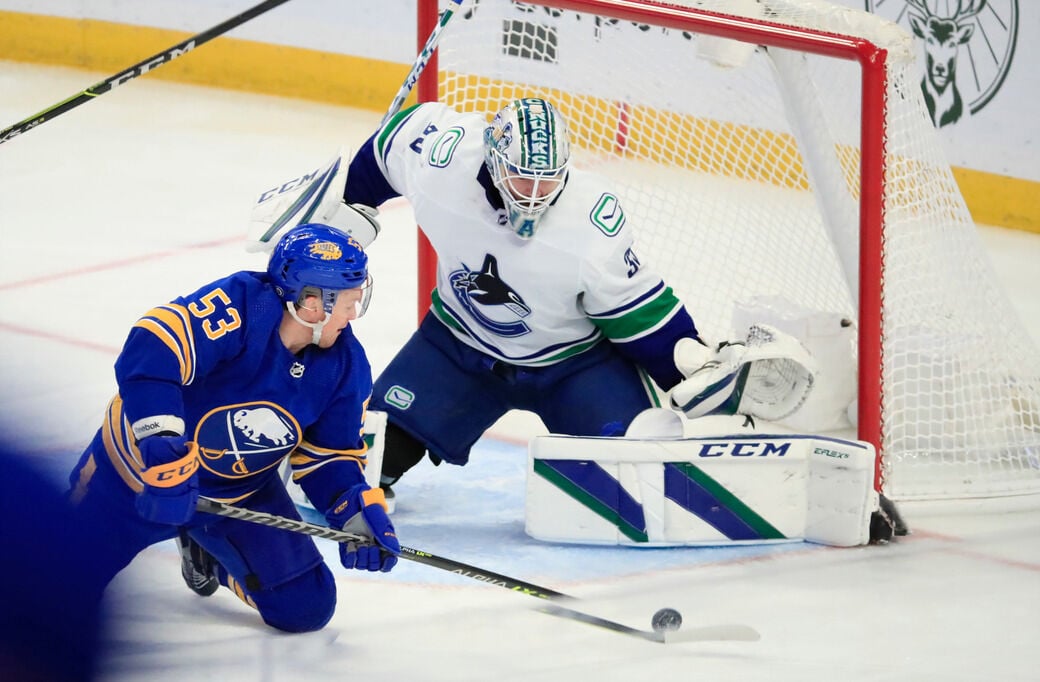 Jeff Skinner was on a knee and roofed a backhand. Bar down. His first goal of the year and the tiebreaker in the Buffalo Sabres' 5-2 win Tuesday over the Vancouver Canucks.
And then they rolled the music in KeyBank Center.
With each shift, shot on goal, drive to the net and forecheck, Okposo and Zemgus Girgensons are showing media members across North America that tanking isn't on the mind of any player in the Sabres' dressing room.
Each player has a personal goal song this year. What was Skinner's tune echoing through the cheers of another enraptured albeit intimate gathering?
Miley Cyrus. "Party in the USA". You know the key words. Yep, the butterflies are flying away – and so perhaps is the notion the Sabres are going to be some historically terrible outfit.
How did Skinner land on that ditty?
"I don't know," he said, breaking into about the widest smile we've seen from him since his glory days of 2018. "I just think it's a good song. Good vibes, I guess? I don't know."
"The coaches were just talking about it," said amused bench boss Don Granato, recounting how the staff was talking with the players' news conferences apparently muted on a nearby TV. "We were wondering what 'Skins' was smiling about. We could see the screen, his face when he was in here."
There was plenty to smile about Tuesday. The Sabres punched up in weight class against a much better opponent than fluky finalist Montreal and totally tanking Arizona. And they got better and better as the night went on. The final shots on goal were 43-34. Attempts were 65-44. 
After a sluggish first seven minutes, the Sabres came in waves. They wore the Canucks down.
"They have a really deep center core on that team," said Dylan Cozens, referring to matchups against Elias Pettersson, Bo Horvat and J.T. Miller. "Obviously we had to shut them down and frustrate them. Just keep working down low and we know they'd get frustrated."
The Sabres (2-0) started the season with consecutive wins for the first time since 2019-20.
The visitors were toast after Skinner and Tage Thompson scored in a 23-second span early in the third period. The Skinner goal was a sickmitts special. Something you might have seen during his 40-goal season.
"We were excited for him. Great goal," said Kyle Okposo, who continues to look better than any time in his six years in Buffalo. "Not many guys in the world can spin around like that and tuck it top shelf."
"It was nice to see it go in, nice to contribute," said Skinner, still trying to shed the images of last year's seven-goal disaster.
The Sabres are 3-0 for the first time since 2008, in a tiny group at the top of the NHL after a week of the season that also includes Florida, Minnesota and Edmonton. In the final couple of minutes, the crowd started serenading the Canucks with the "hey-hey goodbye" song, and then broke out into an original and very hip chant of "3-and-0, 3-and-0".
The Canucks aren't the Sedins and Roberto Luongo, circa 2011 version. They haven't made the playoffs in five of the last six years. Still, they have some nice pieces when you talk about their forwards, and defensemen like old friend Tyler Myers and veteran Oliver Ekman-Larsson. But they missed young stud defenseman Quinn Hughes, who sat out with an unspecified injury.
This was a 50-50 affair through two periods, with a 2-2 tie, even though the Sabres had been taking control of the play. Shot attempts were 43-22 through 40 minutes as the ice was tilting. It was an omen.
"In the locker room, I think we felt we could elevate. And we did elevate," Granato said.
"Anybody on the other side of the ice expecting an easy night is forewarned: The first step to respectability is not giving opponents a night off. The Sabres are getting there fast," writes Mike Harrington.
Craig Anderson was solid in goal again. Okposo and Zemgus Girgensons both scored their second goals of the season. The building was alive when Skinner and Thompson simply outworked the Canucks to put Buffalo in control.
You want to punch up in class? Be here Friday night. The Boston Bruins are in town, and Bs coach Bruce Cassidy took the unusual step Tuesday of announcing his starting goalie three days early when he revealed that old friend Linus Ullmark is going to get his first start in Black and Gold against his former team.
After signing his four-year, $20 million contract in free agency, Ullmark couldn't beat out Jeremy Swayman in preseason and has had to wait his turn. That will be interesting. Both sides obviously know each other well.
The crowd was poor Tuesday. They tickets sold count was 7,376. Looked like only about 4,000 in the house. No surprise, really. Vancouver on a Tuesday in October. Lots of Bills hangovers and Bills fans still coming back from Nashville. And the usual reasons that have already been well documented about the loss of season ticket holders and the still-closed Canadian border.
Let's see what happens Friday. Always the best night of the week. A traditional opponent. Bills on a bye week. The game on ESPN+ and not on MSG. Maybe some of you are Ullmark fans.
"They play hard for each other. They want to come to the rink and see their buddies and they want to go hard and practice," Granato said of his troops. "They're building that. It's not something we're doing as coaches. They enjoy being around each other and you can feel and see that. For them to get rewarded by winning is even better."
Party on, boys. And if Skinner gets his hands up to celebrate more goals and they're playing his song, things are gonna be OK.