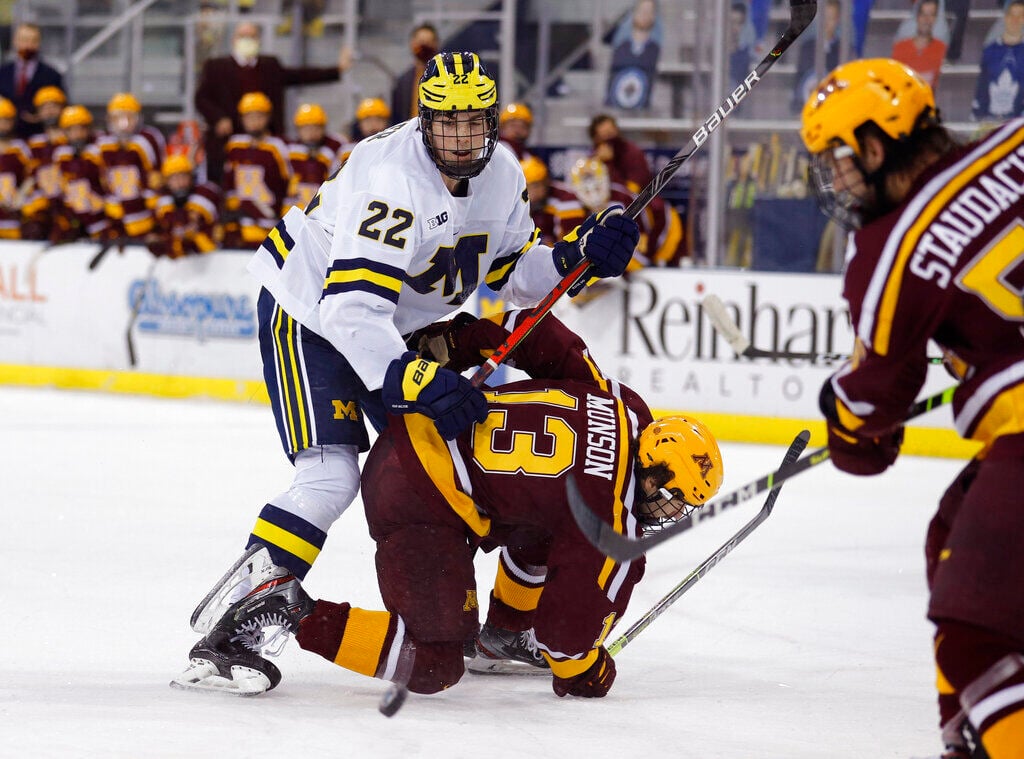 Kevyn Adams used the word a lot Wednesday night and it fits: debate. There's going to be a ton of it among fans between now and July 23, and the Sabres' general manager promised lots of it internally within the organization as well. That's a good thing. Everyone should have a say and not simply rubber stamp what the GM might want.
This is too important a fork in the road for the franchise and for Adams in particular. The Sabres landed the No. 1 pick in the NHL draft after winning the lottery for the second time in four years, but this is no slam-dunk choice.
Unlike when they took Rasmus Dahlin in 2018 in Dallas, the task for Adams and crew is far from simple. There is no consensus top player available and the vagaries of scouting and the hockey world in general in 2021 make this perhaps the most unpredictable draft ever.
No Dahlin, no Nathan MacKinnon, no Connor McDavid or Auston Matthews, no Alexis Lafreniere. Can't recall a draft over the last 15 or so years with so many possibilities for top-three picks. The Sabres are getting a solid player for sure and he will be in the NHL next season for sure, Adams' insistence on patience to the contrary.
That said, the Sabres should live by one simple credo with this pick.
Go forward. Pun intended.
General Manager Kevyn Adams and the rest of Sabres management learned during the virtual lottery Wednesday that they will be at the front of the line to pick another building block for a franchise that has not reached the Stanley Cup Playoffs since 2011.
Yes, NHL Central Scouting has 6-foot-6 University of Michigan defenseman Owen Power listed as its top prospect. And this seems to be a good year for blueliners. There's the latest edition of the Hughes clan, Luke, ready to join Vancouver's Quinn and New Jersey's Jack in the NHL after some solid work for the U.S. National Development Team Program. There's Ottawa native Brandt Clarke, who spent the year in Slovakia with the Ontario Hockey League dormant, and there's 6-5 Swede Simon Edvinsson.
You can say the Sabres can't be choosy and should simply take the best player, position be damned. It's a valid argument. But there's a case to be made they have defensemen in their system and can always go out and trade for a couple more.
The Sabres need goals. And just imagine how many they might need if they're actually pondering a trade of Jack Eichel or Sam Reinhart. Or even both.
The recent history isn't kind. The Sabres finished last in the NHL in scoring in both of their tank years, 2013-14 and 2014-15. Since then, Eichel's arrival and Reinhart's ascension from junior to full-time duty have not helped that area anywhere near as much as you would think.
Since Eichel made his debut in 2015, the Sabres have averaged just 2.53 goals per game. Only Detroit has averaged less in the last six seasons, at 2.44.
When you break it down by years, the picture is just as bleak:
2015-16: 2.43 (tie for 25th)
So after those numbers, with a chance to add to Dylan Cozens, Casey Mittelstadt and Jack Quinn – all of whom were taken in the top 10 since 2017 – are you really going to take a defenseman?
It takes a long time for defensemen to become stalwarts in the NHL. Victor Hedman took five years after being taken No. 2 in 2009 to become an all-star for Tampa Bay. Miro Heiskanen was in the Stanley Cup final in his second year for Dallas in last September's Edmonton bubble. This year, he had a 27-point season and dropped from plus-14 to minus-9.
And we all know about Dahlin. Surely a large chunk of blame his nightmarish 2021 goes to former coach Ralph Krueger. But did you ever think in the hype of June 2018 that we'd be sitting here three years later and Dahlin would be the worst minus player in the NHL? And even as flawed as we all know the stat can be, worst in the league is still worst in the league.
Especially if you're trading Eichel, and even if you're not, don't Adams & Co. have to be looking at center Matthew Beniers, Power's Michigan teammate, as their top pick?
If they're looking for another sniper on the wing to join Quinn, wouldn't William Eklund of Sweden or Edmonton Oil Kings stud Dylan Guenther be better choices?
One of Jason Botterill's first draft choices as general manager of the Buffalo Sabres is free to sign with another NHL team.
This is a draft that won't be able to evoke instant analysis. You normally look three to four years down the road in hockey anyway. But in 2021, when Covid limited schedules or wiped them out entirely in some leagues, it's going to take a long time to figure things out.
The Sabres don't have a long time as we know. Adams can continue to preach patience and the company line that they weren't part of this 10-year playoff drought. Adams, for instance, didn't take Marcus Davidsson in the second round in 2017 – Jason Botterill did – and thus ended up with the highest-drafted player that year to not sign with his club. 
But surely Adams has to understand what his club needs. Now, I understand the Sabres are in back-up-the-truck mode. You can say they need anything and everything, starting from the goaltending out, and you would be right. But you still have to have priorities.
If you can't score, you can't win. The Sabres haven't scored enough for years.
Get more goals. Pass on Power.