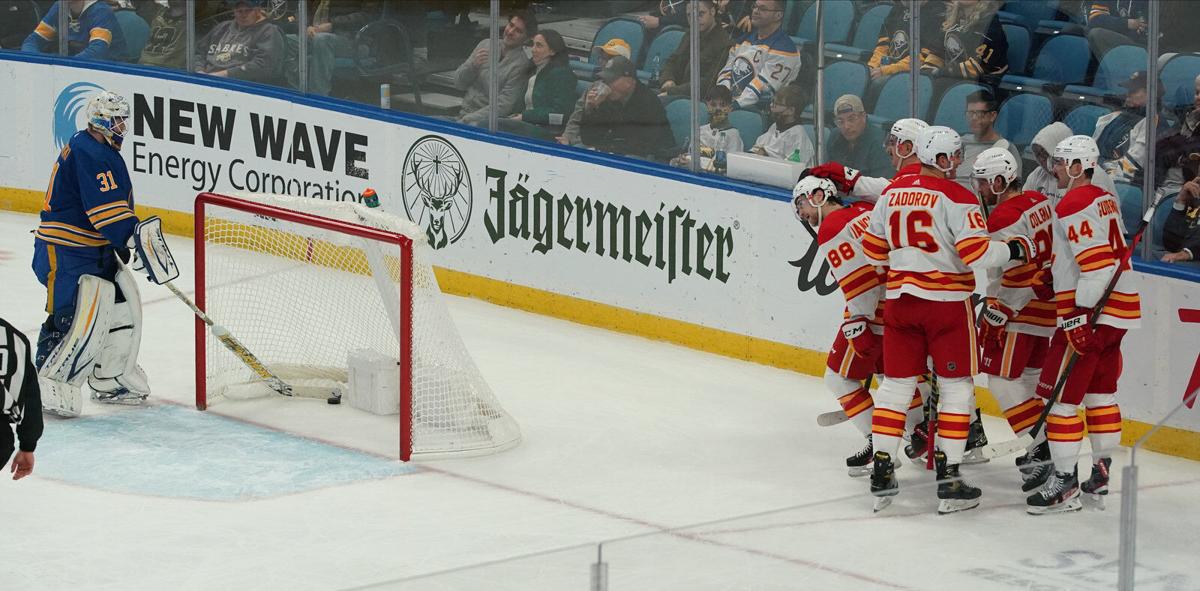 The ominous signs were there Tuesday in Pittsburgh. The Sabres got outshot 46-19 – including 20-3 in the third period – but won on some Grace-of-Dustin-Tokarski thievery.
The Buffalo Sabres were a disaster in front of goalie Dustin Tokarski, allowing three goals in a span of 1:37 in a second period that ended with fans booing the Sabres off the ice.
You'll win a game like that once every two or three years if you're lucky. Given the state of goaltending in these parts, it probably hasn't happened in this town since Ryan Miller left in 2014. So the Sabres needed to put together a much better effort Thursday against Calgary on behalf of the red-hot Tokarski.
Instead, they regressed. Badly.
The 5-0 burn they took from the Flames was the first pure stinker this season under Don Granato, the first time they looked like the team-with-no-clue we saw so many nights under Ralph Krueger.
The Flames skated through the offensive zone with impunity from the opening faceoff and had 11 of the game's first 13 shots on goal. It was a victory that the Sabres got out of the first only down 1-0. But instead of a response, they gave up an Andrew Mangiapane goal at 1:42 of the second period and didn't show any signs they were getting back into this one.
The cave-in came late in the second period, as they gave up three way-too-easy goals in a 97-second span. A 2-0 game suddenly turned into a 5-0 trainwreck.
"That tells me it was the whole mood of the night," Granato mused. "The guys just didn't feel like themselves."
The Flames had scored only nine goals in the first five games of their road trip, but had things their way all night here. I like the guy who said to me on Twitter: "Why couldn't this game be on ESPN+? Then I wouldn't be able to watch it."
Winger Vinnie Hinostroza aptly called it an "embarrassing effort" and said the team was rattled in the immediate aftermath, but will be ready to watch video and start making corrections at practice Friday.
Through all this, you should have some appreciation for what we saw on the other side in this one. Johnny Gaudreau was a savant. Andrew Mangiapane (eight shots on goal) and Matthew Tkachuk were beasts.
Loved the goals we saw. Gaudreau with a ridiculous cross-ice pass through the slot to Tkachuk for a sweeping wrister. Mangiapane for a tap-in off a 2-on-1 with Mikael Backlund. Monahan to Gaudreau for another layup.
Did any Sabres look decent in this one? Maybe Tage Thompson (four shots, six attempts, 7-3 on faceoffs while the rest of the club was 12-24). Aaron Dell, a disaster in the first half of Saturday's game against Toronto, had a nice third period in net after Tokarski got a mercy pull that had nothing to do with him and everything to do with his teammates' no-show.
The final shots on goal were a deceiving 33-26, closed from 32-18 in garbage time. Shot attempts were 61-47. In the last two games? The Sabres are in arrears in those two categories, 79-45 and 135-78.
Jack Quinn's remarkable start to the season in Rochester hasn't gone unnoticed by Sabres coach Don Granato.
What should they do heading forward? Don't expect any panic. They're 7-7-2 now, and it's easy to overlook the fact they entered Thursday two points out of a playoff spot. Yes, two. They're not remotely close to the basement of the NHL the whole world thought they would be through training camp.
Lineup wise, they've probably gotten a tad stale, as Granato has kept the forward lines and defense pairs mostly intact for a few weeks now. Injuries have hurt for sure – Victor Olofsson, Casey Mittelstadt and Henri Jokiharju – but a good shakeup at practice the next couple days seems worthwhile. On defense, Will Butcher seems lost and might need a taste of the press box popcorn. They have to find the speed game they played in October, and it would be nice if they would start putting passes on the tape again, instead of in their teammates' skates.
I doubt you're going to see any big moves out of Rochester. It's not time for Jack Quinn or JJ Peterka, yet. Nor Ukko-Pekka Luukkonen. It might be worth giving Casey Fitzgerald a look on defense instead of Butcher, who is showing why New Jersey was so willing to dump him for a few bags of pucks.
Come to practice Friday and be ready first for an ugly video show, no popcorn preview included for Butcher.
Said alternate captain Zemgus Girgensons: "Looking at today's game will be a good learning lesson down the road."
Sure will, but the Sabres don't have a long road to make things right. They start a rugged stretch of five games in seven days Sunday in New York against the Rangers. It goes New York, three at home (Columbus, Boston, Montreal) and wraps up with a trip to Detroit. That's a lot of points available in a short time.
"We're definitely not hitting the panic button," Hinostroza said. "We've got five games in seven days coming up and that's time for our group to make a statement. ... We have a good week next week and this game will be so far in the past."
Hope so. It was a hideous one.