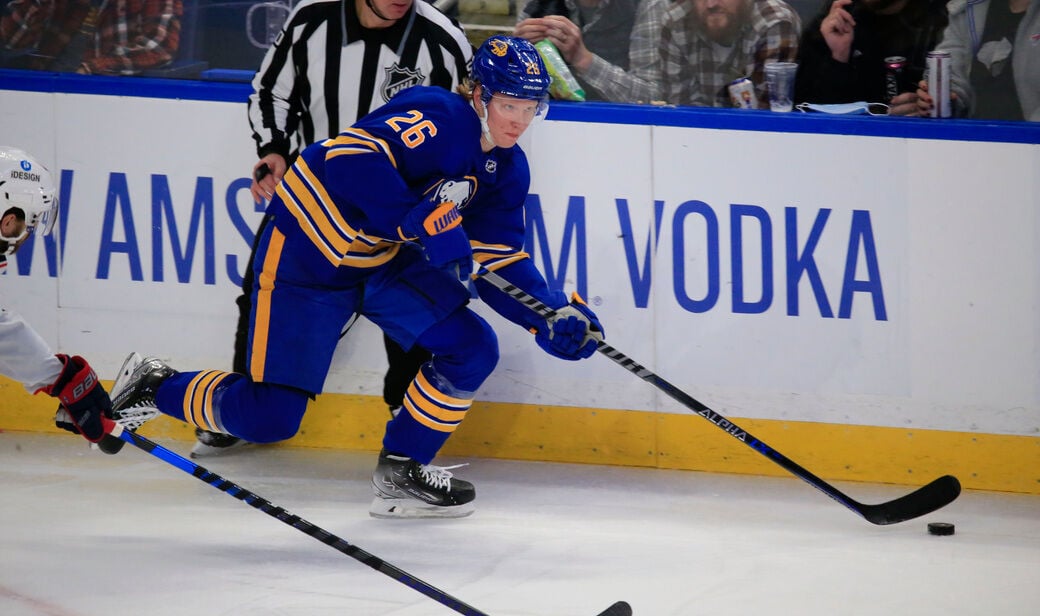 That was Rasmus Dahlin's go-to thought on multiple occasions Tuesday, and don't get the impression he was being flip. He was matter of fact. He's got to be better and he knows it.
There wasn't much to like Monday night in KeyBank Center as the expansion Seattle Kraken dumped the Buffalo Sabres for the second time this season.
(He didn't say "stuff" either, but I'm sure you can figure it out). 
A whole lot went wrong for the Sabres in Monday's 7-4 loss to the Seattle Kraken in KeyBank Center, but the flashpoint came in the first period when Dahlin gifted back-to-back short-handed goals to the Kraken to open the scoring and set an ugly tone for the night.
On the first play, Dahlin got upended behind the net by Yanni Gourde and you can make a case there could have been a penalty before Gourde delivered the puck to Carson Soucy in the slot.
The second one, however, might rate as one of the lowest moments of Dahlin's NHL career. 
With an easy sweep to his right across the blue line to a wide-open Victor Olofsson, Dahlin tried an overly cutesy backhand return pass to Tage Thompson along the wall. Seattle's Brandon Tanev intercepted it, got a step on Dahlin through the neutral zone and made him look silly by outmuscling him to the net.
Tanev cut in front of Dustin Tokarski and got away a shot that the goalie stopped but Tanev immediately corralled his rebound. Dahlin tried to slide in behind Tokarski but Tanev banked in the second shot as Dahlin swept the puck out of the net and fired it into the corner in disgust.
In other news, Casey Mittelstadt and Mark Jankowski were on forward lines at Tuesday's practice, making it likely they will play in Thursday's game at Florida.
It's been a long time since I heard a crowd audibly groan that much over a single play. There were almost no boos, just collective disbelief.
"Not good. Two goals in the beginning there, it's my fault," Dahlin said Tuesday. "And then that just can't happen. So a bad start. I try to get back to the game. (Stuff) happens, but that can't happen in the future. I will make sure it's not gonna happen. You just start to go back to simple stuff. And it's a battle, a mental battle, but it's a learning process. For sure, I learned a couple things from last night."
Dahlin is still only 21, young in life but not in hockey. We're talking a player who has played 200-plus games in the NHL. And now you're talking a $6 million a year player, too. That ups the ante substantially. 
"It's really challenging for any player that was selected where he was selected, comes into the league and has a reputation," said coach Don Granato. "He had a great, amazing reputation before he ever played a game. Think of the expectations that are heaped on guys that are No. 1 picks. When you don't have experience, you try to live up to that expectation because you hear the noise and you hear the comparisons and he's not compared to another defenseman in our league, he's compared to the absolute best defensemen in the league."
So far, the comparisons aren't worthy. Granato said Dahlin needs to tweak his game more on certain nights, needs to take a step back after a bad play and not try to impose his will on an opponent to make up for a mistake. Which is exactly what the coach thinks he tried to do on the Tanev goal.
Sabres fans, meanwhile, aren't acting too rationally about Dahlin these days. You hear lots of chatter about how they want a redo of the 2018 draft for Andrei Svechnikov or Brady Tkachuk or Quinn Hughes at No. 1. Never mind that there wasn't a team in the free world that would have taken anybody but Dahlin had they won the lottery.  
They want Dahlin benched, or up in the press box eating popcorn with yours truly. It's not happening.
"This issue is not going to be resolved by me yelling at him or screaming at him or benching him," Granato said. "He's got to make that mistake (on the Tanev goal) and learn from it. And that was the mistake. He tried too hard."
"Today, go out early, work harder," Dahlin said of how he dealt with Monday's game. "Reflect on that type of stuff and you will get better. But it helps for sure that he believes in me."
By the numbers, you'd probably be surprised to learn Dahlin's season isn't all that terrible. He has three goals and 11 assists for 14 points in 22 games, on pace for a career-high 52 points. He's got a minus-4 rating, a long way away from last year's NHL-worst minus-36.
The underlying numbers, however, aren't as good, with the Sabres collecting 46.3% of the shots on goal at 5 and 5 and 48.9% of the attempts. You need more control of the play than that from a defenseman averaging 23-plus minutes a night.
And defensively, Dahlin has to regain some modicum of aggressiveness. He's outworked too much along the wall and is suddenly backing in on plays far too much. Think of the game-winner Saturday in Detroit by Lucas Raymond, a shot at the 26-second mark of OT that Dahlin nearly collapsed to the faceoff dot and served as a nifty screen for Tokarski.
Dahlin did the same thing Monday on Jaden Schwartz's second-period goal. Backing up, backing up, down to a knee, not blocking the Gourde pass. By the time the play ended, Dahlin was behind the goal line, having completely taken himself out of things.
The Sabres have been terrible defensively for a month now since the injury to Craig Anderson. In a six-game stretch over nine nights, they went 1-4-1 and the next five games are against Florida, Carolina, Anaheim, the New York Rangers and Washington. Yikes.
Tokarski has been up and down while Aaron Dell simply is no longer an NHL goalie. The defensemen have struggled, too. The Sabres were torched for 5-plus goals nine times in 14 November games. That's not just a Dahlin problem.
"It starts with the gap," Dahlin said. "It starts with how we take their speed, not letting the other team get in our zone and then box out, get their sticks. That creates a lot of confidence. If you have started with a good defensive game, you create a lot of offense throughout the game. You've got to stick with it and learn and get better."