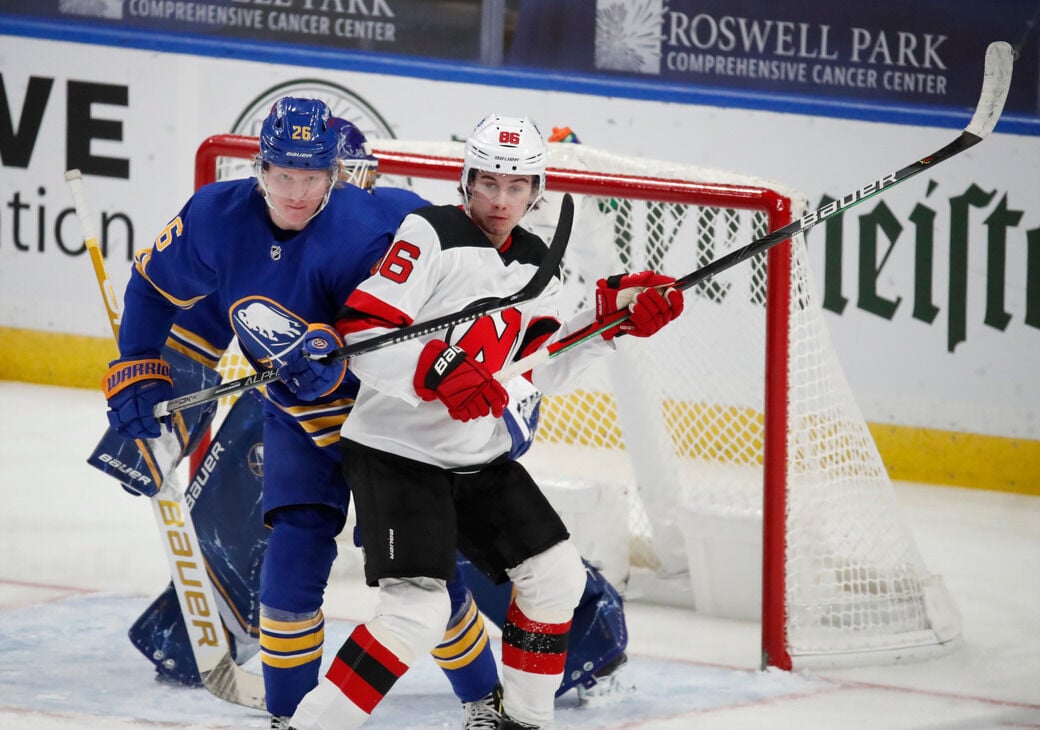 I went down the YouTube wormhole Thursday afternoon. Took the ride 10 years back, to April 8, 2011. Sabres-Flyers, Game 81 of the season in then-HSBC Arena.
It comes back to you quick.
The spin-o-rama and backhand goal from little Nathan Gerbe. Glimpses of the late Steve Montador. Tyler Myers ragging the puck in his own zone and Danny Briere opting not to forecheck as the clock ticks away on regulation and the fans are on their feet roaring. The celebration at the horn for the one point in the standings needed to clinch a playoff berth. The breathtaking end-to-end rush of Thomas Vanek that resulted in an overtime winner.
It's the last time the Sabres locked up a playoff berth. How many more years will we wait for another moment like it?
In the pandemic world of 2021, we're left with a Sabres-Devils game to mark that anniversary on a Thursday night with no fans in the building. And it was an absolute clunker, a 6-3 loss in a game that was tied at 3-3 through 40 minutes. Turnovers and sloppy play all over.
You'll barely remember anything about it in 10 hours, let alone 10 years.
The Sabres (9-24-6), still last in the NHL with 24 points, were unable to extend their point streak to six games, which would have been their longest since they went 5-0-1 to start the 2019-20 season.
Sabres winger Tage Thompson aptly said it's one of those short-memory games you quickly park because there's another one here Friday night against the Washington Capitals. Good idea. If the Sabres play like that against Alex Ovechkin & Co., they won't be tied going into the third period.
Interim head coach Don Granato deviated from his norm when he gave the Sabres an optional practice Wednesday and then an optional morning skate Thursday. Normally, one or the other would be mandatory.
It was a mistake. The Sabres were sluggish well into the second period of this one. They played as though the game was optional, too.
It was impressive, however, to see Granato comfortable enough in his skin to quickly admit he goofed with that decision when a reporter immediately inquired about it after the game.
The season series with the Devils ended Thursday and it was time. Eight head-to-head meetings between two of the NHL's bottom five teams can make anyone bleary-eyed. The Sabres finished 4-3-1 against New Jersey and that's nearly half of their nine wins on the season. The Sabres are 8-8-5 against the three East teams currently out of the playoffs (Philadelphia, the New York Rangers and New Jersey).
With a group of Buffalo Sabres on the ice for an optional morning skate Thursday, interim Do…
What happens now? Look out.
The picture is a wee bit bleaker against the four current playoff teams – and they will be the opponents for 14 of the remaining 17 games.
Against Washington, the New York Islanders, Pittsburgh and Boston, the Sabres are 1-16-1.
Yes, that's not a typo. They are 1-16-1. And they have lost the last 14 games against those clubs in regulation -- while getting outscored, 57-17.
If Granato has any designs on this job on a permanent basis, he's going to need to make some inroads against those teams. Wins against the Flyers and Devils just don't carry much weight compared to a few years ago.
Hall remains out of the lineup as General Manager Kevyn Adams negotiates with other teams.
The Sabres started the year 0-2-1 against Washington before beating the Capitals Jan. 24 in a shootout a couple of hours before the Bills-Chiefs AFC championship game. Since then? Not a single point.
They are 0-6 against the Islanders, 0-4 against the Penguins, 0-2 against the Bruins and 1-4-1 against the Capitals. There are two games left against both the Caps and Isles, four to go against Pittsburgh and six more against Boston.
"What's relevant, I guess, for us is to look forward to the challenge and know these are teams that are Stanley Cup contenders," Granato said. " ... Because of the talent within the division, you're locked in, you can't run to another division to play anybody else. That's the challenge of this season. And that's a challenge we have to embrace. It will make us better – a better team for the future, better players for the future – if we embrace it."
Winger Kyle Okposo didn't hesitate when asked how the Sabres are going to survive this stretch.
"Got to play better," Okposo said matter of factly.
"I can't say anything bad about Donnie," Dahlin said of Granato. "I love him as a coach. He's a great one."
Then Okposo expounded and got to the crux of why those teams are where they are in the standings and why the Sabres are where they are.
"I think that if you ask anybody to start the year if you would be surprised if any of those four teams won a Stanley Cup, you'd have said 'no,' " Okposo said. "And so we have to know that they're a veteran group, they're a mature group, they're not going to be teams that get away from their structure at any point for any reason, other than give up a goal and then they're just going to keep playing the same way.
"That's something that as a young team, as a growing team, as a team that's trying to form our own identity, we have to take some more of that aspect into our own game. So we're looking forward to the challenge, excited about tomorrow."
Let's see how Granato gets his team ready to play Alex Ovechkin & Co. this time. Early returns on the coach have been encouraging. But we'll have to see how he does against elite teams with top talent on the ice and behind the bench.
There won't be the noise, fervor and meaning of 2011. Let's see if the Sabres can at least get some lessons and a few points out of them that they might remember come training camp in the fall.