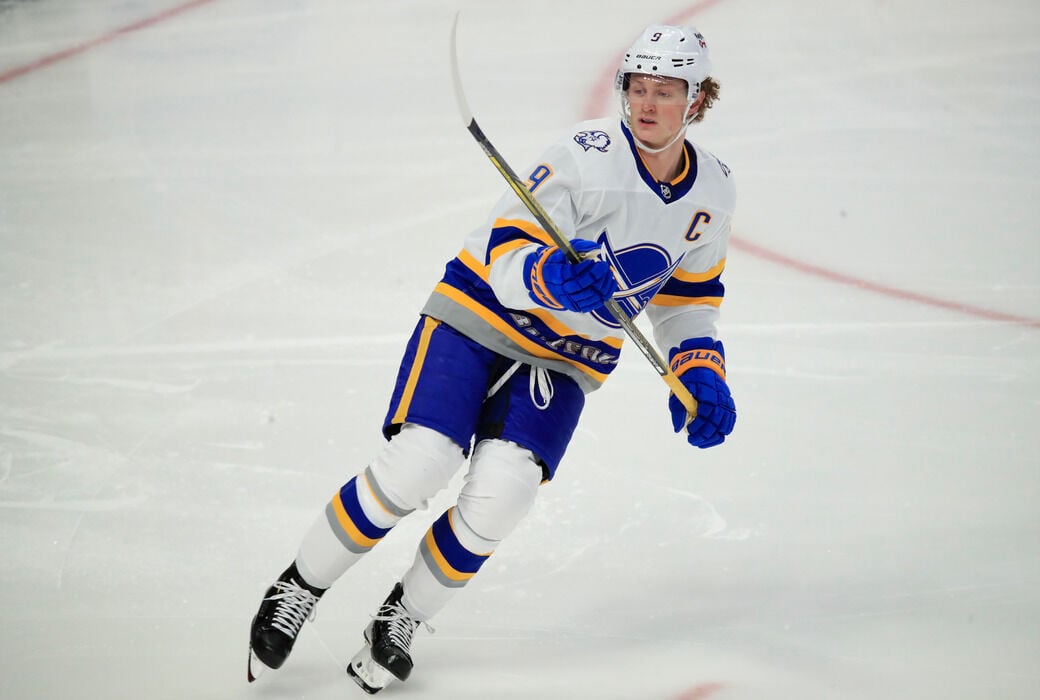 Whatever happened to the highs and lows? We know sports are never a straight line, that the emotions are supposed to go hither and yon. But it just doesn't seem that way when it comes to the Buffalo Sabres.
Because every time you think they can't go any lower, they find a way.
There are bad days for a franchise and then there is what Monday was for the Sabres. It wasn't July 1, 2007 – at least not yet – but it was along the lines of Ryan O'Reilly losing-his-love-for-the-game bad.
And it could potentially have the same multiyear ramifications of that infamous locker cleanout day chat from April 2018.
"I would be lying to say that things have moved smoothly since my injury," said Eichel.
Rasmus Ristolainen seemed to make it clear a change of address would be in his best interests. Utterly bratty Sam Reinhart, coming off a 25-goal season that was on pace for near 40 in a full schedule, looked like he'd rather be in a dentist's chair than try to say anything relevant about the franchise or his own game.
Things got a little rosier with Linus Ullmark clearly showing interest in returning and Jake McCabe, in his first interview since his February knee surgery, surprised us by saying he could be back skating as soon as July. That would be weeks ahead of the timetable the team initially figured.
Then it was Jack Eichel's turn to speak. This was not saving the best for last.
A few minutes into his 24-minute chat, the captain dropped a bombshell with the word "disconnect." If he's traded in the next few months, it might become his Buffalo legacy as much as we recall "suffering" with Darcy Regier.
It appears the Sabres are picking a fight with their franchise player. A guy who scored 36 goals in last year's shortened season and tried to play through this year after a broken rib and a sore ankle and some sort of abdominal issue he said has been "unresolved" for over a year. Eichel has a herniated disc in his neck and both sides agree on that.
Sam Reinhart, Rasmus Ristolainen, Jake McCabe and Linus Ullmark were once viewed as future foundational players for the Buffalo Sabres. Now there's reason to wonder if any of the four will be with the team in 2021-22.
But the 24-year-old is taking a long-term view of things and that's where the disconnect is. He wants to play more hockey at a high level and he wants to live a comfortable life. Let's not forget that most of these guys are done in the NHL by 35 and they're almost all done by 40, just when most of us are really cranking up our careers.
Eichel wants to have surgery so he can feel better and I get it. People who have neck or back trouble say it's misery. The Sabres are telling him rest and rehab. Why are they doing that? We'll have to wait until Wednesday, when General Manager Kevyn Adams gives his end-of-season address.
Admittedly, you have to be careful with those kind of surgeries and it's probably always better to not operate right away. But Eichel said he and his representatives have done lots of research on this. Perhaps they've checked in with Pittsburgh defenseman Kris Letang, who had the procedure in his neck in 2016.
The last game Eichel played was March 7 in Nassau Coliseum. By mid-March, before Ralph Krueger was fired and replaced by Don Granato, it was already clear that Eichel had a long-term issue. The word on herniated discs in the neck is that they're about a six-week recovery time if everything goes well.
So Eichel could already be done with the surgery and his post-op rehab work. He could be fully into plans for his offseason training, and could be armed with medical documentation for both the Sabres – and any other team – going forward.
It makes no sense for the Sabres to go this route. You've fractured your relationship with your star player. Of course, messing up relations with their top players is a specialty of this franchise.
Remember how Larry Quinn and Tom Golisano handled Daniel Briere and Chris Drury 14 years ago? Remember how the Pegulas handled Pat LaFontaine in 2014 and combined with Jason Botterill to watch O'Reilly become the first player in history to get traded one year and win the Conn Smythe Trophy the next?
Now, Eichel was un-captainly to air dirty laundry in this way, but I get it, too. It's pretty easy to lose your love of the game around an organization that's gone 10 years in a row without making the playoffs.
"Yeah, I'm frustrated, I'm sure if you went down the line in the locker room, I'm sure everyone's frustrated," Eichel said. "So I'm not in any different situation than anyone else. You can't sit here on Media Day and be happy that we're having this conversation. We should still be playing."
As for the Pegulas, maybe they've decided it's just time to start over again. Maybe they finally and properly admitted the two years of tanking – which they foolishly authorized – were a mistake. And if that's their directive, Adams can easily enter into a quick plan to sell off Eichel's $10 million annual cap hit and start fresh.
If you're the rookie GM of the 31st-place club trying to look good in front of ownership, it's probably a pretty easy sell that you're going to build your team around Rasmus Dahlin, Dylan Cozens, Casey Mittelstadt, Ukko-Pekka Luukkonen, Jack Quinn, Mattias Samuelsson, Arttu Ruotsalainen, a re-signed Ullmark and whoever you draft in the top three in July.
Lance Lysowski takes a look at what lies ahead for the Buffalo Sabres.
As bad a day as Monday felt like, go read the previous paragraph again. It makes things look less dark. And that's before you add whatever players or picks they might get in any deals for Eichel, Reinhart or Ristolainen.
Maybe that's what they should do. The veterans didn't seem to go out of their way to throw any olive branches on Monday to Don Granato. Frankly, it doesn't look like they give a damn who the coach of this team is going forward. It's not like they perform for anybody who's been behind the bench here at all in recent years, their odd love for Ralph Krueger notwithstanding.
Remember, this franchise has won exactly nothing with those three guys. It hasn't played a single playoff game with a No. 8 pick in 2013 and guys taken No. 2 the two following years. Nobody can argue this trio hasn't given a lot over nearly 1,400 combined NHL games between the three of them. It hasn't meant a thing.
"For me, I can't go for another rebuild or wait multiple years," Ristolainen said. "For me. I mean, we have to get to playoffs next year. For me, it's either here or then somewhere else."
For Ristolainen and Reinhart, it seems like it's just time. For Eichel, the jury is still out on if he stays or if he goes. He's got five more years on his contract. It's a tough spot for both sides. Adams can't make another O'Reilly trade. The GM better have some good answers come Wednesday about what's going on here.