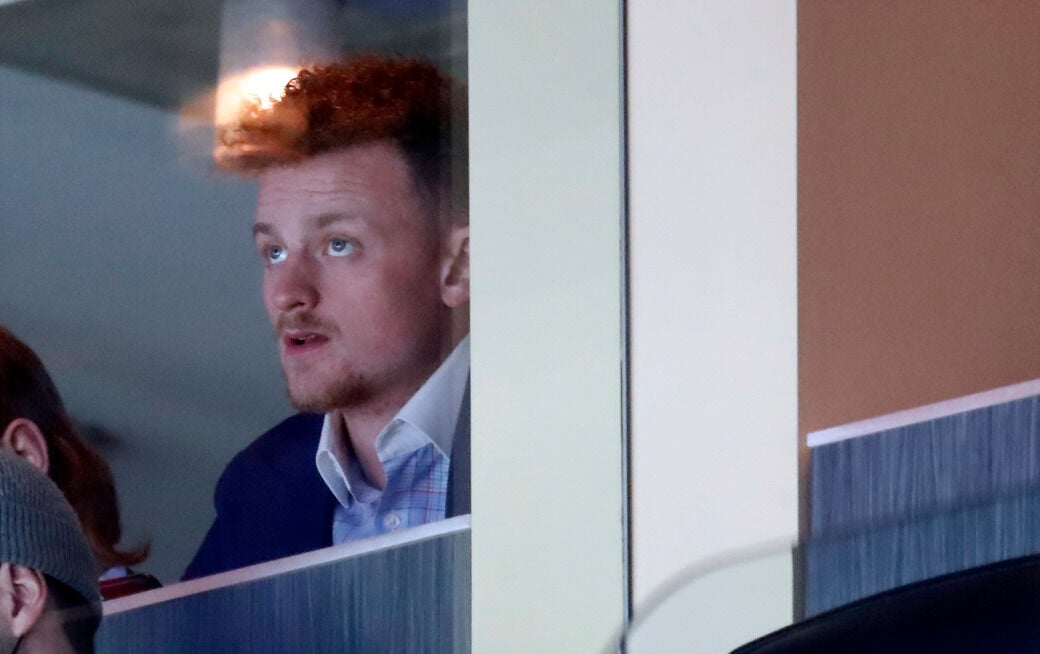 In times like this, maybe Jack Eichel's agents should take heed to one of John Tortorella's most YouTube-played media rants.
It was in 2004 when Tortorella, then coaching Tampa Bay, got agitated because Philadelphia coach Ken Hitchcock was allegedly barking at Lightning skaters during a playoff game.
The next day, Tortorella lit up Hitchcock to reporters. His main message was that the coaches weren't on the ice and part of the battle and Hitchcock had no business talking to Tampa players.
"Park your ego. Shove it in your pocket," Tortorella said before delivering his infamous punchline: "Shut your yap."
That would be my message to Eichel's representatives, Peter Fish and Peter Donatelli. Just zip it.
That weird, sent-at-9:45-p.m. statement to Buffalo media outlets Friday night did your client no favors. The Sabres are dug in hard and if you and your client want a deal out of town, that's not the way to get it done.
Do you really expect Kevyn Adams to cave now after that statement? The Sabres GM would lose a ton of credibility if he did. His message has been consistent. He feels no pressure to make a trade until he gets an offer he feels is best for the organization. Translation: Teams have to pony up. This isn't Ryan O'Reilly Part II.
Both sides agree Eichel is injured and needs surgery. Fans keep wanting to say this is just a ruse to force a trade and it's not. The player is hurt. That's not at issue. The point of contention is the type of surgery to rectify the problem, whether it's a standard fusion surgery or an artificial disk replacement surgery.
Eichel's agents released a statement to the media late Friday night stating that Eichel and his representatives were initially under the impression that Buffalo would approve the surgery Eichel wished to have on the herniated disk in his neck. 
The Sabres haven't said anything since Thursday. I get it. That's when Adams said the team is in control of the process because it has a player under contract and that was quite a message to Team Eichel, too. For their part, the meandering statement of Fish and Donatelli indicated the Sabres initially approved of the disk replacement surgery, which seems far-fetched. Eichel himself, remember, talked of the "disconnect" between the team and his side back in May and it was already known the team was not in favor of the surgery, which has never been done on an NHL player.
Eichel's real problem should lie with the CBA and not his team. It's right there in black and white. The issue is Section 34.4 between the league and the players, which was amended last July as part of the overall extension of the CBA that goes through the 2025-26 season.
It allows players to get a second medical opinion but the amendment simply says: "The Club Physician shall determine the diagnosis or course of treatment (including the timing thereof) after considering any report or other records received from the Player's physician and after giving due consideration to their recommendations."
Dr. Chad J. Prusmack characterized the disk replacement surgery as a likely "one-and-done" scenario and that 10-year follow-up visits show 4.8% of patients need a new surgery.
Eichel went to Colorado weeks ago to seek a second opinion on his situation from Dr. Chad Prusmack, and the suburban Denver doctor recommended the disk replacement surgery, as he chronicled on Sportsnet's "31 Thoughts" podcast released Saturday morning. The Sabres aren't willing to be guinea pigs here with their $10-million-a-year asset.
And it sure seemed fishy that the agents' statement comes out Friday night and Prusmack spent roughly 40 minutes extolling the virtues of the disk replacement surgery less than 12 hours later.
Maybe the agents were involved, maybe they weren't. But the optics of it all were so poor that podcast host Elliotte Friedman, one of the most respected media insiders in the game, took to Twitter shortly after the interview was released to clarify that it was done Friday night before the statement was issued and that he had no knowledge the statement was coming.
That was an especially salient point to make since it was Friedman to whom Fish and Donatelli pontificated to last weekend saying, "Our expectation is Jack is going to be traded in the near future" after Adams had said following the draft he had no problem if the Sabres opened training camp with Eichel still on the roster.
For the record, no one believed Adams there. The GM really is in a brutal spot. Rehashing the scenarios:
1. The Sabres are trying to trade their captain, a $10 million player who they feel is one of the NHL's elite. The guy who finished eighth in the Hart Trophy balloting in 2020 after piling up 36 goals and 78 points in a shortened season.
2. Teams feel they're trading for a guy coming off a two-goal season with an injured neck. There's no shortage of interest but not at the package prices the Sabres are believed to want of a No. 1 draft pick, high prospects and NHL talent. What owner would approve their GM making that kind of roll-the-dice play on a contract that would cost $50 million over the next five seasons?
What a mess, with no real solution in sight. Eichel has to be furious with the entire situation and how it's been handled from all sides. He might want to get new agents. These guys have done him no favors.