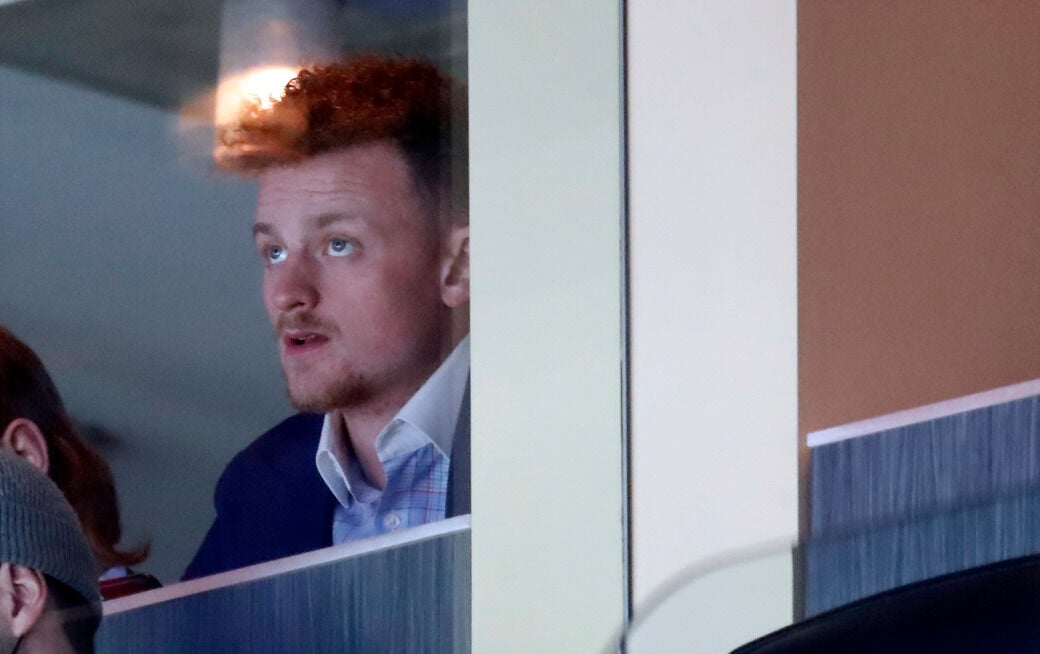 Nothing to see here. That's what the Buffalo Sabres want you to believe is going on with Jack Eichel.
That's not totally true, of course. Eichel still wants his funky neck surgery, and the Sabres aren't going to give him permission to have a procedure never done on an NHL player. They don't have to and, as I've said previously, I don't know why they would.
The sides are still talking. Eichel's rest-and-rehab period is over. The calendar turned to July on Thursday. If he wants to be on the ice come October, this issue needs to come to a head soon.
Don't miss these highlights of the Buffalo Sabres 20th head coach Don Granato's session with the media.
"As I've said many times before, I'm certainly not a doctor. Our stance hasn't changed in where we're at," general manager Kevyn Adams said Thursday. "It's in the hands of the medical experts. That's really what I said previously and that's where we're at right now. So that's the best I can give."
Said agent Peter Fish in a cryptic text to the Associated Press: "We are communicating with the team and are heading towards a resolution."
One thing that was interesting about Don Granato's introductory presser was that you barely heard the words "Jack Eichel" uttered by either the GM or the new head coach. 
Adams was asked point-blank if he's talked to Eichel and at first did a deft pirouette around the inquiry. Asked a second time, the GM insisted he wasn't avoiding the question.
"I think my point was communication with all our players is critical and an extension of whether it's players or sometimes it's the agent," he said. "That's just part of our day to day. So of course, yeah, I'm talking to all of our players."
Adams went on to say he spent "a long time" on the phone Wednesday with Eichel's representatives. And while the GM said "that's just part of what we do," it means a little more when a team and its $10 million a year captain are heading for an inevitable divorce.
Rumors are rampant around the NHL about Eichel's next stop and while some seem legitimate, others are goofy. The Sabres aren't rewarding Eichel with a trade home to Boston and, the insistence of the New York media aside, they're not trading Eichel to the Rangers to line the pockets of new GM Chris Drury. Especially since the Rangers don't have a high pick in this draft and seem loathe to part with any of their top young players.
It was mighty interesting that just after Adams finished talking Thursday, the Los Angeles Kings acquired two-time 30-goal scorer Viktor Arvidsson from Nashville – and only needed to give up this year's second-round pick and next year's third-round to do it.
It's possible no general manager in the National Hockey League has more on his agenda this offseason than Kevyn Adams of the Sabres.
Why was that significant? The Kings didn't touch any of their top prospects to make the trade. Nor did they part with their No. 8 overall choice in the first round to do it, either.
Hmmmm. Still allows them to have plenty of trade capital to work with if they want to talk turkey with Adams about Eichel.
Adams used the phrase "anything and everything" to describe what kind of moves he's looking at. Undoubtedly, Sam Reinhart and Rasmus Ristolainen like the sound of those words as well. The GM keeps hammering home the point of wanting to be here, whether it's Granato or his players.
He insisted he wasn't naming names, but we all know who he's referring to.
"We got energized at the end of the year by the young core of players and their commitment and their passion, their maturity in the stuff that was discussed at the end of year about what they see moving forward and their excitement about being a Buffalo Sabre," Adams said. "That's what I'm specifically talking about, but we won't compromise on that."
The coaching search is only one chapter in a busy offseason for Adams, beginning with the dilemma involving the Sabres' captain, Jack Eichel.
We're in July now. Friday marks three weeks from draft night. There's only two teams still playing, so the market is wide open.
"I think there's just natural pressure points – the draft, trade deadline – different times where things automatically heat up," Adams said. "So what I'll say is, I'm having conversations every day."
The pressure point, of course, is on the GM. If he's going to reshape the team by shipping out three core guys who have played roughly 1,400 games here, he better get some good returns.