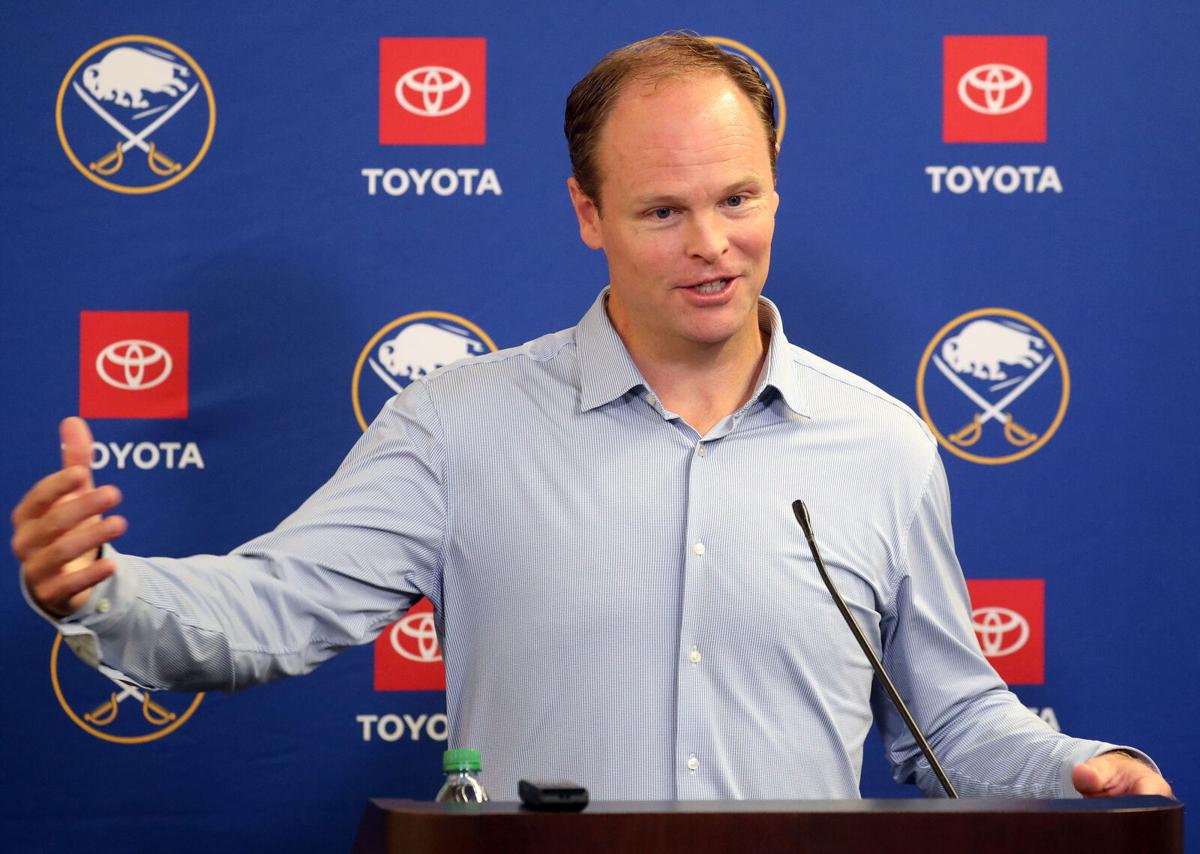 Kevyn Adams had the stage presence Thursday morning. He had the buzzwords down, too. I'd have enough money for a good steak if I could have cashed in every time he said "stick to the plan."
He paid homage to his Clarence roots and said how the Sabres have to earn back the trust and respect of their fans, all the way to the upper reaches of KeyBank Center's 300 level.
He projected calm and control. He reminded us several times that he's not a doctor.
Yet, it's still hard to totally believe him. Largely because it's just hard to believe anything the Sabres say anymore.
They've lost all the rope and goodwill they've ever had in this town.
While the rest of the NHL is on the high you should have for the first day of training camp, Buffalo's general manager is stuck with a franchise player who doesn't want to be here anymore, needs neck surgery and has now had the captain's "C" ripped from his sweater. The sweater he undoubtedly will never wear again. The first 22 minutes of Adams' season-welcoming news conference – 22 minutes! – were spent on Eichel. A guy who will never score another goal for this franchise.
What a mess. No one has fixed this trainwreck for a decade. To his credit, Adams understands the perception he might just be the next guy in a long line of failure. We really want to trust the local guy – who won a Stanley Cup, remember – trying to fix this team at the hand-picked behest of ownership.
Eichel has five years remaining on a contract that carries a $10 million cap hit. He will train elsewhere and won't be around the team during training camp.
But can we trust him after a 31st-place finish and now his role in the middle of one of the ugliest disagreements in franchise history? Maybe someday. Not yet.
"We have to earn it, you have to earn that," Adams conceded when asked about the trust factor. "And that's the message that went to the team yesterday. I just think that's very powerful. I'm going to keep saying it: We need to build around people that want to be here for the right reasons."
Adams and players promised to keep the GM's message in house, but veteran Kyle Okposo peeled back the curtain a little and said he was impressed by it.
"I think he's been pretty honest with us, which is something that in pro hockey you don't always get that 100% honesty and transparency," Okposo said. "And it's something that's much appreciated from our perspective. It's been a crazy situation, crazy offseason and I don't think anybody's really ever been in a position that he's been in, let alone a GM that's been in the job for 14 months."
You like the draft picks and not just Owen Power, who seems as if he's a can't-miss star. Maybe the picks acquired for Sam Reinhart and Rasmus Ristolainen will be good ones, too. And Ralph Krueger isn't around wielding too much power on roster decisions.
Obviously, there was no way the Sabres could have anticipated Eichel's injury. But it was reasonable to think he was going to ask out anyway if they continued to lose and would need to be replaced at center. Using a No. 8 overall pick on Jack Quinn, a winger I like, and trying to convert him to the middle with real centers on the board looks dicey.
There were times Thursday where Adams muddied the Eichel issue some, one being when he said we're now at a point of "clarity." That could refer to the fact Eichel has now officially failed the training camp physical the Sabres had to wait several months to give him. But Adams seemed to indicate the club was hoping to avoid surgery much longer into the offseason than most people believed.
As for Eichel's captaincy, it's understandable the Sabres took it away. He doesn't want to be here. You have to build a new leadership group in the dressing room. Still, it's a rare and earthshaking one on the NHL landscape. This isn't Lindy Ruff (player version) or Craig Rivet or Brian Gionta heading out the door at the end of their careers no longer able to fill the role. 
"From our perspective and my perspective, I feel the captain is the heartbeat of your team," Adams said. "And we're in a situation from where we were in the past and where we are now that we felt that we needed to address that."
While this feels punitive to a degree, let's not forget Eichel is far from blameless in this saga. The Sabres never won with him, with ownership and front-office mistakes major reasons why. But star players have to take responsibility, too. Ask Auston Matthews and Mitch Marner how things are going for them in Toronto right now.
Eichel meddled in coaching decisions (see Bylsma, Dan) and there was always an undercurrent of "me first" around him. But Eichel cared, too. More than most guys in that dressing room. All the losing ultimately broke him. First, mentally and then physically.
Still, publicly stripping the C devalues Eichel as an asset. What team would trade for a player who needs neck surgery, is owed $50 million and is being portrayed as a guy not worthy of being a captain?
"If there was a solution over the course of the summer and that was an opportunity we thought made sense, we would have done it," Adams said. "But obviously that's not the case. So we'll see where we go from here."
Adams will continue to hold a hard line on this one, it seems. There's no real pressure to trade Eichel now. This situation could go on for months. Eichel's no-movement clause doesn't kick in until after next season is over, as in when the playoffs are done. Remember what those are?
"I would probably suggest that everyone in this room and across the hockey world believes that a healthy Jack Eichel is a franchise player," Adams said. "And these type of situations don't come up very often where players are moved. So I know there's been a lot of things speculated on this."
When Don Granato leads the Buffalo Sabres' first training camp practice Thursday, it's a forgone conclusion that he won't have his captain, Jack Eichel, on the ice.
You got that right. Adams and coach Don Granato come off as good people, certainly much higher character than this organization has had in the past. But we just don't know for sure. The GM playing poker with the franchise player is a tough look. Granato insisting it won't be a distraction seemed a wee bit naive.
This is a brutal spot for the GM.
"I know Kevyn is a good person and he's trying to do right by everybody," Okposo said. "And I know that he that he likes Jack as a person as well."
Said Adams: "I wake up every day thinking about how do we get better today? How do we move this franchise forward? How do we make our fans proud? How do we earn the respect from (the media), from our fans from the league? ... We will do things the right way, we will stick to our plan. And we're not going to cave or back down because of pressure or because people are saying you have to do this."
Right now, it's not a case of doing this or doing that. It's a case of Adams doing something so this franchise can move on.