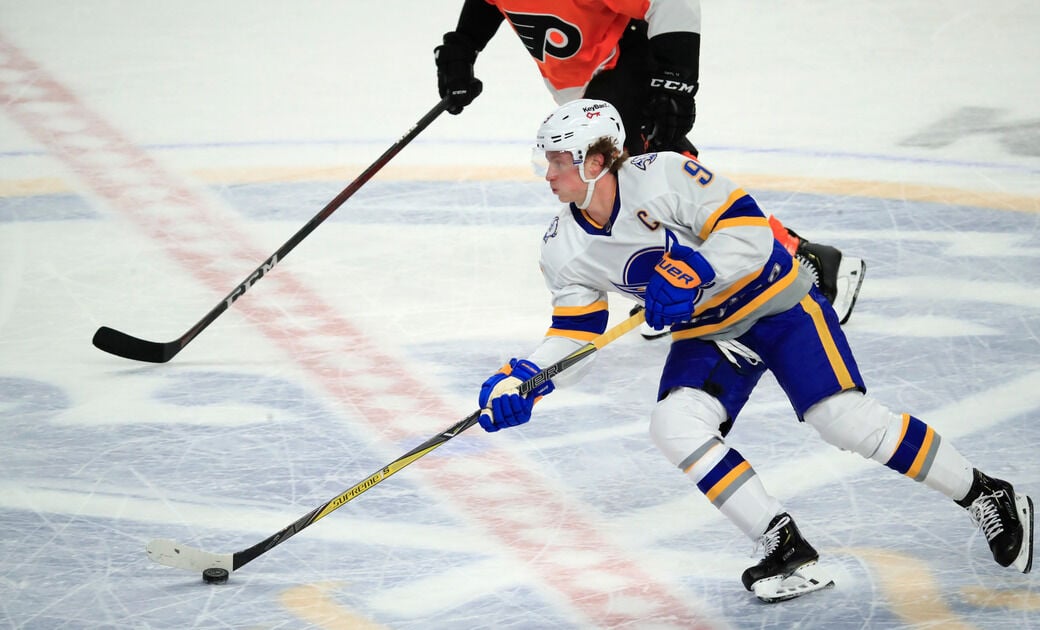 The Sabres were off Wednesday after their disastrous road trip to New York and Philadelphia. They went 0-4-1 on the trip, and they're 0-6-2 in their last eight games and 6-14-4 on the season.
And they didn't fire Ralph Krueger. Seriously.
Looks like he'll be behind the bench Thursday night in KeyBank Center against Pittsburgh and probably beyond.
This organization should want no part of allowing fans back in the building, given the chants and catcalls it might endure. Assuming anybody shows up.
Especially since it's clear that the Sabres are punting on yet another season. The funny part about this one is that they weren't even trying to lose – and still put together a dreadful enough team to get the job done with gusto.
The Sabres are just 2-7-2 downtown this season, tied with New Jersey (2-9-1) for the fewest home wins in the NHL.
Yes, you, too, can be like Terry and Kim Pegula and spend $82 million to get a 31st-place team.
General Manager Kevyn Adams' bold proclamations last week – "full authority on hockey decisions as the general manager" – seem pretty hollow right about now.
If he's a legitimate NHL GM, it's inconceivable Adams could keep his head coach at this point. But there are clearly other forces at work. Like about six million of them.
That's the dollar amount the Pegulas owe Krueger for the rest of this season and all of next year to run out his contract. Doesn't seem like they're in the mood to pay yet another coach or GM not to work. Or drill another oil well.
Firing a coach wasn't remotely on ownership's radar coming into this season. But by going 2-10-1 since coming back from their Covid-19 pause and showing all kinds of quit while doing it, Krueger's team is making his second chance at being an NHL coach look like it should last about as long as Ted Nolan's did.
At age 32, Kane has lifted a team that was expected to be where the Sabres are into a strong position in the Central Division.
Virtually no one picked the Sabres to be a playoff team. But virtually no one picked them to be so feeble either.  The expectation in this corner was a lot of tossup games like Tuesday's shootout loss in Philly. Just hasn't been enough of them. 
You wonder what the threshold for Pegula pain is here. What happens if the Sabres' winless streak hits 10 games? Or 12 games? Or 14 or 16 games? So, if he won't fire the coach – or isn't being allowed to do it – what should Adams do?
The trade deadline isn't until April 12, and the word is that Adams is doing a lot of talking. Get something done now. Shake up the locker room. If you aren't firing the coach, you can't possibly run out the same roster every night. Taylor Hall, Eric Staal and Brandon Montour are the club's three most prominent unrestricted free agents. Fellow UFAs Tobias Rieder and Riley Sheahan might have interest to teams as cheap additions.
Get Staal and Hall to waive their no-trade restrictions. If you are talking to Canadian teams, players are going to have to quarantine for two weeks. Get that clock started right now. See if there's a hockey trade in there. You need a goalie with Linus Ullmark still going to be out for weeks. Jonas Johansson is an AHL goalie and Carter Hutton has one win this year. You're going to go with that pair maybe for 32 more games?
"Now the GM needs to do something – anything – to fix a team that is nothing short of disgraceful," writes Mike Harrington.
The captain hasn't been close to 100 percent all season. He's had multiple problems, starting with what's believed to be a shoulder injury suffered in offseason training. There's rumors of a core muscle problem, there's the ankle injury suffered in New Jersey – or was it in the pregame warmup two nights later, Ralph? – and the neck problem that cropped up Sunday on Long Island after a relatively innocuous push from Islanders forward Casey Cizikas.
More information on Eichel is expected by Friday. It wouldn't be shocking to hear that he's being shut down for some sort of procedure. Imagine if his season is over and he got $5 million for each of his two goals.
Eichel has fewer goals than Rieder, Sheahan and Curtis Lazar. If he can't play, he can't lead and he hasn't been much of a captain since the first couple of weeks of the season. It sure feels like the emotional pulse of this club was Jake McCabe. But his serious knee injury, followed by Ullmark's heavy hamstring problem, put the end to any thought of a playoff spot.
Get Eichel healthy and then you have the spring and summer to figure out what to do with him going forward. Social media has already traded him. The internet's opinion doesn't count.
3. This season needs to become a lab
Wins and losses no longer matter. Let's see Dylan Cozens for the long haul at center. Let's get Arttu Ruotsalainen up here from Rochester and put him in the lineup. He's already 23 and has played three seasons in the Finnish league.
As the calendar heads deeper into April, let's get the NHL debuts out of the way for Ukko-Pekka Luukkonen, Mattias Samuelsson, Jack Quinn and Casey Fitzgerald. Even if it's just for a game or two, give them all a taste now so they can feel what the NHL is like and take that knowledge with them through the summer.
And if it costs you a game, as Cozens' dreadful pass in overtime nearly did Tuesday night, so be it.
4. Do something with Okposo
For all the talk about the scratching of Jeff Skinner – richly deserved for one or maybe two games – Kyle Okposo has somehow escaped Krueger's wrath, even though he's now at a year and two weeks without a goal.
I get it. Great human. Respected in the room. Has a letter as an alternate captain and hockey teams are loathe to scratch guys who have a letter. But it's clear Okposo's time is done here. He's got two years left on his contract at $6 million per. They have to buy him out come June and just deal with the cap consequences.
Instead of being off the books in 2023, Okposo would count $1 million on the cap in both the 2023-24 and 24-25 seasons, but he can't possibly be in this lineup anymore. He really shouldn't be in the lineup this week. Can't believe why he hasn't been put on waivers or scratched yet. He's got no goals and two assists in 19 games. Being a nice guy should only get you so far.