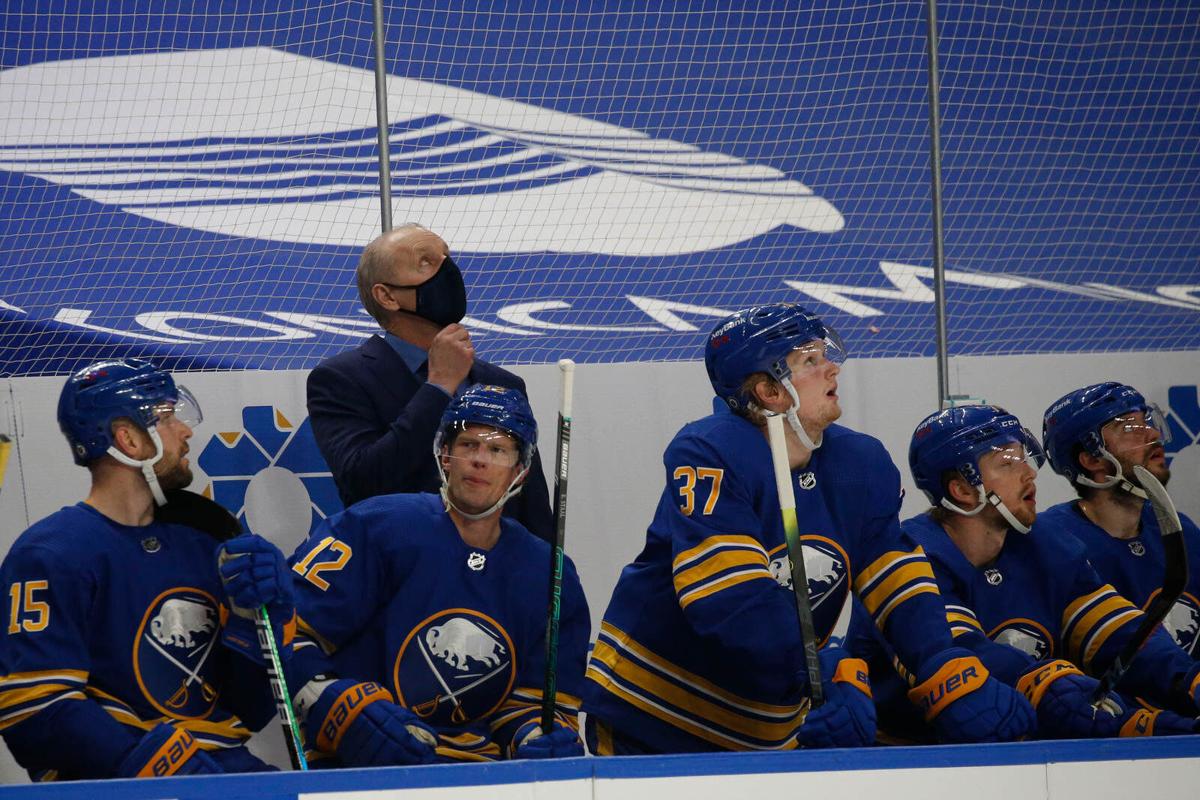 Shame on you, Terry and Kim Pegula.
You have run your hockey team into the ground. That your football team was one win shy of a Super Bowl doesn't excuse your inaction. 
Shame on you, Kevyn Adams.
Do you want to be taken seriously as an NHL general manager? Then how can you tell us you're angry, use the word "unacceptable" about 27 times and then do nothing while another season goes up in flames? The way this is going, your first season in the chair should be your last. 
You know what Adams should do? Park his butt behind the bench and coach this disaster for the final 29 games, just so he gets an up-close look at what he wrought.
The Buffalo Sabres' 34 goals in 5-on-5 situations are the fewest in the league, and they have been shut out four times while compiling a 2-13-2 record since returning from a two-week Covid-19 pause on Feb. 15.
Shame on you, Ralph Krueger.
You just never adapted your system to your players and the results are mind-boggling. They quit on you. You should be furious with them. But you know how this goes: It's your fault. Your career as an NHL coach should have been over two weeks ago. It's hard to fathom you still behind the bench.
Shame on you, every guy in Blue and Gold who took part in the 6-0 no-show Monday against the Washington Capitals at KeyBank Center.
The two tank teams – the ones management wanted to lose – put out better efforts than this.
Remember what Steve Valiquette said on MSG a couple of weeks ago? He said you should be wearing ski masks twice a month because you're thieves. And he's right. You're stealing money. 
The Sabres, now 6-17-4, remain last in the National Hockey League with 16 points through 27 games and are on track to miss the playoffs for a 10th consecutive season.
Sam Reinhart, one of the few guys to earn his money this season, was brutal with a minus-4 rating and a direct giveaway that led to the Caps' fourth goal. When I asked him to provide any shred of evidence this team hasn't quit, especially on the coach, there wasn't much for him to offer.
"I don't know what you want me to say. It's not a good result tonight," Reinhart said. "I don't know what you want me to say about that. I love the group of guys, love the coach. The result isn't good enough."
The kind of hockey we've seen the last three weeks sure is a funny way to show love. Krueger should not have even been allowed on the plane to New Jersey late Monday night. That's 11 losses and counting, an 0-9-2 run that's three games shy of equaling the franchise record for a winless streak.
Can you imagine if they lose Tuesday night to the Devils, who have dropped 11 in a row at home and have already fallen to Buffalo three times this year? When does this end?
"I don't feel quit of anybody. It's for others to judge," Krueger insisted.
The Amerks have not played since a 3-2 shootout loss at Utica on March 10, and their next scheduled game is Wednesday at home against Syracuse.
The players have quit on you. The GM is frozen in place and the owners are either too cheap, too ignorant or too arrogant to bring anyone into this organization who has a shred of knowledge on how to succeed in the NHL.
The calamity-a-day Sabres reached new lows in this one, just a few hours after the scope of a Covid-19 outbreak in Rochester started to bubble to the surface. We all want change, but they can't even call up any guys to give this club a fresh look because their farm club is the only one in pro hockey currently in quarantine.
This was one of the worst Sabres games I have ever seen. I'm thankful none of you had the misfortune to pay to watch it. The lack of any semblance of compete level was astonishing.
One thing the Sabres have gotten lucky about this year is the fact there are no fans. A half-empty building and one full of boos would have added urgency to everyone's plate. 
The Sabres will honor front-line workers on the video board and fundraising efforts will be held throughout the night on the MSG broadcast and team social media accounts.
The Sabres play like they practice. Remember, the media gets to watch all practices and morning skates. We were there Monday morning, so the way the game went was no surprise to us.
Simple passes were in guys' feet the entire hour. There was no pizzazz to the workout whatsoever. You could feel this one coming.
Krueger never stops practice to bark at his players for their laziness or make them do a drill again. And they play that way. That's on him.
After the game, Krueger had lost all his bravado. He slipped into excuse mode. Injuries, the division, fatigue, lack of practice time. He went through them all. Just stop.
Rasmus Dahlin, at minus-27 and doing a good job blowing up every draft manual from 2018 that said he was the Sabres' turnaround player, joined Colin Miller and Eric Staal in saying ole to T.J. Oshie on one second-period play that resulted in Nicklas Backstrom's rebound goal.
And that came after Alex Ovechkin turned Dahlin utterly inside out on a first-period rush, only to be stopped by Carter Hutton.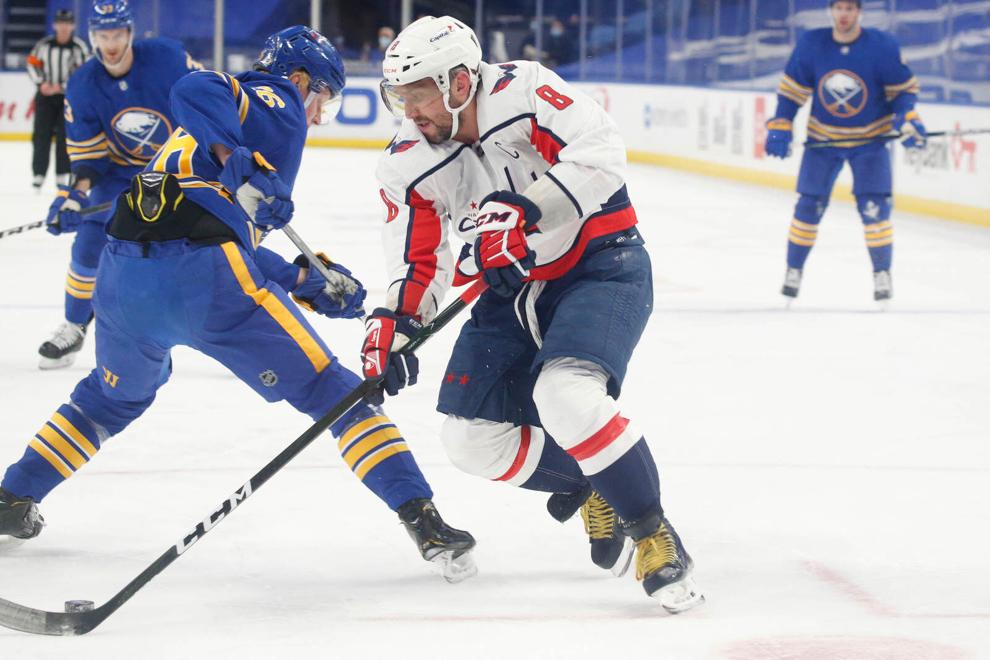 Jeff Skinner, the $9 million man with one goal on the season, butchered a 3-on-1 in the same frame with a terrible pass to Casey Mittelstadt and did likewise in the third on a 3-on-0 (!) by firing wide. Unreal.
Kyle Okposo, still stuck on no goals for his $6 million, was ashen-faced after this one.
"We've lost a lot of games in a row and it's going to shake anybody," Okposo said. "The whole year has not been ideal in any sense of normalcy. And it's just not happening right now with everybody. It's not five or six guys. It's a lot.
"Guys do care, but it's just not going our way right now."
That's for sure. The Sabres had two shots on goal in the first period and nine through 40 minutes. They continue to turn Washington rookie Vitek Vanecek into Vitek Vezina. He's 4-0-1, 1.55/.947 against the Sabres. Against the rest of the division? He's 8-5-2, 3.14/.895
"It feels like we're in a very deep, dark place right now," Krueger said. "And the only way we get into any light is keeping the fight in the team and sticking together. We're not going to get any outside help or pity."
After the morning skate, Rasmus Ristolainen was philosophical on how things have been going. Asked how he's dealing with the latest round of losing, he said, "Personally, when it's your eighth year and it's been almost identical, similar than the years in the past ... at least I have a very thick skin."
Ristolainen then slipped into cliches before acknowledging, "You can't lose your bleep after a few losses."
Ristolainen is wrong there. Frankly, it's long past time for somebody – anybody – in this organization to lose their bleep at what's going on here.