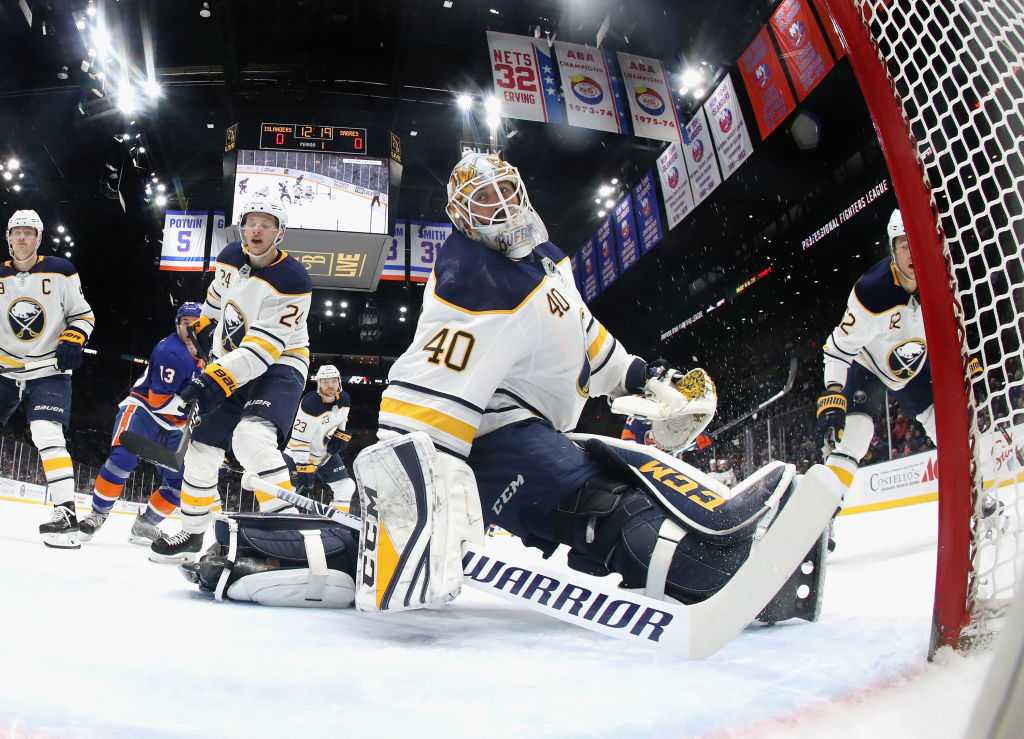 UNIONDALE – The message was sent during pregame warmups. A solitary Buffalo Sabres fan in a white jersey pressed a placard with black letters against the glass behind the Buffalo bench.
It said simply, "Fire Housley."
The fan stood there for about 10 minutes, then quietly climbed the stairs with his card when the warmups were over. He might get his wish in four more games.
Because if this team has not quit on coach Phil Housley, it sure has a funny way of showing it.
The Sabres were complete no-shows from the first shift Saturday night, with only goaltender Carter Hutton offering any resistance. The New York Islanders clinched a playoff berth by toying with Buffalo, 5-1, at a raucous NYCB Live Nassau Coliseum.
Former Sabre Robin Lehner made 31 saves and Anthony Beauvillier had two goals to lead the Islanders in a game that saw Buffalo only break Lehner's shutout with 6:32 left on Victor Olofsson's first NHL goal.
Of the Sabres' 32 shots on goal, 15 were spread between rookies Olofsson, Lawrence Pilut, Casey Mittelstadt and Rasmus Dahlin. Jack Eichel, Jeff Skinner and Sam Reinhart had just one apiece while combining for a minus-6 rating.
The shots on goal were 12-1 over the first 15 minutes of the first period, and Buffalo didn't get one for nearly 6 1/2 minutes in the second period.
"It's embarrassing. Embarrassing," Eichel said. "That's the best way to put it. It's embarrassing. ... That's a really bad effort there."
The players essentially ran out coach Dan Bylsma two years ago after seasons of 81 and 78 points, respectively. Housley had 62 last year and is at 72 with four games left this time.
"This isn't on Phil. This is on us," Eichel said pointedly. "It's on us. Not Phil right now. He's not out there playing the games, is he? He's not out there competing. It's not his job. It's our job."
"They beat us tonight in all facets of the game," Skinner added. "That's what it looks like when a good team plays a team that doesn't perform and doesn't play up to their standard. We're all professional athletes. We all play in the NHL. No one's quitting."
Housley continues to play good soldier in all this, even though his team has gone 1-11-2 in the last 14 games to slip to 27th place in the NHL's overall standing. The coach refuses to throw anybody under the bus.
"This game really wasn't about Xs and Os. It was just about battles," Housley said. "We didn't win many of them and they won the majority of them."
It's a constant theme with a club that has won just 14 of its last 53 games. Housley tried to talk about the way his team played in Thursday's overtime loss to 28th-place Detroit as a way to show it hasn't quit. But he had no answer when asked about its abysmal road play: No wins in the last 14 games and just two goals in the last three.
"I don't think this team doesn't have heart. This team is fighting," Housley insisted.
Hutton, who had a strong night with 33 saves and couldn't do much on any of the goals, said there needs to be more pride in the dressing room.
"There has to be," Hutton said. "I know I try to compete the best I can. I don't know right now. Personally it's embarrassing and frustrating. I don't want to lose. I want to compete and give us a chance to win. They pounded us off the drop of the puck and I don't think we had an answer."
Although the evidence keeps pointing the other way, Eichel wasn't having anything to do with the quit narrative. He said to give the Sabres another look Sunday in KeyBank Center against Columbus.
"We're not quitting on Phil. We're not quitting on each other," the captain insisted. "We're just not bringing anything. That's a hockey team right there playing to get in the playoffs. From the first shift, we didn't execute. We weren't hard on the puck. Easy to play against.
"I don't think we've quit. At this point, it's definitely tough. It's a struggle. It's been a long year. You can say that. Quit? No. We're going to play tomorrow. We should be mad about this and bring our best effort. That's all I got."
Be the first to know
Get local news delivered to your inbox!